If you're looking for a case study of what a horrible idea it is to invest based on what billionaires invest in, look no further than Bill Ackman (head of Pershing Square Hedge Fund (OTCPK:PSHZF)) and his disastrous Valeant (VRX) trade. This week, Ackman finally got rid of his remaining Valeant shares, totaling roughly $4 billion in losses. Here are some of the quick facts from Bloomberg:
While precise figures are hard to come by, public filings suggest that Ackman's Pershing Square Capital Management may have lost $2.8 billion just on the Valeant shares it owned at the end of 2016, with overall losses likely to be much higher.

As of mid-December, Pershing Square held 18.1 million Valeant common shares along with call options to purchase another 9.1 million shares, according to regulatory filings. Pershing Square paid an average of $166.11 a share for the Valeant stock that it purchased outright, not counting proceeds received for subsequent stock sales or options transactions.
As they say in the business, Ackman was married to this trade - hanging on through thick and thin and despite numerous warnings, signals, technically begging for him to get out. He eventually did capitulate, but only after some rather large losses (some of the largest losses ever seen on a single trade, anywhere, ever). Here's the painfulness of Valeant's stock losses alongside the publicly traded Pershing Holding's stock performance since 2015.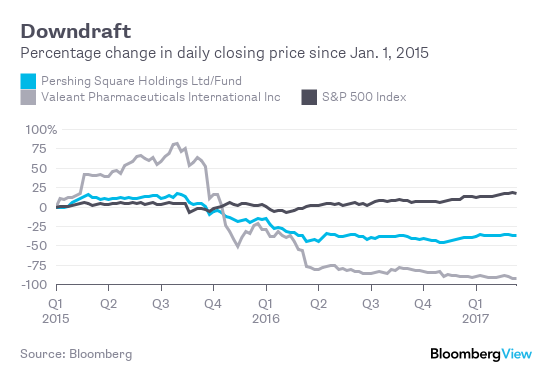 (Disclaimer: Past performance is not necessarily indicative of future results) Chart Courtesy: BloombergQuint
This wasn't a one-time decision either. As an "active" manager, you would think there should have been some active due diligence in 2015. Being resilient may earn you respect, but it can also lead you to $4 billion in losses. Per Bloomberg, we know that Pershing Square purchased stocks in March & November of 2015, as well as February 2016 at an average price of about $185 per share; then sold them to Jefferies Group for $11.40 per share. At 21 million shares, that's a loss of over $4 billion.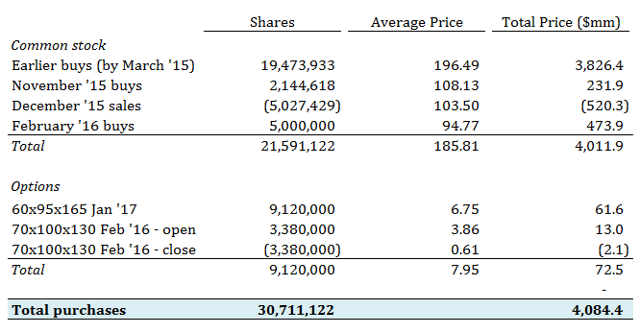 If that seems like a massive loss - it sure is. We were thinking maybe the largest 'single bet' loss in history, and started digging into some, finding a handy table on Wikipedia (we know, never source from Wikipedia… but…) showing the largest trading losses of all time. Here's our chart of some rather notorious comparable losses, putting Ackman into the pantheon of large losses, and impressively not going out of business/getting fired over it.

The part that gets us - and what has to be an awkward conversation in any investor due diligence meetings on Pershing Square itself, is the 'risk per trade' taken on by Pershing. Considering Pershing Square has roughly $20 billion in assets (and risked $4 billion on Valeant), they were seemingly willing to risk 20% of Pershing's total assets on a single trade. That's mind blowing to us in the systematic Managed Futures/Global Macro world, where a big risk per trade is maybe 1%, and typical risks per trade are in the 0.25% to 0.75% range. It's base hits versus singles. Swinging for the fences versus getting on base.
Ackman's spectacular losses on this trade will no doubt amplify the "hedge funds are bad" voices out there, but for those who care to dive into the weeds a bit - this is not a referendum on all hedge funds by any means. It is a referendum on the wisdom of entrusting a single 'activist' to get it right, day in and day out, without fail. It's a referendum on going with a human instead of a human-controlled robot. Systematic programs sure have their own issues from time to time - and aren't the brightest crayon in the box currently (to borrow a line from Corrine), but those pale in comparison to these types of risk. As we discussed before, a simple trend following model would have greatly outperformed Ackman on this trade.
Systematic managers don't marry a trade - humans do - and they can't admit it when they do - even if it costs them their reputation. Of course, Ackman is a billionaire… so perhaps he knows something we don't and will get the last laugh.