I have liquidated many of my individual equity long positions in the stock market over several months. We are getting overdue for a 7%-10% market correction. You can read about my reasons for caution in this article on Seeking Alpha. Basically, rising interest rates and talk of protectionist trade measures in the U.S. are both historically bad news for the stock market in the short run.
A few investors have asked me what I am watching to buy, if we get a sharp correction in equity pricing. Here is my answer. Qualcomm (NASDAQ:QCOM), Suncor (NYSE:SU), Halliburton (NYSE:HAL) and BHP Billiton (NYSE:BHP) look to offer the best combination of relatively positive 6-12 month momentum, strong fundamental valuations, the potential for better than Wall Street expected operating futures, while undergoing a short-term drop in investor confidence and pricing of late.
On the illustration below, intermediate-term gains vs. short-term weakness in each is charted, measured against the S&P 500 index performance.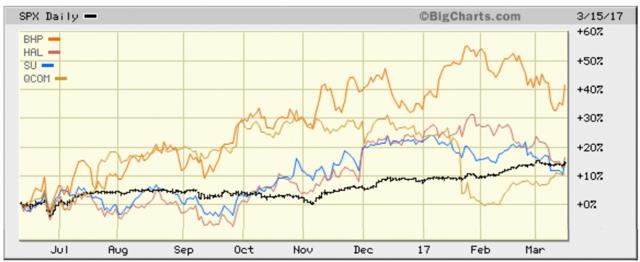 From a Victory Formation system perspective, purchasing relative strength winners during an overall stock market pullback enhances the odds of success and profit for traders. I will be watching for the four stocks to go down less (outperform) on a significant market sell-off.
Qualcomm
I reviewed the Qualcomm situation in a late January article on Seeking Alpha. The company has been hit by selling after an Apple lawsuit and sluggish earnings result were announced. Despite the bad news headlines, the company is extremely profitable. Qualcomm is in the process of acquiring NXP Semiconductors (NASDAQ:NXPI), which will add considerable free cash flow generation.
Putting the fundamental picture together, the new Qualcomm (post merger) will offer a tremendous value proposition going forward, with manageable debt/liability levels. Including new goodwill amortization and projected cost synergies, QCOM could be selling as low as 9x annualized 2018-19 "free" cash flow. The biggest risks for a long investment are (1) an economic recession, (2) the negative cost implications of a U.S. border adjustment tax (or tariffs) on imported semiconductors, and (3) the appearance of a bear decline or stock market crash in overall equity pricing.
I have circled in green the general area I am looking to repurchase Qualcomm longs on the graph below, especially if the drop results from a macro sell-off in the general stock market.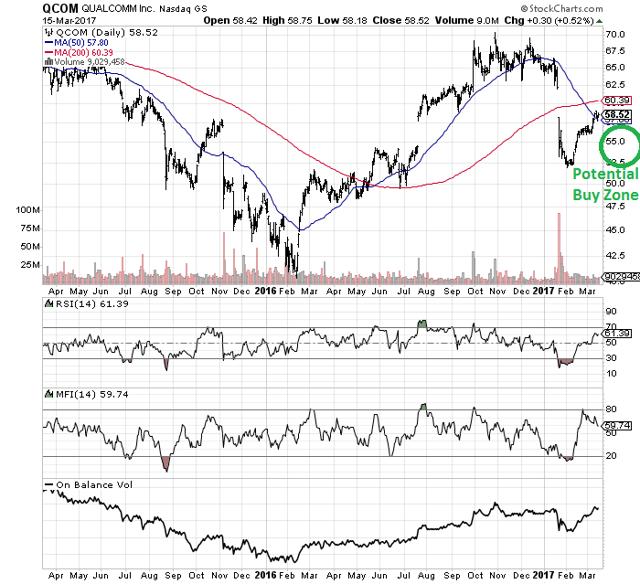 Suncor and Halliburton
This story in early January outlined some of the reasons to contemplate Suncor and Halliburton for purchase, both in the oil production space. The two oil stocks held up better than their peers during the commodity bust of 2014-16. Both outlined sharply positive rebounds in 2016, and now appear to be consolidating those gains. While Wall Street continues to argue oil prices will stay low another year or longer, OPEC oil supply cuts should continue to tighten the global oversupply situation throughout 2017. Given an expanding economy worldwide, not guaranteed if we get a U.S. trade war, oil demand should grow significantly this year. Additionally, any supply shock from new political upheaval in the Middle East could easily spike energy prices well above prevailing conventional wisdom forecasts.
Suncor may be the most undervalued large North American focused, fully integrated oil company to own. The company is profitable again in 2017, even at low crude oil prices under $50 a barrel, after restructurings and cost cutbacks in 2015-16. For long-term investors, SU's enormous higher cost oil sands reserve will act like something of a call option position on any spike in crude quotes back above $100 a barrel. An investment in Suncor can leverage future jumps in price, without the time expiration of a call option or the company holding exaggerated debt numbers.
Again, I am circling the area in green on the chart below where I could get really excited about new purchases in Suncor.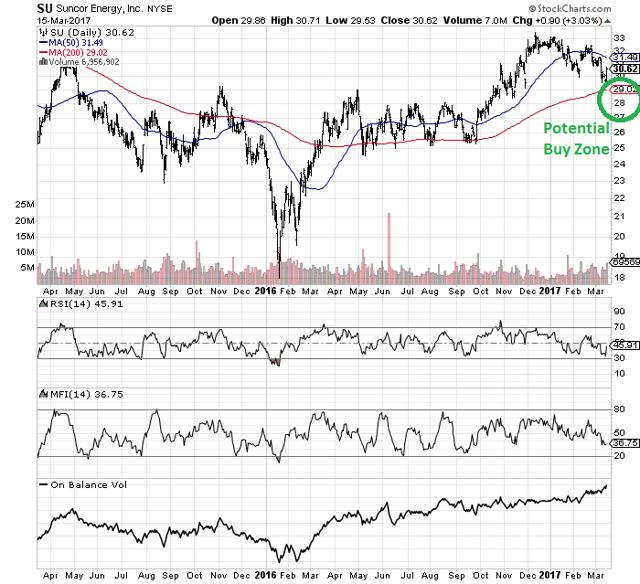 Halliburton is one of the largest oil services companies in the world. The business has increasingly focused on providing its leading technologies and solution for fracking and refracturing deposits in North America. Robust demand for the company's products, even during the oil bust downturn in oil services activity, is continuing in 2017. As less than 5% of U.S. reserves have used refracturing to increase oil output and lengthen the life of reserves, the upside in Halliburton sales and profits remains substantial during any extended upswing in oil prices. We may be seeing a permanent positive change for American energy production, where we become much less dependent on imported sources of crude. On top of the ongoing growth in underlying customer demand for its products, Halliburton is one company that should benefit from Trump's pullback in EPA regulation on business. I fully expect a double or triple in Halliburton profits the next 3-5 years, if Middle East oil production is curtailed from new wars or political instability. In the end, this investment's success is affected less by crude oil price swings day to day, and more by the trend to expand U.S. production.
The green circle on the graph below pinpoints the area I may become aggressive opening new long exposure in Halliburton.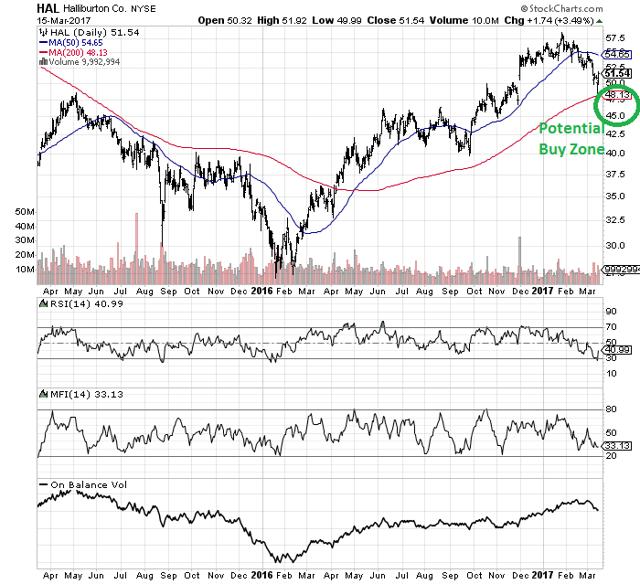 BHP Billiton
BHP Billiton is a leading natural resource miner, extracting and selling industrial metals copper and iron ore, plus energy commodities coal, oil & gas. The company has large operations in Australia, selling primarily to customers throughout Asia. I wrote about BHP's strong recovery in December on Seeking Alpha. The company has a financially strong balance sheet, and is priced at low price to cash flow and book value multiples in early 2017 vs. its 10-year averages. Considering the stock markets of the world are priced on the expensive side of normal, BHP may be ready to "outperform" for a number of years.
This investment should serve as an excellent inflation hedge going forward, if central bank money printing gets out of control or industrial demand picks up beyond expectations during 2017-18. The commodity bust ended in early January 2016 may have laid the foundation for a new 3-5 year upswing in natural resources. BHP is a great way to play that possibility with limited long-term risk vs. alternative ideas, a function of diversified operations and lower levels of financial leverage.
Wall Street estimates for income have risen smartly since my December article, as $0.46 EPS for fiscal year 2016 (ended last June) is projected to rise to $1.50 for FY 2017 (ending this June) and $2.00+ for FY 2018 (ending in 15 months). Buying stock in the mid to low-$30s may produce plenty of future profits in 2018-19, if a commodities price upswing continues. I have circled the price zone in green below that I will be watching to hold.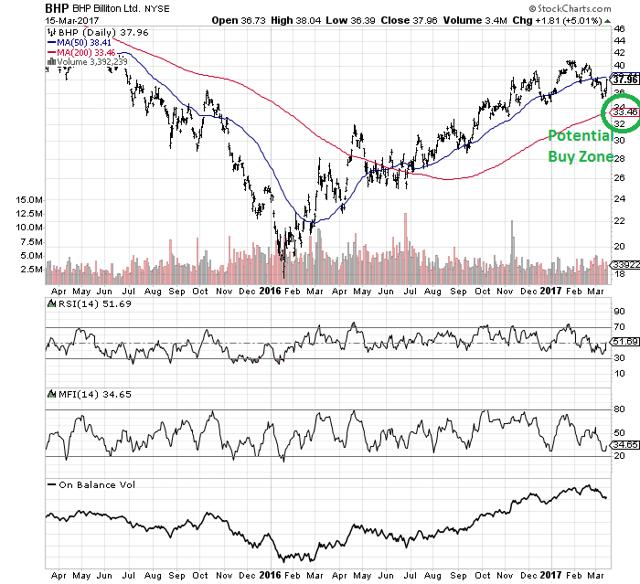 Final Thoughts
The buy scenario I have been contemplating involves a 7%-10% correction in the general stock market. If the four stocks mentioned fall at a similar rate, or preferably decline less, than the overall market, I will get serious about committing new capital. I am still apprehensive about the long-term direction of the U.S. stock market from its historically overvalued position today. Single digit annual returns from stocks are a best case scenario the next 3-5 years. Buying longs in a well-hedged, diversified portfolio is the approach to take for new purchases. Please do not expect fully invested, long only portfolios to earn returns in the 15% or greater range annually going forward. You are bound to end up disappointed and/or witness a meaningful drop in your financial asset worth. We are getting overdue for a 20% bear market. Such a decline will take nearly all U.S. equities dramatically lower. Do your own research and weigh the pros and cons in your own mind before investing in any position.
Disclosure: I/we have no positions in any stocks mentioned, but may initiate a long position in QCOM, SU, HAL, BHP over the next 72 hours.
I wrote this article myself, and it expresses my own opinions. I am not receiving compensation for it (other than from Seeking Alpha). I have no business relationship with any company whose stock is mentioned in this article.