Looking for bargains in the high dividend stock basement bin? While many of the newer basic materials stocks we've covered in our articles have been bid up over the past few months, here's one that Mr. Market has overlooked recently; even though it's up over 34% in the past year, Arc Logistics Partners LP (NYSE:ARCX) has lagged the general market over the past month, quarter, and year to date.
As you'll see in the earnings section, it's not for lack of growth.

Profile: ARCX is a fee-based limited partnership. Its energy logistics assets consist of 21 terminals in 12 states located in the East Coast, Gulf Coast, Midwest, Rocky Mountains and West Coast regions of the US, with approximately 7.7 million barrels of crude oil and petroleum product storage capacity, four rail transloading facilities with approximately 126,000 barrel per day of throughput capacity, and the liquefied natural gas (LNG) interest in an LNG facility, which has 320,000 cubic meters of LNG storage, 1.5 billion cubic feet per day natural gas send-out capacity, and interconnects to natural gas pipeline networks. Arc Logistics GP LLC operates as a general partner of the company. Arc Logistics Partners LP was founded in 2007 and IPO'd in November 2013 (Source: ARCX site).
Distributions: ARCX pays $.44 quarterly, and, at a $14.01 price/unit, is currently yielding 12.56%.

Our High Dividend Stocks By Sector Tables track ARCX's current price and dividend yield (in the Basic Materials section).
Management has been conservative, keeping the payout at $.44 over the past six quarters. This makes sense; it's shelling out over 12% to unit holders.
As a result, with distributable cash flow growing by 26%, the company's coverage factor rose from 1.06x to 1.29x in 2016.

Options: There are no options listed for ARCX, but you can see the details for more than 25 other income-producing trades in both our Covered Calls Table and our Cash Secured Puts Table.
Earnings: Management has worked on integrating six terminals in three different states with 1.4 million barrels of storage capacity over the past six quarters.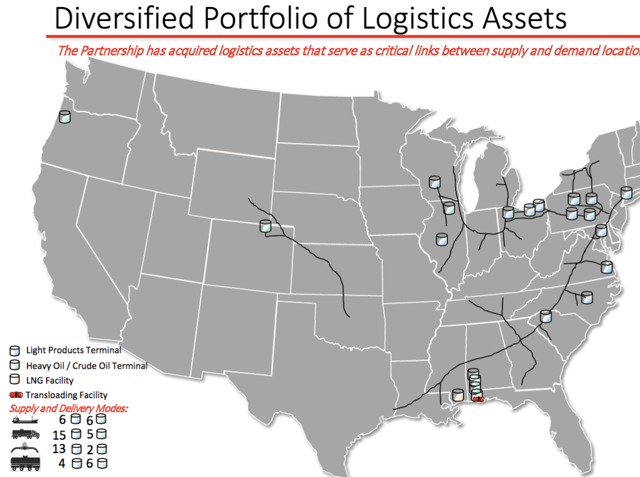 (Source: ARCX site)
On the Q4 earnings call, management commented on the company's 2016 earnings growth:
"These significant increases were driven by the full-year contribution of our Pawnee and Joliet terminal, the successful integration of our first quarter 2016 Pennsylvania terminal acquisition and improved customer activities of partnership's legacy assets."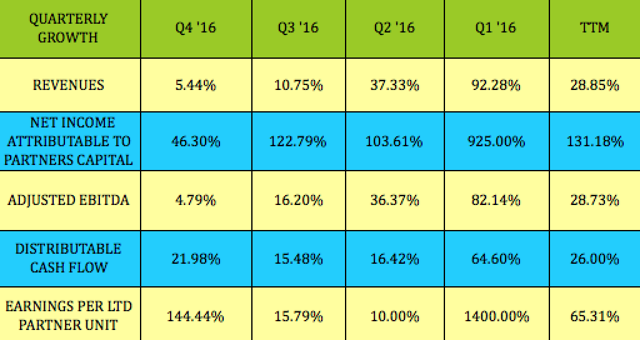 Sequentially, Q3 and Q2 '16 saw the highest revenue figures, with the exception of DCF, which hit a company record of $10.99M in Q4 '16.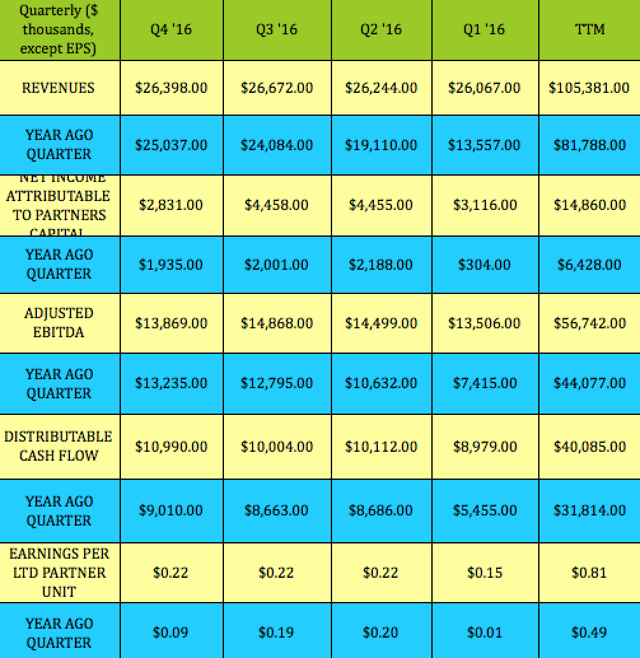 Unit count jumped by nearly 16% in 2016, which increased the total distributions paid by 24%, but coverage didn't suffer - it actually improved slightly to 1.18x from 1.17x.
On the Q4 earnings call, management gave us some confidence that the unit count won't be diluted in 2017:
"The partnership believes it is well positioned to fund its growth projects, which are currently estimated to be approximately 10 million, all of which can be funded under to revolving credit facility."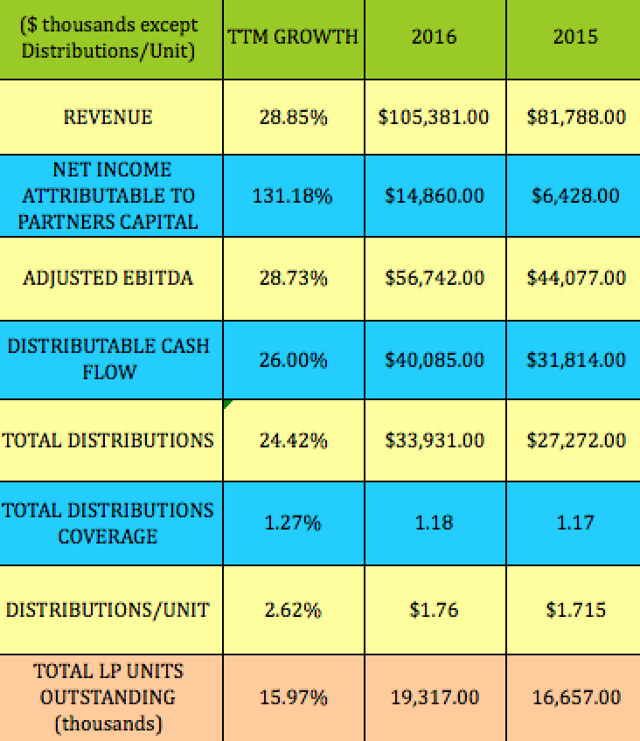 Analysts: ARCX is over 11% below analysts' current consensus price target of $15.80.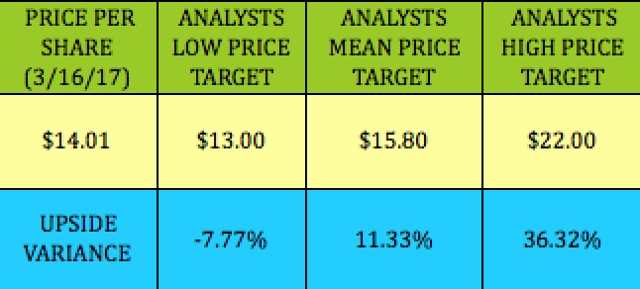 It has received some upward earnings estimate revisions over the past 30 days, for Q1 and Q2 '17, and full-year 2017 and 2018. However, it also received two downward revisions for 2017 and 2018.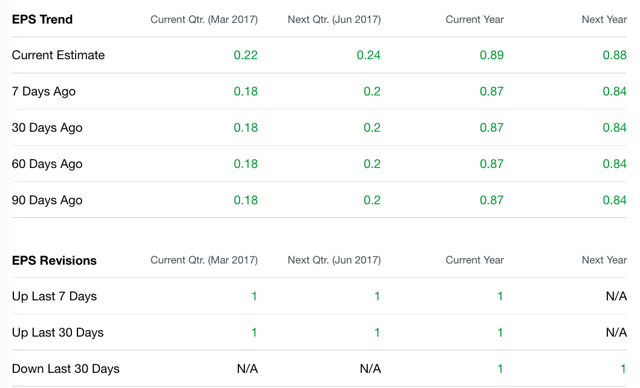 (Source: Yahoo Finance)
Valuations: This valuation table includes some midstream firms we've covered in recent articles, such as Holly Energy Partners LP (NYSE:HEP), MPLX LP (NYSE:MPLX), PBF Logistics LP (NYSE:PBFX), Martin Midstream Partners LP (NASDAQ:MMLP), and Green Plains Partners LP (NASDAQ:GPP), in addition to DCP Midstream Partners LP (NYSE:DCP) and Kinder Morgan (NYSE:KMI).
Note: The yield and coverage averages don't include KMI.
ARCX has by far the cheapest price/book value in this group, selling at just 74% of book value.
It also has the second lowest price/DCF, price/sales and EV/EBITDA, and the highest distribution yield, while its trailing distribution coverage factor of 1.18x is average for the group.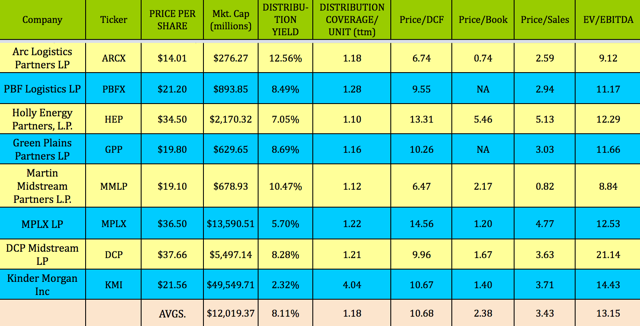 Financials: ARCX's ROA and ROE lag the leaders in these categories while its debt/equity is the second lowest in the group. At 4.25x, its debt/EBITDA is similar to older firms HEP and MMLP, and nowhere near the 6x-plus of KMI.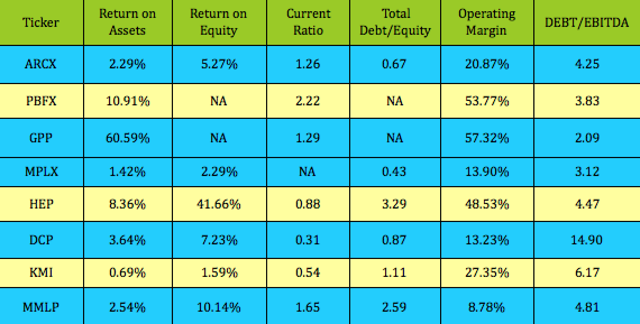 Debt: The $249M long-term debt is laddered out to between one and three years.

(Source: ARCX 2016 10-K)
All tables furnished by DoubleDividendStocks.com, unless otherwise noted.
Disclaimer: This article was written for informational purposes only, and is not intended as personal investment advice. Please practice due diligence before investing in any investment vehicle mentioned in this article.
Disclosure: I am/we are long ARCX, MPLX, PBFX, MMLP.
I wrote this article myself, and it expresses my own opinions. I am not receiving compensation for it (other than from Seeking Alpha). I have no business relationship with any company whose stock is mentioned in this article.