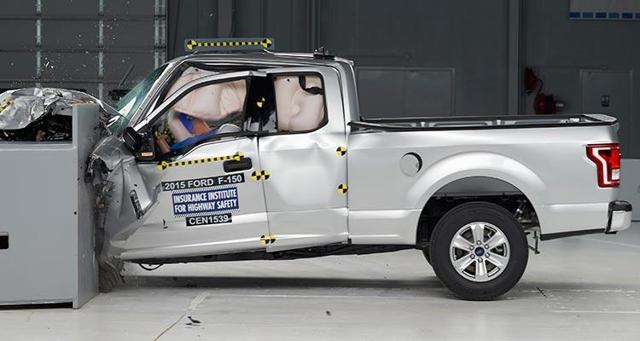 (Source)
Ford Motor (NYSE:NYSE:F) is an attractive stock for many yield-hungry investors because of its massive yield of almost 5%. However, Ford's dividend is not adequate compensation for the risks of holding this stock compared to alternatives in the market.
Ford Motor represents an excellent short opportunity for 2017 due to the multi-faceted threat of rate hikes and dollar appreciation - a challenge the company is uniquely ill-suited to address.
Rate Hikes: Dollar Appreciation
Motor vehicles are a consumer discretionary expenditure that depends on the business cycle much more than other industries. The bullish thesis for Ford rests on the assumption that the global economy, spearheaded by Trump's America, will continue to expand over the next few years. Consumers will maintain or increase consumer discretionary expenditures.
While this thesis may be correct, it comes with a darker side that we believe the market is not fully appreciating: dollar appreciation. With every rate hike, the United States dollar becomes more expensive compared to other currencies. On top of this, the euro and British pound face headwinds from political pressures in Europe. As the dollar becomes stronger, Ford will face challenges that may negate the benefit the firm receives from an expansionary economy.
1. As the dollar strengthens, Ford's overseas exports will become less competitive vs. domestic competition. On top of this, losses due to forex translation to USD, or hedges against currency risk, may create a performance drag on Ford's non-US operations.
2. Ford's US sales will be less competitive against international competition. American automakers like to produce their vehicles in lower-cost regions like Mexico, for example, but Trump's watchful eye will make such moves difficult for the next four to eight years.
3. Higher interest rates will increase the risk-free rate and increase the yield required for risky assets. When interest rates go up, dividend stocks like Ford come under pressure because investors will require greater returns to take on the risk.
4. Higher rates may cause difficulties in Ford's finance business. Higher rates will also increase the possibility of failure for variable rate loans.
Ford's Dividend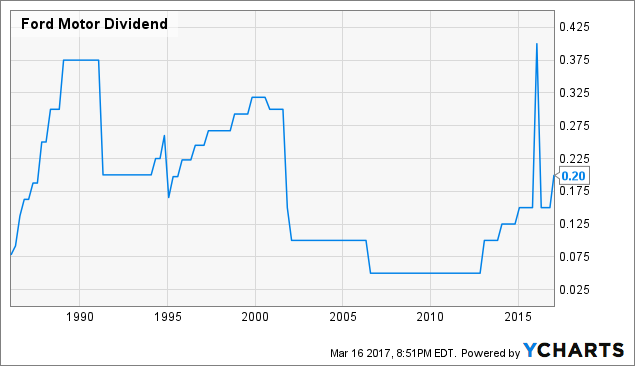 F Dividend data by YCharts
Ford's dividend is high, but the company is far from a dividend aristocrat. A case can be made that the reason Ford's dividend is so high is because the stock price is heavily discounted due to the market's perception of risk. Unsustainable high dividends can be seen as an omen of a future dividend cut, and if this were to happen, it would not be the first time Ford has cut its dividend.
Ford's dividend is not well covered as measured by the payout ratio. Ford's payout ratio is 73.46%, and this is not good coverage for a dividend of 4.75%. General Motors (NYSE:GM), on the other hand, has a payout ratio of only 25.12%. It must be stated, in Ford's defense, that the company has a prodigious FCF of $12 billion and cash and equivalents of $15.9 billion. If Ford wants to maintain its dividend, it can. The question is whether or not Ford will want to if dollar appreciation begins to harm the business.
Conclusion
Ford Motor depends on an expanding economy for its consumer discretionary, business-cycle, dependent business. However, the last time the economy was expanding the dollar was not soaring to such highs against the euro and other currencies. Now, with the euro and other currencies under so much pressure, Ford will find itself in an unprecedented high-dollar environment that may harm its business operations.
A higher risk-free rate and the threat of Trump's protectionism adds on to the headwind for Ford stock. In addition, Ford's dividend, while high, is not particularly well covered by the company's net income. If the Fed continues on its aggressive rate hike plans, Ford Motor may represent a compelling short opportunity.