Platinum has been a very disappointing metal for the longest time. Platinum is a rare precious metal; there are only about 250 tons produced each year. Primary production from South African mines accounts for around 80% of world output. The majority of the balance of annual production comes from Russia where platinum is a byproduct of nickel in the Norilsk region of Siberia.
Platinum is more expensive to produce than gold. The metal occurs naturally deeper in the crust of the earth making it harder to mine. Platinum has extraordinary and marvelous properties; it is denser than gold and has a higher melting point. For many years, platinum's nickname has been "rich man's gold." Over the course of the past four decades, platinum has spent the majority of time trading at an average of a $100 to $200 premium to the price of gold. In 2008, the platinum premium over the yellow metal reached over $1200 per ounce. However, in 2016 platinum descended into the abyss ignoring price action in gold as it fell to a $360 discount to its precious brethren, an all-time modern day low.
Despite its "more valuable" qualities, platinum has not traded at a price higher than gold since 2014, and the current discount of over $260 continues to be an enigma and a deviation from a historical and fundamental norm. The latest correction in precious metals hit platinum particularly hard as on a percentage basis it is was the biggest loser in the sector.
An ugly correction from the late February highs
The prices of gold, silver and even palladium declined in February as the prospects for an interest rate hike at the March Fed meeting caused the U.S. dollar to rally to the 102 level. The strong dollar is traditionally bearish for precious metals prices.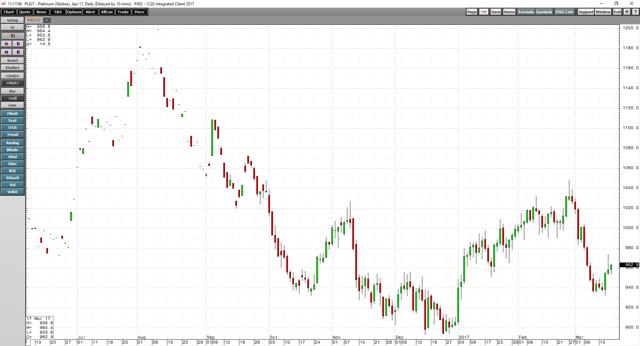 Source: CQG
As the daily chart of NYMEX platinum futures highlights, the precious metal reached a high of $1047.80 on the April futures contract on February 27. Platinum took the stairs up and the elevator down, and by March 15, the price hit a low of $932.90, a decline of almost 11%. During the same period, gold fell 5.6%, silver was down 9.3%, and palladium dropped 7.2%. Platinum was the worst performer in the sector.
A rare precious metal that is expensive to produce
Primary production of platinum in South Africa is expensive. It costs lots of money to mine platinum, and it takes many tons of ore to produce a single ounce. Considering platinum production is under 10% of the total annual output of gold one would think that it should trade at a premium to the yellow metal and over the course of history that has been the case. It takes ten tons of ore and a five-month process to produce that ounce. In platinum mines, the temperature tends to exceed 120 degrees Fahrenheit. On average gold is much easier to extract from the earth. Therefore, the production cost of the yellow metal tends to be lower than its precious cousin.
Given platinum's industrial properties the requirements for industry are vast in automobile catalytic converters, fiberglass manufacturing, oil refining, as well as in medical applications. On a per ounce produced basis, there are far more industrial consumer uses for platinum than gold. Moreover, while central banks hold over 30,000 tons of gold and there are around 2,800 tons of the yellow metal produced each year, stocks of platinum are limited, hidden, and small in comparison. And, platinum has been in a deficit for six years.
A supply/demand deficit in platinum
According to the World Platinum Investment Council, 2017 will mark the sixth straight year where demand for platinum exceeds supply. The problem for platinum when it comes to the price is that investors have not turned on to the precious metal. In all precious metals markets, the supply and demand equation each year depends on one variable that determines the path of least resistance for the price; which is investment demand. Simply put, while industrial demand and supply each year are important factors, these markets move higher when buying overwhelms producer selling. In years when buyers stand aside, price action tends to be weak, and that has been the situation in platinum since it reached all-time highs in 2008 at over $2,300 per ounce.
There are times when technicals can cause an otherwise complacent market into a bull. Perhaps one of the biggest problems for platinum is that there is much less liquidity in the physical and derivative markets than in gold and silver. Less liquidity is often a roadblock for large fundamental traders, investors, and speculators like hedge funds who favor markets that are easy to buy and sell without blockage which can cause the price to move in a vacuum when big orders come to market for execution.
After the most recent price decline in platinum, the precious metals looks poised to recover and move higher. All it will take is buyers who realize the fundamental and current technical opportunity.
Oversold territory and a reversal sets platinum up for a recovery
On March 15, platinum fell to the lowest price since January 4 when the metal was in the process of taking the stairs up to the February highs.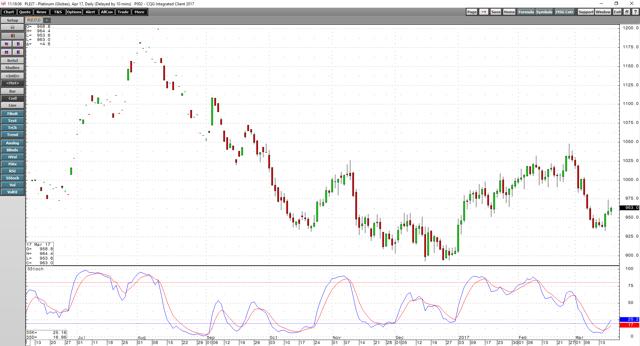 Source: CQG
The slow stochastic, a momentum indicator, crossed in oversold territory on March 15 as platinum traded to its recent low and reversed closing at a higher price than the previous session. The bullish key reversal trading pattern on the daily chart lifted platinum to a high of $973.80 on March 16, but it closed near the lows of the session. On Friday, April platinum futures were trading around the $963 per ounce level. The shift in momentum should send the price above $1000 per ounce. The problem remains that weekly and monthly charts are in a downtrend despite the positive fundamentals for the metal.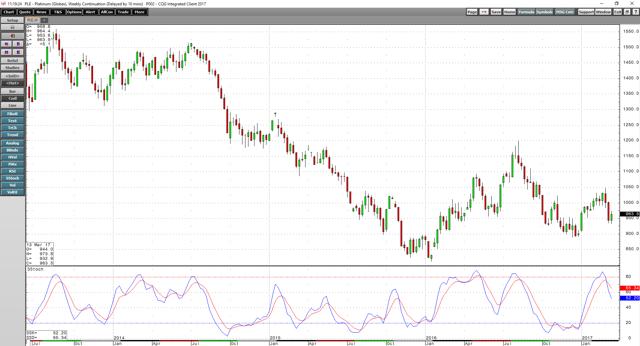 Source: CQG
The weekly chart displays a downtrend that commenced in February when platinum fell from its most recent high.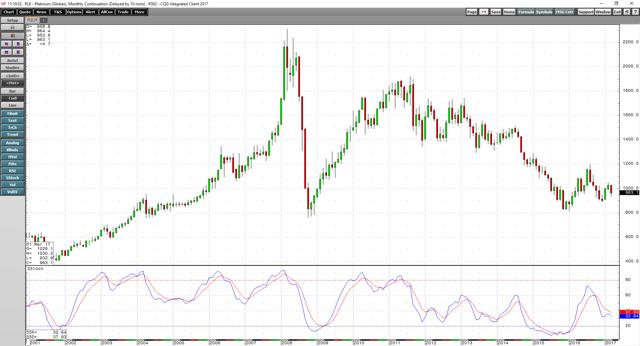 Source: CQG
The monthly chart is also in a downtrend that began in September 2016 after platinum fell from the 2016 highs of $1199.50 per ounce.
Sometimes, when dealing with a market that is in a fundamental deficit that has lasted for an extended period, it is best to look at long-term technicals.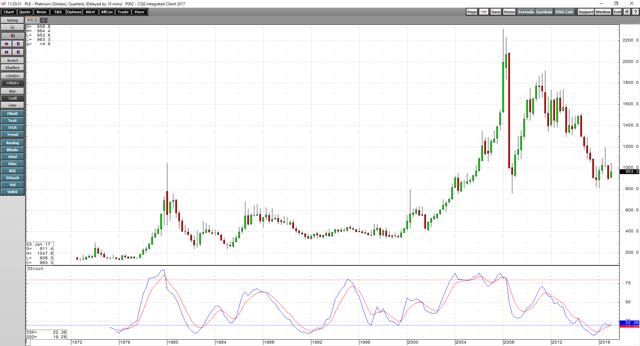 Source: CQG
The quarterly chart dating back to the mid-1970s shows a more positive technical picture for the rare precious metal. However, it could take a long time for platinum to resolve the current bearish technical picture. With the fundamentals on its side and a promising long-term technical picture, platinum needs just one more thing to ignite the price of the metal- buyers.
Platinum remains too cheap compared to gold
Eventually, investors will figure out that platinum offers the best value proposition in the precious metals sector. Value has little to do with price, and one of the best ways to determine in a commodity is cheap or expensive is to compare it to the price of a substitute over time.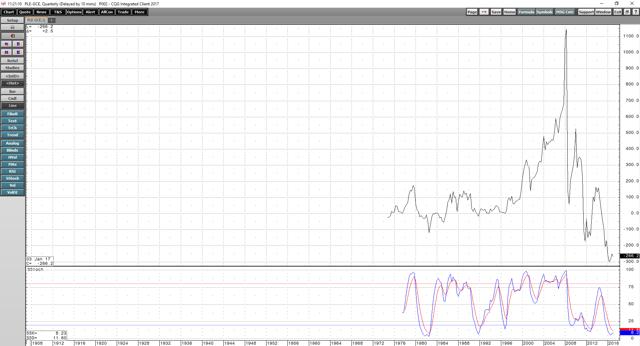 Source: CQG
The quarterly chart of the price of platinum minus the gold shows that since the 1970's platinum has spent the majority of time reflecting its fundamentals and trading at a premium to the price of gold. In fact, before 2011 platinum rarely traded at a discount to the yellow metal. 2014 was the last time we saw a premium for "rich man's gold," and in 2015 it made a new low on the inter-commodity spread until it fell to yet another low of over $350 discount in 2016. The momentum indicator for the spread has been moving lower since 2014 and entered oversold territory last summer where it remains.
I believe that investors are afraid of platinum since 2008.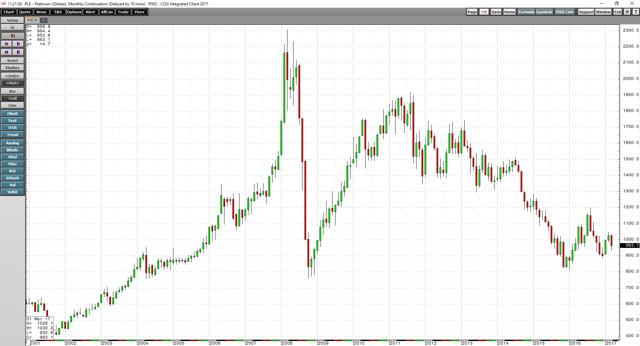 Source: CQG
After all, platinum fell from just over $2300 ounce in March 2008 and was trading at below $800 in October of the same year. Investors and traders who bought platinum on the way up got crucified. Platinum fell by over $1500 during that seven month period which is $537 more than the total price platinum sold for last Friday.
With gold at around $1230 per ounce, platinum continues to be an enigma at prices below gold and under $1000 per ounce. Eventually, investors and traders will figure out that platinum offers a unique investment opportunity. The historical divergence between platinum and gold has continued for over three years. It can take a long time for divergence to correct and move back towards historical norms. When it comes to platinum, the eventual correction will make the few market participants who recognize the intrinsic value of the metal and take the necessary risk lots of money when it finally occurs.
I have introduced a new weekly service through Seeking Alpha Marketplace. Each Wednesday I will provide subscribers with a detailed report on the major commodity sectors covering over 30 individual commodity markets, most of which trade on U.S. futures markets. The report will give an up, down or neutral call on these markets for the coming week and will outline the technical and fundamental state of each market. At times, I will make recommendations for risk positions in the ETF and ETN markets as well as in commodity equities and related options. You can sign up for The Hecht Commodity Report on the Seeking Alpha Marketplace page.
Disclosure: I/we have no positions in any stocks mentioned, and no plans to initiate any positions within the next 72 hours.
I wrote this article myself, and it expresses my own opinions. I am not receiving compensation for it (other than from Seeking Alpha). I have no business relationship with any company whose stock is mentioned in this article.