Exxon Mobil (NYSE:XOM) looks to be putting in a bottom right now. Although crude has broken the $50 resistance level in recent trading, Exxon Mobil's stock has held up rather well. The fundamental operating environment has an added level of uncertainty right now and that may mean XOM will trade sideways over the coming weeks. However, it depends on which factors change first and whether or not global cooperation occurs on a much larger scale. For now, I still think Exxon Mobil is a buy, but the fundamental environment's uncertainty may prolong the recovery period for crude oil prices, causing the shares to move sideways.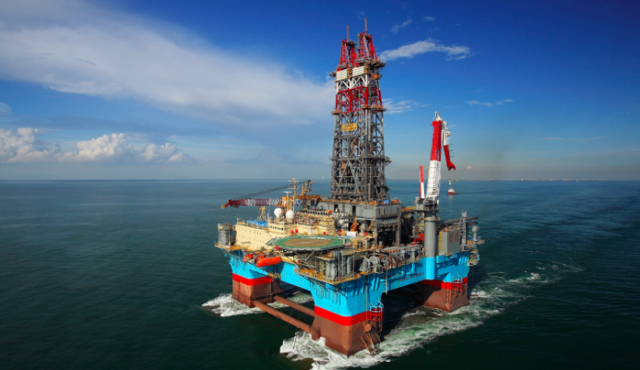 Source: Business Wire
The Only Major
Whenever XOM takes a hit, it's worth taking a look at the fundamental situation relative to the company's financial positioning. Let's start with their current financial standing relative to competitors. Now that the Q4 2016 results are all in, we can see that Exxon Mobil is in a league of its own as the only one to post full-year free cash flow. Their level of $9.7 billion is massively higher than the second closest major, Total (NYSE:TOT), which posted negative free cash flow of $1.1 billion. We know that Exxon Mobil is the safest of the majors and has one of the most stable balance sheets, thus the basis for an investment is highly warranted. However, there are a few noteworthy items that investors may be looking at that show a future reduction in free cash flow.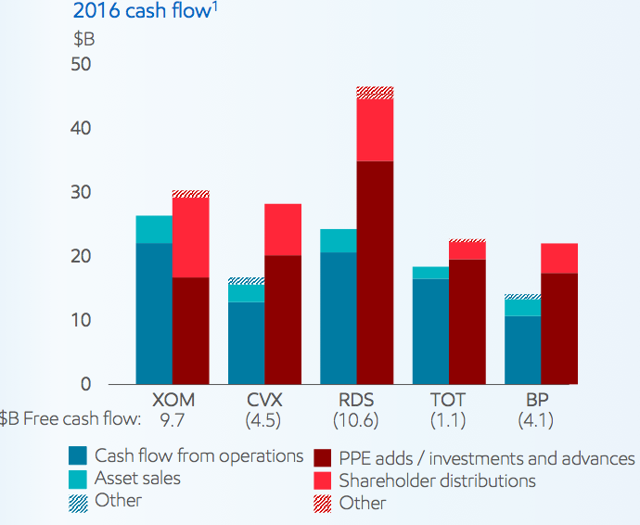 Source: Investor Presentation
Naturally, it should be noted that all of these companies currently have more outflows than inflows - even Exxon Mobil. Since free cash flow is not net of dividends, that factor being added into the mix puts Exxon Mobil in the red. However, Chevron (NYSE:CVX), Royal Dutch Shell (RDS.A, RDS.B), Total and BP (NYSE:BP) all have dividend outflows that just extend their cash flow negativity, as they all posted negative free cash flow in 2016. Royal Dutch Shell's was by far the worst, at -$10.6 billion in free cash flow and you can clearly see what effect the high-yield dividend is having on their cash flow situation. So, with Exxon Mobil being the only integrated O&G major to post positive free cash flow on the full year 2016, we have to recognize that this is the major you want to buy if you're in the interest of portfolio stability.
However, free cash flow is slated to decline right now and I say this in two regards. First, from the perspective of capital expenditure, Exxon Mobil, being as fortunate as it has been to have positive free cash flow in 2016, has increased its capital expenditure budget for 2017 by $3 billion to $22 billion. After 2017, the next three years is expected to see another $3-4 billion increase from the current level. So, that means for 2017, all else equal, we'll see a decline in free cash flow by $3 billion. Naturally, free cash flow won't decline if the company can take home a higher level of net income (flow through to operating cash flow) from higher commodity prices or generally taking on more capital-efficient, high-IRR projects. I don't believe they would've raised the capital expenditure budget had they not felt they could increase free cash flow YOY.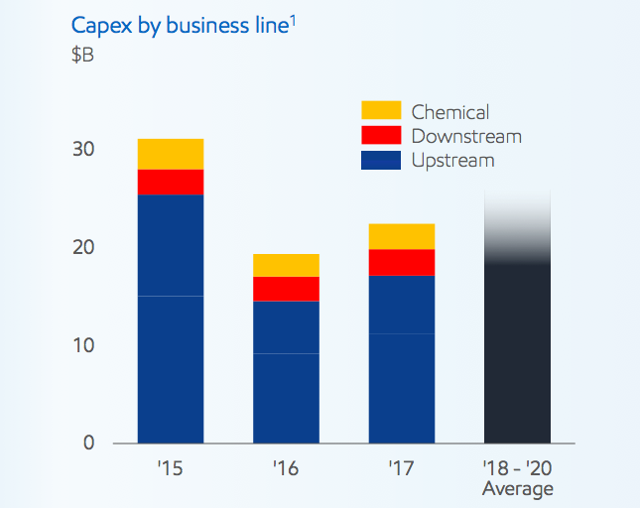 Source: Investor Presentation
A key to remember here with respect to XOM's dividend outflow is that it will continue to grow. Now, dividend outflows are not factored into free cash flow, but clearly they're a large cash outflow that must be considered, especially relative to operating cash flow. The company has sustained an 8.8% CAGR for the last ten years, even though the 2016 increase was just 3.5%. Perhaps that last figure shouldn't be belittled as it was one of the few O&G companies in the entire public markets to increase its dividend in 2016 and did so in 1H2016, well before the production cut announcement from OPEC at the Vienna meeting in late November.
So, if we receive another increase in the dividend this year, that means the net inflows that Exxon Mobil takes home at the end of the year will be negative, as this builds off of the increasing capital expenditure budget and assumes commodity prices remain flat. However, I do not expect the latter to be the case and expect the company to grow free cash flow materially in 2017 from its 2016 level.
The way Exxon Mobil moves, often in a direct correlation to crude oil prices, the market tends to forget very favorable free cash flow positions like the one this company has, especially when viewed relative to peers. The only way we see that priced in is in the lower volatility than peers and lower drawdown than peers on major trends, like the one experienced from late 2014 to Q1 2016. So, dips like the one we are currently seeing right now present long-term buying opportunities.
How Long Will Exxon Mobil Trade Sideways?
The answer to that, in my opinion, is entirely dependent upon how long it takes for oil prices to gain a definitive trend. First, take a look at the chart below. XOM has been declining since mid-December, just a few days after its impressive run-up from the OPEC production cut announcement. This downtrend has been incredibly steep to the downside, losing over $10/share, when crude prices had nowhere near the same development.
However, I will say that in light of crude oil prices rebounding rapidly, perhaps XOM bulls came in with significant buying power and kept the stock from breaking the $81 support level. Right now, we're still about 2% away from the 50 DMA and breaking that in the next couple of sessions, irrespective of crude prices, would signal strong buying support in the stock to me. A larger bullish signal would be a breach of the 200 DMA. However, that line has started to develop a downtrend and it may be a few months before we see it tick back up.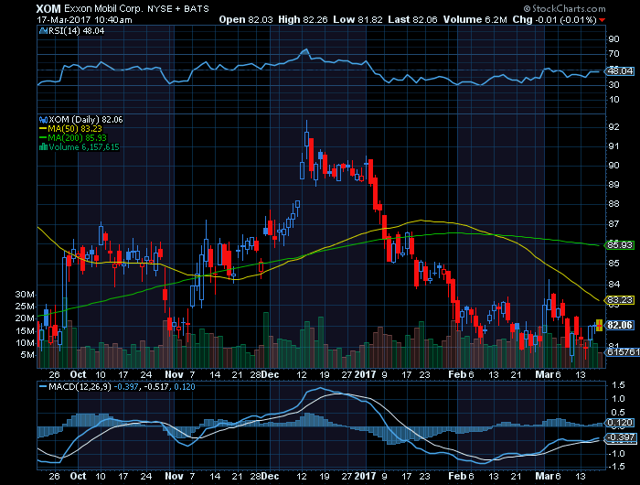 Source: StockCharts
Crude oil, on the other hand, had been trading in a range-bound pattern after the production cut announcement and everyone on the Street was generally waiting for a large push or pull one way or the other. What was the problem? It was the catch 22 between overproduction from American producers, with a large overhand in American inventories, while OPEC and several non-OPEC producers were cooperating in a production cut and OECD inventories were retracting.
When the EIA and API both reported significantly larger inventory builds than what was projected, the market finally gave way to the downside, indicating that oversupply had returned to the market. That's why there's such a large move to the downside in crude oil this month - but, in terms of Exxon Mobil, the stock has quite the resilience considering it didn't experience another significant decline. Traders must have felt that the decline was priced in already.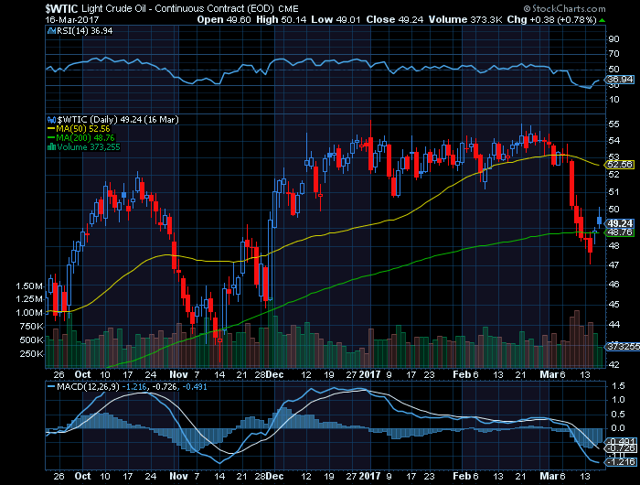 Source: StockCharts
So, what do we have now? Just in terms of crude oil, it could be volatile trends under $50/barrel for the short term if there's no additional global cooperation. American producers took advantage of the best crude oil prices in several quarters and, as a result, flooded the market again. This past week we did receive a break in the trend of nine straight weeks of inventory builds, but it's still a fractional retraction, relatively speaking. This uptrend in American inventories has to start reversing if we want to see crude even have a shot at being near $60/barrel by the end of the year. Perhaps the G20 meeting this week will shed some light on the direction of major global crude producers, but we're ultimately going to need cooperation from both American E&Ps and OPEC to see strength in crude prices. Thus, I believe Exxon Mobil is going to trade sideways for a bit, but in this waiting period, shareholders can still collect the 3.65% dividend while they wait for an uptick in crude.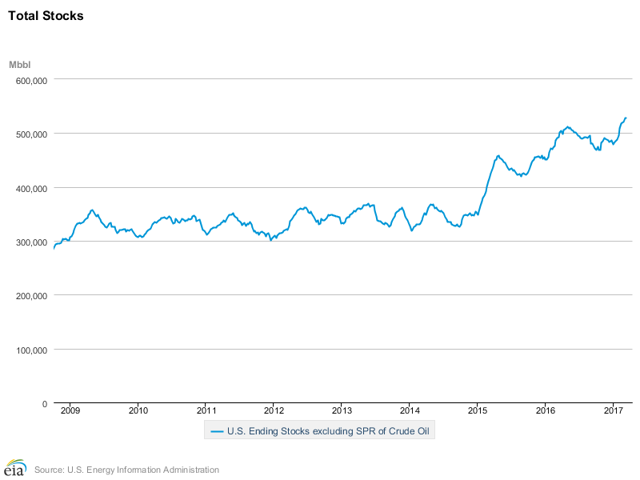 Source: EIA
Conclusion
There is a multitude of information currently surrounding Exxon Mobil and there's a lot for shareholders, as well as prospective investors to balance. It's important to remember that Exxon Mobil has the most favorable free cash flow position out of all the integrated O&G majors, has an increasing dividend, a rising capital expenditure budget and a focus on capital efficient projects. With that being said, investors should take advantage of the downtrend that occurred over the last couple of months and take a long-term position in the stock.
Disclosure: I am/we are long XOM, RDS.B, CVX.
I wrote this article myself, and it expresses my own opinions. I am not receiving compensation for it (other than from Seeking Alpha). I have no business relationship with any company whose stock is mentioned in this article.