Welcome to the latest issue of the PRO Weekly Digest. Every Saturday for Seeking Alpha PRO subscribers and Sunday for all other Seeking Alpha users, we publish highlights from our PRO coverage as well as feature interviews and other notable goings-on with SA PRO. Comment below or email us at pro-editors@seekingalpha.com to let us know what you think. Find past editions here.
Idea screen of the week
Each week we use the PRO Idea Filter to find potential ideas based on a recent news event. This week, Daniel Shvartsman takes a look at how to play the rising rate cycle.
The Fed was the big news this week. Two rate hikes in three months suggests we're entering a rising rate environment. And bank investors already know it, given how much the major banks have moved over recent months. But there are still a bunch of rate-sensitive financial companies that have not yet priced in the new environment, for one reason or another.
I had added to a position I had in Independence Holding Company (NYSE:IHC) right before the Fed announcement, based on this thesis from early last year and the fact that the stock had been dropping. So I thought to look at other companies in the financial sector where the idea hasn't quite played out but the context seems to have improved.
I searched for long ideas on Accident & Health Insurance, Credit Services, Diversified Investments, P&C Insurance, Surety & Title Insurance, Savings & Loans, Insurance Brokers, and Life Insurance companies, where the return since the article was 0-20%, and the price target was 25% or higher. 19 ideas turned up. Here are some that caught my eye: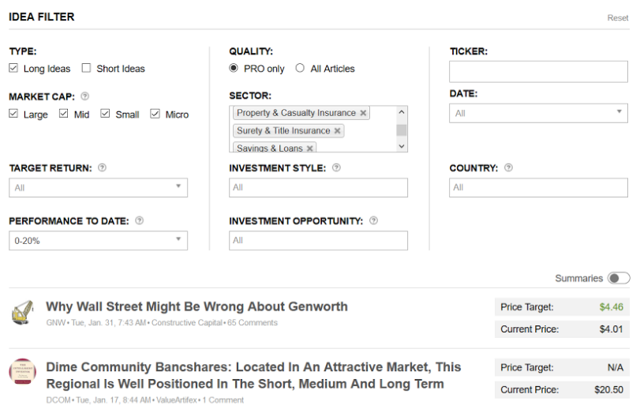 Alerus Financial (OTCQX:ALRS) by Eric Nickolaison: Published December 28th, up 13% since publication, $265M market cap. Amortization from two big acquisitions shields ALRS's true earnings power, says Nickolaison; an adjusted PE would be 12x earnings at the current price, which is a rare value in the sector.
MVC Capital (NYSE:MVC) by Dayton Investing: Published December 14th, up 5% since publication, 20% upside remaining to author's price target plus 6% yield. BDCs are either trading at book value or have questionable valuations on their balance sheet. MVC trades at .72/NAV, but has new management and is building out a loan book to benefit from the changing conditions.
Stewart Information Services (NYSE:STC) by Ariana Research: Published June 30th, up 9%, 30%+ upside remaining to author's price target. This was a top idea that hasn't quite played out yet, but even after a settlement with Starboard, there may be momentum for a sale.
Heritage Insurance Holdings (NYSE:HRTG) by Dichotomy Capital: Published June 17th, about flat since publication, ~50%+ upside to price target. Hurricanes returned to Florida last year; HRTG seems to have survived ok, though the market didn't like its Q4 report, making Dichotomy's thesis perhaps a timely one.
E-L Financial (OTCPK:ELFIF) (ELF.TO) by Safety In Value: Published December 27th, up 12% since publication, ~25% upside to price target. This strays into Canada, so it's not a Fed-exposed firm per se, but it does run a life insurance company as its key business and otherwise has a compelling collection of assets.
Noteworthy PRO articles
In addition to the Top Idea we published this week, we wanted to highlight a few of our PRO editors' favorite PRO ideas this week:
PRO Managing Editor Daniel Shvartsman: It's tough to find value in today's market, but FreightCar America (NASDAQ:RAIL) is trading at about 2/3 tangible book despite being at about break-even operating income near a cyclical trough. David Tuzzolino, CFA, explains the low valuation and why it shouldn't last.
SA Editor Jeffrey Fischer, CFA: Jan Svenda suggests that PICO Holdings (NASDAQ:PICO) offers a Sum-Of-The-Parts value opportunity. The company is likely to monetize water rights in key regions while seeing a rise in the value of its subsidiary holding UCP LLC.
SA Editor John Leonard, CFA: Thomas Niel highlights Turning Point Brands (NYSE:TPB), an underfollowed small-cap tobacco company, focused on the growing other tobacco products category that trades at an unwarranted discount to its peer group; strategic transactions by Reynolds American (NYSE:RAI)/Altria (NYSE:MO) and recent stock-swap deal suggest potential for M&A activity.
PRO idea playing out
IDT Corp. (NYSE:IDT) dropped ~35% and reached the price target in less than a month after ACM Research Team said the core business is impaired and 65% of "adjusted" earnings appeared to be vapor. In a follow-up comment to the earnings released earlier this month, ACM Research noted the negative operating leverage (revenue down 4%, adjusted EPS down ~30%) and the fact that stock-comp, D&A and other operating expense accounted for ~85% of adjusted pre-tax earnings.
Call from the archive - ALLT
Allot Communications (NASDAQ:ALLT) is virtually unchanged since Elephant Capital shared its bullish thesis in December 2016. In an update comment, Elephant Capital cited the new CEO as a positive catalyst, which drove a ~15% gain over the next three days. As the stock has since given up this gain and returned to the original entry price, it may be worth another look.
About the PRO Weekly Digest
PRO members automatically receive the Weekly Digest and other PRO content in their inbox. If you are not a PRO member and would like to be notified of this, click follow at the top of this article to follow the SA PRO Editors account, or click to subscribe to the free newsletter below to receive these in your inbox. You can view all past PRO Weekly Digests here. And if you're interested in SA PRO, check out the details here to sign up or learn more.
Disclosure: I/we have no positions in any stocks mentioned, and no plans to initiate any positions within the next 72 hours.
I wrote this article myself, and it expresses my own opinions. I am not receiving compensation for it. I have no business relationship with any company whose stock is mentioned in this article.
Additional disclosure: Check with individual articles or authors mentioned for their positions. Daniel Shvartsman is long IHC.