Stock Performance
This week Oracle (NYSE:ORCL) released Q3 earnings. The results were impressive and EPS was 7 cents (11%) above analysts' estimates. The stock surged 8% at the open and was up 6% at the close after the earnings call, which cleared analyst targets by comfortable margins. JPMorgan (NYSE:JPM) upgraded the stock to overweight from neutral. Shares were already extended after breaking above an eight-month consolidation in February. The stock has had an impressive run in the last 3 months, amassing a 17% return; however, the last year has not been as great - the ORCL stock underperformed S&P 500 by 2.5 percentage points.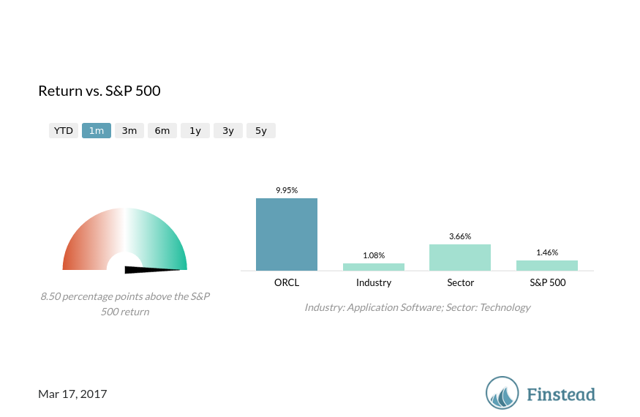 The Company
Oracle's major lines of business comprise database and applications. Other lines of business are industry applications, middleware and hardware. Oracle's presence in the database market is unparalleled; the company has north of 40% share in the relational database segment. Database sales are approximately 30% of Oracle's revenue base. These solutions have substantial switching costs as integration and training are typically extensive, and compatibility is definitely a concern around new potential database solutions. Oracle has made substantial investments in its own technology and has made the entire database available in the cloud. However, the influx of open-source database technologies, and Microsoft (NASDAQ:MSFT) and Amazon (NASDAQ:AMZN) in particular pose threats to the business.
Just like its database, Oracle's application business has significant switching costs. The company boasts robust human capital and enterprise resource management solutions, along with customer experience applications (sales, service and marketing). Oracle also has a broad portfolio of industry-specific software solutions. The firm has shown it has been able to retain its existing application customer base as enterprises increasingly migrate to the cloud, and it has also grown a new base of smaller customers (SMB) in the apps space. Mark Hurd, Oracle's CEO, says that 50% of Oracle's ERP customers have never used Oracle before.
Cloud Momentum
The growth in cloud Oracle continues to experience is becoming more visible. The SaaS and PaaS businesses look sizable: total cloud business has reached the $5 billion mark, and the combined SaaS and PaaS businesses grew 85% in Q3 while the gross margin is at 65%. Over the last year, Oracle sold more new SaaS and PaaS than Salesforce.com (NYSE:CRM). It is now growing significantly faster than CRM, so we expect ORCL to soon overtake CRM in total cloud revenue in the near future.
The SaaS and PaaS businesses are growing fast, but the potential to reach even greater scale is driven by the IaaS business (specifically, bare metal offerings for complex Oracle workloads). Larry Ellison claims that Oracle's new IaaS is faster and lower cost than Amazon Web Services. We believe the critical point is not that Oracle is cheaper than AWS, but that Oracle can now deliver what its largest enterprise customers have been asking for a while -demanding Oracle database workloads at a lower cost and with more efficiency than AWS.
Analysts' Perspectives
Despite a late start, Oracle has made the needed investments to ensure its applications will work in a cloud-based environment, which should lock customers in over the long run. The whole application suite is now available in the cloud. It has also made a slew of savvy acquisitions to expand its PaaS and SaaS portfolio and vertical, industry-specific offerings (most recent examples: NetSuite and oPower). With a simplification of the purchase process and contracting, Oracle has become more flexible in recent years to meet customer needs. It has also embraced an open-source move with the right database solutions (e.g., MySQL).
The critics would say that for Oracle, it will be difficult to reverse the decline database business as lower-cost, increasingly more effective alternatives become available - most of the tech startups use open source solutions for database, rather than Oracle. You may hear an argument that the push into public compute could create a drag on Oracle's margins, but with the most recent earnings announcement, the skeptics are backing off. Oracle's margin is improving as the company moves to cloud, due to the scale of its investment and a large customer base. Also, the company that once was years behind Amazon and Microsoft in terms of breadth and depth of cloud services, is now quickly catching up and outperforming competitors in areas such as high-performance computing and hybrid cloud. As the different Oracle products converge, Salesforce.com and Workday (NYSE:WDAY) will now find it increasingly difficult to compete with Oracle by building software platforms spanning multiple use cases.
Valuation
Compared to its industry peers, Oracle is valued at a discount. The forward Price/Earnings ratio, standing at 13.8 is 28% below that of SAP (NYSE:SAP) (19.2). Similarly, looking at the Price/Earnings ratio adjusted for growth (PEG), the stock trades at a 26% discount compared to SAP. As Oracle's revenue growth rate increases and the company successfully demonstrates that it is pivoting to cloud, the stock should appreciate another 20% (on top of the 6% price hike post Q3 earnings release). We place our price target at $55 a share.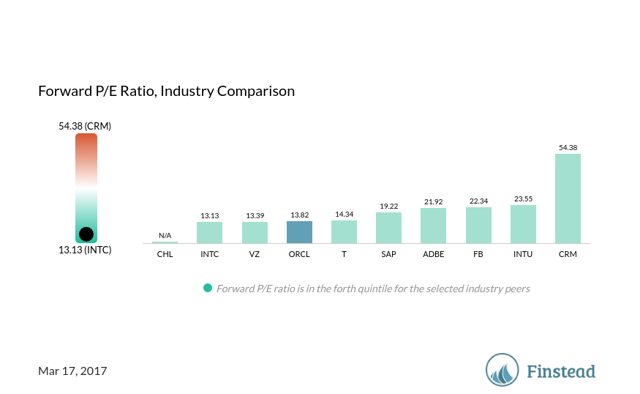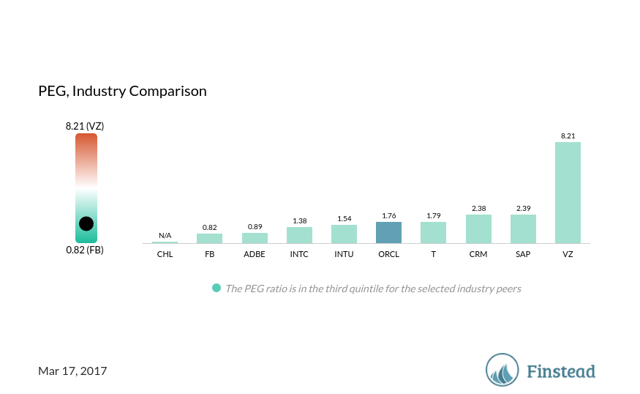 The Future
In the IaaS space, Oracle's cloud will be interesting to a general audience, particularly in a bare-metal context. The bare metal offering is built by an A-team hired from Amazon and Microsoft. Bare metal significantly outperforms virtual compute services that Amazon offers - and in some cases, such as high-performance workloads, it makes much more sense. Price-performance should always be considered in the context of the customer's specific architecture. In the case of Oracle, bare metal is important because it is needed for Oracle database and for better performance of Oracle application software.
As we mentioned before, Oracle has rewritten and integrated all of its applications for the cloud. It has significant advantages over niche vendors in addressing complex use cases, spanning multiple business functions. Specifically, in the ERP/HCM space, we believe that Oracle has a positional advantage over Workday; WDAY's ERP product roadmap is still nascent, and it lacks some major functionalities such as manufacturing and supply chain. As enterprises integrate their back-offices across finance, HR, sales, marketing and service, Oracle will be able to address use cases that many of its competitors can't.
Disclosure: I am/we are long ORCL.
I wrote this article myself, and it expresses my own opinions. I am not receiving compensation for it (other than from Seeking Alpha). I have no business relationship with any company whose stock is mentioned in this article.