DuPont Fabros Technology (NYSE:DFT) is a wholesale data center REIT with substantial growth opportunities and a reasonable price tag. DFT's development opportunity sets it apart from its peers as it can benefit from the industry's expansion. In this article, we will analyze the data center industry and discuss why we think DFT is best positioned to outperform. Specifically, we see about 43% upside over a three-year investment in DFT. Annualized at just over 12%, these are not explosive returns, but it gets the job done.
Valuation
DuPont Fabros is arguably the most value-conscious way to gain exposure to data centers as it trades at the lowest multiple in its peer set.

It is also cheap relative to its growth, as 15.2X is quite low for a company projected to grow 9-11% for the next few years.
Finally, DFT is also reasonably priced on an NAV basis trading at a 2% discount.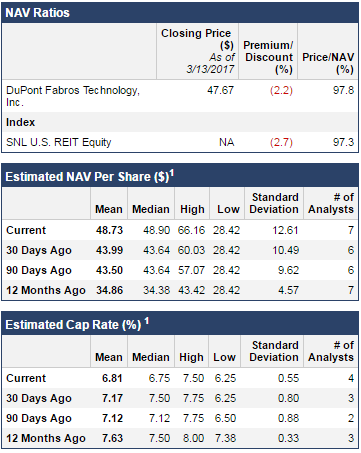 Source: SNL Financial
Why is DFT cheaper?
Much of the market's criticism of DFT comes from its geographical concentration in Virginia, which totals 64% of total square footage.

Source: SNL Financial
The market seems to dislike both the lack of diversification and the submarket itself. Virginia has heavy supply growth with total data center capacity in the area breaching 600 MW from just over 400 MW in 2015. This concern becomes imminent for DFT as it has material lease turnover in the next few years.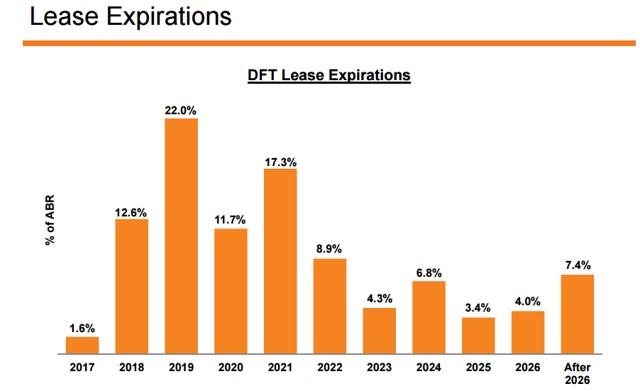 Between the turnover and supply, I think the market is pricing in some hardship for DFT. To some extent, it is a rational concern as in most normal circumstances, supply growth of this quantum would significantly hurt existing properties. However, demand growth has actually been faster. In fact, from 3Q15 to 4Q16, unused capacity (Vacancy) has decreased from 10% to just over 4%.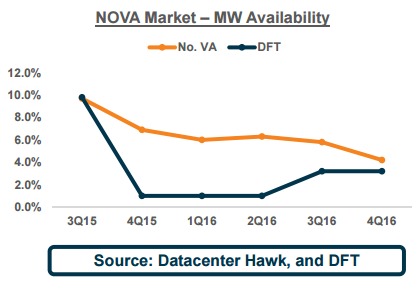 Supply has not only been absorbed, but there has been significant net leasing growth. Further, with DFT's vacancy approximating that of the market, we see better prospects for renewals. DFT's tenants are primarily Fortune 500 companies, suggesting minimal default risk.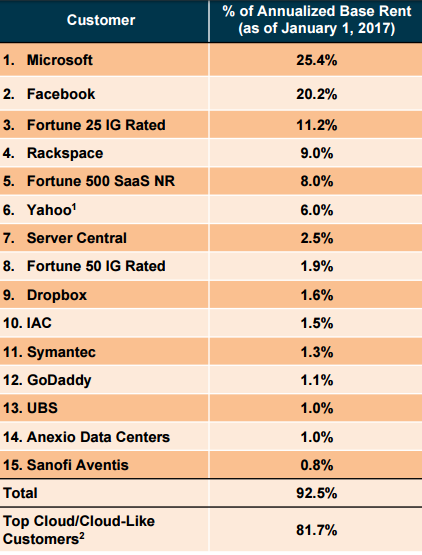 Source: DFT Filings
Instead, the risk lies in the appetite for renewal. So long as DFT's tenants want to maintain their square footage, the upcoming lease turnover will not be an issue. Despite being reasonably mature companies, Microsoft (NASDAQ:MSFT) and Facebook (NASDAQ:FB) are still rapidly growing their data consumption and storage needs. Their customers demand highly reliable service which can only be attained with a certain level of redundancy.
Wholesale data centers, such as the ones DFT leases to its tenants, have power supplies with redundancy ranging from N+1 to 2N (varying levels of backup power to reduce downtime). Such redundancy is less attainable in a structure that was not originally designed as a data center. As time goes on and internet users get used to a higher level of reliability, we anticipate more companies will move their servers out of the office server room to a professional data center.
It seems likely that occupancy at DFT will remain quite high. There is perhaps a bit more risk in rental rates as Facebook's renewal of several Virginia leases is anticipated to be a slight rolldown. As discussed more in depth later in this article, DFT's growth is weighted toward development which affords a healthy growth rate even with rolldowns.
Industry strengths and weaknesses
Data centers have perhaps the most robust and seemingly endless demand growth of any REIT sector. Data consumption and storage ramp up basically every year in a nearly logarithmic fashion as phones become smarter and manual data collection becomes electronically automated. When I was growing up, data was measured in kilobytes, and some of the really big programs used megabytes. Today, it's gigabytes and terabytes. We expect this trend to continue or even accelerate as new technologies demand more data storage.
The secular demand growth for data centers is well known and, unfortunately, supply reflects anticipated demand. There are minimal barriers to entry for wholesale data centers, and some regions are at risk of oversupply. As such, my outlook for organic growth (SSNOI) is only mildly positive despite the tremendous demand growth. Essentially, data centers will do well if actual demand growth exceeds anticipated demand growth since supply is being built based on what is expected.
Note that this is our outlook for existing properties and we are materially more bullish on development. Developers can collect a healthy spread even if supply remains in lock-step with demand. This is what gives DFT an edge over its peers.
Development opportunity
There are plenty of REITs that develop, but it is usually a small portion of current holdings. DFT is deeply involved in development with nearly half of its square footage in construction or preconstruction. Shown below is DFT's operational property list.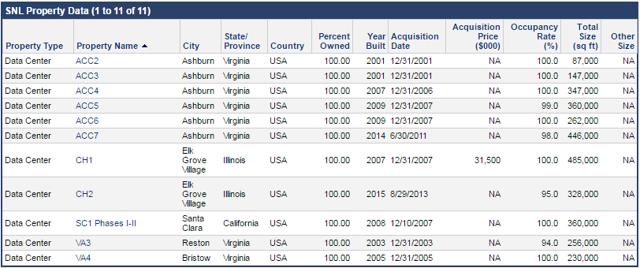 Source: SNL Financial
This totals 3,308,000 square footage currently operational with 2,840,000 in development shown below.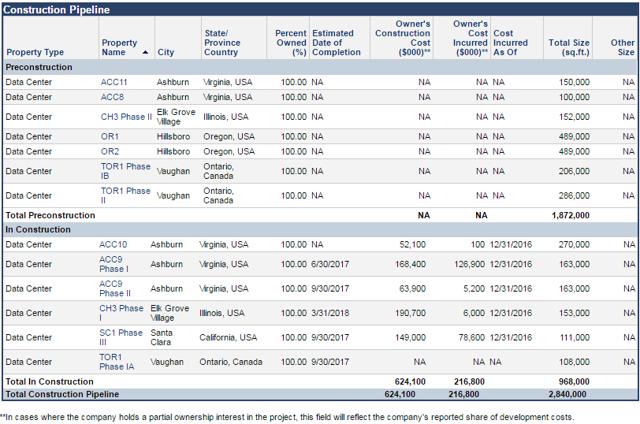 Source: SNL Financial
As these come online and begin to cash flow, it could cause significant bottom-line growth on a per-share basis. DFT's guidance is below. Note that DFT has baked the Facebook rolldown into guidance, yet the 2017 and future outlook remains robust at nearly double digits.

Source: DFT
DuPont Fabros's released guidance is fairly similar to that presented by the analyst community for both 2017 and the out years.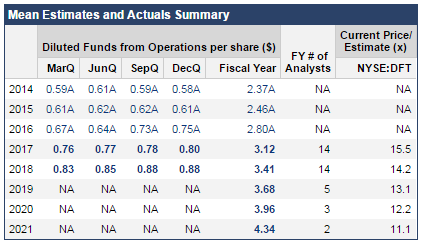 Source: SNL Financial
Our analysis is roughly in line with the analysts, so where is the point of differentiation? Well, the issue is that the market does not believe it, even if the analysts do. If the analyst expected growth rate is the reality, DFT is grossly underpriced. It would be a rapid growth company priced at about the median REIT multiple. Investors would be getting substantial amounts of extra growth without a corresponding increase in market price, representing outsized reward for the risk. This is exactly our thesis.
For the reasons discussed above, we are less worried about DFT's Virginia concentration than the market seems to be, and I would like to point out that submarket concentration has its perks. Virginia happens to be one of the most cost effective places to develop data centers, with a significantly lower cost per MW.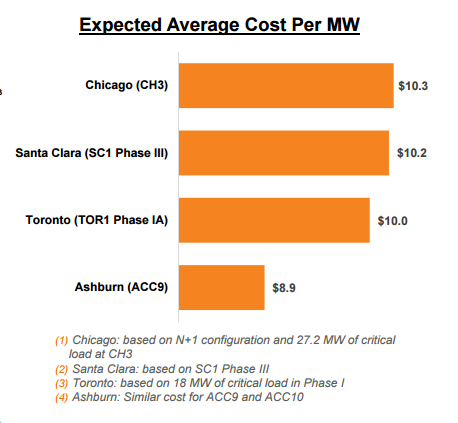 Additionally, such a concentrated portfolio affords saving on overhead, which is one of the reasons DFT has superior margins to its peers.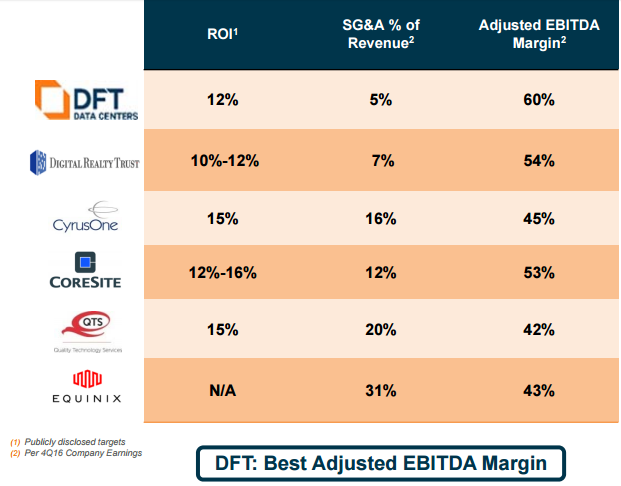 With less money going out the door to management and overhead, more of it goes back into the business through accretive development, or straight to shareholders through DFT's 4.2% dividend.
Beyond the development story, we think existing data centers can perform quite well if demand is sufficiently robust. In the event demand comes from an unanticipated source, the supply growth will lag the demand, affording aggressive rental rate bumps for high-quality facilities. One such source of data demand could be autonomous vehicles.
Extra demand
Self-driving vehicle technology collects three-dimensional visual data (heavy data consumption) and transmits it to the vehicle's onboard processor, which uses it to make driving decisions. While this process uses an enormous amount of data in real time, it does not necessarily need all that much storage. The vehicle does not need to retain the visual data from two days ago, so it can be purged as soon as the data is reviewed by the engineers trying to improve the car. For this reason, I believe most investors are not considering this to be a source of demand for data centers.
However, once self-driving vehicles leave development and enter the real world, liability is introduced as a variable. There will inevitably be accidents, and even if these accidents occur less frequently than with human drivers, lawyers will be eager to launch tort cases against the party financially responsible for the self-driving technology. The only defense against such lawsuits will be data. If the three-dimensional visual data input is stored, it can be determined at a later date if the technology was at fault or if it was simply an anomalous crash situation that a human driver would also be unable to evade. Without this data being stored, self-driving technology could be held liable for crashes that are clearly not its fault.
Thus, I anticipate that self-driving vehicles will need to store many years' worth of 3D visual input, which will greatly exceed the onboard storage capacity and need to be uploaded to the cloud. This would be significant for data centers, as cars currently produce relatively little data for storage, but once self-driving becomes mass market, their demand for data could rival that of smartphones. I am no expert on the self-driving industry, but those who are seem to think the transition to mass market could happen within a decade.
While DFT would be helped by a surge in demand from autonomous vehicles, our thesis does not require it. DFT is well positioned to thrive even if supply matches demand. Some form of extra demand would simply be icing on the cake.
Price target and path of realization
Our end of 2019 price target is $63.36, which is simply 16 times 2020 consensus FFO. Those who follow my work know that I usually give current price targets or one-year price targets, so why am I giving a target for end of 2019?
Well, it has to do with the path to realization. Presently, the reason DFT's market price is low is because the market simply does not believe the growth story, and this could continue until DFT proves it. By 2019, a majority of its development pipeline will finish construction and lease up, so by the end of 2019, DFT will be able to display a full year of cash flows from its new properties. At this point, belief will no longer be necessary as DFT will have demonstrated its growth.
16 times forward FFO is roughly in line with the REIT average, so it would be a reasonable price to pay for DFT. In fact, we are not forecasting significant multiple expansion, with a majority of the upside coming from growth and dividends. Assuming dividends remain at the current level, our price target represents 43% upside over three years.
There is some potential that the returns could be accelerated if perhaps a few quarters of demonstrated growth were to be enough to convince the market of DFT's opportunity.
Catalyst: Short squeeze
DuPont Fabros has material short interest at 7.18% of shares outstanding.

Source: SNL Financial
In its rush for the exit, DFT's market price could pop up closer to its intrinsic value.
Risks and concerns
Based on the nature of this thesis, the risks are fairly straight forward. If demand for data centers falls short, leasing up new developments could be challenging, making it far less accretive than expected. Further, existing properties could experience increased vacancy or rate rolldowns.
In my opinion, the most likely source of reduced demand would be the tenants deciding to do it themselves. Companies like Microsoft have both the capital and expertise to build their own data center, so if they run out of other accretive investments, they could build their own real estate. Thus far, the trend has been toward third-party data centers, but an inflection point remains possible.
Disclosure:
2nd Market Capital and its affiliated accounts are long DFT. I am personally long DFT. This article is for informational purposes only. It is not a recommendation to buy or sell any security and is strictly the opinion of the writer. Investing in publicly held securities is speculative and involves risk, including the possible loss of principal. The reader must determine whether any investment is suitable and accepts responsibility for their investment decisions. Dane Bowler is an investment advisor representative of 2MCAC, a Wisconsin registered investment advisor. Commentary may contain forward-looking statements which are by definition uncertain. Actual results may differ materially from our forecasts or estimations, and 2MCAC cannot be held liable for the use of and reliance upon the opinions, estimates, forecasts and findings in this article.
This article is part of Seeking Alpha PRO. PRO members receive exclusive access to Seeking Alpha's best ideas and professional tools to fully leverage the platform.
Disclosure: I am/we are long DFT.
I wrote this article myself, and it expresses my own opinions. I am not receiving compensation for it (other than from Seeking Alpha). I have no business relationship with any company whose stock is mentioned in this article.