On 1/30/17, I wrote an article about United Technologies (NYSE: UTX) that reviewed the business segments of UTX and argued that it is a strong dividend growth stock. That article provides a good synopsis of UTX's various business segments.
Below, I will review the recent investor days, particularly the Barclay's Industrial Select Conference held on 2/22/17 to evaluate how UTX has been performing against my initial investment thesis and provide my latest view on growth catalysts. I'll also provide my latest thoughts on valuation.
Below is a pie graph showing UTX's sales distribution and large, market leading brands: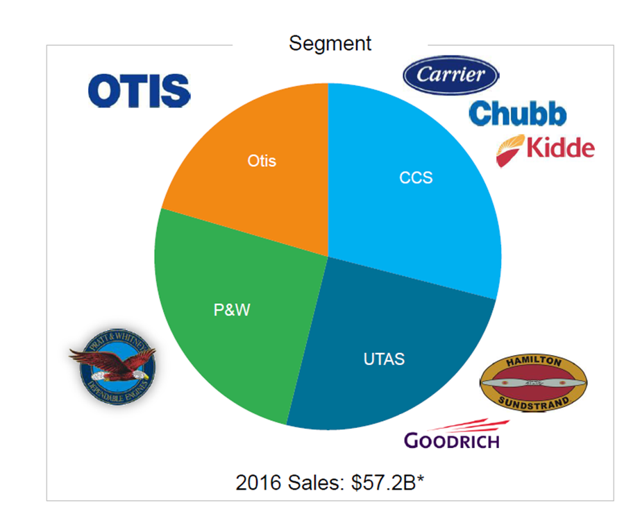 Source: Mgmt Presentation.
2017 - Time to Execute
UTX has been in an investment phase over the last several years, having invested ~$10B in the new Pratt GTF engine alone. Significant investment has also been made in Otis (#1 elevator manufacturer in the world). The CCS division has also had significant investment, with over 130 new products released in 2016. Along with strong investment in the Aerospace division, UTX invested a total of $2.3B in research and development in 2016 and $1.7B in Capital Expenditures. These large investments will continue to position UTX as an innovative leader across numerous large product segments.
CEO Greg Hayes told investors at the Barclay's Industrial Select conference in February that the investments UTX has made over the last several years are beginning to come to a head - the investment phase is ending and the execution phase is beginning in 2017 (webcast here). Of course UTX will continue to invest in new products to keep their competitive edge, but they've now made the investment required to begin to harvest the returns on these growth initiatives. CEO Hayes told investors that the GTF engine will require another $1B investment in 2017, but after that, the investment cycle will be complete and the program will last for 30 years (2017 being the first year of the program).
Other areas of UTX's business will also show research and development costs at more moderate levels, which will allow the company to increase profitability and begin to grow organic sales.
Management forecasts organic sales growth of 2-4% in 2017. This is the execution year, where UTX will first start to realize the benefits of its investment cycle. This execution year represents an inflection point, because if UTX can effectively execute in 2017, it will be well positioned to accelerate its growth in 2018 and for years to come. Growth in the installed equipment base across all business divisions in 2017 also increases higher margin aftermarket parts/service work to service the installed base, which should fuel margin expansion and profit/cash flow growth for many years to come.
Positive Growth Catalysts
UTX has several catalysts that will help drive growth over the medium to long-term. These catalysts will increase both sales and earnings, enabling management to continue to increase the dividend and share buybacks.
GTF
The Pratt & Whitney Geared Turbofan (GTF) engine successfully entered the market in 2016, after years of investment. The engine boasts 16% greater fuel efficiency, 75% reduction in noise, and a 50% reduction in emissions. CEO Hayes recently told investors that customer reception has been very favorable. There are currently 96 GTF engines that have been delivered to customers, with a backlog of over 8,000 engines. Hayes told investors that there are a few minor issues that are being rectified, as with any new engine program, such as an issue with the carbon seals, but that overall the engine is performing well and deliveries will continue to increase rapidly. Management projects to deliver 350-400 GTF engines in 2017. As you can see in the green segment below, management projects the GTF engine to grow rapidly among its installed base, reaching over 15k engines by 2030.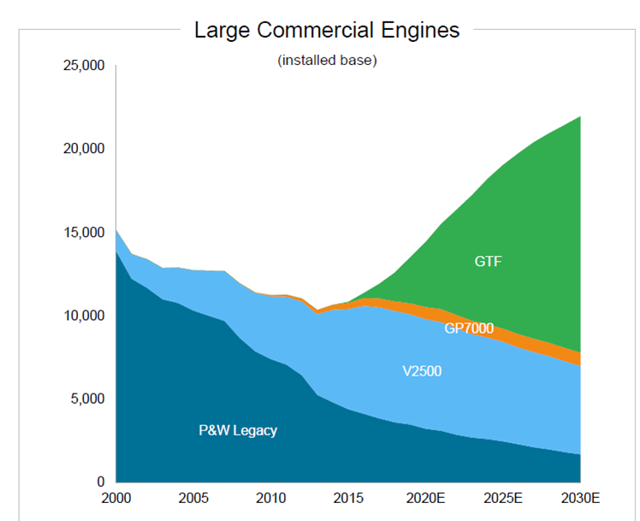 Source: Mgmt Presentation.
All of these engines will require high-margin parts and service work, which will contribute significant profits and cash flow to UTX for years to come. For the dividend growth stock investor, this is exactly the type of sustainable growth we are looking for. As more and more engines continue to be delivered to customers and the install base increases, UTX benefits from recurring cash flow streams at high margins. These cash flow streams will likewise drive sustained growth in UTX's dividend.
Increased Installed Base / Aftermarket Sales
The GTF product rollout is the best example of UTX benefiting over the long term from its installed base, but UTX has several other equipment divisions that will realize similar benefits over the coming years.
Otis, UTX's elevator division, is the largest elevator manufacturer in the world with an installed base of 1.9mm units, 30% higher than the #2 player. In China, UTX has been selling equipment at lower margins to further grow its installed base. This strategy is starting to pay off, as UTX now has 200k units on service contracts in China. Elevators have long life cycles - that installed base will generate aftermarket parts and service work for 30-50 years for each installed elevator.
Management projects the sale of aircraft could double by 2030, representing a huge opportunity for UTX' Aerospace division, which sells various parts and flight systems inside aircraft.
In 2015, aftermarket sales comprised 42% of UTX' total sales. In 2016, aftermarket sales grew to 46% of total sales. Given the industry trends discussed above, aftermarket sales should continue to increase as a percent of sales in 2017 and for years to come. Again, this is recurring, high margin, high free cash flow business that provides sustainable growth for UTX.
(Data sourced from UTX 2016 annual report and CEO Hayes Webcast above)
Trump Tax Reform and Infrastructure Spending
CEO Hayes told investors in February that UTX has $6B of cash overseas and $30B if overseas investments are included. CEO Hayes said that investors should assume roughly half of the cash UTX generates gets tied up overseas in order to avoid the high tax to repatriate those dollars and bring them back to the U.S. President Trump has spoken many times about reducing corporate taxes and potentially creating a program to allow U.S. companies to repatriate taxes at a lower rate. This would of course be a near term positive catalyst as UTX could bring its cash back home without being heavily taxed. That cash could be used for more share buybacks or to increase the dividend. Further, a lower corporate tax rate could help U.S. manufacturing companies like UTX to be more competitive.
Increased infrastructure and military spending are also cornerstones of the Trump agenda. Increased infrastructure spending will help UTX' Otis and CCS divisions, while increased military spending will help its Aerospace division.
Cost Improvements
UTX has been working through a multiyear $1.5B cost reduction strategy. The strategy involves workforce reductions, consolidation of field operations, and exiting legacy programs that are generating low or no margin. UTX is also reducing costs by simplifying and reducing its supplier base and supply chain. This focus on cost reduction should further increase profit margins in the future.
UTX will realize other cost improvements through better utilizing its workforce with the help of digitization. For example, globally, Otis mechanics (who are union workers), spent 60mm hours in 2016 working in the field, yet only 50% of those hours were spent producing revenue. This unproductive time is driven by customers canceling and call backs, along with overhead spending to have effective network coverage (field workers available to perform service). UTX is developing digital tools, such as mobility apps, products that connect to the internet to self-manage, cloud based systems, and potentially augmented reality systems for mechanics. These digital systems should reduce customer cancellations and callbacks, and also allow mechanics to provide some service remotely, which will increase customer satisfaction and lower unproductive hours of field workers. 50% of time being unproductive is a huge amount of waste - a reduction in that waste from these new technologies should drop to the bottom line.
Trucking Market Recovery
The U.S. Class 8 truck market was down substantially in 2016, and is expected to be flat to slightly down in 2017. This is a function of freight rates, available equipment, and general economic growth / demand. Although 2016 and 2017 appear to be rough years for the trucking industry, most industry analysts forecast a bottoming of the trucking market in mid-2017, with high growth rates in 2018-2020.
While the CCS division is made up of several different major brands, refrigerated transportation is over 20% of sales in the CCS division. Refrigerated transportation should be a positive growth area for the CCS division in the medium term.
Key Financial Metrics / Valuation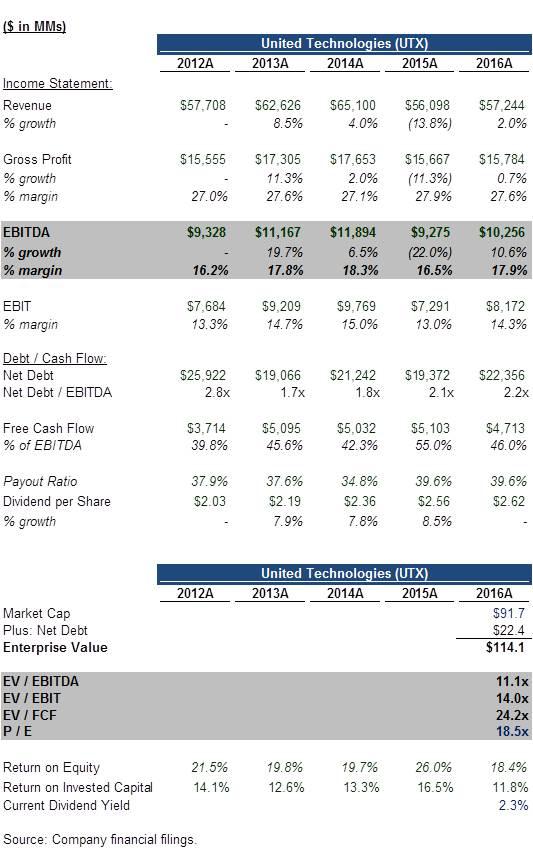 In the chart above, I've laid out some of the key income statement, balance sheet, and valuation metrics an investor in UTX should consider. UTX achieved 2% sales growth in 2016, expects to grow 2-4% in 2017, and projects growth rates to accelerate in 2018 going forward. EBITDA margins have remained relatively steady around 18%, but will likely grow after 2017 due to the high margin aftermarket parts and service work growth. Net debt, which I've defined to include pension obligations for this analysis, is relatively low at 2.2x, with more than enough free cash flow to service debt.
In terms of free cash flow, UTX converted 93% of its net income to free cash flow in 2016, which is a very high cash flow conversion rate. In 2017, management projects it will be closer to 100%, which combined with its expected growth rate, should generate a nice increase in free cash flow in 2017 with which to pay dividends and buy back shares.
At an EV / EBITDA multiple of 11.1x (10.7x if excluding pension obligation) and a P/E of 18.5x, UTX appears attractively valued in a stock market that is largely overvalued as a whole. Compared to its peers, UTX trades at the lowest EV / EBITDA multiple, which is surprising given the positive trends and strong market position of UTX. I continue to believe that UTX should trade at 12-12.5x EBITDA, at least a full turn above where it trades today. I believe that UTX is a BUY and the 12-month price target for UTX is $140/share.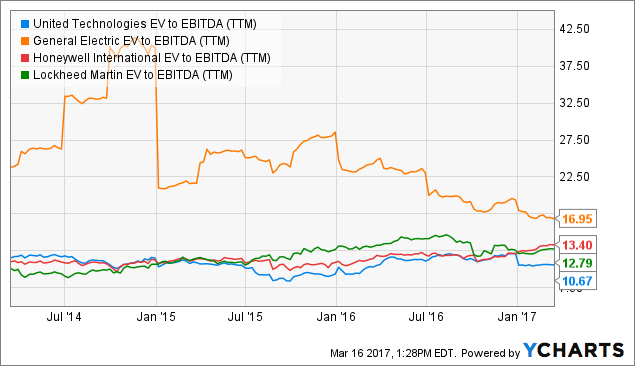 UTX EV to EBITDA (NYSE:TTM) data by YCharts
Conclusion
The positive trends discussed in this article over the medium and long-term bode well for UTX and for investors who like dividend growth stocks.
In my next article, I will take a deep dive into UTX's dividend and share buyback history. I'll also forecast how much I expect management to increase the dividend this year and in future years based on the large increase in free cash flow UTX will generate.
Disclosure: I am/we are long UTX.
I wrote this article myself, and it expresses my own opinions. I am not receiving compensation for it (other than from Seeking Alpha). I have no business relationship with any company whose stock is mentioned in this article.