Purely from a "feel" standpoint, I'd really like to short FTD Companies (NASDAQ:FTD). The business has been mismanaged for some time, leading to a sharp uptick in projected 2017 marketing and capex spend, and a corresponding compression in margins. There's a secular driver to recent revenue weakness, new competition eroding the company's florist base, and an increasingly poor reputation with consumers. FTD has four different operating segments, and none look particularly strong. Yes, the stock plunged following Q4 earnings this week, but truthfully I'm not sure that's enough. I'd expect the reset margin expectations for 2017 to be the "new normal," and even a 24% decline doesn't entirely price in those new expectations.
But timing is always key to a short, and I'm not sure the timing works out that well at the moment. Plenty of consumer-facing stocks have filled the gap after post-earnings declines, and a "cheap" FTD could be the next one (The stock indeed has moved up in trading Friday morning after a bounce on Thursday). A new CEO took over just two weeks ago, and there's likely to be a "turnaround" narrative at FTD. Q1 results to date, per the Q4 conference call, sound decent, and FTD will benefit from a shift of Valentine's Day off the weekend. From a valuation perspective, shares look cheap, trading at likely ~14x 2017 adjusted net income guidance. In a bull market, an "online" consumer-facing company with those multiples might catch a bid, and Q1 doesn't look likely to be a catalyst for another leg down.
Still, the longer-term pressures seem likely to catch up to FTD at some point, and I'd expect further downside from current levels. So while I'm not short FTD at the moment, I'd expect that will change at some point in the not-too-distant future.
Four Businesses - None Impressive
FTD actually traces itself back to the original florist network: 13 florists across the U.S. who created the "Florists' Telegraph Delivery Association" in 1910. The co-op turned private in the 1990s, was acquired by United Online in 2008, and spun off in 2013. Wednesday's 24% decline led the stock to all-time lows before a 3%+ dead cat bounce on Thursday.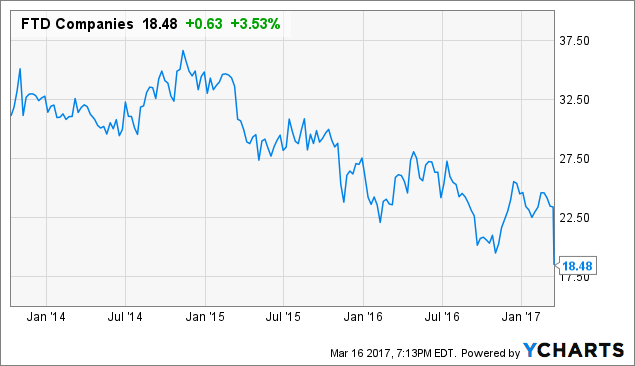 The business has been struggling for some time:

Source: FTD January presentation
The 2015 jump came from the acquisition of Provide Commerce, which closed the last day of 2014. But pro forma Adjusted EBITDA appears to have declined that year, given a ~$42 million EBITDA run rate for that business ahead of the acquisition despite supposedly one-time headwinds (per the Q2 2014 conference call). And FTD already has taken $169 million in goodwill impairments on the purchase.
2016 Adjusted EBITDA declined again, falling 3%. And 2017 guidance suggests a 23% decline this year (at the midpoint) driven largely by increased marketing spend. What should be particularly troubling is that new CEO John Walden - who, again, has been on the job for two weeks - said on the Q4 call that "it seems that FTD has focused on short-term profit objectives to such a degree that it compromised its investments in consumer experiences, marketing, and other capabilities required for contemporary digital business." Even with that short-term focus, FTD still hasn't been able to drive any sort of organic profit growth since 2012.
The news doesn't look any better at the segment level. FTD has four segments; all look challenged in one way or another.
Consumer (22% of 2016 segment-level operating income)
The Consumer segment runs mostly through the ftd.com website, along with telephone sales. FTD's business is to act essentially as a middleman, with florist network members doing the fulfillment and delivery.
The segment has been stable at least, with revenue hovering around the $300 million range. But after 1% growth in 2015, sales declined 9.4% in 2016, with orders down 9.6%. The company repeatedly has blamed the fact that Valentine's Day was on a Sunday - to the point that it was called out by the Wall Street Journal - but V-Day was on a Saturday the year before, which was supposedly an issue in 2015 results as well (The theory is that couples are less likely to send flowers on a weekend since they often spend the day together anyhow). Segment operating income declined 18%; excluding a $4.1 million breakage benefit last year, EBIT margins were flat. But the profit performance was the business's worst since at least 2011.
I wouldn't expect much improvement, at least in the near term. FTD's reputation is awful: see here and here. Selection bias aside, here's a 2014 Consumer Reports article pointing out that "our respondents were pretty happy with all of the arrangements until they compared them with their online photos, then they were very disappointed..." That's a common complaint, one likely explained by a Fortune article which discusses the lack of incentive for local florists to properly fulfill orders (h/t Value Investors Club author roc924).
FTD takes 27% of revenue for its work, a price that leads florists to crimp on bouquet size and/or substitute inferior flowers (again - the "online photo vs. real life" problem), and a price that seems ripe for disruption. Multiple startups are trying to offer better service at much lower rates, and take FTD's business in the process. And rival 1-800-FLOWERS.COM (NASDAQ:FLWS) is posting revenue and profit growth in its FY17, which would seem to imply it's taking market share as well.
Short term and long term, the Consumer business looks like it's declining. It may be that better marketing spend will provide a short-term bump (though FTD's own guidance for flat consolidated revenue belies that argument), but the core problem of the business model still applies. When independent florists are telling Fortune and the New York Times that they can't make a profit on FTD orders, there's a core problem with the business. Increasing ad spend is simply patching a hole with wallpaper.
Provide Commerce (29% of 2016 segment-level operating income)
FTD acquired Provide Commerce to give it more protection from competition both online and in grocery stores, but recent results have been disappointing. As noted, the company has taken two large goodwill impairments on the business, and 2016 sales and profits both declined year over year.
FTD bought Provide Commerce from Liberty Interactive (LVNTA) (LVNTB), which still owns 37% of FTD stock. The acquisition included online reseller ProFlowers, a direct reseller and ardent FTD competitor (to the point that FTD sued the company in 2005), along with Shari's Berries and gift site Personal Creations.
But, in 2016, revenue declined over 9% in this business as well, though segment operating income fell just over 3%. That divergence comes largely from lower marketing spend for ProFlowers, per the 10-K, a decision which may be reversed in 2016. ProFlowers revenue fell over 17% in 2016; Gourmet Foods dropped almost 2%, with only Personal Creations (+7.7%) showing growth.
There probably is some turnaround potential in this business, given that reduced marketing spend was responsible for some of the revenue decline. But this also is a much lower-margin business than the rest of FTD, with EBIT margins of 7.6% in 2016 against double-digit figures in Consumer and International and nearly 30% in the Florist segment. And, at the moment anyway, ProFlowers in particular doesn't appear all that strong, or anywhere close to FTD's expectations when it agreed to acquire the business three years ago.
Florist (35% of segment-level operating income)
The numbers in the Florist segment don't look too bad of late. 2016 revenue increased 0.7%; EBIT margins increased 60 bps to 29.0%, driving a 2.5% increase in operating income. The 2016 results come off the back of very stable figures from 2013 to 2015, when revenue stayed in the $162-165 million range, and EBIT didn't budge from the low $47 million level.
This business - B2B services for independent florists - has one noticeable potential issue. The number of members is declining steadily. The total was about 13,800 in 2013, using figures from the 2015 10-K. That number has fallen about 11% over the past three years.
Steadily increasing revenue per member has offset that pressure, including a nearly 7% jump in 2016. But that doesn't seem like a trend that can hold forever; even if FTD simply is losing weaker florists, it's difficult to keep per-florist revenue rising in perpetuity. There's also some macro help coming in that business (not to mention the other segments), a tailwind to per-member revenue which might reverse. To be fair, it's likely that those members simply are closing shop, not necessarily leaving FTD, as the overall number of florists continues to decline. But that's hardly bullish for FTD, either.
Across the three segments discussed so far, there's simply a sense that the business is not performing well - at all. Orders are trending down steadily in the Consumer segment. Florist members are leaving the B2B business. ProFlowers is a disappointment. Reviews are not good and consistent enough to imply a legitimate problem, not just the online bias toward the loudest (and usually most negative) voices. Branding - across all segments - no doubt has suffered. Some of the problems may be self-inflicted, but the industry as a whole isn't exactly healthy. I'm skeptical that new management and new strategy can fix all of these problems.
International (14% of segment-level operating income)
The international business - primarily the well-known Interflora brand in the U.K. and the Republic of Ireland - has performed reasonably well. But the swift decline in the pound since "Brexit" has impacted results. 2016 revenue declined 8.5% as reported, but rose 2.7% in local currency. Despite a substantial currency impact on operating income (which offset over 10 points of growth), operating income still rose 4% in 2016, with a modest improvement in margins.
The international business looks like the strongest one for FTD, and perhaps a sign of what an improved U.S. business could look like. But for now, its profit contribution isn't enough to move the needle, let alone offset weakness stateside.
Valuation, Catalysts, And The Short Case
There's a case - perhaps - that after Wednesday's decline, FTD is cheap enough regardless of these pressures. Free cash flow the last three years on a GAAP basis has averaged $54 million; the company's adjusted figure is even higher (nearly $63 million). That implies a trailing P/FCF multiple in the single digits.
The problem is that FCF is being pressured in 2017 from both sides. Adjusted EBITDA margin is guided down 250 basis points or so, from a 10.7% figure in 2016 to 8-8.5% in 2017. Meanwhile, capex is projected to rise $10 million. By my numbers, assuming a 40% tax rate (which appears in line with recent non-GAAP rates), 2017 free cash flow at the midpoint of EBITDA guidance would be just $31 million ($92 million EBITDA, $9M interest, $24M taxes, $28M capex).
At that level, the P/FCF multiple looks closer to 16x, which seems too high. A declining business at best should be seeing 12-13x at best (assuming there's enough stability and length in the business). Similarly, FLWS trades at about 7x EV/EBITDA at the midpoint of FY17 guidance (that doesn't include the impact of its recently announced divestiture of the Fannie Mae (OTCQB:FNMA) business). Both multiples imply a $14-15 share price for FTD - 25%+ downside.
The core question from a valuation standpoint is whether 2017 is a new normal, or should be considered an investment year from the standpoint of capex and marketing spend. Again, Walden has been CEO for two weeks - and FTD is searching a new CFO as well. Commentary on the Q4 call certainly suggests that spend the last year was too low, which in turn implies that 2017 investments aren't an one-time increase. That in turn means that 8-8.5% margins - assuming the company hits guidance - are more in line with where future expectations should be. FLWS's FY17 guidance suggests margins of ~7.7%, further supporting the ~8%+ target.
But with new management, there may be cost savings to find that can help those margins. And until the Q1 report in early May - when Walden presumably can give more detail on his plans - investors may bet on a turnaround coming. I've seen enough consumer-facing stocks fill the gap - or close - after large declines the past few years to not be terribly thrilled about being short FTD heading into that release. And as bearish as I am looking backward, it is possible that Walden may find some areas of improvement that could change the calculus going forward.
To be honest, I'm skeptical on that front, and I'm kicking myself for not shorting FTD earlier. I do think there are real secular pressures on the business; online competition is not going to let up; and the growth profile of late seems likely to persist. But for now, that's a bear case, but not quite a short case.
This article is part of Seeking Alpha PRO. PRO members receive exclusive access to Seeking Alpha's best ideas and professional tools to fully leverage the platform.
Disclosure: I/we have no positions in any stocks mentioned, and no plans to initiate any positions within the next 72 hours.
I wrote this article myself, and it expresses my own opinions. I am not receiving compensation for it (other than from Seeking Alpha). I have no business relationship with any company whose stock is mentioned in this article.