Update 07/11/2017:
While my initial price target has been achieved, I believe that most of my thesis still holds and thus further downside is likely to be present.
Firstly, it is still not clear whether the technology they use is superior. Mainly because they keep on postponing product launches that should be the real catalyst for the sales. While the company is sticking with its 2018 target for B3000, the M3000 which should have been released in Fall of this year was postponed indefinitely as stated in 10-Q for the 2nd quarter.
This impacts the financials of the company as they are struggling to offset the significant operating costs. In my initial article, I mentioned that they would likely need $30 million of annual revenue at positive margins to even come close to breaking even. In the 2nd quarter of 2017 they showed negative gross margin and only slight absolute increase in revenue ($5.3 million per year if you annualize the 2nd quarter results).
This dire situation results in the need to continuously perform share offerings which dilute the shareholders. They have done another on the 9th of August which raised roughly $8 million or only six months' worth of working capital as per their cash flow statement in 2nd quarter 10Q.
One could wonder why they are even able to do an offering when the fundamentals look bleak, but there are clear reasons and that is hope and expectations. The stock did not fall further because it is still possible that the company is going to release a product that changes the game in AR/VR space. Until this is completely ruled out (and this is likely to be a slow process) the stock price can still hold relatively well.
They are going to release their next results on the 13th of November. I do not expect them to show anything positive which should result in a downturn but hope and expectations might provide a support for the share price.
Investment Thesis
Vuzix Corporation (NASDAQ:VUZI) is a company trying to unlock the elusive potential of virtual and augmented reality (VR, AR). The management behind VUZI has been involved within the industry for some time (see this video about CEO's previous company from 1995), but has yet to manufacture a product that would be commercially successful i.e. generate enough sales to create a sustainable profit.
Given this, the current market expectations are clear here as the $140 million valuation does not reflect the current state of the financials (the stock trades at 8x P/B while never attaining positive cash flow from operations since 2006).
Investors are therefore likely expecting that Vuzix will be able to produce smart glasses that will be easily scalable as to ensure profitability, they will also feature a superior patented technology in order to fend off competitors and that VUZI will do so relatively soon as the company is currently burning cash at a rate of $4 million per quarter (cash from operations and cash from investing combined) and has only $14.5 million left even after the two common stock issuances in 2016.
I believe though that these expectations are not easily backed up by the past and present operations of VUZI due to the followings points:
Its products are unlikely to attain scale that would translate to profitability. Based on FY2016 operating expenses (excluding one-off charges) and record gross margin from 2011 (last time VUZI had material revenue streams), the company would have to reach annual revenues of at least $45 million to break even. Currently, it struggles to produce $3 million per annum. To be specific, I believe that the new "enterprise-focused" M300 product lacks any new meaningful features that would make it distinct enough from the M100 which failed to gain any material sales. The company also lacks strong corporate partnerships that would allow M300 to be easily distributable. Intel (NASDAQ:INTC) that invested in VUZI in early 2015 passed on the possible cooperation late last year and the newly announced Toshiba (OTCPK:TOSYY) partnership is only for $1 million for this year. The other new products, the M3000 and B3000 (smart glasses that use "see-through" displays), are also unlikely to garner enough scale due to lack of a platform to launch the product on. The last product, the iWear Video Headphones, has been on the market for some time now and failed to generate much interest which is supported by largely unimpressive reviews and lack of sales. Thus, the company likely lacks a product that would enable it to be profitable.

VUZI's patents and technology are not unique enough to fend off competitors. Product-wise, M100 and M300 glasses are just a reiteration of a similar technology used by Google (NASDAQ:GOOG) (NASDAQ:GOOGL) Glass, and there are already many products that have the same functionality and specifications as these two products. iWear is also not unique, and according to the reviews, lacks superior specifications. The only possible exception is the "see-through" waveguide technology employed in M3000 and B3000, but again there are several other companies that created waveguide displays and patented their technology. Thus, I do not believe that VUZI currently owns any attractive patents or technology that would be superior to other companies and their products.

Finally, I do not believe that VUZI will be able to release the new products soon enough to possibly alleviate the dire state of financials. The company has past record of multiple delays in product launches and issues with production delays that support this view. In its latest 10-K for FY2016, the company yet again postponed the release of M3000 and B3000. Currently, it has roughly a year worth of cash. It is therefore likely that VUZI will have to perform yet another equity issuance in this time frame due to its inability to obtain any other form of financing.

On top of all this, the company is still under review by the SEC due to the persistent internal financial control weakness disclosure by the management. The review began in May last year and might create additional issues.
Shouldn't this stock then trade at a lower valuation given all these uncertainties? I believe it should, especially if the company continues to fail to deliver a meaningful product in this year. Therefore, investors could benefit from buying puts here. I propose options instead of shorting as the stock price is volatile and therefore the risk/reward when shorting might not be attractive enough. Moreover, the stock is currently significantly shorted already as the short interest stands at 20%, and thus, the cost is likely going to further erode the attractiveness.
That being said investors have to keep in mind the following:
While the products or the technology is unlikely to be superior or unique, the company could still get acquired by someone that does not have any exposure to AR/VR developments. Although I believe that this would have already occurred which is further supported by the fact that Intel walked away from the possible cooperation and acquired a different AR-focused company.
In the rest of the report, I cover all of VUZI's current or expected products and assess them according to the three factors stated in the beginning of the thesis as they are imperative for the stock to be able to hold this inflated valuation. That is the ability to scale (in order to bring profitability), superior or unique technology (to be competitive) and possible timeliness of product releases.
M100, M300 and VUZI's track record of "enterprise focus"
One of the more frequent arguments that VUZI is using to show the possible market opportunity in smart glasses and AR is that while the consumer market might be challenging to tap into, the need for such technology in an enterprise environment is obvious. VUZI's products are able to help technicians, warehouse staff and many more with their day-to-day tasks and eliminate efficiencies. All this while earning an "ROI of 2,000%" for the enterprise. Given this need, VUZI then shows the potential opportunity for the firm to be in the range of billions of dollars.
On the back of these arguments, the company launched M100, its first "near-eye display" product that should have exploited this opportunity. While the company promised significant amount of functionality, I have not been able to find much support for that. This demo of M100 by Lee Company that purchased VUZI's products is probably the most telling. It shows a technician calling another employee via the product that streams a simple video. The only comment underneath the video is spot on.
I'm not sure that video proved anything. FaceTime has the same capability and it's already on your phone.
Another video comparing Google Glass with M100 shows several other key flaws. I believe the biggest one showcased in the video is that at that time M100 did not even have gestures set up and thus the reviewer notes that the most useful way to operate the device is through the smartphone application which he observes as a "contradiction" of the product. While VUZI did eventually enable gestures on the device, it shows that the company did not mind releasing a product that lacks vital features.
The sales of M100 then were limited and the company did not go past $3 million in total annual revenues since it launched this product. While it did note that the glasses were purchased by the likes of SAP (NYSE:SAP), the corporations did not seem to be interested in buying a material amount of these.
All this then showcases that the company failed to achieve meaningful scale (and/or interest as for example witnessed by the lack of apps created for the product) and that the product is not using superior or unique technology.
This then casts a significant amount of questions regarding VUZI's long-awaited M300, which is the new generation of the product which should have started selling this quarter. The company shows a little amount of new features (for example it shows that it has added a touchpad for gestures, a feature that was present in Google Glass from the beginning) and only slightly improved display and other specifications. This then does not alleviate any concern about the ability to sell more of this product.
Most importantly, VUZI still lacks strong corporate partnership that would allow it to create distribution channels or a platform that would support the sales. In early 2015, Intel did buy $25 million worth of VUZI's preferred shares on the back of possible cooperation, but that expectation was crushed in late 2016 when Intel announced that it is interested in VUZI's products or technology. In fact, Intel acquired Recon Instruments instead which currently offers Recon Jet Pro, a similar product (in terms of what is wants to achieve) to VUZI's M100 or M300. The newly announced Toshiba partnership is not something that would help the sales of M300 as that partnership is concerning a development of new smart glasses product. I also have doubts about the partnership due to VUZI's past cooperation with Lenovo (OTCPK:LNVGY) which again did not prove to raise sales.
To summarize, I believe that the failure of M100 is highly likely to repeat in the case of M300. I have created the following product scorecard with commentary to assess the three factors that are mentioned in the thesis:

I also have reservations about the whole enterprise use because so far I have not seen a use case that would not be easily performed with a simple smartphone.
M2000AR, M3000, B3000 and Waveguide Technology
Another argument that VUZI uses to showcase possibly market opportunity for the company's products is that it is going to be able to solve the problem of usability of AR technology. Currently, many of the available products are cumbersome to wear or use and thus this prevents mass adoption. VUZI's answer to this problem is its experimentation with the waveguide technology that allows for "see-through displays" to be utilized in products that resemble ordinary sunglasses.
The company is working on this technology for some time now and allegedly already created a commercial product that successfully employed this. I wrote allegedly because the M2000AR product has a dubious lack of coverage, and I have found only one real-life showcase of the product via this Japanese video. This Russian website shows what VUZI showcased at CES 2014, but one can question whether this can be passed on as a commercial product. Here is a Vietnamese video talking about the same product at the exhibition.
The company says that it launched M2000AR in late 2013 and indeed most of the coverage stems from this press release in December 2013, but after this PR, I have not found any reviews of the product, real-life demos or pictures (apart from the CES video, article and these tweets, one from CES 2013 and this other one). People only refer to M2000AR as the first commercialized product that utilized the waveguide technology such as this PwC review of the AR/VR space. Google only shows roughly 4,000 results when searched for "M2000AR" (compared to 39,000 of results of the only recently released M300), and YouTube, for example, holds only 10 videos which are not even related to the product (the Vietnamese video misspelled the name of the product). VUZI itself lacks any demo of the real-life product and shows only little in way of visual proof (as for example below this article).
On the back of this, one can then again question the ability of the company to deliver its M3000 and B3000 (M stands for monocular waveguide display and B for binocular) products with all the promised features and functionality. While the company now showcases real-life previews of the product (as for example here), several questions remain. The best video that sums it up is this recent interview from January this year. In it, the CEO, Mr. Travers, talks about the product, but the interviewer only tries the product for a brief moment during which he only makes indirect comments (around 24:55), furthermore the CEO has to set up a completely separate prototype that again significantly differs from what VUZI talks about (around 30:36).
Furthermore, even if the company does launch a product that successfully uses the technology, VUZI is not the only one using the waveguide optics. For example, Sony (NYSE:SNE) also had a prototype ready in 2014 (the use of technology is important here, not necessarily the functionality or looks). Lumus showcased another similar prototype at CES 2017 using the same technology as VUZI. This might be already superior to VUZI's products as suggested on this Reddit thread (due to VUZI's lower field of vision (FOV) as compared to Lumus).
The key point though here is that while VUZI has several patents aimed at waveguide optics, it does not seem to prevent any competitor to produce their own version (and even patent it as per Lumus). This would then mean that all VUZI's patents are currently worth little as I will showcase the rest of the company's patents later on. This would then mean that the company would again fail to present a product that operates a unique or superior technology.
Finally, let's say that VUZI will be able to launch before its competitors do, then there is still the question of how it is going to achieve the scale needed for profitability? The company states that the waveguide technology will be marketed both to the enterprises (for the use cases specified in the section about M100 and M300) and for the broader consumer market.
I believe that VUZI does not have a viable strategy for breaking into the latter. To be able to hit critical mass adoption so that you can tap into market past early adopters, one needs a significant budget for marketing, a backing of large corporations and much more support that VUZI currently lacks. Moreover, the management itself does not have much experience with the consumer market. As for the enterprise use, I can reiterate the need for corporate partners as in the case of M300.
Also, the company did delay the launch of the M3000, as, for example, this 10-K for FY2015 (dated March 2016) states that the company should release the product in around Q4 of FY2016 while this 10-Q from November 2016 states that it should happen in late spring of 2017. The latest 10-K from Thursday 16th of March 2017 again postponed both releases. M3000 should be released in fall 2017 and B3000 in 2018.
Therefore, yet again, one can see through the product scorecard below that these VUZI products are filled with questions rather than a safe bet on profitability and success.

iWear
The last product of VUZI that could help the financials in the near future is the already released iWear Headphones that are marketed as a device offering an immersive enjoyment of games or films.
While there is no dispute about its features or technology, the product has been received coldly by the market. Amazon reviews (only 18 of them) are split between 5* and 1*/2* showing that there is a wide divide between the majority of opinions. Other video reviews are also not positive, as, for example, this review states that the product lacks comfortability. Another review compares iWear with Avegant Glyph and states that the video quality is subpar in the VUZI product. This is further supported by several Reddit threads here and here.
The reviews would not matter much should VUZI be able to sell enough of the products to reach a scale that would allow the company get closer to profitability, but that is not the case as again the revenue has not seen a meaningful increase that would come close to offsetting the significant operational expenses. Additionally, in the latest 10-K, the company had to write down $1.1 million worth of inventory related to iWear likely due to the continuously poor sales.
I would also say that iWear is a great example of an issue that I believe VUZI will struggle with the M3000/B3000 in the consumer market. iWear lacks any sort of platform which would help to drive the sales. While you can use it on PlayStation for example, most of the consumers will likely rather go for the VR headset provided by PlayStation itself. VUZI tries to introduce iWear to drone racing, but again there is already a number of companies that are focused on the market since the beginning such as FatShark. Moreover driving partnerships that would help the sales is challenging when you are not giving the consumer the best experience as witnessed by the reviews.
Finally, yet again this product lacks any unique features of a superior technology that would enable Vuzix to beat other competitors. Also in this particular space of virtual reality products, Vuzix stands even smaller chance of success due to the fact that it is up against firms such as Oculus, HTC, etc.
Thus, to summarize, I believe that as of now, the product portfolio of the company fails to meet the expectations of the market as seen below:

This means that the current valuation is not supported by the business and thus should normalize and the stock should trade at the very best around the book value until it can show that this has changed.
Other issues
While I believe that the fundamental problem with VUZI's products is the key issue, there are several other problems that support the negative outlook.
Continuous Equity Issuance
As mentioned in the thesis, currently, the company does not seem to be able to reach any other type of financing which hurts the perspective of the current shareholders as they are getting frequently diluted. VUZI's finances were significantly improved by Intel's investment, but this solved the issue only for a period of time in 2015.
The company used to take advantage of the ability to issue convertible debt, but this was never really enough to cover the expenses. Moreover, due to the fact that the company is now running a loss for over 11 years, potential lenders might not be inclined to enter into such transactions anymore unless the company proves that the products are commercially viable.
Finally, I would also point out that while equity issuance can be a valid source of financing, it requires the share price to hold up. Should VUZI's share price start to decrease, any potential equity issuance would only accelerate that.
Revenue needed to break even
Another significant challenge for the company is to turn this dire financial situation around as it currently lacks material sales, but even if it should start to drive sales, it would have to do so at a significant growth quarter over quarter as seen in the scenario analysis below:

Note: The output of the table is gross profit.
Given the past operational expenses, the best scenario (and highly unlikely one) would be that the company would suddenly drop its operating expenses to 2012 levels and achieve margins of 50% which it never did as the record gross margin was 36.3% in 2011. This would mean that the company would need "only" roughly $10 million per annum in revenue, or 400% increase from last year to break even.
The more likely scenario is that the company is going to decrease its operating expenses but not as much. An optimistic (but possible) assumption might be around $9-10 million of operating expenses per annum due to lowered marketing expenses and R&D which the management said that it is going to try to cut. Additionally, we could assume that the company is going to achieve gross margins of 35%. This would mean that it would need roughly $30 million per annum or 1,400% increase from last year to break even.
I do not believe that this is likely given the fundamentals of the business.
Dubious value of patent portfolio
The company states that part of the value of the company is its patent base (as per 10-K for FY2016), even though I have showcased that its products are not unique and do not employ technology previously unseen. The company states that it has currently 51 patents awarded (mix of US and international patents) and 31 patents that are pending.
When I looked at its database through USPTO and WIPO, I found that most of the patents it owns are either design patents or outdated patents connected to previous products as seen below: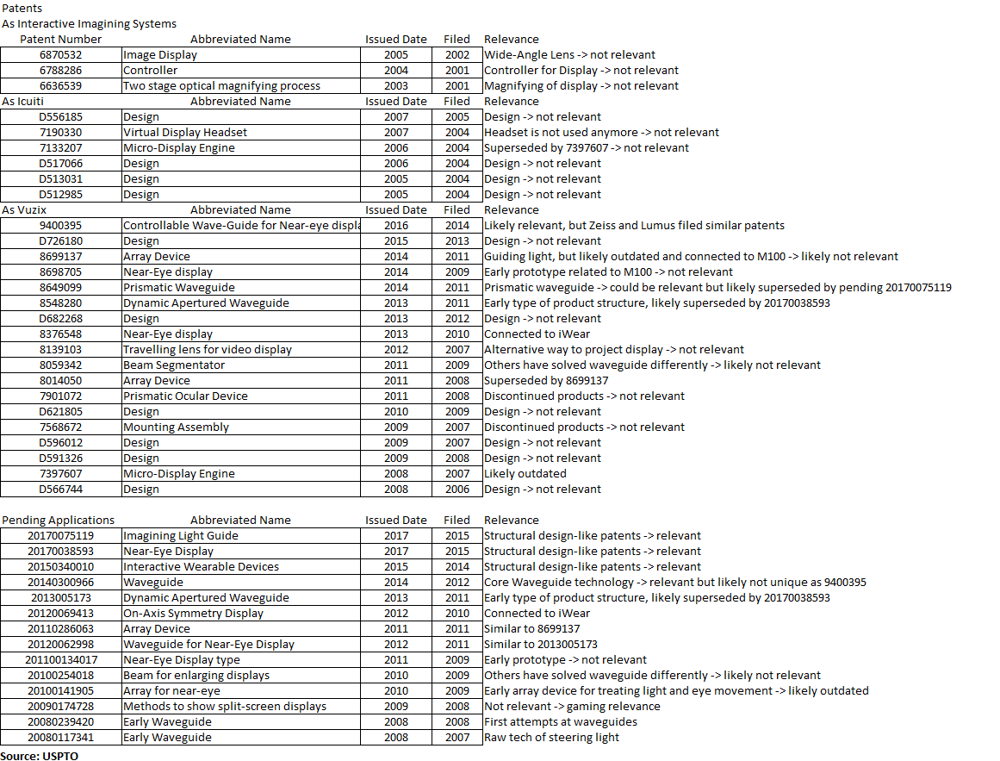 Note: These are not all its patents as the company did acquire several throughout the past as for example mentioned here, but I do not believe that these should be material (the example is connected to gestures and light management). The company also applied for new patents that the USPTO and WIPO did not yet publish.
Note #2: I also did not include the international patents for simplicity of the table because they are copies of the US patents.
Note #3: The company had previously held names Icuiti and Imagining Systems that's why these patents are included.
Only several patents seem relevant (such as this patent for the waveguide optics system), but as mentioned, Lumus for example have its own patents (as seen here) that will likely allow it to build similar products to M3000 and B3000.
Additionally, in its 10-K for FY2016, the company mentions that it relies on third-party technology such as its license of Nokia (NYSE:NOK) technology and microdisplays used in VUZI's products that are made by Kopin (NASDAQ:KOPN). This could further undermine the strength of the patent portfolio.
All this being said, it might be that Vuzix could be able to patent one of the more useful ways to utilize the waveguide technology (not the technology itself, but the way it uses it as for example in this patent) which then could potentially become a valuable patent.
SEC review
As mentioned in the thesis, the company is likely to be still under a review by the SEC most likely for continuously stating that it lacks effective internal financial controls. The SEC started this informal review on May 24th, 2016. The company first announced this on July 9th, 2016, when it did an equity issuance. Since then, it did not mention it on the 10-Qs (only on another equity issuance document from November 2016). It continued to state the same in its 10-K for FY2016. VUZI also reiterated that its internal financial controls are not effective.
Conclusion
I believe that the stock is not trading at what the company can currently achieve. It is trading at inflated valuations backed up by expectations that are unlikely to transpire to material sales which are now crucial for the company as it keeps burning cash every quarter and has a history of commercially unsuccessful products.
Should the company fail to achieve meaningful sales from the M300, the valuation is likely to normalize as this would mean that it would need another equity issuance due to inability to offset the ongoing operational expenses. The company should register first sales of the M300 this fiscal quarter, but the management did not mention any tangible data points that one could use to assess whether they are going to be meaningful.
Due to this, I believe investors are likely to benefit from buying put options (July or October expiry dates at $7.5 or $10 strike prices could be the most interesting ones) as the next few quarters are going to be crucial for the company. Moreover, this way one can more easily build a meaningful position as the availability of shares to short might not be significant enough (as per IB estimate).
Finally, regarding my price target, I believe that the stock should trade with little to no expectations embedded in the value, thus the downside is significant. I believe at the very least, the stock should drop to around $4.50 per share as this was the trading range in June 2016 when the company had the same products in the pipeline and faced the same risks, yet it now trades higher. The more likely scenario is that if the products continue to fail, then the stock could trade as little as 2x P/B.
This article is part of Seeking Alpha PRO. PRO members receive exclusive access to Seeking Alpha's best ideas and professional tools to fully leverage the platform.

Disclosure: I/we have no positions in any stocks mentioned, and no plans to initiate any positions within the next 72 hours.
I wrote this article myself, and it expresses my own opinions. I am not receiving compensation for it (other than from Seeking Alpha). I have no business relationship with any company whose stock is mentioned in this article.