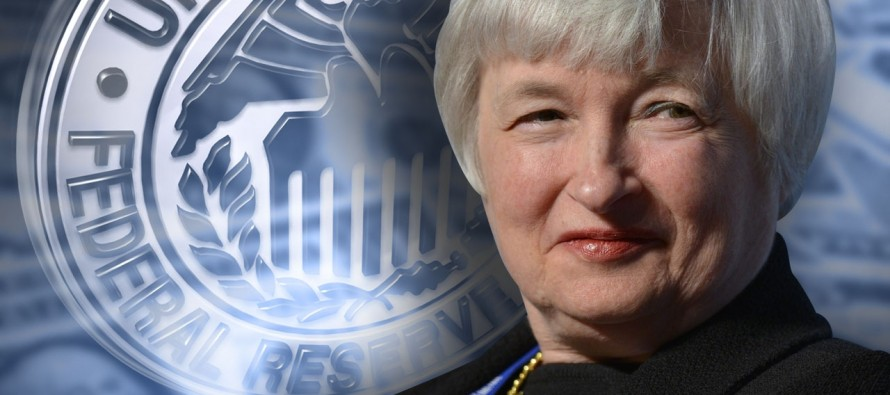 On Wednesday, the Fed raised rates for just the third time in a decade driven by their mandate for stable prices and full employment. Markets took off with both stocks and bonds surging after the Federal Open Market Committee indicated that they would keep a more gradual pace in interest rate increases for 2017.
The market was clearly positioning itself that there could be as many as four hikes this year after so many Fed speakers supported a hike and made comments in favor of higher short-term rates.
The statement was seen as dovish by the market as they explicitly stated they would likely be raising rates three times this year. Fed Chair Yellen noted that the current rate remains below the neutral rate (3.0%) and that they will "gradually" be raising to get that benchmark towards the neutral rate. The dot plot did not shift much, however, it does show a tightening of forecasts by the members around three hikes in 2017.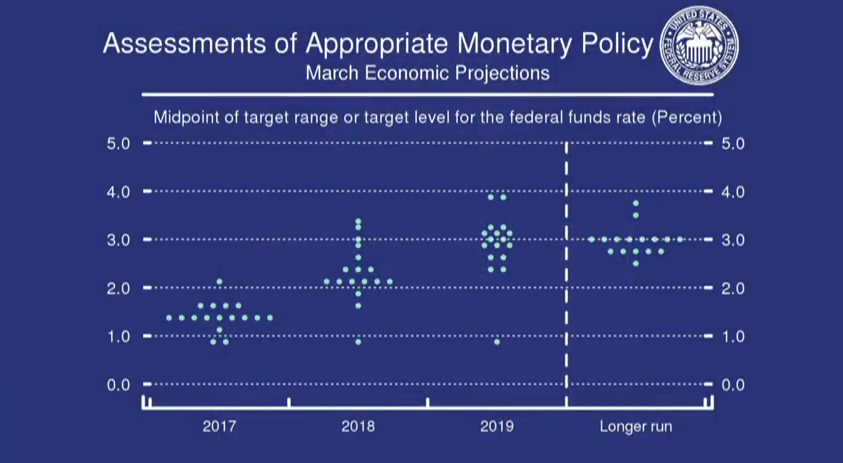 There was just one dissenter in the voting member panel, Neel Kashkari for the Minneapolis Fed.
For investors in closed-end funds, this means that financing costs will be rising. Long-term bonds meanwhile failed to respond- in fact they caught a bid due to the dovishness of the statement with the ten-year falling to 2.50% from nearly 2.60%.
Spread compression is thus an issue for any type of leveraged fixed income structure. The ability to borrow cheaply short-term is declining while the earnings long-term have remained unchanged since mid-December. This should be negative for fixed income closed end funds with future distribution cuts likely.
Below is a chart of the 10-2 year treasury spread. Over the last three years, the trend has been lower as the curve has flattened. We did see a small rebound in the last few months of 2016 but since the end of the year, the trend lower has started anew.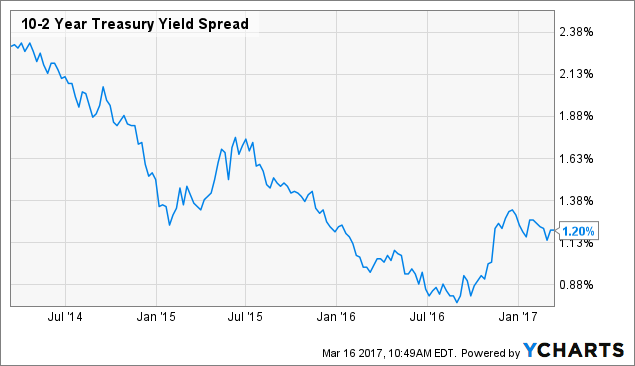 10-2 Year Treasury Yield Spread data by YCharts
The equity market has been rising strongly since the election on the back of proposed political and regulatory initiatives. While the bond market reacted in November, it hasn't shown the same enthusiasm since mid-December with long-bond yields staying relatively flat.
Additionally, the Atlanta Fed's GDPNow forecast has fallen to 0.9% for the first quarter. This is down significantly from the 3.0+% earlier this year. We would caveat that the first quarter GDP figures have suffered from some kind of seasonality-effect over the last few years.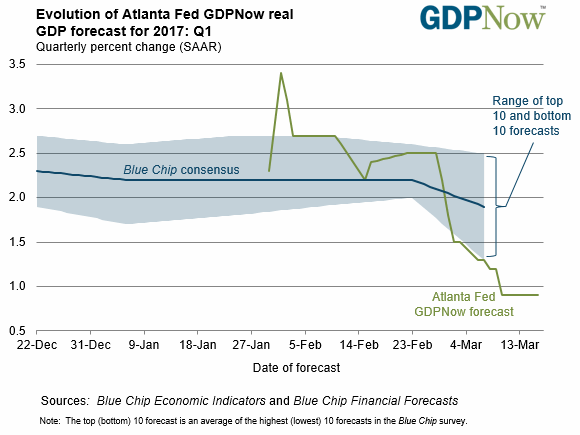 PIMCO Monthly Earnings Release
PIMCO released their monthly earnings statement which shows a modest earnings rebound from the low January figures across a majority of the funds. The firm added a new 6-month coverage ratio to their data release to improve transparency.
The funds we primarily focus on, their non-agency MBS suite, for the most part saw improvements. That is especially the case with those that paid a special distribution in December and 'reset' UNII.
Of the eleven taxable fixed income CEFs (including PGP which isn't really fixed income), six saw their three-month coverage ratio improve. Those funds include: PTY, PCI, PDI, PHK, PKO, and RCS. Of the eleven, just four are above 100% while four are below 90%. The weakest funds remain PGP, PHK, RCS, and PTY.
Of those same eleven funds, all but two saw UNII improve in February. One, RCS, had flat UNII at -0.07 while PGP saw their UNII go from +0.01 to -0.07.
On the surface, RCS and PHK remain vulnerable to a distribution cut with PTY on the precipice unless coverage and UNII improve.

(Source: PIMCO, Alpha Gen Capital)
True yields remain in the high single-digits and low double-digits. PKO was the best "true yielder" recently due to its high fiscal year to date coverage ratio, which now totals eight months. But in the last month, fund-favorite PDI has surpassed it in true yield due to the 126.5% FY coverage ratio.
We continue to think coverage ratios will slowly improve over time. The main reason for the decline is likely due to their smaller base-earning portfolio. That is, due to the special distribution strategy whereby they under-distribute and essentially "reinvest" those assets into more bonds which earn income, they are able to earn more over the course of the year. An analogy would be taking your required minimum distribution on January 1 instead of December 31. By doing so, that capital is not invested for the next twelve months earnings and you fail to earn compound interest.
This is clearly evident in a fund like PDI, one of the premier names of this type of strategy. In December, their 3-month coverage ratio was 136% but in January it fell to 100.2%. There was nothing in the market that would indicate that coverage should fall like that. Instead, the special distribution of $1.45 reduced the power of the fund's net investment income generation in January.
For Yield Hunting! Members Only:
Here we detail actionable trades.
Non-Agency MBS Commentary
The non-agency MBS market remains a solid investment sector. The absence of new issuance for most of the post-financial crisis period has created a supply issue for those seeking the high level of income. PIMCO among others have been at the center of this trade: busted private-label MBS securities that were originally rated investment grade, but contained sub-prime mortgages. After the crisis, these securities became toxic after being downgraded by the credit rating agencies. PIMCO, hedge funds, and others picked up these securities at deep discounts due to the supply/demand imbalance.
Their funds have continued to focus on large exposures to these non-agency MBS pools purchased at discounts to par. The sector benefits from high amounts of current income plus the potential for capital appreciation as there currently is limited new supply while the housing market continues to grow and recover.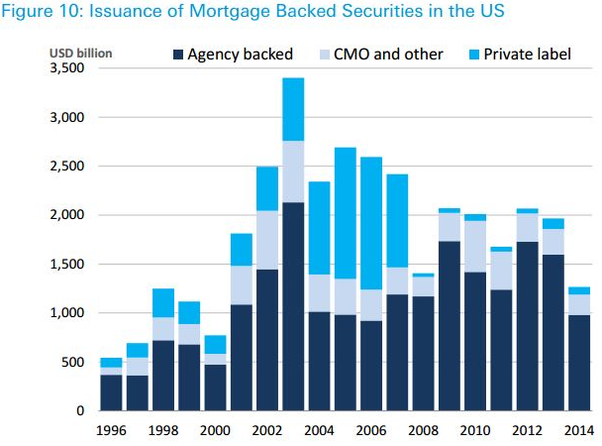 These securities help out the fixed income portfolio as they have a low correlation to US high yield, investment grade, and floating rate loans.

(Source: Columbia Threadneedle)
The non-agency (private) MBS securitization market is also starting to show some signs of life with new issuance coming out recently. This is a good sign and one that could further benefit the existing (pre-financial crisis) securities due to increased demand.
Bottom Line
The focus on non-agency MBS securities is our distressed debt play that has worked out very well. The recent rise in yields and mortgage rates actually benefits these securities from a current income perspective as the chance of refinancing become lower, decreasing prepayment speeds. As the market for private label MBS thaws a bit, demand from legacy securities in the space could see renewed interest and further appreciation.
Comments appreciated.
Note: To get these types of articles as soon as they are published, just click on the "Follow" button next to my profile and choose the "Real-time alerts" option.
Marketplace Service For Those Hunting For Yield
In April 2016, we launched our marketplace service "Yield Hunting: Alternative Income Investing" dedicated to yield/income investors who wish to avoid the risk associated with most of the equity market. The Core Portfolio targets an 8%+ yield from closed-end funds, BDCs, REITs, preferred stock, baby bonds, and high-yield equity. We encourage investors to utilize the free two-week trial in order to benefit from our yield opportunities with easy-to-follow models, a buy list, and trade log. Our prices rise on April 1. For more information on the service, please go to our marketplace page.
Disclosure: I am/we are long PCI, PDI, PKO, PCN.
I wrote this article myself, and it expresses my own opinions. I am not receiving compensation for it (other than from Seeking Alpha). I have no business relationship with any company whose stock is mentioned in this article.
Additional disclosure: The commentary does not constitute individualized investment advice. The opinions offered herein are not personalized recommendations to buy, sell or hold securities. As I have no knowledge of individual investor circumstances, goals, and/or portfolio concentration or diversification, readers are expected to complete their own due diligence before purchasing any stocks mentioned.

The strategies discussed are strictly for illustrative and educational purposes and should not be construed as a recommendation to purchase or sell, or an offer to sell or a solicitation of an offer to buy any security. There is no guarantee that any strategies discussed will be effective. The information provided is not intended to be a complete analysis of every material fact respecting any strategy. The examples presented do not take into consideration commissions, tax implications or other transactions costs, which may significantly affect the economic consequences of a given strategy.

This material represents an assessment of the market environment at a specific time and is not intended to be a forecast of future events or a guarantee of future results. This information should not be relied upon by the reader as research or investment advice regarding the funds or any security in particular.