AmTrust Financial Services (NASDAQ:AFSI) offers workers' comp, specialty property and casualty and specialty risk and extended warranty insurance.
Today's News:
Additional time is required for the company and its auditor to complete their work. The 10-K will be filed as soon as is practicable.
The delay and restatement for 2014 and 2015 largely relate to the timing of recognition of revenue in AmTrust's service and fee business, which is still expected to remain profitable in those years and 2016.
KBW bull Meyer Shields suspends his rating, price target, and earnings estimates until the restated results.
Not surprisingly, the uncertainty has investors worried and the shares have fallen by 19% in today's trading. KBW has suspended coverage and will await more details.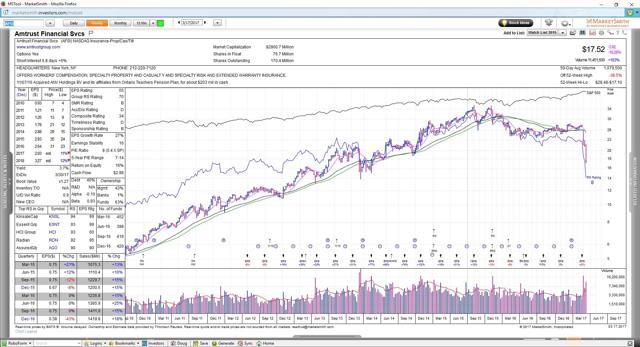 AmTrust Financial Services EPS of $0.38 (Feb. 27)
Previous earnings are provided below, but since the company is in the process of re-filing and correcting these issues, one cannot be certain these figures are accurate and are presented to provide some context on the business.
Book Value Per Common Share(2) of $15.15, Up 17.4% Since December 31, 2015.

Fourth Quarter Return on Common Equity and Operating Return on Common Equity(1) of 15.7% and 10.5%, Respectively.

Full Year Return on Equity and Operating Return on Common Equity(1) of 17.1% and 19.0%, Respectively.

Provides Update on Anticipated Timing of 10-K Filing.
Fourth Quarter and Full Year 2016 Highlights
Fourth quarter gross written premium of $1.91 billion and net earned premium of $1.22 billion, up 19% and 15%, respectively, from the fourth quarter 2015.(1)
Fourth quarter service and fee income of $151.0 million, up 26% from the fourth quarter 2015.(1)
Fourth quarter net income attributable to common stockholders of $98.7 million, or $0.57 per diluted share, compared to $59.7 million, or $0.35 per diluted share, in the fourth quarter 2015.(1)
Fourth quarter operating earnings(1)(2) of $66.3 million, or $0.38 per diluted share, compared to $115.7 million, or $0.67 per diluted share, in the fourth quarter 2015.(1)(2)
Current period net income attributable to common stockholders and operating earnings(1) include a reserve charge of $65.0 million, or approximately $0.24 per diluted share.
Fourth quarter and full year combined ratio of 95.5% and 92.1%, respectively.
Full year 2016 capital returned to shareholders of $262.4 million, including $152.3 million of common share repurchases.
Source: Press Release
Technical Overview
If the company has major issues regarding account irregularities and we have no verified financials to rely upon, then the technical review is the best way to analyze where investor support for the shares could be.
Below, we find the next level of significant support at the $16 level. Additionally, the previously announced book value of the shares reported by the company (and being restated) was $15.15. So, in spite of the negative news flow, and today's large decline, on a technical basis alone, the shares are still not at a level of major support. Thus, there is still risk to the shares.
What is clear from the uncertainty surrounding the company and the technical review is that this situation will most likely not be resolved quickly. And investors hoping for a quick turnaround will most likely be very disappointed. At best, the shares appear headed to the $15 level to begin a basing formation that could take months to play out.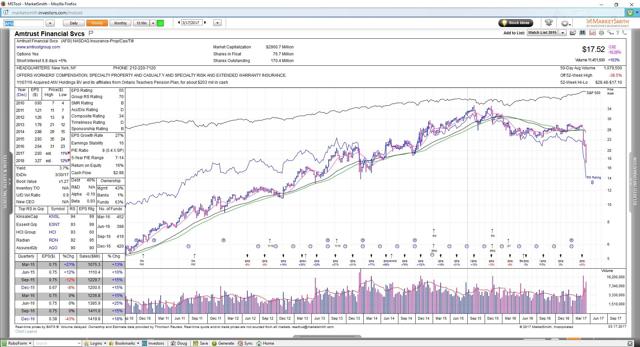 (via MarketSmith)
Speculative Strategy
The best way for a speculative investor to participate in this situation is not to buy the shares. Selling the $15 Puts expiring in April for a premium of $0.45 is a way to gain exposure to the shares. This would give an investor protection to the downside in the shares of $3.45 or 19%. This is only for aggressive investors who want exposure to the shares.
Conclusion
In spite of today's large decline in the shares, the risk is still too great, and the level of uncertainty due to accounting irregularities prevents recommendation of the shares until more information is known.
And even by the technical review of the shares, investors should realize there is still risk in the shares and the situation will most likely take longer than expected to be resolved.
Disclosure: I/we have no positions in any stocks mentioned, and no plans to initiate any positions within the next 72 hours.
I wrote this article myself, and it expresses my own opinions. I am not receiving compensation for it (other than from Seeking Alpha). I have no business relationship with any company whose stock is mentioned in this article.
Additional disclosure: Options involve risk. Investors without sufficient experience should consult an advisor.