"Know what you own, and know why you own it."

There was no parade, no fan fare, the anniversary of the market lows came and went with little attention. March 9, 2009, with the S&P trading down to a low of 666, turned out to be one of the greatest opportunities presented to investors in a long time. It would be unfair to blame anyone if they didn't see that at the time, not many did, the backdrop was just too scary.
Even if you missed the exact low, though, there have been plenty of opportunities along the way to join in, as the second longest and third strongest bull market of all time charged ahead. Another 4% rise from current levels, and this bull market moves into second place in terms of strength. The problem for many is that they didn't get involved for a variety of reasons. While it is among the leaders in terms of ranking bull markets, it is THE leader in terms of being the most unloved. During the course of the last four years, I have often characterized this stock market as hated.
One of the primary reasons for the apathetic view is that many pundits viewed every pause along the way and turned into the next crisis, the next crash. The memories of the financial debacle had people losing sight of many investment principles, the tried and true methods to invest and build wealth over time.

Whether you look at the last eight years, the last six months, or the first two months of the year, stocks have been on an epic run, and even the most powerful bulls need to stop and take a rest every once in a while. However, contrary to what some are saying, they don't always have to collapse. When we view the chart of the S&P 500 over the last year, the recent sideways trading continues the stair-step pattern that the S&P 500 has been in since early February of last year. We may now be embarking on another push higher.
The synchronized breakout of all of the major indices in late 2016 should have all bullish investors intrigued. Over the course of the last two months, I have noted repeated similarities to the start of 2017 to what we saw in 2013. Each year of market action has its own characteristics and rarely if ever are two exactly the same. No one should take my comparisons of the two years as a suggestion that we will see 30% gains like we did in 2013, but it does pose the likelihood of a very positive year for the bulls.
Both years followed volatile periods the year before and both years have now had significant breakouts after an extended period of consolidation.
The similarity continues with the Dow Theory buy signals (2) that have already been flashed in 2017. 2013 saw numerous Dow signals all throughout the year. Each of the two years started strong and as indicated in a recent article.
"After a positive start in both January and February. The index has closed UP for the full year all 27 times. The last incidence of this occurrence was 2013."
Last week it was shown that investment manager reports, which are being cited as cautionary signals regarding optimism seen from NAAIM surveys, pose an interesting comparison to 2013 as well. Active investor exposure to equities just hit 102%, the highest since Jan. 2013.
Further evidence comes from a recent record-tying streak. The Dow Industrials closed at a new all-time high 12 days in a row, tying the record. Back in 2013, the Dow had a similar streak of 10 days at new all-time highs.
Then, there is this chart about market inflows: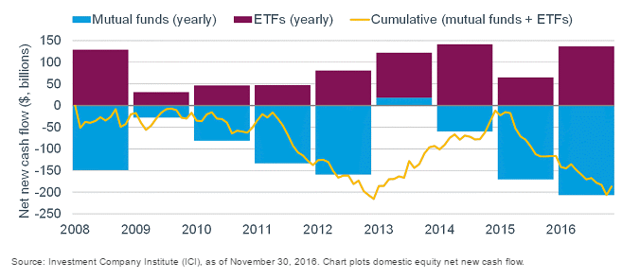 What caught my attention is where that yellow line sits today. At a level similar to 2013. This data is not representative of what occurs at market tops. It actually indicates the beginning of a large move, but we need to be reminded that it will not be a straight line up. The relentless bid for stocks during 2013 came from equity inflows. The period from November 2012 to March of 2015 saw an epic increase in fund inflows, and it corresponded to a 50% gain in the S&P.
After a nice run after the election, February opened the door to a myriad of calls for a pullback. It was noted then that the S&P 500 had closed at least 2 standard deviations above its 50-day moving average for three straight trading days indicating an overbought state. The same pattern occurred in 2013. It is mentioned today because it is very rare, and another indication of extraordinary strength. However, it doesn't necessarily mean the market is about to plunge or that this streak will end badly. Shallow three to eight percent pullbacks during 2013, yes; market plunge, no. The average pullback in 2013 was 3.3%.
For those that don't remember, 2013 signified the beginning of the secular bull market. But there are differences that also have to be noted. There is plenty of optimism now in a few of the fear and greed measures that was not present in 2013. Anyone following their investments also realizes that valuation isn't the same as well. The forward PE in 2013 was 13; today around 18.
A closed mind will highlight the last two issues and ignore the rest. An open mind understands those two issues, realizing that they can be neutralized. Acknowledges the positive similarities, and watches the price action.

Economy
Despite a downtick in optimism, the NFIB Small Business report remains at elevated levels. Since 2000 the average reading is 96. The index stands at 105 today.
The OECD U.S. Composite Leading Indicator is signaling strengthening momentum in the U.S. However, the Atlanta Fed GDPNOW folks don't see it that way as they dropped their forecast for first-quarter GDP here in the U.S. to 0.9%.

The amount of truck tonnage is always a good barometer of how the economy is doing. January truck tonnage is up +2.6% year over year and +2.9% month over month from December
Advance Retail Sales numbers for February came in at 0.1%. January retail sales numbers were revised up to 0.6%. Total sales for the December 2016 through February 2017 period were up 5.4 percent from the same period a year ago. Building materials sales rose 1.8% and online sales rose 1.24%. They remain two of the strongest areas of retail sales.
Online sales are blowing every other sector out of the water, as its current winning streak is the longest that any sector has ever had based on data going back to 1992. Amazon (NASDAQ:AMZN) is now taking a larger share of the pie. The cries that the consumer is dead come from those that can't read the data that is right in front of them.
Empire State Manufacturing edged two points lower to 16.5 in the latest survey, but the internals were strong as new orders rose to 21.3, the highest level in years. Unfilled orders index also climbed to a level not seen in the last decade at 14.3
Philly Fed Manufacturing beat expectations with a reading of 32.8. That is down from the huge spike last month which saw the index rise to 43.3 in February. The index has been positive now for eight straight months and shows that regional manufacturing activity continued to expand. Every sub-index in the report was positive.
Industrial Production came in flat, but the factory component of the index came in at a level last seen in 2008.
The 2 trillion cash hoard that S&P companies have assembled in the last few years may now be put to work in the form of capital expenditure. Something that has been lacking and stifling the growth in the economy.

The BLS updated its monthly Job Openings and Labor Turnover survey this past week. The big news this month was the improvement in the quit rate, which for private sector workers hit the highest level of the expansion. A 2.5% quits rate is about as high as that rate got in the last expansion in 2005. The only real weak point in the data was the lack of material improvement in the number of job openings. Overall, the employment picture looks solid.

Home Builder Sentiment was reported at its highest level since 2005. The March Housing Market Index was reported at 71 versus a revised February read of 65.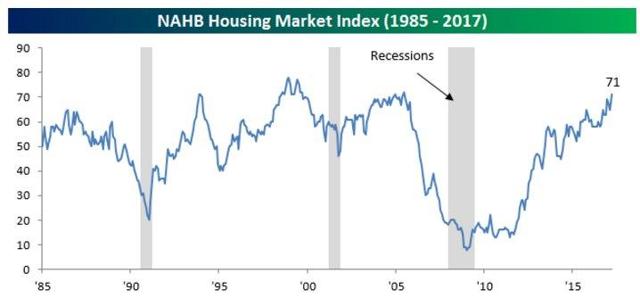 Source: Bespoke
Housing Starts jumped In February showing an increase of 1.29 million units which brings construction activity to a nine-year high. That result was the second highest level of the expansion. Home building is up 6.2% compared to February 2016.

Global Economy
Measures of global breadth suggest broadening global growth as 86% of individual country PMIs are in expansion territory, the most since January 2014 and well above the long-term average of 70%.

The Dutch elections garnered attention this past week as Dutch Prime Minister Rutte remained in control. Reuters reports:
"The vote is the first gauge this year of anti -establishment sentiment in the European Union and the bloc's chances of survival."
Focus will now begin to center on the French elections.
Eurozone Industrial Production slowed after reporting large increases in the last two months of 2016.
Italy Industrial Production fell the most month over month since September of 2011. That miss offsets the huge advance that was recorded last month.

Earnings Observations and Valuations
For those that like to make the price to sales comparisons, for today's market versus 2000, and then conclude the market outcome will be the same, this data point may not be to your liking.
Urban Carmel explains:
"Valuations based on price/sales overlook this key element: profitability is now 30% higher than in 2000."
FactSet Research stays with its estimates that 2017 earnings will come in at $131.11. Based on Friday's closing, the forward looking PE is 18.1

The Political Scene
Cowen and Co. informs us that tax reform/relief is next in line in the budget reconciliation queue, meaning it will require only 51 votes to pass. It explains.
"For that process to start, a 2018 fiscal budget must be passed. So if Obamacare replacement isn't done by mid-spring or so, it's almost certain to get dumped into the 2018 fiscal budget with everything else, creating a political quagmire that gums up the works across all fronts. This essentially would make the entire legislative agenda for 2017 a binary event at year-end, with the potential for debt-ceiling fights and no progress on taxes et al as Republicans head for their 2018 midterm elections. Republicans are going to have to realize they must take what they can get on Obamacare changes (not repeal) and move on."
As with anything government related, it gives every group their moment behind the microphone. For others it is a chance to get their point across, and it brings the Cowen and Co. summary into perspective.
I just scratch my head in disbelief at the time and effort being dumped into this issue, and wonder why after all of these decades it's suddenly deemed necessary to mandate healthcare.
In the meantime, the repatriation of foreign cash sitting overseas, which seemingly would be an easy issue to deal with, takes a back seat.
J.P. Morgan CEO Jamie Dimon said recently that Repatriation will create "QE4"-like stimulus. It's hard to disagree with that observation.

The Fed
This past week the Fed Funds rate was increased by 0.25% as expected. This time around the market reaction compared to the prior increase was night and day. A sign that investors are getting comfortable with the prospects of an improving economy as the driver for higher rates.
Anyone that still doubts that Ms. Yellen knows exactly what the market is looking for need go to her press release. Rates will rise at a slow and measured pace as the Fed will remain accommodative. For those that are under the impression that the Fed will somehow stand in the way of economic growth as has been reported lately also need a dose of reality. That commentary is simply born in the minds of the naysayers that have called this market wrong for years now. Speculating now on how many rate increases we will see in 2017 is just that, sheer speculation. The message has been loud and clear for a long time, it is data dependent.
Keeping with the comparisons to the 2013 theme, the talk of higher interest rates ahead has many wondering if that will slow down the advance of the equity market. That wasn't true in 2013, when the S&P 500 rose 32% and the 10-year Treasury yield rose from 2% to 3%
Evercore ISI expects the 10-year yield to soon break through the December 2016 2.6% ceiling, with the yield curve flattening in this year's second half and the 10-year yield reaching 3% by year end.

Sentiment
FactSet Research reports;
"Bullish sentiment decreased to 53.4% from 57.7% in the latest US Investor's Intelligence poll. Bearish sentiment increased to 17.5% from 17.3%. Those expecting a market correction increased to 29.1% from 25%."
The latest sentiment figures from AAII were released and bulls are still far from a majority. At current levels, they aren't even at a third of the total. After falling to a post election low of 30% last week, which marked the lowest reading since February 2016, bullish sentiment increased to 31.1%. This marks a record 115 weeks where bulls have been out of the majority.

Crude Oil and the USD
The price of WTI hugged the flat line and the 200-day moving average on Monday, only to fall below that support on the news that Saudi Arabia boosted output in February.
The selloff started when the hedge funds got trapped with what was discovered were record long positions in oil. Connecting the dots paints a picture that the pressure was coming from liquidation of those positions rather than any global economic slowdown issues.
The drop below the important 200-day moving average was temporary as prices got a lift when the U.S. Energy Information Administration reported crude oil inventories fell by 0.2 million barrels for the week ending March 10.
The price of WTI closed the week at $48.78, up $0.38 for the week.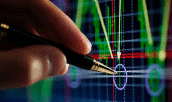 The Technical Picture
The S&P is now at 108 trading days without a 1%+ decline. 110 is the 30-year high. After one of these 100+ day trends, the S&P is up 14% on average a year later.
This week saw the first close for the S&P below its 20-day moving average, albeit by less than one point, since December 30th of last year. That was quickly reversed when S&P broke to the upside after the Fed announcement.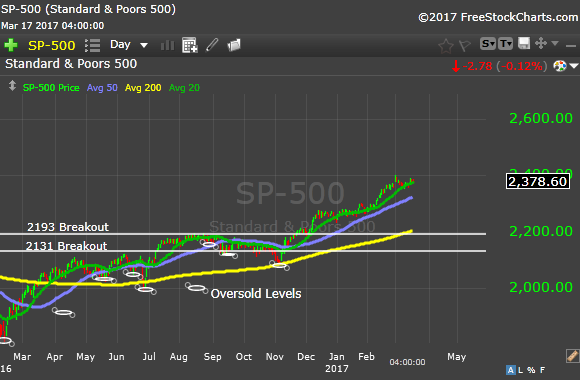 Source: FreeStockCharts.com
The idea put forth last week that the pullback was indeed over appears to be on target. A couple of tests of the short-term pivot points held and the rally on Wednesday that saw the S&P close at 2,385 have now set the stage for what I believe may be a push to new highs.
Sometimes it's easier to call the downside because of support levels that are fairly obvious to see. However, the upside is a matter of an educated guess that relies on a set of formulas that technicians use. In this case, my view now puts the upside target of 2,430 to 2,450 into play.
Short term support is at S&P 2,353-2,358 and the 2,336 pivot points, although I noted that the S&P traded down to the 2,377 level on Thursday and Friday and bounced both times. An indication that we may not get to the lower levels. Resistance is at the 2,385 pivot, which is where the index stopped this past week, then S&P 2,401.

Market Skeptics
John Hussman posts his latest view on the market, garnering more attention as to why investors need not be involved in this market.
"Presently, we observe the broadest market valuation extreme in history, with the steepest median valuations on record, and the most reliable capitalization weighted measures within a few percent of their 2000 peaks."
However, one has to wonder what position they would be in if they followed his warnings back in 2013.
Jesse Felder apparently read that and came up with his own ideas as to why in his view it is not a good idea to be invested in equities. Unfortunately Mr. Felder also reported that 2013 was the worst time in 40 years to be involved with the stock market.
My feeling on all of this, one day the broken clock bears will be correct. As I have said all along to those that have doubted, it's ok to be wrong while waiting for their day, but realize that has come with a tremendous cost. With the indices trading where they are, a cost that has added up to an amount that can never be made up.

Individual Stocks and Sectors
The Dogs of the Dow strategy has been mentioned here from time to time. This years' dogs aren't faring too well overall, logging in with a 2.4% gain versus the S&P profit of 6%.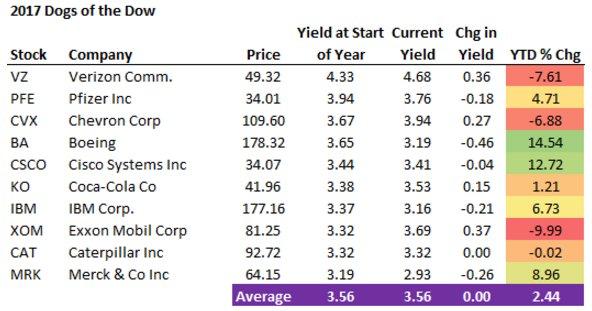 Source: Bespoke
I always include a few Dogs every year in my annual playbook. So far Nike (NYSE:NKE), Merck (NYSE:MRK), and Pfizer (NYSE:PFE) haven't disappointed me.

Not many want to touch anything in the energy sector after watching WTI drop from $54 to the current price around $48. If one buys into the recent weakness being attributable to the massive hedge fund liquidations that have been discussed, then this could be the time to take a look at some names in the sector.
Companies like Chevron (NYSE:CVX) offering a 3.9% dividend yield, Occidental Petroleum (NYSE:OXY) with a 4.8% payout, and Exxon Mobil (NYSE:XOM) yielding 3.8% have sold off to make them attractive core positions for any portfolio. All three are an excellent way to get involved in the sector without going out on a limb.
One of my favorite E&P selections for 2017, Marathon Oil (NYSE:MRO) has taken its lumps lately as investors react to the quick drop in crude prices. The company recently purchased land in the Permian Basin. This makes Marathon the only pure play E&P to have a sizable presence in all four of the main U.S. liquids rich resource plays, alongside the Bakken, Eagle Ford and SCOOP/STACK. It should be mentioned that the stock offers some of the highest leverage among large caps to take advantage of a view that oil prices will recover into the end of 2017. Please remember that leverage works both ways.

I have mentioned this one before and it's worth repeating. AbbVie (NYSE:ABBV) is a steal in the $60-65 range. A PE of 18 and a yield of 3.9%.
Physicians Realty (NYSE:DOC), a healthcare REIT with excellent growth prospects, has sold off due to a secondary offering that was just announced. Often these quick losses from secondary offerings are all recouped in short order. That should be the case here as well. The current price gives an investor a 4.9% yield.
The Nasdaq Biotech Index (NASDAQ:IBB) continued its recent upward move. Another weekly close (295) above the 20-month moving average which stands at 287.
Here is a stock that will get the speculative juices going. However, please be advised these small-cap growth stocks can be tricky to call at times.
Applied Optoelectronics (NASDAQ:AAOI) has had a huge move to the upside because of fundamentals that are breaking out in a big way. The company provides fiber optic networking equipment. It beat and raised estimates for the last three quarters. Earnings have exploded, with estimates now calling for $3.50 in earnings for 2017 and $4.25 for 2018. That represents a forward looking PE of 11. Long-term debt stands at 17%. Facebook (NASDAQ:FB) recently joined Amazon and Microsoft (NASDAQ:MSFT) as clients for this small-cap story, each contributing about 10% to the company's revenue base.
The fundamental performance has not gone unnoticed, as the shares broke out at the $27 level jumping to a recent high of $56 before pulling back to the current price of $48. Full disclosure, I started a position this week at $47.30
Anyone watching the market reaction after the Fed announcement also noticed the muted if not negative response by the banking sector. The recent strength in the group may now slow down for a while as it was a sell on the news event for the group. Money may now rotate to the drug stocks which have broken out. If oil prices stabilize and rise from here, energy stocks will get a renewed bid. Active investors should start thinking along those lines to enhance portfolio performance. Follow the advice of Peter Lynch, review your holdings. Know what you own and why you own it.

While some bulls are comparing the stock market action this year to 2013, the naysayers are running around making comparisons to the crash of 1987. Like all of the other warnings, this viewpoint is rolled out from time to time.
Ned Davis Research notes:
"The 1987 market began with fundamentals that implied equities were much cheaper than today's market, with the S&P's 12-month trailing operating P/E at 14.7 at the end of 1986 vs. 20.9 in late 2016. In both 1987 and 2017, earnings were emerging from a slump, but the big difference was profitability. GDP profit margins were 5.7% in 1986 vs. 12.1% in 2016, meaning corporations are far more efficient today than they were back then. Bonds were stiff competition for stocks back then, with the earnings yield, dividend yield, 3-month Treasury bill and 10-year Treasury bond yields at 6%, 3.4%, 5.5% and 7.1%, respectively; the current levels of 4.5%, 2%, 0.5% and 2.5% suggest equities are the better investment today. With earnings improving, market breadth strong and volatility low, today's environment argues that the secular bull case remains firmly intact, with pullbacks representing opportunities to add."
Please indulge me by allowing the mention of yet another reference to the market action in 2013, just one more time. An accident waiting to happen was a warning pronounced in 2013 as the stock market was being compared to 1987. That and other headlines were rolling around investors' minds exactly four months after the major indices broke to new highs in unison. The only accident that occurred back then was the wrong footed reporting being done at a time when the market price action was announcing that it was time to get on board. Not bail out. The secular bull market was underway.
The calls for a correction (not a pullback) are now becoming more pronounced. Some analysts and investment firms are saying the market has topped and the correction has already begun. Perhaps they are correct, but large, scary declines in stock markets mainly happen when we have a recession, and that is nowhere to be found. In the past 60+ years, the lowest effective Fed Funds rate which has coincided with the start of a recession is 3%. After the recent rate hike, the Fed Funds rate is still nowhere near that level.
Dudack Research offers this observation; although the last cycle of easy money, from June 2006 to December 2015, was the longest in history, rising interest rates has been the predominant policy over the last 70 years and rarely has hurt equities unless or until rates are high enough to trigger a recession.
In my opinion, far too many are obsessed that either a presidential misstep or a failure to soon deliver on campaign promises will leave stocks vulnerable to a significant correction. My view remains the same. I'm not buying into that premise because I am of the opinion that the widespread synchronized global uptrend is the primary driver here. Sure there could be fits of emotion over the political wrangling, but the primary foundation that has already been laid should keep all pullbacks in check, the same as that other year (2013), I may have mentioned.

Each investor has to decide how they want to play the next step in this bull market. Some may wish to heed the warnings that there could be another 1987 or be concerned that the next Trump tweet will send stocks reeling. That the market has priced in all of the good news and some of the good news hasn't happened yet. Then there are some that feel stock market highs are just too scary, and all of the above dictates that it is time to move on and sell out, or go to an overweight cash positioning.
The good news is that a true bear market is not going to happen overnight, and even in the bear markets after the dot com bubble and during the financial crisis, there were signs of deterioration well before the real damage was done. So, this is probably a good time to remind everyone that the unpredictability of the financial markets is why you should stop trying to pick the absolute top, and remain diversified. Follow the Peter Lynch advice that opened the article.
My belief is that any long-term investor deciding to sell out because of this or that concern risks being disappointed down the road. For those that want to be heavy in cash, there is also an opportunity risk of lightening up too much when we're still in a bull market. Doing so simply puts an individual next to all of the other top callers that have come before them.

In my opinion, keeping it simple is the way to proceed. The major indices here in the U.S. have broken to new highs in unison, taking other global markets with them. There is no recession in sight, and the long-term trend is firmly in place. For myself, no major changes in positioning. Minor tweaks here and there, but I remain on course and invested in this market.
Best of luck to all!
Disclosure: I am/we are long AAOI, ABBV, CELG, CVX, DOC, MRK, MRO, NKE, OXY, PFE.
I wrote this article myself, and it expresses my own opinions. I am not receiving compensation for it (other than from Seeking Alpha). I have no business relationship with any company whose stock is mentioned in this article.
Additional disclosure: The opinions rendered here, are just that – opinions – and along with positions can change at any time.


As always I encourage readers to use common sense when it comes to managing any ideas that I decide to share with the community. Nowhere is it implied that any stock should be bought and put away until you die. Periodic reviews are mandatory to adjust to changes in the macro backdrop that will take place over time.