An old truth tells us that keeping customers is as important as getting new ones. The same applies to products. It is just as important to keep a great old product - with the inclusion of appropriate innovations over time - as creating a new product. I've been previously obsessed with the innovation and what it stands for. However, permanent innovation does not mean presenting a different and complicated model to the market just to have something new to show. Innovation must take into account the solidity of what has already been created with the adjustments and improvements that permanent discoveries allow to enrich a product.
That is why investors are prepared to pay increasingly higher prices for products that already exist and are being renewed. The iPhone 7 is a great example. Apple (NASDAQ:AAPL) is having tremendous success with it as well as with iPhone 7 Plus, Apple Watch Series 2 and its Services business, just to mention the most obvious.
But how much can an Apple stock be worth? There is no sense in making very elaborate scientific value calculations, because that is not how we will achieve reliable results. Let's think with common sense and use very simple and clear concepts.
Apple reached EPS of $8.31 in 2016. Being positive about the company's guidance for the next quarter, we'll take analysts' estimates as a guide for the next five years. Apple may reach 7.60% growth with EPS of $8.94 for fiscal year 2017. Taking last closing price of $140.69, the company has a forward P/E of 15.73. That's a number we must study further to see what it really means by analyzing the price/earnings to growth ratio (PEG ratio). With EPS expected to grow 9.25% per annum on average over the next five years, AAPL has a PEG ratio of 1.70 (17.20/9.25). As it is not terribly higher than 1, we fairly conclude that the stock may have still room to increase.
Although analysts' estimates have historically been close to actual results, it will be prudent to do a further analysis as the 9.25% growth may not materialize.
Apple is a value company and, maybe, it has also increased growth capacity in the future. It is important to bear in mind the company's enterprise value (EV):
A. Market Capitalization - $748B
B. Debt - $77B
C. Cash or cash equivalents and long-term marketable securities - $246B
Taking $748B + $77B - $246B = $579B (Market Cap + Debt - Cash) we have EV. Dividing by 5.30B shares outstanding, we arrive at $109/share ("price per share minus the net cash per share").
Let's do the same kind of analysis but now considering only this part that contributes for the real value of the operating business.
Then, ~$109 is the price per share that investors are paying for the operating business. With the same estimated EPS of $8.94, we get a P/E of around 12.20. If we assume a CAGR EPS of 9.25% over the next five years, then PEG will be 1.32. This is a very reasonable number and it makes us believe that there is obvious upside potential here.
Assuming a five-year EPS CAGR of 9.25%, then five years, hence the EPS would be about $13.91. With the same P/E of 12.20, the "price per share minus the net cash per share" five years hence would be about $169.70. If we agree that the dividend will grow at an annual rate of 10%, then over five years, we'll receive about $15.31 per share in dividends, totaling a value five years hence of around $185.01. With an annual 8% rate of return on our investment, we have a present value of $125.86/share.
It's easy to conclude that Apple is, in some way, undervalued and has upside potential. Given that the starting value was $109, there is actually a relevant safety margin since we have reached the present value of around $126. Of course, we have based the study among other data in the analysts' estimates. However, we can confirm that their average forecasts for Apple have been quite accurate over the years.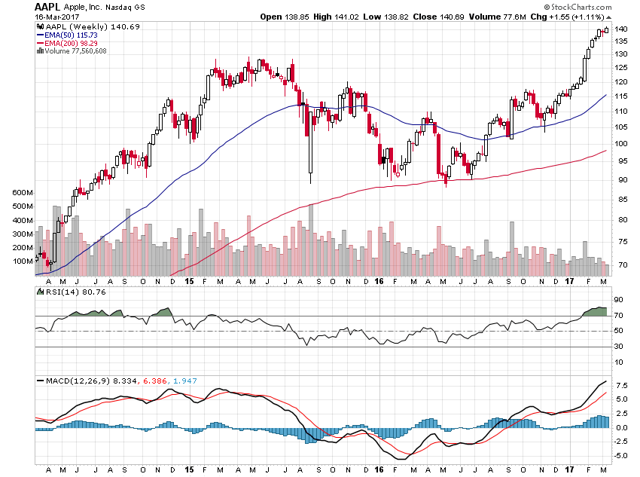 Chart courtesy of StockCharts.com
Note: This chart is in semi-logarithmic scale
It will be interesting to follow the evolution of Apple's stock price during this year. In the chart above, we can see that the rise seems to be sustainable, and we think that if the forecasts were confirmed, we could conceive a very high price target in terms of the long term. Of course, climbs are never straightforward nor is this company safe from corrections.
Conclusion
In our analysis, we believe that there is a margin of safety to support a rise in company stock prices. For now, we have confidence in an upside potential up to $155 per share for 2017, which would be pretty reasonable. We hope that Apple can confirm our optimistic expectations or even surpass them, thus surprising both the market and the investors favorably.
Disclosure: I/we have no positions in any stocks mentioned, and no plans to initiate any positions within the next 72 hours.
I wrote this article myself, and it expresses my own opinions. I am not receiving compensation for it (other than from Seeking Alpha). I have no business relationship with any company whose stock is mentioned in this article.
Additional disclosure: The author of this article is not an investment adviser and gives only his personal view and opinion, never making any investment advice or recommendation to buy or sell specific securities. Investors in financial assets must do so at their own responsibility and with due caution as they involve a significant degree of risk. Before investing in financial assets, investors should do their own research and consult a professional investment adviser.