This article focuses on SharpSpring (NASDAQ:SHSP), a cloud-based marketing solutions company, offering e-mail automation, CRM, call tracking, social platforms, and analytical solutions. The U.S. focused company is often considered as a budget HubSpot (NYSE:HUBS), itself a company worth considering an investment in. Customer reviews of SharpSpring tend to praise its low costs and its active involvement with clients. SharpSpring is also very much the junior to companies like HubSpot in other ways, from its micro-scale market cap of $39.2m, as against HUBS's $2.363bn, its share price, which at $4.47 is 6.5% of HUBS's value, to the returns its stock has generated over the past 12 months: approximately 10%, as against HUBS's 47.28%.
At first glance, HubSpot, as an example of a rival in the automated marketing sector, is simply a safer and more attractive investment, and why back a potentially weak horse, when you can bet on the winner? This isn't necessarily a poor assessment, but SHSP does have a potentially significant longer-term upside.
SHSP - One Year Share Price. Source: Bloomberg.

Change, if not volatility, has been the watchword for anyone who's been following SharpSpring over the last several years, as the below graphic illustrates. Bought up by the company SMTP in August 2014, SharpSpring, during the next year effectively ate its parent company up from the inside out. As CEO Rick Carlson noted when SMTP changed its name to that of its erstwhile purchase, SharpSpring went from being "the smallest piece of the overall business to the largest piece." This is an impressive feat, made all the more so since it was achieved in just over a year. SHSP was bought by SMTP in August 2014, and by December 1st, 2015, the company had rebranded under the SharpSpring banner.
SHSP History - Source: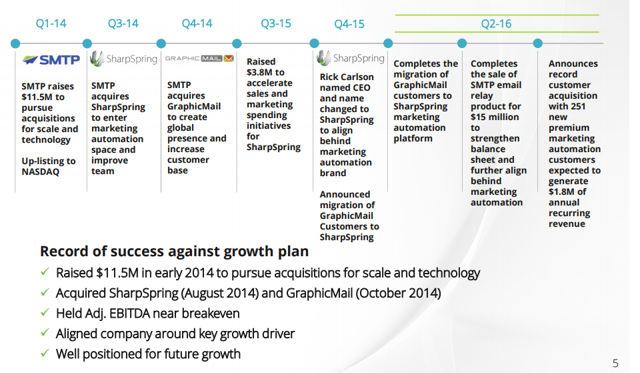 Tech Opportunities/Seeking Alpha
SharpSpring, however, isn't just a feel-good narrative about the little acquisition that could. There is a lot to like about the micro-cap Florida-based company. The field SharpSpring operates in, it is true, already has several market leaders, and the company might be considered too small to properly compete in the marketing automation sector. That said, SharpSpring's agency and small business focus gives it a niche in which to operate. Focusing on selling to agencies which represent small businesses allows the company to keep costs low and channels its reach beyond what it could do on its own. SHSP's agency figures, the number of digital agencies it sells to on its books is actually quite a meaningful proportional share of the market. SharpSpring currently has 1,139 agencies on its books, and a total of 5,250 business users. Furthermore, the growth of SHSP's customer base from 2,925 at the end of 2015 to 5,250 by the start of 2017 is an excellent year's work. This means that by the end of 2016, SharpSpring almost doubled its user base and acquired 33% more new customers than it did in 2015. Lastly, and most impressively, SharpSpring, according to a Mirren-RSW/US report, posted the highest 2016 growth in industry usage levels, absorbed the highest proportion of available market share, and increased its core agency market penetration by a spectacular 440%.
SHSP CEO, Rick Carlson, looks back on 2016. Source: Bloomberg.

SharpSpring ranked second in the automated marketing for agencies space, again according to Mirren-RSW, also saw itself ranked on Deloitte's 2016 Technology Fast 500, and looking closer at the company's yearly performance, the highest returns available came with an April share purchase ($3.16), and an October sale ($5.75). This would have netted you a 45% return on your investment. Not bad for eight months. Since then, the company has twice reached similar highs and twice dropped to present lows, signaling some volatility around the stock. Current lows, it should be said, do not necessarily reflect the company's fundamentals, and with Q4 results in, there is plenty of reason to cheer.
Q4 revenues are up 11% year on year, at $2.9m, with full year figures up 26%. Core product revenues have risen 109%. The company has completed the consolidation process following its divestment of SMTP and the aging GraphicMail, and remaining legacy aspects of this process are in managed decline. Q4 gross profit remained stable, but was a lower percentage of total revenue at 59%, down from 64%, and yearly gross profits were up 10% at $7m. Yearly gross margins have, however, fallen, as growth-targeted spending increases.
The downside is that, as a company, SharpSpring still makes a net loss, reporting Q4 losses of $2.2m, or -$.26 a share, and yearly losses of $5.2m or -$1.51 a share. It's worth noting, however, that these figures are improvements, of 50 percent and 45 percent, respectively. EBITA losses disappointingly rose from $2.9m to $3.8m (-24%), whilst core losses, excluding amortization, acquisition-related costs, stock compensation expenses, and restructuring expenses, remained stable in value terms at $2.5m, but fell per share from -$.40 to $-.31 (+23%).
SHSP Forecast Earnings. Source: Nasdaq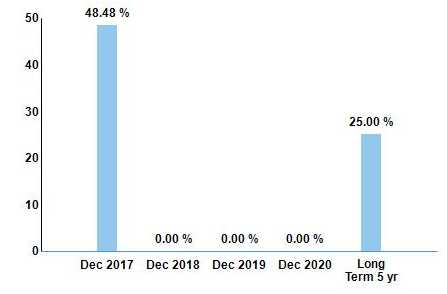 There are reasons to be cautious about an investment in SharpSpring. The company, despite its excellent performance, is, in terms of spending power, a sheep amidst the wolves of the industry. Any investment at present, especially if long term in nature, risks dilution, given that SharpSpring is betting on an adjusted EBITDA break-even point being reached in Q4 2017. Cash reserves are falling, down from $11.6m in Q3 to $8.7m in Q4 (-25%). If this trend continues, by Q4 2017, cash reserves will have dwindled to just over $2m, and although CFO Ed Lawton expects "cash on hand and [SHSP's available] credit facility to remain an adequate source of funds", medium-term profitability is absolutely key to the company's strategy. Furthermore, owing to the company's size, SharpSpring might find itself forced to accept an M&A offer below a fair value, which would in turn damage any potential stock investment.
The above said, with consolidation out of the way, and renewed focus generated by the fact that SharpSpring now has a single purpose: the growth of its marketing platform, there is plenty of upside potential for the company. Targeted investments have been made to support infrastructure and sales growth, which, while they will add to pressures on gross margins, are both necessary and likely to bear fruit. Indeed, SharpSpring's now narrowed focus has already seen increases in lead flow in Q1, as per its March earnings call, and R&D remains an investment focus. The Florida company has also boosted its partnerships, agreeing deals with Shutterstock (NYSE:SSTK), the world's leading stock photo provider, to boost its product offering, and Enthusem, a personalized mail targeting platform, in order to add further personalization to SharpSpring's advertising suite.
SHSP CEO, Rick Carlson, Upbeat for 2017. Source: Bloomberg

SHSP - One Month Share Price Performance. Source: Bloomberg.

As far as SHSP's current share price performance is concerned, there are some negative indications that would suggest holding fire for the moment. The company's stock has plunged by 18% in the past two days, suggesting that markets have digested the Q4 report and do not like what they have seen. Given that recently released figures are, from a long-term perspective, broadly positive, it is only possible to speculate as to the cause for the recent slump. Investor impatience, or worries about SharpSpring's long-term profitability, given the decline in the company's cash reserves, are certainly possible causes for SHSP's plunging share price. According to Stockinvest.us, trading volume in SHSP has also concurrently increased, however, on falling prices. This increases the risk of the sell-off around St. Patrick's Day continuing. Since January, SharpSpring has been slowly declining in value, with a February rally seemingly now going into reverse, so caution should be exercised in taking a position in the company until prices seem to have stabilized.
The FT's Forecast for SHSP. Source: FT

Putting aside the present share price decline for SharpSpring, which can also be seen as an opportunity to buy the company at a low, once its stock stabilizes, SHSP offers an interesting long-term investment route into the marketing automation industry. According to MarketsandMarkets, by 2019, this industry will reach $5.5bn in value, with a CAGR of 8.55%. SharpSpring is small, focused, and if it can manage to break even without the need of further capital investment, it is likely to see its share price take off. SHSP is a risky investment, and, despite its many impressive qualities and feats, it may find itself unable to stay the course, but SharpSpring certainly has both the product offering and the scope for growth in 2017.
Disclosure: I/we have no positions in any stocks mentioned, and no plans to initiate any positions within the next 72 hours.
I wrote this article myself, and it expresses my own opinions. I am not receiving compensation for it (other than from Seeking Alpha). I have no business relationship with any company whose stock is mentioned in this article.
Additional disclosure: CFDs, spread-betting and FX can result in losses exceeding your initial deposit. They are not suitable for everyone, so please ensure you understand the risks. Seek independent financial advice if necessary. Nothing in this article should be considered a personal recommendation. It does not account for your personal circumstances or appetite for risk.
Editor's Note: This article covers one or more stocks trading at less than $1 per share and/or with less than a $100 million market cap. Please be aware of the risks associated with these stocks.