Apple: Giving Back To Host Countries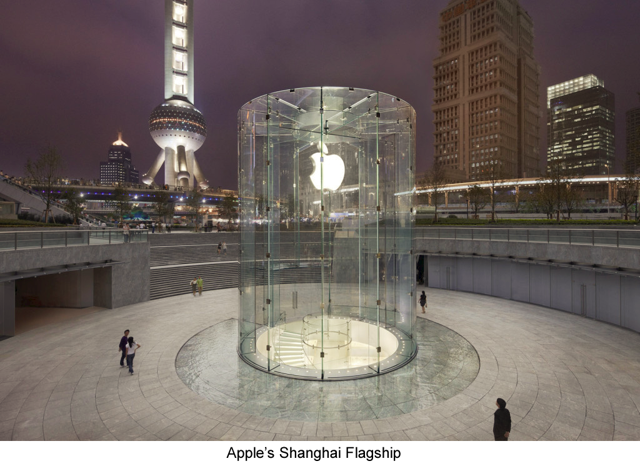 Source: iDesignArch
Apple (NASDAQ:AAPL) continues to face a number of challenges in doing business in Asia. In general Apple has responded to these challenges with a policy of constructive engagement. This has consisted of dialog with political leaders and a certain amount of judicious largess in the form of local investments.
In China, Apple faces stiff competition from the state supported brands of Oppo and Vivo. Apple revenue from Greater China fell 12% y/y in the December quarter. In 2016, iPhone fell to 5th place in smartphone market share in China.
Apple is heavily invested in China, directly through its retail stores and research centers, and indirectly through the manufacturing facilities of contractors for many Apple products. Apple continues to expand its investment in R&D facilities, and today announced that it would set up two new centers in Shanghai and Suzhou which will join the ones planned for Beijing and Shenzhen. Total investment will be $507 million, with the facilities opening this year.
The R&D spending in China represents a relatively modest expense compared to the revenue being generated in Greater China (the PRC, Hong Kong, and Taiwan). Revenue from Greater China for the December quarter as $16.233 billion. For fiscal 2016, Greater China revenue was $46.35 billion.
There's every evidence that constructive engagement works. After a two year hiatus, iPhone sales will resume in Indonesia on March 31. Local sourcing requirements had been a stumbling block. According to the site Kompas, Apple was able to get around these requirements by pledging to build three R&D centers in Jakarta.
Apple also continues to make progress in India. Last May Apple announced the opening of a development office in Hyderabad focused on Maps development. Although Apple has yet to open its own stores, it continues to expand its retail presence. The Economic Times reports that Apple has set up over 100 Apple Authorized Resellers and plans a "six fold" increase in such stores in the coming year.
Apple is still barred from opening its own stores in India as a result of local sourcing requirements, once again. Almost certainly, an Apple contract manufacturer will set up an iPhone factory in India. The Times of India reported in February that Wistron will open an iPhone factory in Bengaluru. Made in India iPhones will allow Apple to better compete in India, as well as enable the opening of Apple stores.
Rethink Technology recommends Apple as a buy.
Apple: Support for Confrontation?
Given that Apple's constructive engagement approach seems to be getting results, I was a little concerned to see the headline Apple-backed think tank calls for radical changes to Chinese economic policy. The think tank in question is the Information Technology & Innovation Foundation (ITIF).
First of all, calling ITIF "Apple-backed" may be something of an exaggeration. Apple has one representative on the Foundation board, Cynthia C. Hogan. I doubt that her presence constitutes an endorsement of all the policies espoused by ITIF.
At least I hope not. Yesterday, ITIF launched a small-scale media offensive on behalf of its view of the People's Republic of China as mercantilist. Mercantilism can be thought of as the opposite of globalism in trade policy, in which a nation seeks various trade advantages and usually generates a positive balance of trade in the process.
ITIF focuses on what it calls Chinese innovation mercantilism in official PRC policies such as the "Made in China 2025 Strategy" and the "13th Five-Year Plan for Science and Technology". I wouldn't dispute the basic claim of IITF, but I find the general tone to be alarmist, and rather insensitive to the historical realities of the PRC.
The PRC is still a very young country, having only been forged after WW II. Prior to that, China experienced massive foreign intervention and economic exploitation by foreigners.
The PRC is also still very poor by global standards. As shown in this chart from OECD, per capita GDP still has a long way to go to catch up with the US or Japan.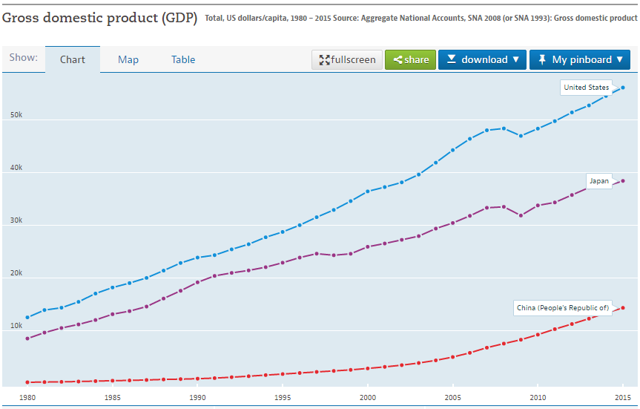 It wasn't too long ago that US policy makers were similarly concerned about Japanese mercantilism. As Japan developed economically through the 70s and 80s, Japanese economic power and technological prowess came to be feared.
An article by Steve H. Hanke of the Cato Institute, US Mercantilist Machismo, China Replaces Japan describes how China came to replace Japan as an object of mercantilist ire:
From the early 1970s until 1995, Japan was an enemy. The mercantilists in Washington asserted that unfair Japanese trading practices caused the US trade deficit and that the US bilateral trade deficit with Japan could be reduced if the yen appreciated against the dollar.

Washington even tried to convince Tokyo that an ever-appreciating yen would be good for Japan. Unfortunately, the Japanese complied and the yen appreciated, moving from 360 to the greenback in 1971 to 80 in 1995.

In April 1995, Secretary of the Treasury Robert Rubin belatedly realized that the yen's great appreciation was causing the Japanese economy to sink into a deflationary quagmire. . .

While Japan's contribution declined, China's surged from slightly more than 9% in 1990 to almost 28% last year (see accompanying table). With these trends, the Chinese yuan replaced the Japanese yen as the mercantilists' whipping boy.
Interestingly, this article appeared in 2008. No one really worries about the Japanese techno-economic threat anymore, and the article points out a very real risk of over-reaction. The ITIF paints a picture of a looming Chinese technological superpower in much the same way as Japan was portrayed 30 years ago, and probably with the same level of paranoia and xenophobia.
To its credit, ITIF discourages unilateral action by the US government in favor of broad global consensus building and concerted action in venues such as the World Trade Organization. There's no question that there is trade imbalance, and there's no question that the PRC's actions are mercantilist.
This is a problem for the US government and its trading partners to work out. Perhaps some degree of confrontation will be required to curb China's trade self-aggrandizement. But Apple should stay well away from that.
Nvidia: Nintendo Doubling Switch Production
The Wall Street Journal reports that Nintendo now plans to double production of the Switch console in the coming year. Manufacturers for the Switch are now under contract to build 16 million or more, double the initial plan.
Analysts believe that selling more than 10 million units in the first year represents a tipping point for the console's success, since that is what is needed to attract game developers to the platform.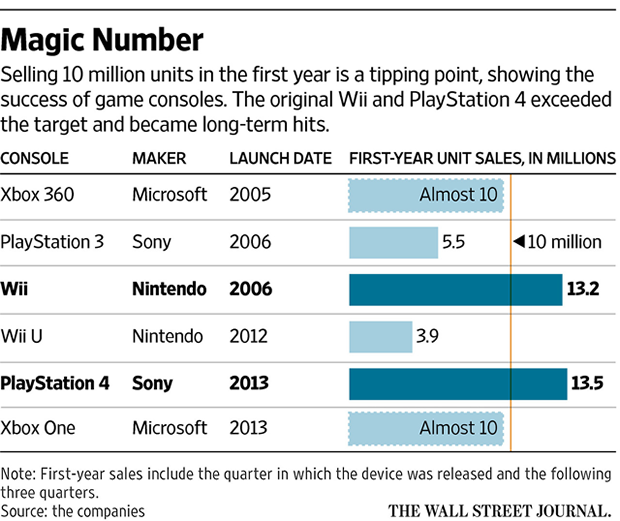 Source: WSJ
Attracting game developers would undoubtedly create a virtuous cycle of increasing sales of the console. As I've pointed out, Nintendo has a nice upgrade path available to it in more powerful Nividia (NASDAQ:NVDA) Tegra processors that it can incorporate into Switch. Currently, the Tegra X1 is used, which is by no means Nvidia's most advanced Tegra SOC.
Processor upgrades could help drive future sales while maintaining a very high level of backward sofware compatibility. All Tegra processors use ARM architecture CPU cores and Nvidia graphics cores.
Selling 16 million Switch consoles in a year would be a huge boost to Tegra revenue. In its recently completed fiscal year, Nvidia had Tegra revenue of $824 million. At $25 a piece, 16 million Switch sales would add another $400 million to that.
Rethink Technology recommends Nvidia as a Buy.
Disclosure: I am/we are long AAPL, NVDA.
I wrote this article myself, and it expresses my own opinions. I am not receiving compensation for it (other than from Seeking Alpha). I have no business relationship with any company whose stock is mentioned in this article.