The purpose of this post is to update insider sales and purchase activity for 16 big banks. In my prior post on insider trading, I noted how sales had spiked in five banks right before the Presidential election.
This updated analysis centers on chief executive officers, chief financial officers, and bank directors. These are presumably the most informed insiders.
The banks selected for this analysis include: Bank of America (NYSE:BAC), BB&T (NYSE:BBT), Bank of New York Mellon (NYSE:BK), Citigroup (NYSE:C), Capital One (NYSE:COF), Fifth Third (NASDAQ:FITB), Huntington (NASDAQ:HBAN), JPMorgan Chase (NYSE:JPM), KeyCorp (NYSE:KEY), M&T Bank (NYSE:MTB), PNC (NYSE:PNC), Regions (NYSE:RF), SunTrust (NYSE:STI), US Bank (NYSE:USB), Wells Fargo (NYSE:WFC), and Zions (NASDAQ:ZION).
All data are from openinsider.com which sources its information directly from the SEC Form 4. Readers may want to go to openinsider.com to become familiar with not only the website but also its links to the SEC Form 4 for each sale and purchase by an insider.
Chart 1 examines trading by bank CEOs. It should be noted that the transactions identified for this post are intended to exclude stock sales made by the insider to cover the cost of taxes associated with a stock grant or exercise of the option.
As further background, insiders receive shares generally three ways: 1) Option; 2) Grant; 3) Purchase in open market. Since the Financial Crisis, options are no longer the preferred means to motivate bankers. Although some banks still use options, for the most highly compensated executives, grants have become more common. In both cases the shares received are not vested for a period of time. When vested, however, taxes are due.
Purchases are straight-forward and when they happen, which is rare, are usually one of the best means for investors to measure an insider's confidence about the future of the company. In contrast, sales of shares associated with grants and options are not always a sign that the insider has less confidence in his or her company.
This is especially true since the Financial Crisis for banking insiders who have learned to diversify personal assets after seeing so much wealth vanish in 2008-2009.
That is not to say that tracking sales of insiders is not important to investors. Consider today when bank stocks have been bid up by investors anticipating a spike in earnings from a stronger economy, lower cost of regulation, tax relief, and higher interest rates. (I continue to contend that higher interest rates will not improve bank profits across the board as 30 years of data attest.)
On the surface investors might think insiders should be more bullish than ever. But they are not.
Investors should be alert to patterns of selling and question why one bank sees significant insider sales when another bank has no selling. Individual sales are generally less important than patterns of sales or purchases among insiders. As this post will show, there are clear and discernible patterns today among the banks in this analysis.
Purchase data cover January 1, 2016 to March 15, 2017 and sales data from October 31, 2016 to March 15, 2017. The analysis begins with an overview of a few of the more significant CEO sales since October 31.
Chart 1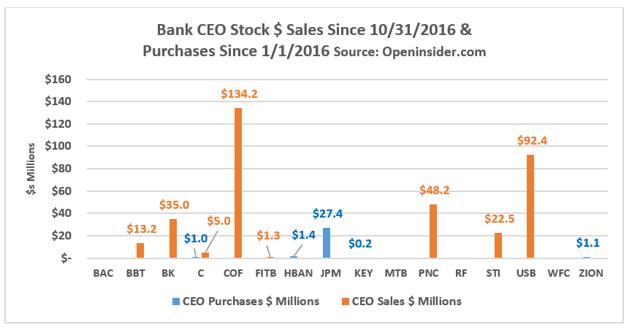 Notable Sellers
CEOs in eight of the 16 banks sold shares since October 31, 2016. Collectively they realized $351.8 million from the sales.
The biggest seller, at $134 million, is Richard Fairbank of Capital One. Fairbank has been chairman and CEO of Capital One since 1994. For many years he rejected a salary in favor of being compensated in stock. Clearly his interests have been aligned to shareholders.
The bank's stock price reached an all-time high more than 10 years ago, in February 2006 at $89.95. The 65-year-old Fairbank sold 1.6 million shares at an average price of $82.84 between November 9, 2016 (at $77.63) and January 30th (at $88.21). On March 16 the stock closed at $90.21.
In the case of US Bank, the $92.4 million in sales is linked to two CEOs. Richard Davis, who accounts for $72.8 million in sales, announced his plan to retire in the second quarter of this year. Davis exercised two options since October 31 at an average sales price of $49.95. The options were set to expire in January 2018. On March 16th the stock closed at $55.03.
USB's new CEO new sold $19.6 million in shares on January 25, 2017 at $52.45. The shares are associated with an option (cost of $31.07) expiring in January 2018. The net proceeds on the transaction was probably close to $6.4 million after paying for the cost of the option and income taxes (assumed to be 45%). It should be noted that the new CEO also exercised stock options three times in 2016 prior to November. The lowest sales price for these transactions was $43.53 (April).
PNC's CEO William Demchak recently exercised options set to expire in 2018 and 2019. His sales since October 31, 2016 ranged in price from $95.31 to $127.10. PNC's closing price on March 16 was $125.68. By choosing to exercise the options today, in contrast to waiting until 2018-19, the PNC CEO signals his confidence that today's price represents a reasonable value for PNC shares.
Citigroup's CEO Michael Corbatt sold 83,285 shares at an average price of $60.14 on February 16, 2017. This sale does not appear to be directly linked to a grant or option.
The Form 4 associated with this sale identified multiple transactions including the future acquisition of 83,285 shares that will vest in January 2018 as part of a 2014 Stock Incentive Plan. It appears that Corbatt wanted to sell a similar number of shares this year in anticipation of acquiring the shares next year. Citi closed at $61.15 on March 16. Corbatt's $5 million sale was at a price below tangible book value. As I wrote on these pages last December, investors should question whether Citi is worth even tangible book given its history of volatility.
Notable Buyers
While insider sales may offer some insight to investors, insider purchases are often very helpful for identifying "buy" signals. Savvy bank investors clearly saw such signals back in January and February 2016.
None of the CEOs on our list have bought shares in their own banks during the past 366 days. The last one to do so was Stephen Steinour of Huntington on March 14, 2016. Steinour's cost basis for shares purchased in the first quarter of last year was less than $10. HBAN closed March 16 at $13.92.
The most spectacular of purchases last year was done by JPM's Jamie Dimon who acquired more than 500,000 shares at an average price of $53.27. JPM as of March 16 is $91.63 a share.
As impressive as Dimon's $25 million purchase of JPM was last year, he does not have the distinction of having made the largest bank insider purchase last year. BK's Edward Gardner (from Trian Partners and a board member since 2014) more than doubled Dimon's purchase when he bought 1.43 million shares of BK at an average price of $37.45. His most recent purchase was July 25, 2016. The highest price he has paid for BK shares is $42.39. BK's March 16 closing price was $48.47.
The insider who made the best purchase in 2016 was a long-standing Bank of America director, Frank Bramble, who bought 75,000 shares on February 16, 2016 at $12.32. With a March 16 closing price of $25.20, Bramble more than doubled his investment.
Not far off the pace set by Bramble, KEY's directors and CEO were all buyers of their stock back in January and February of last year. Their returns range from 60% to 80%. KEY's insiders were fairly cautious considering that none of the directors bought more than 10,000 shares and the CEO only bought 20,000. This was at a time when the shares sold between $10.60 and $11.22. On March 16 KEY closed at $18.48.
While no CEOs have bought shares during the past year, three directors have made modest share purchases in February 2017. Those directors are at PNC (1000 shares at $122.79), KEY (4800 at $17.66), and STI (200 at $56.63).
Observations for Each Bank
Table 1 provides a high level overview of key insider purchase activity for each of the 16 banks. Table 2 shows sales activity.
Here are some salient observations for each bank:
BAC: Despite a stock price that has doubled over the past year, insiders are still not selling.
BBT: No buyers and a lot of sellers. It should be noted that the CEO is 68 years of age and a lifelong BB&T banker.
BK: While the CEO has sold a lot of shares, director Gardner has bought even more. BK may be the most compelling current story for investors who follow insider buying. Plus valuations look reasonable.
C: A tale of two Citibanks as the CEO sells shares even after buying some a year earlier. Total gain was less than 50% before taxes. It is probably the most puzzling insider trade in past year. Perhaps readers have more insight into this transaction since it suggests Corbatt is willing to sell shares at less than tangible book value.
COF: The CEO is finally selling shares. Been a long run. Two directors sold 7 figure positions recently.
FITB: The big surprise is that the CEO and other insiders were not buying shares a year ago when their Ohio peers at Huntington and KEY were doing so. The CEO's decision to sell 53,000 shares in November 2016 is noteworthy given his short-tenure on the job.
HBAN: No sellers but several bold buyers including the CEO a year ago. They knew that the First Merit acquisition was a home run.
JPM: Follow the leader and make lots of money. Interestingly, the CFO has been an active albeit modest seller of shares in recent months.
KEY: While the First Niagara acquisition was criticized by industry pundits, the insiders stepped up and bought shares. None have sold.
MTB: Lots of selling going on across the officer ranks. One director sold a little over $1 million. Rank-and-file insider officers selling like crazy. Perhaps pent-up demand after being on hold waiting for merger approval. No buyers.
PNC: Four different directors bought shares in the $80s last year. One stepped up for 1000 shares last month.
RF: Insiders are holding onto shares. Bank may be bouncing back. Check out the January 2017 earnings transcript; the long tenured CEO is sounding very conservative which is good for shareholders long-term.
STI: The CEO has sold twice since November, including nearly 100,000 shares at the end of February.
USB: Another bank with lots of selling going on. No buyers.
WFC: No buyers and no sellers but all is definitely not quiet on the western front. When will Wells insiders start buying? Investors need to see more confidence among insiders, especially the much maligned directors, before jumping on WFC shares. See my post of September 2016 on insider activity and my analysis of Buffett's ownership history of WFC.
ZION: CEO bought a few shares a year ago and insiders seem focused on continuing to get ZION on track.
Table 1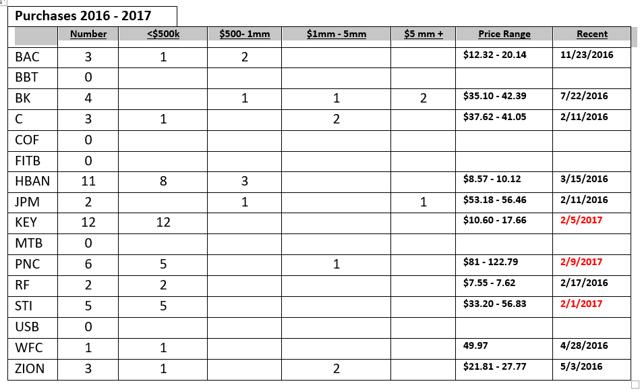 Table 2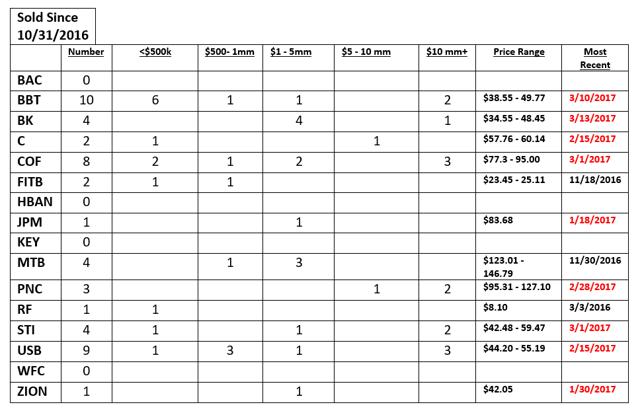 Disclosure: I am/we are long JPM, HBAN. I wrote this article myself, and it expresses my own opinions. I am not receiving compensation for it (other than from Seeking Alpha). I have no business relationship with any company whose stock is mentioned in this article.
Additional disclosure: Although I do not currently own BAC shares, as a retired officer I continue to have certain financial interests in BAC.