As a McDonald's (MCD) shareholder it's good to see the company making a goal of boosting shareholder value. McDonald's recently announced numerous initiatives to drive future growth. I think most of these initiatives will be successful to improve the company's long-term performance. The improved operational performance is likely to drive the stock to at least match the performance of the S&P 500 with protection from the downside.
New McCafe Offerings
McDonald's is adding new McCafe equipment to its restaurants in a test area of Northern California and adding new drinks to the menu. The new drinks are hot and iced versions of Caramel Macchiato, French Vanilla Cappuccino and Americano. McDonald's pointed out that coffee is a $30 billion opportunity which is growing annually.
I think this test could prove to take some customers from Starbucks (SBUX). McDonald's is likely to offer these drinks at a lower price than Starbucks. Therefore, the initiative is likely to attract the cost-conscious consumers who want quality coffee drinks at a value price. Offering a variety of new drinks will encourage repeat trips back to McDonald's so that customers can try all of them.
This initiative also shows that McDonald's is willing to innovate with its menu. I would expect to see other new menu items in the future to keep interest up among consumers.
Seasonal items are a good idea in my opinion. For example, the Shamrock shake typically creates a buzz this time of year. McDonald's now offers variations of the shake: Shamrock Chocolate Frappe, Chocolate Shamrock Shake, Shamrock Mocha and the Shamrock Hot Chocolate. Offering a variety of a common theme like this can encourage repeat business as customers try the different versions.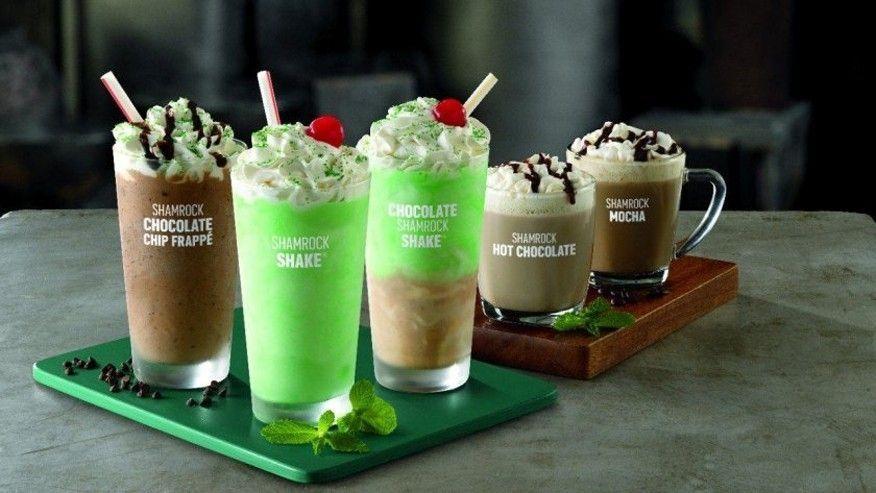 Image source: foxnews.com
Other seasonal/regional items such as the McRib, McLobster in Maine (unofficially known as the 'McLobsta'), Mozzarella Dippers in NY & NJ, Baked Pumpkin Pie, McPoutine in Canada, Sweet Tea, the McBratwurst in Illinois, Egg Nog Shake, etc. have regional and/or seasonal appeal. The seasonal products give consumers something to look forward to during specific time periods. The regional items provide consumers with familiar food for specific locales. All of them give consumers something to crave for repeat business.
Mobile Ordering/Payment
Ordering ahead on the McDonald's App can eliminate the stand around wait time after ordering inside the restaurant. Customers can choose between picking their food up inside the store, at the drive through or have it delivered to them curbside in the parking lot. This process eliminates the cashier not hearing your order properly or hitting the wrong key on the keypad. The mobile payment aspect eliminates the need to handle money, which can contain germs, before handling your food.
Mobile ordering is expected to be launched in 20,000 restaurants by the end of 2017. So, the full benefit of this initiative is likely to be realized in 2018 and beyond.
Delivery
McDonald's is testing delivery service in 200 restaurants in Tampa, Miami and Orlando.
At first, having McDonald's food delivered may sound silly. However, there are some practical uses for this service. I can picture cost-conscience college kids having a party and ordering food to be delivered so that nobody has to drive after drinking. I could see them having a St. Patrick's Day party and ordering a bunch of Shamrock Shakes and spiking them with Chocolate Liquor to wash down their Grand Macs or McNuggets.
I could also envision a young family with toddler-aged children ordering McDonald's for delivery to avoid putting on the hats, gloves and coats and strapping them all in car seats. It would be much more convenient to have food delivered than dealing with the whole going out production, when little Suzie is having a tantrum and doesn't want to put on her shoes. Delivery would also be helpful when one or more family members have a cold and they don't want to go out in public. Children's birthday parties are another opportunity for delivery.
I could also see home-bound customers getting delivery who could be injured, disabled or those that just don't get around as well as they used to. Another scenario could be ordering delivery for watching a sporting event. Undesirable weather could be another reason for ordering delivery. Why go outside in the wind driven rain, when I can get my Artisan Grilled Chicken Sandwich delivered to my door?
Consumers have been getting pizzas and cheese steaks delivered for years, so why not McDonald's food? I think delivery has a strong potential for success given the various scenarios that I mentioned.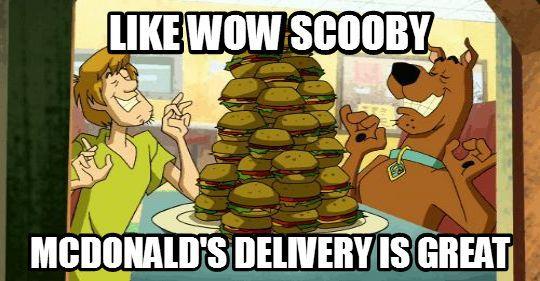 Image Source: Playbuzz.com; Message: from the author using memedad.com
Use of Ordering Kiosks
I used to think that ordering kiosks might save on labor. However, now I think the kiosks won't eliminate positions, but they will make the operation more efficient with the current staff. For example, customers can do the ordering and pay at the kiosk, while the cashiers could better be used by focusing on getting the orders together in a timely manner. The kiosks will allow less time for taking orders and handling money and more time for food and order preparation. If the kiosks can improve the operation by increasing the speed and accuracy of customers' orders, then they are likely to encourage customers to come back. Therefore, I think this initiative will be a success.
I've witnessed ordering kiosks for hoagies, soup, sandwiches and other prepared food in Wawa convenience stores where they are successful. The customers use a touch screen to order, while the workers focus on preparing the food. I like the fact that those making the food don't handle money, which can be covered with bacteria and viruses.
Refranchising
McDonald's has a plan to convert 4,000 of its company-owned restaurants into franchised restaurants. Refranchising will shift the burden of costs associated with remodeling and maintaining restaurants from the company to the franchise owners. This will help the company save money, which can be paid to shareholders in the form of dividends and stock appreciation due to future earnings growth.
The company plans to save $500 million on general & administrative expenses by the end of 2018. McDonald's also plans to cut an additional 5% to 10% in costs by the end of 2019. This will help boost earnings, which will help drive the stock higher.
Conclusion
Overall, I think McDonald's is moving in the right direction with these initiatives. The tweaks to the McCafe menu, mobile/kiosk ordering and delivery services are likely to enhance the attraction and service at the restaurants and at customers' homes. This is likely to result in repeat business, which will help boost comp store sales over the next few years. The refranchising efforts will reduce corporate costs, providing a boost to bottom line earnings.
McDonald's has a goal to return $22 billion to $24 billion to shareholders through 2019. This will help maintain the company's status as a solid long-term dividend investment. I always thought that one of the key aspects of a McDonald's investment is protection from the downside. The stock typically does not move as sharply downward as the broader market. For example, the stock only dipped 16% during the 2008 financial crisis, while the S&P 500 dropped over 50%. With these initiatives underway, I reaffirm my confidence for McDonald's to remain a dividend growth investment with less than average risk on the downside.
Disclosure: I am/we are long MCD.
I wrote this article myself, and it expresses my own opinions. I am not receiving compensation for it (other than from Seeking Alpha). I have no business relationship with any company whose stock is mentioned in this article.
Additional disclosure: If you like my analysis, click on FOLLOW at the top of the article near my name. That will allow my articles to display on your homepage as they are published. The article is for informational purposes only (not a solicitation to buy or sell stocks). I am not a registered investment advisor. Investors should do their own research or consult a financial advisor to determine what investments are appropriate for their individual situation. This article expresses my opinions and I cannot guarantee that the information/results will be accurate.