Noble Corporation plc (NYSE:NE) owns and operates a fleet of mobile offshore drilling units worldwide, consisting of a fleet of 14 drill ships and semi-submersibles and 14 jack ups. Of the 14 drill ships and semi-submersibles, 7 are either cold or warm stacked, while at least 2 others have contracts expiring in March. 1 jack up has been warm stacked.
NE has been lagging the Oil & Gas subindustry since May 2016, after the company missed on quarterly results, and cut its dividend from $0.15 to $0.02 per share.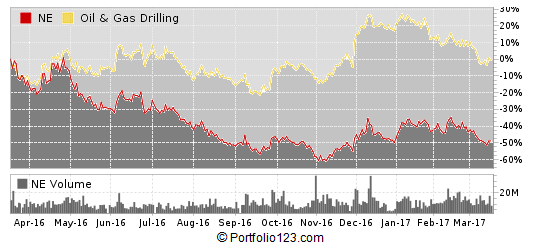 (Source:Portfolio123)
It should be noted that Transocean Ltd. (NYSE:RIG) filed a patent infringement complaint against NE which may end up being costly for NE.
Fundamentals
The figure below highlights how NE fundamentals compare to the GICS Energy Equipment & Services industry. Note that the industry includes companies that supply oil and gas equipment and services other than drilling. I must confess that I am struggling to find anything positive in NE's fundamentals.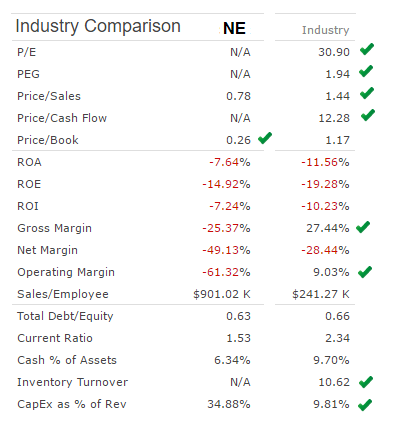 (Source:Portfolio123)
As can be seen from the industry comparison, there aren't a lot of reasons to consider NE as a good investment apart from the very low Price/Book Value.
In all fairness, looking at statistics is pretty one-dimensional and after studying the company and industry for a period of time, the one theme that comes out is that NE is one of the safest plays in the offshore drilling industry. This is based on management competency, debt position, and cash flow. The entire industry is in survival mode. I expect survival mode to be the norm for many years, a lot longer than the average investor assumes. In theory, NE will be one of the few survivors at the end of it all.
Analyst Estimates
Analysts' estimates have been all over the map for both EPS and Sales estimates. This generally means that the company provides optimistic forward guidance or no guidance and the business is difficult to forecast by outsiders. The message here is to be prepared for future misses which could potentially be very large. Such events could negatively impact the stock price when quarterly reports are released. On the other hand, NE could have a positive surprise that would cause the stock price to gain.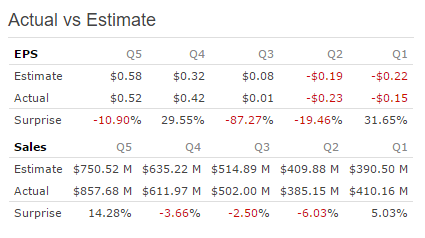 (Source:Portfolio123)
The average recommendation for NE is 2.9 on a scale of 1 to 5 with 1 being a 'Buy' and 5 being a 'Sell'. 2.9 is not a good score but I don't find that there is a good correlation between analysts' average recommendation and future stock performance.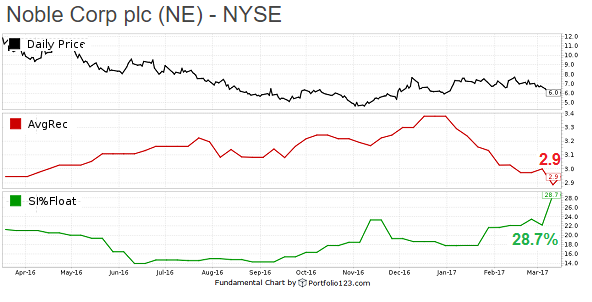 (Source:Portfolio123)
The poor analysts' recommendation is reflected in short interest, with a whopping 28.7% of float currently being shorted. A short squeeze could occur if the stock price spikes for any reason.
Technicals
The stock price has been in a downward trend since mid-February and the stock price should continue lower to the initial support level of $5.25 and possibly down to the second support level of $4.60.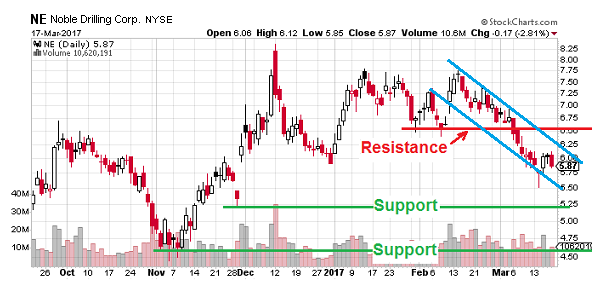 (Source: stockcharts.com)
Investing in Noble Drilling
At present, investors should avoid buying NE until the stock price drops below $5.00. Do not chase this stock if the stock price rises. Below $5, long-term investors could consider building up a position in NE slowly with the understanding that the price could easily fall to $4.50 or lower. This should be treated as an investment with an long-term horizon of 20 years.
Wrap-Up
NE has been lagging the Oil & Gas subindustry since May 2016, after missing on quarterly results, and cutting its dividend from $0.15 to $0.02 per share.
NE fundamentals look terrible but the word on the street is that NE is one of the safest offshore drilling plays.
Analysts' estimates are all over the map and NE often misses estimates, indicating that analysts have difficulty. Future earnings could miss the mark causing stock price volatility.
There is a high level of short interest meaning that speculators are pessimistic about NE's prospects. Short interest is a good gauge of future price direction.
NE should be avoided until the price drops below $5 then investors should consider buying NE with a long-term investment horizon of 20 years.
Disclosure: I/we have no positions in any stocks mentioned, and no plans to initiate any positions within the next 72 hours.
I wrote this article myself, and it expresses my own opinions. I am not receiving compensation for it (other than from Seeking Alpha). I have no business relationship with any company whose stock is mentioned in this article.