By Parke Shall
New data has been revealed that helps confirm our thesis that brick-and-mortar retail is not dead, but is rather just shifting in size and scope.
Last week we wrote an article basically outlining our thoughts on the entire retail sector. We concluded by stating that brick-and-mortar retail wasn't going to go away completely, but rather it was going to shift and wind up as a hybrid between online and brick-and-mortar. We cited the success of companies like the Home Depot (NYSE:HD) and TJ Maxx (NYSE:TJX) as concrete examples that in store retail is still working in some places. From there, we made the conclusion that it was OK to selectively allocate capital to brick-and-mortar retailers that may be underpriced.
A lot of fear has run rampant in the brick-and-mortar retail sector and it has caused a valuations of some companies, like GameStop (NYSE:GME) and GNC (NYSE:GNC) to shrink significantly in anticipation of continued attrition in company metrics across the board going forward. Yes, these companies are in free fall, but can the free fall find a floor?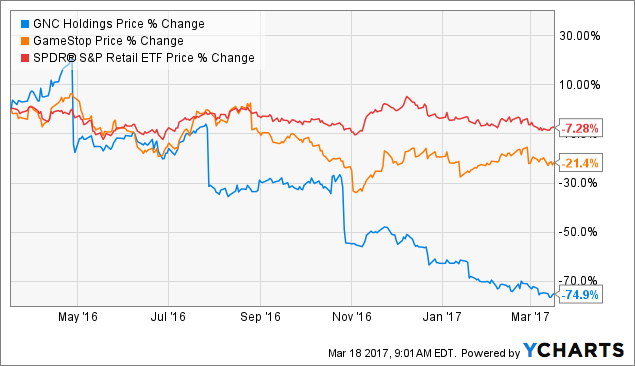 Why shouldn't these stocks sink? After all, the fundamentals certainly look to be deteriorating. We made the argument last week, however, that these fundamentals would eventually find a bottom and that a lot of these cashflow generative businesses, like Macy's (NYSE:M), would actually find a floor that allows them to still consistently generate cash in the future. It is all about being strategic with store closings and managing your operating expenses prudently.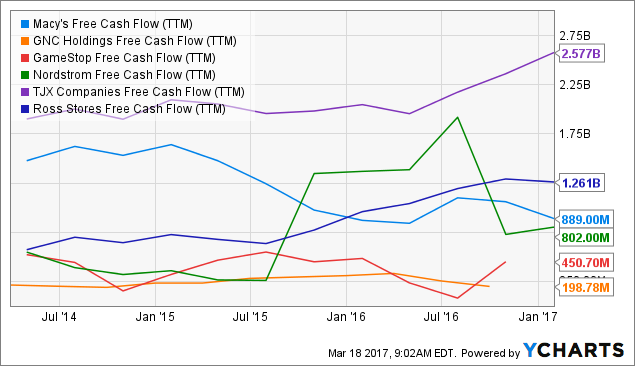 M Free Cash Flow (NYSE:TTM) data by YCharts
This thesis got a good shot in the arm this week when it was reported that TJ Maxx, Ross (NASDAQ:ROST) and Burlington Coat Factory (NYSE:BURL) were going to open the same number of stores that chains like Macy's are closing. Benzinga reported,
Macy's Inc, Sears Holdings Corp and J C Penney Company Inc will close approximately 300 stores among themselves, which also happens to be the total number of stores off-price retailers plan on opening.

According to a CNBC report, TJX Companies Inc, Ross Stores, Inc. and Burlington Stores Inc plan on opening 300 stores after the off-price retail group experienced a 39 percent growth in sales from 2011 through 2016.

The problem is that while few deny the strength of the off-price group, some are wondering if an average of 100 new stores each is too much growth. Also, vendors may be unable or unwilling to supply hundreds of new additional stores with off-price merchandise when they can sell it to others without a discount.
This report clearly shows that the thesis we put forward last week holds water. It isn't the entire brick and mortar retail sector that is dead, it is the older, iconic names that have failed to either provide customers a reason to come into the store or change their branding strategy in a manner that continues to keep them relevant. We said this last week,
These [HD, COST, LOW] are all brick-and-mortar stores and these are all concrete proof that retail isn't dying, it's older brands and older business models that are dying.

And obviously we know that online retail businesses are thriving as well. But in-store retail businesses are certainly not dead, and it only takes a small trip out to some of them on the weekend to understand this. While the financial media hams and haws about how the entire retail sector is doomed, we have a much more prudent analysis of the situation and that is that it is simply undergoing a massive reorganization.

During this reorganization, companies with older models, older names and lots of debt aren't afforded great multiples, while unique business models and sound balance sheets can have multiples well over 20x! See the clear difference? Costco trades at nearly 6 times the multiple that GNC does. They both sell vitamins, in brick-and-mortar stores!
TJ Maxx and Ross don't have trouble bringing people into their store because shopping there is essentially a treasure hunt, where you are looking for items that may not be available anywhere else. Macy's has tried to duplicate this experience with its "Backstage" stores that it has attached to its department stores. This concept has only found modest success with Macy's thus far, but it is a step in the right direction. Nordstrom (NYSE:JWN) recently attributed their success to their "Rack" stores, which offer same style of shopping experience.
We continue to believe that there are just going to be some items that shoppers are going to want to buy in person. Clothes will always be on this list, as well things like home supplies that are not easily shipped. While the landscape continues to shift and more people buy certain items online versus going to the store, we don't think the market for in-store purchasing is disappearing completely.
From this, we are going to continue to keep a close eye on retailers that have had valuations reflecting an implied shutdown of the entire sector. At some point in the future, on any type of market pullback, we may get long TJ Maxx and Ross. While investors may be doubting the sector now more than they ever have, we think this is going to open up the door for opportunities as opposed to confirm the imminent death of the brick and mortar retailer.
Disclosure: I am/we are long GME.
I wrote this article myself, and it expresses my own opinions. I am not receiving compensation for it (other than from Seeking Alpha). I have no business relationship with any company whose stock is mentioned in this article.