Welcome to the very first edition of:
Focus on Europe
(vol. 1 - March 20, 2017)
In this weekly update (which might sometimes be bi-weekly due to conflicting travel and timing plans), The Investment Doctor will highlight one interesting fact on the European markets and provide a somewhat more in-depth background story on what appears to be a headline story on the European markets. This will be followed by some euro-focused articles written by other authors that appeared on Seeking Alpha in the previous week and deserve to be highlighted.
And in the final section, you will find a myriad of short updates on several European companies. Keep in mind the European investment universe is huge, and not all updates and companies will be covered in the news releases-section.
What's up in Europe this week?
It was quite impressive to see some sort of rush on M&A activities in Europe last week. On Monday, two UK-listed companies announced they were approached for a corporate transaction. AMEC Foster Wheeler (NYSE:AMFW) accepted an offer from John Wood (OTCPK:WDGJF) in an all-share deal to create a $6B engineering mastodon. Both companies expect pre-tax cost synergies of 110M GBP, which is in excess of 5% of the purchase price. So, yes, this acquisition does seem to make a lot of sense, and by tendering their Amec shares for new Wood Group shares, the current Amec shareholders can benefit from a more efficient company.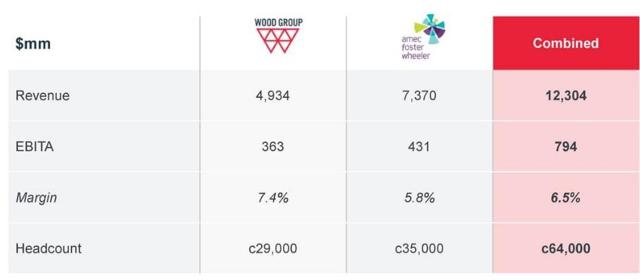 Source: merger presentation
But Amec wasn't the only company being pursued. Bovis Homes Group (OTC:BVHMY) (OTC:BVHMF) did negotiate with Redrow, but Galliford (OTC:GALLF) (OTC:GLLRY) also wants to merge with Bovis. Talks with Galliford are ongoing, so let's see if anything happens after the weekend. It's surprising to see Bovis rejecting the Redrow offer because 'the cash element [of the offer] would mean the Bovis shareholders would be required to crystallise value at Bovis current valuation'. This does seem to be a bogus reason, considering the cash element represented just 15% of the total bid.
Anyway, it looks like Bovis is trying to unlock a bidding war to get its shareholders the best possible solution, and I wouldn't be surprised to see a solution relatively soon.
And indeed, just like in Bovis' case, quite a lot of merger approaches fall back anyway. Either on valuation concerns (i.e. the target being too optimistic about its own value), but sometimes also because the targeted company thinks it will be able to create more value on its own.
A perfect example would be PPG Industries' (NYSE:PPG) (hostile) approach to acquire Amsterdam-listed Akzo Nobel (OTCQX:AKZOF) (OTCQX:AKZOY). Akzo was absolutely not interested at all, and is now approaching Axalta (NYSE:AXTA) in an attempt to fend off PPG Industries. Unilever (NYSE:UL) (NYSE:UN) is now also trying to keep its own shareholders happy after it told Kraft Heinz (NASDAQ:KHC) to walk away from any potential buyout/merger deal. Even though Unilever's share price is still much higher than before Kraft approached the company, Unilever has started a strategic review which will be completed in April. Anything is possible, and the latest gossip is spreading the rumor Unilever might be putting its food division up for sale and use these proceeds to purchase Colgate-Palmolive (NYSE:CL) to become a dominant consumer products company. Exciting times, indeed!
Most companies lick their wounds after a failed buyout approach, especially if they had to fork over billions of dollars in break fees. Halliburton (NYSE:HAL) had to pay Baker Hughes (BHI) $3.5B in cash, but it's pretty obvious Halliburton is still looking for opportunities as the company is now rumored to be circling around Aker Solutions (OTCPK:AKRYY) (OTC:AKRTF). Aker is a relatively small company, and reported a total revenue of 25B NOK ($3B) in 2016, and an EBITDA of 2.1B NOK ($250M) (both numbers are expected to fall this year), for a total enterprise value of $2B. This could be a good bolt-on acquisition for Halliburton, but it will be interesting to see what kind of synergy benefits Halliburton would be expecting - if there would be any at all.
As you can see, the M&A markets are in full swing, even in Europe. Probably fueled by the low interest rates (for now), but another likely reason is the fact the European 'competitors' are trading at much lower valuations (in general) and the potentially large synergy benefits. Just have a look at the S&P 500 (NYSEARCA:SPY) P/E ratio versus the European counterpart (I used EurostoXX 600) (OTC:DJXXF):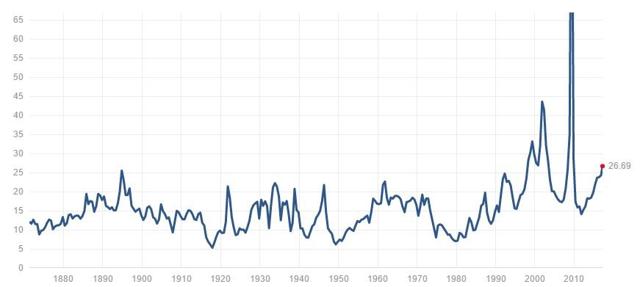 Is there more room to run for European stocks? Perhaps. In a general worldwide correction they will obviously suffer as well, but at least I don't get altitude sickness when I'm investing in European companies. I'm not expecting any more 'mega-mergers', and I think the smaller companies in the 100M-3B market cap range will prove to be the most attractive acquisition targets.
Two interesting reads from last week's Seeking Alpha harvest
- Renaissance Research is making a case for Ashmore Group (OTCPK:AJMPF), a London-listed asset manager focusing on the emerging markets. Due to its strong balance sheet (without any debt!) and excess capital, Renaissance thinks Ashmore is an interesting company, but warns that in case CEO Coombs leaves the company, Ashmore might be faced with 'significant cash outflows'.
- Edward Schneider wrote a 'MUST READ' article on Wirecard AG (OTCPK:WCAGY) and claims despite the recent run-up in the company's share price, Wirecard could still provide 30% upside potential if you'd keep the current valuation constant.
An action-packed week on the press release front
In this section of the newsletter, I will provide brief blurbs on updates from the European markets that caught my attention. Of course, not every single news fact will be covered, and I obviously might miss something. Feel free to leave a comment under this article to point out other interesting euro news!
First of all, let's start with a total disaster! Nestlé (OTCPK:NSRGY) (NSGRF) and Coca-Cola (NYSE:KO) will end their Nestea iced tea joint venture to pursue separate strategies, with Nestlé continuing to develop Nestea (which has Lipton's ice tea as main competitor) whilst Coca-Cola will remain the main licensee to produce and distribute Nestea in Canada and six European countries. Nestlé has also pledged to use less sugar (NYSEARCA:SGG) in its (FOOD) products, but will very likely continue to develop the Nestea-brand with an increased stevia content as sweetener rather than sugar or artificial sweeteners.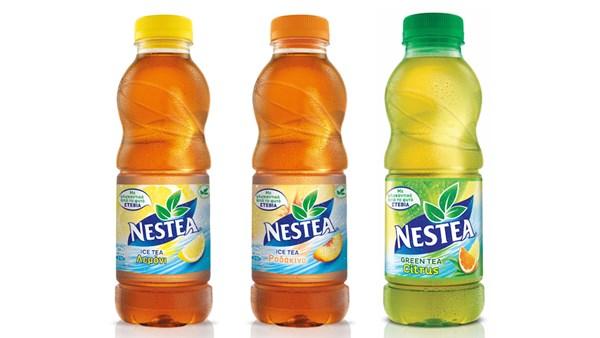 Source: coca-colahellenic.com
Virbac (OTC:VRBCF) has released its financial results of FY 2016. The total revenue increased by 2.3%, whilst the company's net income increased by almost 300% to 35M EUR. For 2017, the company is guiding for 'moderate growth' which could basically mean anything.
SubSea 7 (OTCPK:SUBCY) has acquired the remaining 50% of the shares of Seaway Heavy Lifting it didn't own yet. SubSea 7 is paying $279M in cash, and could pay an additional $40M in 2021 depending on the company meeting milestones.
A bunch of companies reported financial results, and Inditex (OTCPK:IDEXY) (mainly known for its Zara brand), Aryzta (OTC:ARZTF) (OTCPK:ARZTY) and Correios do Portugal (OTC:CTTPY) released more financial details. The readers of 'European Small-Cap Opportunities' will be very well aware of the CTT Correios de Portugal story!
There was also plenty of news from the European resource commodities. Whilst most resource plays are listed in the USA, Australia or Canada, we can't ignore the potential of the Europe-based metals and oil producers.
Tullow Oil (OTCPK:TUWLF) (OTCPK:TUWOY) now expects to start producing oil in Kenya in April, after all three joint venture partners (Maersk Oil and Africa Oil (OTCPK:AOIFF) signed an agreement with the Ministry of Energy and Petroleum, to test the appetite of the world market for Kenyan oil. It won't be easy, as the oil will have to be trucked over a distance of 1,000 kilometers (!) until a pipeline will be constructed. Tullow is also raising cash in a 25 for 49 rights issue offering, and the Royal Bank of Canada (NYSE:RY) thinks this means Tullow might be putting itself up for sale. The new shares were priced at a 45% discount, and are fully underwritten by JP Morgan (NYSE:JPM) and Barclays (NYSE:BCS).
Ithaca Energy (OTCPK:IACAF) has started a tender offer to buy back some (expensive) debt using the recent change of control situation to call the debt. Ithaca will be acquired by Israel's Delek group. And finally, one of the other large UK-based oil companies, Premier Oil (OTCPK:PMOIF) (OTCPK:PMOIY) is still trying to close a refinancing agreement with its lenders, but the parties which have voted in favour of the refinancing have now entered the lockup period.
But of course, there are other commodity companies in Europe rather than oil producers. Acacia Mining (OTCPK:ABGLF) (OTC:ABGLY) has been hit by a Tanzanian ban on the export of concentrates, and this could disrupt any potential deal with Endeavour Mining (OTCQX:EDVMF) to create a huge Africa-focused gold producer. Is Tanzania overplaying its hand and will it back down? And will Acacia and Endeavour merge after all? (The Investment Doctor thinks this could make a lot of sense!) Only time will tell!
Polymetal International (OTC:POYYF) (OTCPK:AUCOY) has released the preliminary results for its financial year 2016. The company produced 880,000 ounces of gold at an AISC of less than $800 per gold-equivalent ounce. This allowed the company to report a net income of almost $400M, and a large part of the free cash flow was used to reduce the company's net debt. Elsewhere in the gold-world (NYSEARCA:GLD), Galantas Gold (OTCPK:GALKD) has started the underground development stage at its Omagh gold mine in Northern Ireland. TID is unsure how Galantas Gold will get through the year, as the company's operating cash flow in the first three quarters of last year was negative. On top of that, the working capital position was a negative C$2.6M, and this will only partly have been solved by a C$2.5M private placement. Time will tell, but I would expect Galantas to need more cash.
Some financial institutions still had to report their financial results, and Van Lanschot (OTC:VLNVF) has published its annual report, whilst British bank OneSavings (OTC:OSVBF) announced a 20% EPS increase fueled by a higher net interest margin and a very strong return on equity of 29%. The bank's CET1 ratio improved to 13.3%, which allowed it to announce a full-year dividend of 10.5 pence per share, for a 6% dividend yield. It won't end here, as OneSavings confirmed it's now expecting a net loan book growth in the mid-teens in 2017, which should further boost the financial results. The bank's share price has doubled since the Brexit-vote, and the company currently has a market capitalization of almost 1 billion British Pounds. Keep an eye on this bank!
The share price of Bourbon (OTC:BOUBF) (OTC:BRBBY) came under severe pressure when the company announced its financial results of 2016. As the company is one of the larger oil service providers, its performance was still shaky, as the total revenue decreased by in excess of 23%. The adjusted EBITDA was still 193M EUR, but the bottom line showed a net loss. The cash flow statement didn't show a more optimistic result, and the company was clearly free cash flow negative due to the 154M in capital expenditures which weren't covered by the 79M EUR in operating cash flow. Bourbon expects a rebound at the end of this year, so the company will just have to 'hang in there' for the time being. Fortunately the capex is expected to drop this year, so Bourbon will get a step closer to a break-even situation. Elsewhere in the oil services sector, tanker company Euronav (NYSE:EURN) has released its full-year results. No surprise here, as the company already pre-released its Q4 results in January. As a brief reminder, Euronav will pay a final dividend of $0.22/share after the AGM approval. ABB (NYSE:ABB) also published its annual report, but most investors will still be looking forward to the total damage in South Korea, where ABB expects to recoup $30M from its insurance policy. This shows that no matter what country you are operating in, fraud is always possible. ABB has launched 'corrective and disciplinary actions', but the investigation into this 'massive criminal activity' is still ongoing.
In the airline space, Ryanair (NASDAQ:RYAAY) (OTCPK:RYAOF) is opening several new routes into Ukraine, in an attempt to benefit from the country's appeal to foreign tourists, as well as grabbing market share from Ukrainian travellers. Elsewhere in Europe, Lufthansa (OTCQX:DLAKF) (OTCQX:DLAKY) was able to (finally) come to an agreement with its pilots to enter into a new labor agreement. Despite the recent strikes, Lufthansa sounds really optimistic about the near-term future!
Total (NYSE:TOT), the French energy conglomerate, and Petrobras (NYSE:PBR) have executed a previously announced strategic alliance agreement. Both companies will work very closely together on several important oil projects.
SAF Holland (OTC:SFHLF) reported a full-year revenue of 1.04B EUR, which is in line with the 2015 performance. The company also reported a free cash flow of 68M EUR, which means the current free cash flow yield is an impressive 10%. Unfortunately the 'real' free cash flow number is quite a bit lower (but still good). You'll read all about it at European Small-Cap Opportunities later this week.
Real estate remains hot in Europe, as the interest rates are still pretty low. Klepierre (OTCPK:KLPEF) has announced a 500M EUR share buyback as the REIT's shares are still trading at or slightly below the fair value. Amsterdam-listed DSM (OTCQX:RDSMY) will repurchase 185M EUR of its own stock to cover the staff's option plans, and to cover the stock dividend (DSM's shareholders can choose whether they'd like to receive their dividend in cash or stock). DSM has already repurchased 222,000 shares of the 2.9M shares it wants to buy.
That's it for this week! Let's see is more M&A deals will pop up in the next five trading days!
As mentioned before; consider joining European Small-Cap Opportunities to gain exclusive access to actionable research on appealing European-focused investment opportunities, and to the real-time chat function to discuss ideas with similar-minded investors!
Disclosure: I am/we are long CTTPY, KLPEF, AMFW, SFHLF, AKZOF, EURN, OSVBF, TUWOY.
I wrote this article myself, and it expresses my own opinions. I am not receiving compensation for it (other than from Seeking Alpha). I have no business relationship with any company whose stock is mentioned in this article.
Editor's Note: This article covers one or more stocks trading at less than $1 per share and/or with less than a $100 million market cap. Please be aware of the risks associated with these stocks.