Starboard Value has had enough of Macy's (NYSE:M) and its slow-move to unlock real estate value. The activist investor has dumped shares of the struggling retailer after saying it was worth $125/share in 2015.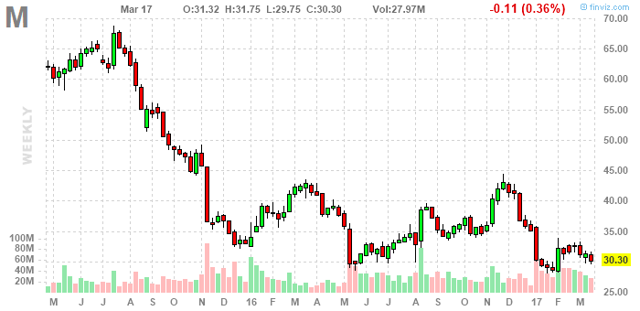 Now, Macy's soon to be CEO (as of Mar. 23rd) Jeff Gennette is free to work toward its turnaround strategy. Something the company could really use the potential buyout by Hudson's Bay (HBC) went cold earlier this year. As I've said before, Macy's is resilient, coming out of the financial crisis stronger. This could be just another setback that Macy's can navigate, yet, will it go cheaper in the near-term interim. The stock traded below $8 a share in 2009.
Macy's pushed back on using its real estate as a piggy bank -- a move I applauded, as selling real estate doesn't fix the retail model. Selling the real estate to just lease it back gives an influx of cash but also adds a required lease payment that Macy's doesn't need in this uncertain retail environment.
Starboard admits that it invested in Macy's too early; "sometimes you don't get the timing right," said Starboard's Jeff Smith. $70 a share is a bit early, but does $30 a share make anymore sense?
The thesis.
With Starboard selling its take, the likelihood of a deal with Hudson's Bay becomes even less likely as any pressure to come to terms is gone. However, Macy's did install a real estate 'expert' on the board. The thesis that makes sense going forward is to continue shutting down and selling underperforming stores. It has already targeted 100 stores for closure this year, but there'll likely be more to come. Right now, there's an overcrowding in the physical retail market.
In the end, staying relevant in the retail market has to be Macy's top focus. Starboard's push to unlock real estate value may have just been a needless distraction. It'll be up to new CEO Jeff Gennette to figure out the turnaround path, however. Gennette has already said the brand's been too promotional. Look for a move toward pushing more of Macy's exclusive products and private brands. But it really has to show progress on marrying technology and shopping. Yet, having been with Macy's for 42 year, Gennette might not be the turnaround expert we need.
Macy's will likely continue to see downside in the interim as it continues to face pressures of the secular downtrend in physical retail. At least until it can shift its business model more toward value-added services like its Last Act and Backstage offerings. That'll likely be for another 12-18 months as the company expects comparable store sales to fall throughout 2017. And while the 5% dividend yield is enticing, a quick fall from the current $30.50/share to $29/share and your downside protection is moot. And valuation wise, the 15 times earnings doesn't rival the 5 times Macy's traded at in 2008 and the 10 times in 2015. By all accounts, there will be a better buying opportunity.
Disclosure: I/we have no positions in any stocks mentioned, and no plans to initiate any positions within the next 72 hours.
I wrote this article myself, and it expresses my own opinions. I am not receiving compensation for it (other than from Seeking Alpha). I have no business relationship with any company whose stock is mentioned in this article.