One of my most frequent article topics on Seeking Alpha is the Low Volatility Anomaly, or why lower risk stocks have produced absolute and risk-adjusted outperformance relative to higher risk stocks over long-time periods. The iconic picture depicting this anomaly is the comparison of the S&P 500 Low Volatility Index (NYSEARCA:SPLV), the S&P 500 High Beta Index (NYSEARCA:SPHB), and the S&P 500 (NYSEARCA:SPY) dating back to 1990. The one hundred stocks with the lowest trailing 1 year volatility have beat the one hundred stocks with the highest trailing 1 year volatility and the index as a whole. Higher returns with less risk.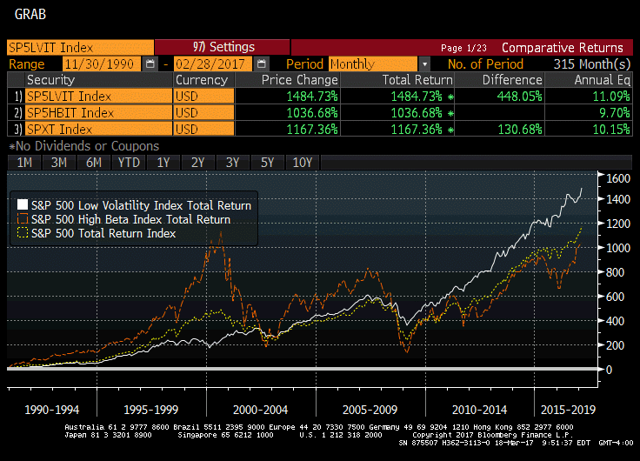 While the low volatility index has outperformed on both an absolute and risk-adjusted basis over the entirety of this more than quarter-century history, there are certainly times when more cyclical, higher risk stocks outperform. A curiosity of the market recovery since early 2009 has been the underperformance of high beta stocks. Since the exchange-traded funds that reference the High Beta and Low Volatility indices were introduced in 2011, SPLV has generated market-beating returns and SPHB has generated essentially nothing for investors, a 2% annualized return that trailed Treasuries over that time frame.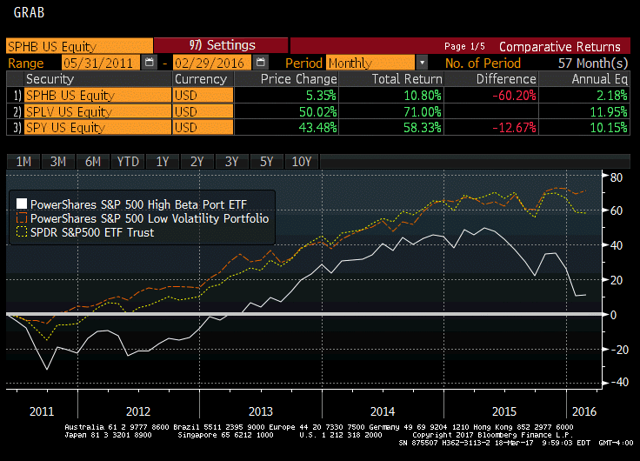 While high beta stocks have lagged in this bull market, some investors will point out that high beta stocks strongly outperformed into the peak of the tech bubble and into the market top in 2007. Riding high beta stocks, and missing the downturn would have been a winning trade. This article will look at the index constituents of the low volatility and high beta indices at year-end 2007.
Whenever we turn back the calendar in one of these articles, it is important to set the scene. As a reminder, the S&P 500 hit its cyclical peak of 1565 on October 9th, 2007. There was already concerns about the housing market, and the subprime mortgage market in particular. Two hedge funds run by Bear Stearns had been shut down in June of that year, sending ripples across the market, but equities continued to chug higher, gaining another 4% over the next four months. While the National Bureau of Economic Research would ultimately determine that the Great Recession began in December of 2007, the market fell only around 5% from the peak through year-end. Many believed that the selloff was providing a buying opportunity. Ultimately, the domestic stock market shed more than half its value over the next fifteen months.
As one can see in the first graph, investors in high beta stocks had generated market beating gains through late 2007. From September 2002, when the market bottomed out from the tech bust/economic recession/September 11/corporate malfeasance malaise, through September 2007 as the market was again peaking, high beta stocks produced 26% annual returns versus 15.5% for the market and 13.4% for low volatility stocks.
Unfortunately, those gains would quickly dissipate. To calculate the lists below, I calculated the standard deviation of daily returns from the end of 2006 to the beginning of 2007. The table below lists the 50 highest volatility constituents in the S&P 500 at that time. For those who fancy themselves market constituents, it is largely a "Who's Who" of the crisis.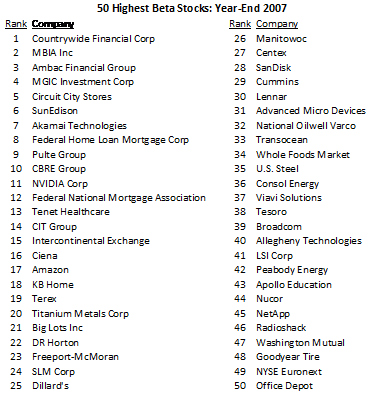 The highest volatility stock at the time, Countrywide, would shed nearly 80% of its value before being acquired by Bank of America in an ill-fated acquisition in late summer 2008. MBIA (NYSE:MBI) and Ambac were financial guarantors who were hard-hit by "wraps" of mortgage-backed structured products. MBIA barely survived. Ambac did not. CIT Group and Washington Mutual would both go bankrupt. Fannie Mae (OTCQB:FNMA) and Freddie Mac (OTCQB:FMCC) had a combined equity value of $58B at that time; today it is less than half that even after the post-Trump rally. The homebuilders on the list - Pulte (NYSE:PHM), KB Home (NYSE:KBH), DR Horton (NYSE:DHI), and Lennar (NYSE:LEN) - would all ultimately survive, but it would be a very rocky road over the next several years. Distressed retailers also frequent the list. Circuit City and RadioShack would both fail.
There were some bright spots. Amazon (NASDAQ:AMZN) would produce 35% annual returns over the next nine-plus years. Diesel maker Cummins (NYSE:CMI) would produce 19% returns. The bad dwarfed the good however, and the high beta index would produce a -72% total return from year-end 2007 to the end of February 2009.
The low volatility constituents tell a much different story.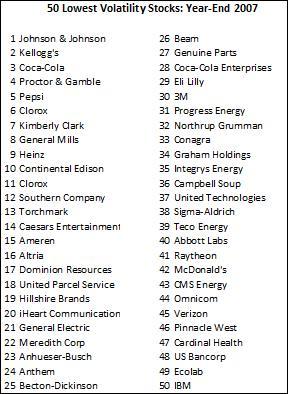 The list includes a meaningful number of high quality food and beverage businesses - Coca-Cola (NYSE:KO), Pepsi (NYSE:PEP), General Mills (NYSE:GIS), Heinz (NASDAQ:KHC), Anheuser-Busch (NYSE:BUD), Beam, ConAgra (NYSE:CAG), and Campbell Soup (NYSE:CPB). Even in a recession, people have to eat (and maybe have a few drinks).
Utilities - Continental Edison (NYSE:ED), Southern (NYSE:SO), Ameren (NYSE:AEE), Dominion Resources (NYSE:D), Progress Energy (NYSE:DUK), Integrys (NYSE:WEC), Teco Energy (NYSE:TE), CMS Energy (NYSE:CMS), and Pinnacle West (NYSE:PNW) - also dominated the list.
The list also includes leading consumer products companies - Procter & Gamble (NYSE:PG), Clorox (NYSE:CLX), Kimberly-Clark (NYSE:KMB) and 3M (NYSE:MMM), and a healthy slug of pharma and medical equipment companies - Johnson & Johnson (NYSE:JNJ), Eli Lilly (NYSE:LLY), Abbott Labs (ABT, ABBV).
Defense companies - Northrop Grumman (NYSE:NOC), United Technologies (NYSE:UTX), and Raytheon (NYSE:RTN) - were also included on the list and proved less cyclical than the broader market.
Notably, there is only one financial on the list. US Bancorp (NYSE:USB) would emerge from the Financial Crisis even stronger as its superior underwriting allowed it to outperform peers. At year-end 2007, the super regional bank had a $55B market cap. Today, $93B.
There were some misses. Clear Channel, now iHeartMedia, was involved in a leveraged buyout at the time. The deal was announced in November 2006, and was completed in July 2008. The announced takeover muted volatility, getting it included on the list. Ultimately, the capital structure took on too much debt just before the recession, and the company is currently considering a global restructuring of its debt. Similarly, the old Harrah's casino business is on the list. A consortium led by Apollo announced a deal in October 2006 that was completed in January 2008, muting volatility into year-end 2007. Investors in low volatility strategies would have missed the subsequent unraveling of these companies as they were taken private and exited the index.
On balance though, it is clear which of these lists investors would have preferred to own over the next decade from the end of 2007. Low volatility stocks have outperformed post-crisis, and some investors are looking for more cyclical stocks to outperform and close this gap. There is certainly a time and a place for high beta stocks to outperform, but they are unlikely to produce market-beating returns over a full business cycle. Some of those companies will again head out of business in a downturn. If you are eschewing low volatility stocks for higher risk companies, you must be very bullish on the prospects of the economic recovery. In the downturn, things can get very ugly for high beta stocks. I hope this article successfully frames that topic for readers using an episode we all know too well.
For more on Low Volatility strategies, see my following articles.
Practical implementations of Low Volatility strategies:
Academic underpinning of strategies:
Disclaimer
My articles may contain statements and projections that are forward-looking in nature, and therefore inherently subject to numerous risks, uncertainties and assumptions. While my articles focus on generating long-term, risk-adjusted returns, investment decisions necessarily involve the risk of loss of principal. Individual investor circumstances vary significantly, and information gleaned from my articles should be applied to your own unique investment situation, objectives, risk tolerance and investment horizon.
Disclosure: I am/we are long SPLV, SPY.
I wrote this article myself, and it expresses my own opinions. I am not receiving compensation for it (other than from Seeking Alpha). I have no business relationship with any company whose stock is mentioned in this article.
Editor's Note: This article discusses one or more securities that do not trade on a major U.S. exchange. Please be aware of the risks associated with these stocks.