Duke Energy (NYSE:DUK) continues to present itself as an attractive investment opportunity in light of bountiful political uncertainty in both the U.S. and abroad. With two driving forces in the market right now dictating the trading patterns for Duke, interest rate and tax reform expectations, investors are faced with quite the proposition. While these market factors don't necessarily warrant a buy, this stock has proved its usefulness in a downturn, especially when political uncertainty is high, and a 4.5% yield target is quite encouraging, as well.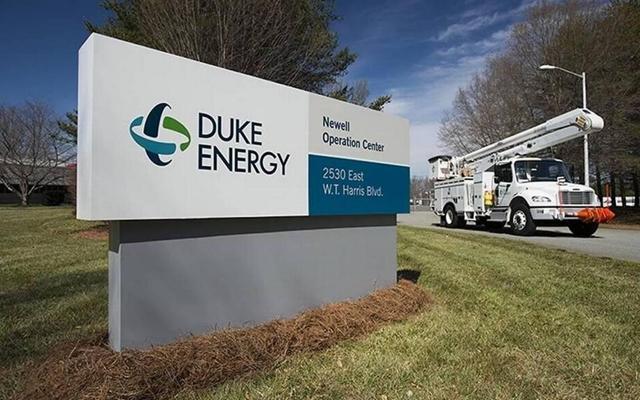 Source: Charlotte Observer
A Strong Recovery
Towards the end of January, I told investors that Duke looked like a buy. The strong yield of 4.17%, when coupled with a market that was looking to favor utilities as a hedge against political uncertainties, enticed investors to pick this stock up out of its trading range, break the 200 DMA, and move past the $80 resistance level. The trend is clearly up and it'll be interesting to see if Duke can surpass $83 in the upcoming week.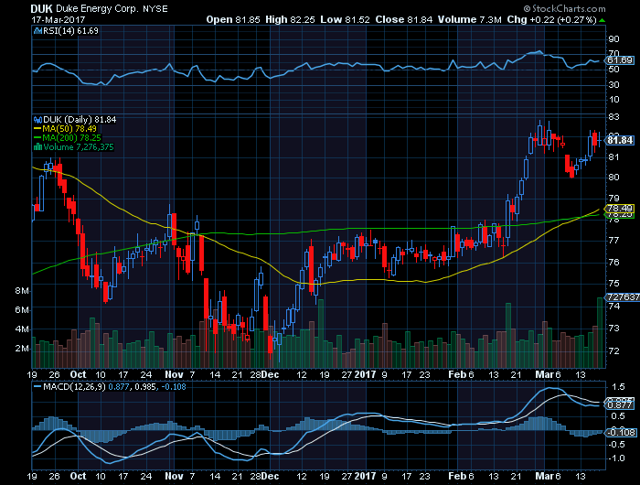 Source: StockCharts
If I'm trying to view Duke from a longer-term perspective, then I have to recognize that the stock is near multi-year highs reached back in Q1 2015, as well as mid-2016. So, it seems as the upper bound right now is $85/share, which is about 3.86% from the current level. That's not a lot of ground that the stock would have to cover in order to be at all-time highs.
The technicals support it as well. The stock is well above its 200 DMA, above its 50 DMA, has upward trending momentum and no overbought signal is currently visible. With that being said, a breach of the $85 mark would be a significant signal of both the level of uncertainty present in the markets, as well as investor savvy towards dividends at a time when the outlook for the broader equity market is highly positive.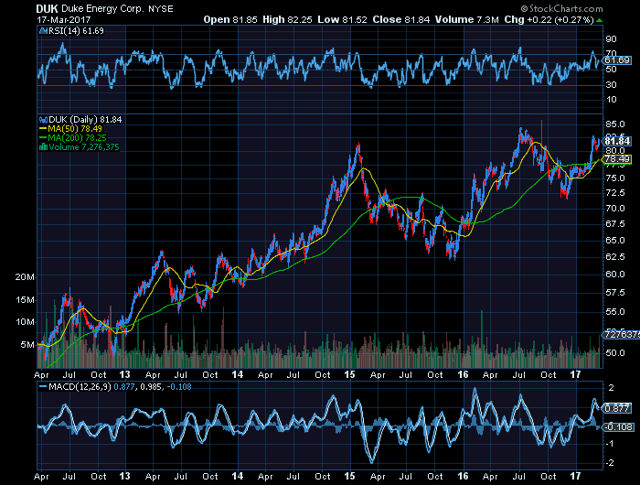 Source: StockCharts
The post-election downtrend was sharp, undoubtedly. As investors shifted their focus towards a pro-inflationary environment, backed by an increased pacing in rate hikes and the promise of substantial corporate tax cuts and more jobs, this stock saw significant outflows. However, the rebound in this stock, beginning really just a month after the election, prior to the rebound in gold interestingly enough, has seen the stock put up a return of close to 30% in just four and a half months.
Perhaps this was due to the fact that investors began to favor utilities as a hedge first over gold's pure capital gains potential. Duke, in particular, has shown a commitment to its dividend. Backed by a 4-6% CAGR in EPS and a commitment from Duke to provide shareholders with a 4.5% yield (despite the current yield being lower than this target), taking home 8-10% a year on this name is as easy as it gets. It's a great hedge against constant political uncertainty the volatility is low enough where if you see a downtrend start to form, you can exit the name temporarily or hold through if you see positivity just a few weeks away.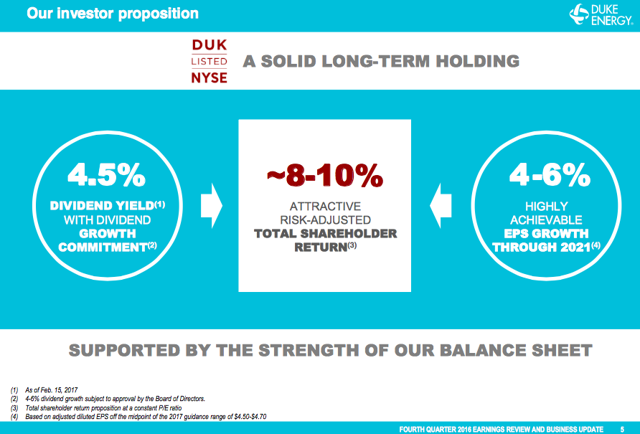 Source: Investor Presentation
The Outlook For Utilities
Interest rates discussion needs to be the core focus as expectations around interest rates dictate trading patterns for utilities. As the Federal Reserve continues on its path of raising short-term lending rates, with the third 25 basis point hike coming last week, Duke should be seeing more capital loss than what has happened in the last week. Now the Federal Reserve has officially guided for two more rate hikes this year, however investors seemed to have already priced that into stocks. We didn't see massive outflows from utilities nor precious metals stocks after this March FOMC meeting. Thus, I think the only uncertainty here, with respect to interest rates, is the pacing of the hikes within 2017.
Right now, the market is projecting that there is a 54.7% probability that the Federal Reserve hikes another 25 basis points at the June meeting. However, the probability is roughly the same for the July meeting at 52.8% for when we'll receive the next hike. That means that the market, right now, expects that the FOMC will most likely not hike at the May meeting. So, if the Fed changes course and hikes at the May meeting, or if it hikes at the July meeting, we could see the trends for Duke shift heavily in either direction, it just depends what happens.
When looking further down the line, into the second half of the year, the probabilities become more evenly spread out where a 100 basis point increase from the current level even has an 0.3% probability at the December meeting. Watching what investor expectations are for these rate hikes and whether or not the Fed plays into them, will be key to determining the trends for Duke.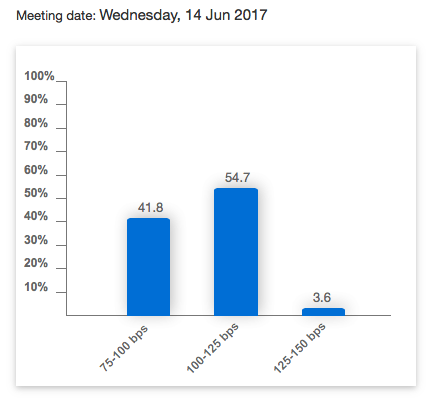 Source: CME Group
Tax discussion is also necessary. In FY 2016, Duke paid $1.16 billion in income tax, for an effective tax rate of 31.1%. If it's ever going to happen that the corporate tax rate is lowered to 20%, or even 25%, Duke could end up paying several hundred million less on its tax bill every year. What does that mean for shareholders? It means that it more than offsets the damage done by rising rates, but more importantly, it increases the amount of EPS taken home by the company every year. That, in turn, provides stronger support for a larger dividend, probably towards the 5% mark.
Yet, when we take a look at how the company views the tax cuts, there's really two possible outcomes. First, the company is assuming a 20% corporate tax rate, so while they save on taxes, they're hit by straight-line depreciation. Best case scenario, from the company's perspective, this plan is "slightly" accretive. I expect the market would have a rather neutral reaction to this outcome.
Better than nothing, but the real interest here is the House GOP Blueprint.If the equivalent tax cut comes, this plan says that there is no interest expense deduction on new debt raised and given that Duke is a frequent participant in the debt capital market, this comes as a sharp negative. Now, the projected effect is 5% dilution to EPS doesn't sound all that major, especially when given a five-year timeline, but if it happens, the market will view it as a negative and may place Duke in a downtrend.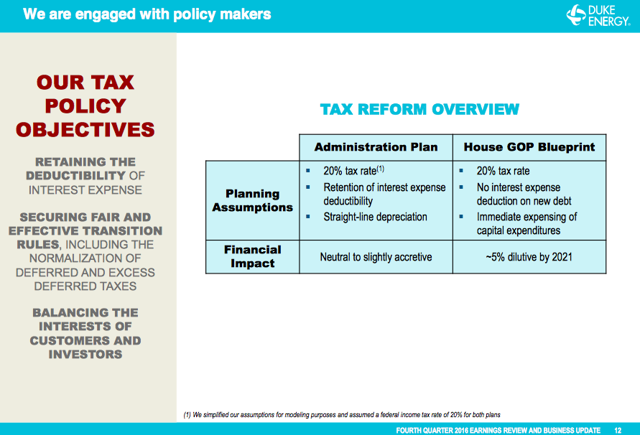 Source: Investor Presentation
Conclusion
So, where is the broader utility sector headed and, arguably more important, where is Duke headed? It really depends on the news we receive from the Federal Reserve in May, the economic reports we receive from now until that meeting, and how fast the Trump Administration gets a tax plan ready for vote. The pacing on interest rate hikes, in particular, should be of great concern to Duke investors. With that being said, Duke Energy, at this time, continues to look like a solid addition to any investor looking to take some risk off of their plate and add a growing dividend to their portfolio.
Disclosure: I/we have no positions in any stocks mentioned, but may initiate a long position in DUK over the next 72 hours.
I wrote this article myself, and it expresses my own opinions. I am not receiving compensation for it (other than from Seeking Alpha). I have no business relationship with any company whose stock is mentioned in this article.