Introduction
If you want to be a Millionaire, start with a billion dollars and launch a new airline."

- Richard Branson
Lufthansa Group (OTCQX:DLAKF) is one of the biggest airlines in the world. Measured by revenue, it is the fourth biggest airline behind American Airlines (NASDAQ:AAL), Delta Air Lines (NYSE:DAL) and United Continental Holdings (NYSE:UAL). Measured by passenger-kilometers flown, it ranks seventh behind the three competitors mentioned above as well as Emirates, China Southern Airlines and Southwest Airlines (NYSE:LUV). Lufthansa has a reputation for being a punctual and safe airline, even though the reputation has suffered a little bit after the 2015 crash of Germanwings 9525, then Lufthansa's low-cost carrier (the brand "Germanwings" basically got transitioned into the brand "Eurowings," a decision which was made before the crash of Germanwings 9525 - here and there you might still encounter a plane with "Germanwings" on it, but I wouldn't count on it for too long).
I like Lufthansa and I never had a really bad experience flying with it. Normally, I think the stock picking philosophy of "Buy what you love" is not the worst idea, but for Lufthansa I make an exception. As much as I like flying with the airline, I just cannot be convinced that buying its stock is a very good idea. In this article I attempt to explain why.
Structure of the Business
There's more to Lufthansa than you might think. Besides the actual well-known Lufthansa brand, subsidiaries include SWISS, Austrian Airlines, Lufthansa Cargo, Lufthansa Technik (a subsidiary, which provides maintenance, repair and overhaul services), Lufthansa Systems (IT services) and LSG Sky Chefs, the largest airline catering provider in the world.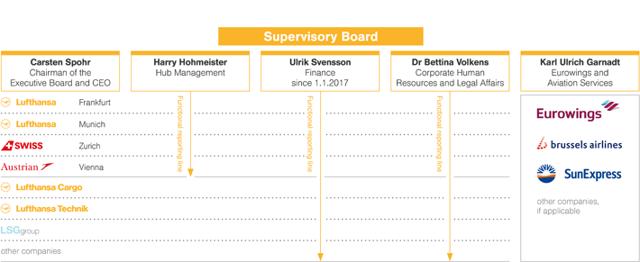 Source: Lufthansa
Before I come to the recent earnings release, I want to put these parts of the puzzle into perspective. Revenue for the whole Lufthansa Group in 2016 was €31.7B. The largest business segment in the Lufthansa Group is - unsurprisingly - passenger transport, which accounted for 73.5 percent of the total revenue. Revenue in the segment Logistics (Lufthansa Cargo) amounted to around 6.5 percent of the total revenue. While maintenance, repair and overhaul brought in 11.1 percent, catering revenue amounted to 8.1 percent, leaving 0.8 percent for other services.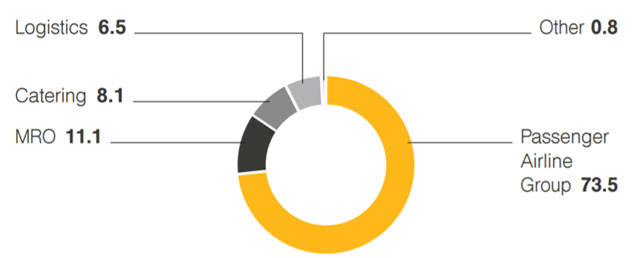 Revenue share of the different business segments, Source: Lufthansa Annual Report 2016
So make no mistake: While Lufthansa offers a variety of services and has different business segments, passenger transport still is absolutely the core of the business model.
Recent earnings and new agreement spark optimism
Lufthansa's shares are up over the last month - more than 60% since October 2016 - and they made another big jump last week, after earnings for 2016 were released and a new agreement on pay and pensions was reached with the pilot's union. This was much needed news. Lufthansa had been burdened by strikes, cancelled flights and high costs and pension liabilities for too long. The negotiations took several years and the new agreement promises safety in that area at least until 2022. But is it enough? One of the main problems of Lufthansa was its high costs and management was perfectly aware of it. In an industry, where wages for pilots are dramatically down over the last years and decades, Lufthansa pays its pilots - depending on the source - around $160,000 to $190,000 a year on average before taxes. Even though an exact number cannot be determined with certainty, this average salary is high by the industry's standards, where average salaries are usually estimated at roughly around half that amount.
While the complete agreement with the union is complex and does not only affect wages and pensions, these two are the main aspects, which were crucial for Lufthansa. Wages will rise around 11.4 percent for the time between May 2012 (when the last agreement with the union officially ended) and June 2022. Pilots of Lufthansa also could take an early retirement at the age of 55 and still get paid 60% of their salary until they reached the official German retirement age (which was 65, now 67). This led to Lufthansa's pension problem, which in essence described the company having to pay too much money to pilots who don't fly anymore. The company's pension liabilities had reached as much as €10.5B, which represented two thirds of its long-term liabilities. Now, after the new agreement, the age of early retirement will be increased over time to 60, which should reduce this financial burden significantly. This was much needed for Lufthansa, especially given the current low interest rate environment. It is estimated that there will be a positive one-time-effect of almost €1B for 2017 because of this. Therefore, expectations for 2017 are already high.
But what about last year? While revenue was down 1.2 percent (€31.7B vs. €32.1B), net profit was up 4.6 percent for the year (€1.8B vs. €1.7B) and EPS improved by 3.8 percent (€3.81 vs. €3.67). That doesn't sound too bad. Also, passenger numbers were up slightly (109.7M vs. 107.7M), total costs (excluding fuel) are down by 3.2 percent and net indebtedness is down almost 20 percent (€2.7B vs. €3.3B). Given these numbers and the fact that the agreement with the union was reached, it is not that surprising that the shares made another jump last week.
So basically the shares are up more than 60 percent since last fall, a long-needed and much-celebrated agreement with the pilots has been reached, which should improve the cost structure over the next years, and results are improving by almost every metric for a company, which product I actually really like. Also, the P/E ratio is around 4 to 5 (the stock is pretty volatile and so have been profits). Why am I so skeptical about the stock?
Headwinds remain
This is the part where I want to go back to the start of this article: "If you want to be a Millionaire, start with a billion dollars and launch a new airline." While this quote of Richard Branson should certainly be taken with a grain of salt, I remain skeptical for the airline industry in general and specifically for Lufthansa.
For most of this article I talked about costs and this will remain a major issue. The aviation industry is basically as globalized as possible and Lufthansa competes with many airlines from countries, which have (and for the foreseeable future will continue to have) significant cost advantages, e.g. because of labor costs, worker protection laws, lower fuel costs and even government subsidies. Remember the salary of Lufthansa pilots? There have been 14 strikes during the negotiations, which in the last years cost Lufthansa hundreds of millions of euros because of canceled flights, reimbursements, etc. Now, an agreement finally has been reached and it is estimated (by the union) that it will result in a 15 percent reduction in costs for pilots. While a 15 percent cost reduction is significant, I am not sure if it will be enough in the long term.
First of all, salaries (on average) were more than 15 percent above the competition, so the pilots probably won't be leaving anytime soon. While this could be viewed as a benefit because a shortage of pilots is predicted by some analysts, a disadvantage will remain when it comes to wages. Don't get me wrong. This is a good negotiation result for Lufthansa. There simply was no way that it could bring costs down to a level of the likes of Ryanair (NASDAQ:RYAAY) or easyJet (OTC:EJTTF). So while it negotiated a good result, it will still remain extremely difficult to compete in a market, where low-cost carriers grow fast on short-haul routes and Gulf carriers grow fast on long-haul routes - and both competitor groups have cost advantages.
So let's talk about the short-haul routes. One could argue, that Lufthansa's product is superior to Ryanair's or easyJet's and this might very well be true. But at the end of the day, people tend to take the cheapest flight, especially if it is a short flight. Lufthansa's short-haul market is in Germany and Europe. While low-cost carrier competition is not a real problem for Lufthansa in the domestic market, flights from Germany to other European countries are rarely longer than three hours. The above-mentioned competitors often offer their tickets for extremely aggressive prices, e.g. Berlin to London for €15 with Ryanair. The flight is barely longer than one hour and the majority of the people simply won't pay Lufthansa's price (which would be around €110 for the same day) to have a more comfortable flight - for one hour. This problem remains and it isn't going anywhere. If all, it will get worse as low-cost competition continues to increase and put even more pressure on prices. After all, the CAGR was 7.1% for low-cost carriers in the last decade, while the overall industry only achieved a 3.5% CAGR.
Lufthansa could try to adopt the strategy of the low-cost carriers - and it actually does. In an effort to bring down costs, it is shifting more and more planes and resources into Eurowings, which is the Group's own low-cost subsidiary. However, in order to really compete with international low-cost competition on costs, it would essentially need to move away from Germany, which has an above average salary level, unions and worker protection laws. Again, please don't get me wrong: These are very positive things for Germany and its workers. They just make it hard for a company to compete in an industry where you compete with companies from all over the world.
While the airline industry in general is growing, growth is mainly driven by the low-cost sector and by regions like south-east Asia. Lufthansa itself is not really benefiting from this kind of growth. Internationally, it has to cope with (slowing, but ongoing) capacity growth at the Gulf carriers (Emirates, Etihad, Qatar), which - for now - mainly affects flights to Asia (via the Gulf region) and also low-cost carriers, which are expanding to long-haul routes, e.g. WOW air is offering flights from Germany to the USA (via Iceland) now for as little as €160, a price which seemed unimaginable just some years ago. Lufthansa expects that the pricing pressure will increase in 2017.
Besides this increasing competitive pressure in the short- and long-haul segments and price erosion, cyclical fluctuations are always a risk for the airline industry and nobody knows for sure, when the next recession will come, but it is fairly safe to say, that airlines will be impacted pretty severely. And, last but not least, after talking so much about competition, prices and market developments, I want to come back again to - you guessed it - costs. Lufthansa is fully aware of its disadvantage there and basically names it as a major risk for its profitability in its annual report. Carsten Spohr, the CEO of Lufthansa, is specifically addressing this internal issue as a major challenge for the year ahead.
A challenge in the year ahead remains to convince all those employees of the Lufthansa Group who have not yet made an active contribution to the required evolution that change is required."

- arsten Spohr, CEO of Deutsche Lufthansa AG. Source: Lufthansa Annual Report 2016
Lufthansa has made a lot of steps in the right direction and I congratulate the management for that. But the way forward will not be easy, as it will need to keep convincing employees that more changes are necessary. And nobody is convinced easily when changes are painful.
Conclusion
Lufthansa had a good year in 2016 and now, after a new agreement with the pilot's union has been reached, expectations for 2017 are even higher. The stock is up more than 60 percent since October 2016 and the numbers are very good for now. But the challenges which lie ahead are tough and while the airline business has not been easy for a long time, the competitive pressure keeps increasing from multiple sides and Lufthansa might struggle in the future to offset its cost disadvantages. Therefore, I stay on the sidelines for now.
Disclosure: I/we have no positions in any stocks mentioned, and no plans to initiate any positions within the next 72 hours.
I wrote this article myself, and it expresses my own opinions. I am not receiving compensation for it (other than from Seeking Alpha). I have no business relationship with any company whose stock is mentioned in this article.
Editor's Note: This article discusses one or more securities that do not trade on a major U.S. exchange. Please be aware of the risks associated with these stocks.