Investment Thesis
Despite a recent increase in price and seemingly uncertain market conditions, investors can rely on Air Lease Corporation (NYSE: AL) to continue to deliver in the long run.
Introduction
Last July, I published an article detailing why I believed Air Lease was a fantastic investment. The company was very efficient, well managed, had recently experienced an inexplicable downturn in price, and had limited downside. Since that article, the stock has increased substantially in value. The per share price went from roughly $29 per share to $39 per share, an increase of about 34%.
Now, investors must consider a different scenario when deciding whether to invest in the stock: Air Lease is a good business, but can it still perform well in its current market environment and at current prices?
The Company in 2016
Overview
As explained in my earlier article, Air Lease is an aircraft rental business. They purchase aircraft from companies like Boeing (NYSE:BA) and Airbus (OTCPK:EADSY) and then rent them to airlines around the world. The company also sells its planes to other companies once leases have ended and offers fleet maintenance to its clients for a fee.
The company currently has a relationship with over 200 airlines across 70 countries in every major geographical region. In 2016, after purchasing 43 aircraft and selling 46, the company ended the year with 237 planes in its fleet and 30 aircraft in its maintenance portfolio. At the end of the year, the weighted average age of its fleet was 3.8 years and the weighted average length of operating leases on its portfolio was 6.9 years.
Earnings
The company secured lease payments for 122 aircraft with 39 customers across 33 countries in 2016. This increase means that the value of the company's total guaranteed lease payments increased from $20.9 billion at the start of 2016 to $23.8 billion by the end of the year.
The amount of rental revenue the company has received has increased steadily over the past few years, from $991 million in 2014 to $1.17 billion in 2015 to $1.34 billion in 2016. Interestingly, most of the company's revenues come from international customers. Only 5.2% of the company's revenues come from the U.S. and Canada. The company's top three regions by revenue are Europe, Asia, and China, each of which account for 20-30% of total revenue.
The company's net income increased dramatically from 2015 to 2016, going from $253 million to $374 million. This increase was fueled mainly by rising revenue from rentals and also increased due to higher than usual revenue from aircraft sales.
Cash Flow
Unsurprisingly, the company's cash flows also increased from 2015 to 2016, continuing a trend from years prior. Cash flow from operations increased from $840 million in 2015 to $1.02 billion in 2016, a 19% increase. Again, the increase was fueled by rising rentals and more revenue from aircraft sales.
Book Value and Indebtedness
Shareholder's equity also increased from 2015 to 2016, rising from $3.02 billion to $3.38 billion.
The company is quite heavily indebted, however. Its total debt increased from $7.7 billion to $8.7 billion as a result of new long-term purchase agreements with Boeing and Airbus. The company's debt to equity ratio is a relatively high 2.58. However, I don't think this shouldn't worry investors. As mentioned earlier, the company has over $23 billion dollars in guaranteed payments secured for the future, so it should be able to comfortably pay off its debts.
Investor Worries
The company's P/B ratio is currently a very low 1.2 and its P/E ratio is also a relatively low 11.45. Given this and the details discussed earlier in the chapter, it would seem that the company is still relatively cheap. However, the company and the industry it is in still worries many investors.
Firstly, many investors are wary - and with good reason - of the airline industry. As this great article explains, the airline industry and airlines in general have historically been very volatile, unprofitable businesses. Huge airlines like American, United, and Delta have defaulted in the recent past despite their size and seemingly powerful market position. This would, in theory, mean that companies like Air Lease are in a bad position since the airlines it relies on for revenues might be unable to pay them. The nightmare scenario for Air Lease and its investors would be analogous to what happened to mortgage lenders in 2008.
This notion, however, is misguided. As the company explains in its fiscal 2016 10-K, it analyzes all of its lessees' financial performance and health before entering into leases. The company is able to limit its risk exposure by making sure that the airlines it leases have historically shown that they are capable of making their payments. Furthermore, if any airline does default on its payments, Air Lease maintains its ownership of the planes and can lease them out to other airlines or sell them without any restrictions. In this way, the company can help solve the adverse selection problems it faces. And as mentioned earlier, the company has over 200 that operate in many different geographical locations. The company's diversification also helps make sure that, even if one of its clients is unable to pay, it will be okay. The company's record of profitability is evidence of its financial health. As the graph below shows, it has experienced solid growth for as long as data is available.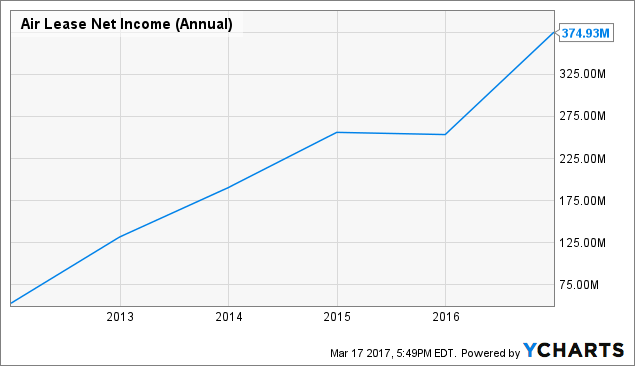 AL Net Income (Annual) data by YCharts
Secondly, investors are also worried that demand for newer aircraft is going to decrease, which is going to adversely affect Air Lease in the future.
This notion is also misguided. Firstly, although the airline industry in the U.S. has reached some level of maturity, the vast, vast majority of Air Lease's profits come from airlines overseas - and mostly from Asia, where global demand for air travel continues to grow quickly. The company and investors can rely on increasing demand from new airlines looking to increase their fleet size and from older airlines looking to renew their fleets. Moreover, as mentioned earlier, Air Lease has secured payments that total over $23 billion for the future. Its long-term contracts mean that its future is in no way uncertain. And since it's increased its amount of guaranteed payments over the past year, investors can rely on future profits to be higher than they are now.
In Conclusion
Air Lease's stock has performed quite well since last summer. However, many investors still question whether the company is in a healthy position and whether it can continue to deliver in the current market. These fears are rational, but they are also misguided. The company has structured its business and its leases in a way that limits its risk in the short and long run, and seems to be perfectly positioned to continue to deliver for itself and for investors.
So, any investor should be able to buy into Air Lease, even today, with no anxiety about the company's business environment or its future.
Disclosure: I/we have no positions in any stocks mentioned, and no plans to initiate any positions within the next 72 hours.
I wrote this article myself, and it expresses my own opinions. I am not receiving compensation for it (other than from Seeking Alpha). I have no business relationship with any company whose stock is mentioned in this article.