The market keeps going up, and I'm not terribly happy about it. Sure, if I wanted to sell stock, I'd be laughing all the way to the bank (and paying taxes in the process). However, I'm in a different boat. I've decided upon taking the income investing route, and I'm focusing upon dividend-paying stocks. Ideally, the companies that I own will periodically increase the amount that they pay out to shareholders via the dividend.
As I've noted before, I started this process back in July 2015 after considering what strategy I might use for investing. This is the slow method for building wealth, I know, but I believe that it's much better than socking away money in a savings account. I also believe that I'm less likely to lose massive amounts of money because the dividends are actual cash that the companies have to have to pay out. It should take some time before a dividend-paying company with a long history goes totally bankrupt.
I'm a fairly conservative guy when it comes to where I want to put my money, so I don't trust that I can find the next Google or Amazon to make massive capital gains. I'll be more than happy to take a few singles and doubles to avoid striking out while trying to hit a grand slam. So far in this journey, I don't have too many complaints.
February At A Glance
During the month of February, I made a few purchases. I made $85 worth of purchases in my fee-free account. I'm dollar cost averaging into positions in Coca-Cola (NYSE:KO), McDonald's (NYSE:MCD), Starbucks (NASDAQ:SBUX) and Kraft-Heinz (NASDAQ:KHC). I realize that the first two are probably not going to see massive growth in the decades to come, yet I believe that the income that they'll provide will continue to grow, at least in the medium term.
I've written on Starbucks before, and I firmly believe that they'll be able to grow, especially when looking at their goals for developing economies that have a growing middle class. The people who are joining the middle class in markets like China will have disposable income to spend, and SBUX seems to be doing a decent job of getting some of this excess income.
I also doubled down on Johnson & Johnson (NYSE:JNJ), buying 5 more shares. I intended to buy more in March, but a funny thing happened. I'm up nearly 10 percent on my two purchases in less than two months. I like the diversification and the dividend that JNJ gives me, but I'd like to get a bit of a better price. I'll be watching this company going forward to see if a more cost-effective buying opportunity presents itself.
I first started watching Johnson & Johnson last year as it went up to nearly $125 a share. I didn't have enough capital to purchase more than a share or two and held off. It dropped to around $115 earlier this year, and I had the money to put toward it. Now it's crushed through the previous high and sits at more than $128/share.
I have to admit that it seems weird to want my stocks to tread water. This process of looking for value opportunities in dividend growth companies is quite different than what I'd believed to be the best option previously, which was to buy hot stocks and hope they continue to go up.
I had ended January in the hole by $51.74. The gains in February turned that negative return into a positive return of $143.01 by the end of the month. This return is slightly less than 2 percent overall. However, gains and losses, while important, are not my main concern. A growing income stream is. Here is what the Slowly, But Surely Portfolio looked like as of February 28, 2017: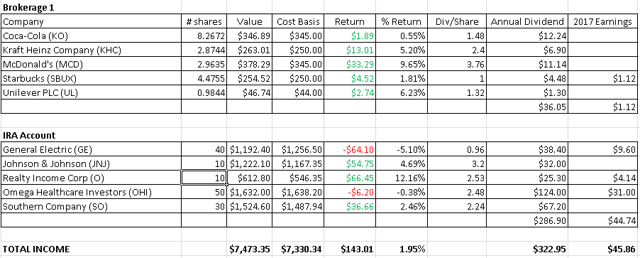 Dividend Income Status
My investments in the month of February brought my estimated 12-month dividend income up to $322.95, which would buy me slightly more than 16 hours of freedom over the course of a year, based upon my estimate of needing to replace $20/hour of work-related income.
This would mean that I could average taking 1 hour, 20 minutes off every month and replace that earned income with passive dividend income. This means that I am now 0.78 percent of the way to my goal of building my dividend income up to $41,600, which, because of the tax benefits of dividend income, would probably come close to meeting my current standard of living. This 0.78 percent coverage rate is up from the 0.73 that I had at the end of January. I'm happy any time that this number goes up, as I'm closer to achieving my goal.
Of course, there are variables that could change this calculus. The current state of healthcare reform could drastically change my assumptions, as could inflation or a change in the tax code that cuts down on the benefit of dividend income. I can't control these political policies, so I'll just keep working slowly toward my goal. They say that those who have no goal will hit it every time (i.e., nothing).
I earned a decent amount of dividend income during the month of February, when compared to the $11.63 that I earned in January. My total dividend income, which included dividends from a 401k not listed above, came in at $36.56. This total would have given me about 1 hour, 45 minutes of freedom during February, which is slightly above the 1 hour, 20 minutes that I estimate on a yearly average. I'm happy to be going in the right direction. How was your month?
If you'd like to keep up with my progress, be sure to scroll up toward the top of the page and hit the follow button. I appreciate your support.
Disclosure: I am/we are long KO, KHC, MCD, SBUX, UL, O, OHI, GE, JNJ, SO.
I wrote this article myself, and it expresses my own opinions. I am not receiving compensation for it (other than from Seeking Alpha). I have no business relationship with any company whose stock is mentioned in this article.
Additional disclosure: I am not a licensed financial professional. This article is only for educational/entertainment purposes and should not be construed as a recommendation to buy or sell any securities. As losses up to and including all capital invested can occur, be sure to do due diligence and check with a financial professional before investing in securities.