Farmland Partners (NYSE:FPI) may not be a company that investors are familiar with, but to anyone looking for hard assets combined with generous dividends, it would be wise to take a look at this small but growing company. The company has grown significantly since its IPO in 2014, with a steady stream of acquisitions of farmland across the United States and also the acquisition of American Farmland (NYSE: AFCO) which closed this year. The company operates a portfolio of farms that is 100% leased, and allows investors to participate in the financial benefits of owning farmland, such as rental income and land price appreciation, without having to personally manage farmland.
At first glance, investors may think that Farmland Partners is an agriculture company. The reality is, they are landlords, not farmers. The beauty of this business model is that most farms pay rent annually and have minimal turnover. There is also minimal maintenance that goes into owning land. Today, Farmland Partners manages nearly $1 billion of farmland, and they do it with only 18 employees. Management has stated recently that the company could double the size of their farmland holdings with minimal added overhead expenses.
To give investors a good understanding of this, Farmland Partners acquired American Farmland Company this year. Upon closing the deal, Farmland Partners laid off all but one employee of American Farmland Company. The 18,000+ acres acquired can easily be managed by the existing management team. Going forward, the company really has no limits to growth as there are billions of dollars of farmland transactions every year in America.
Considering its REIT status, the measurement for capacity to pay and increase dividends is Funds From Operations, or FFO. We can also look at Adjusted Funds From Operations, or AFFO, which Farmland Partners uses to add back acquisition and due diligence costs that are nonrecurring. By this metric, Farmland Partners reported $0.58 per share for 2016, easily covering the $0.51 per share dividend. Going forward, this is where the story gets really interesting. With the purchase of American Farmland Company completed, and with almost all of the overhead associated with that company now gone, AFFO should rise by 10% for 2017.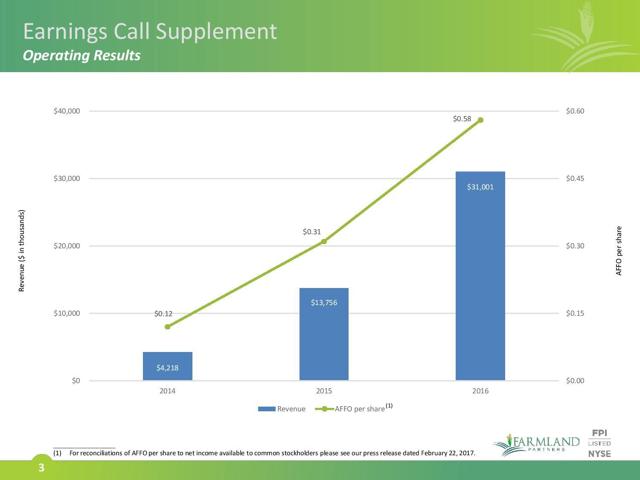 Source: Farmland Partners
Looking into 2018, AFFO still has room to grow due to four specialty crop farms that are expected to begin producing rent in the near future. Crunching the numbers shows us that these farms are coming on line with a 9.9% cap rate, translating into increased rent of $2.7 million, which will boost AFFO by 10% further for the full year of 2018.
Source: Farmland Partners
With Adjusted Funds From Operations well above the current dividend, and expectations of 20% growth over the next two years, it is not a stretch to expect two dividend increases in the coming two years, possibly totaling 20%. With the current yield at 4.8%, investors have a chance to lock in a potential 5.75% forward dividend yield by buying the shares today. Even with rising interest rates, 5.75% is quite high, which would lead me to believe that the market will soon begin to price in the higher dividends, allowing investors today to lock in the yield, and also benefit from the capital gains that follow.
The stock appears to have solid value based on its AFFO and its dividend, and that likely was the trigger for recent insider buying. Founder and CEO Paul Pittman recently filed two form 4's with the SEC showing the purchase of 600 shares at $11.00 on March 3rd and 2,000 shares at $10.70 on March 9th.
Along with Paul Pittman, Farmland Partners General Counsel Erica Borenstein also has been buying lately, with the purchase of 1,000 shares at $11.00 on March 3rd and 1,000 more shares at $10.50 on March 13th. In addition to the attractive yield and insider buying, the stock is near the low end of a trading range it has been in for years.
Whether investors buy for a short term trade, or accumulate at these prices for the large and growing dividend, I expect investors buying at these prices to do well. This stock is an income and a growth play on a fundamental problem that we will face in our lifetimes, which is the problem of rising food demand combined with land scarcity. The company has even moved into the space of leasing land to solar farms proving that there are so many ways to win with land ownership. I have been buying this recent selloff and expect to continue to do so as long as the prices remain at these levels.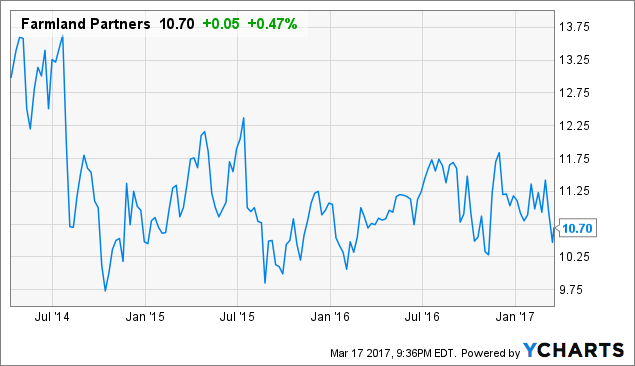 Disclosure: I am/we are long FPI.
I wrote this article myself, and it expresses my own opinions. I am not receiving compensation for it (other than from Seeking Alpha). I have no business relationship with any company whose stock is mentioned in this article.