With the acquisition of Sensus, Xylem (NYSE:XYL) is transforming itself into an end-to-end provider of essential technology for utilities, both water and power. Its biggest opportunity still lies in the water industry. Conservatively, Xylem has the long-term potential to show low, single-digit organic growth for its water business. But, there are reasons to believe that the next decade could bring slightly faster organic growth (in the upper single digits). Those reasons are:
Urbanization of the world population puts pressure on utilities to better manage water resources.
The U.S. may invest more in infrastructure to upgrade its aging infrastructure
India, already the fastest growing economy in the world, will need to build new infrastructure to provide safe water to its population.
China will have to invest more in its infrastructure as some of its largest cities see ever increasing population and water scarcity.
Currently, Xylem seems to be overvalued by all measures (P/E Ratio of 33, Price/Sales ratio of 2.28), so it may be best to wait for further pullback before buying. Even if the organic growth rate picks up, it may not grow like a fast growing company with 20% or 30% growth rates. For 2017, the company has targeted total revenue growth of 20% to 22% in 2017 with organic revenue growth in the low-single digits. Most of the revenue growth will come from the Sensus acquisition and not from organic growth.
Rapid Urbanization of World Population
For decades, people have been moving from the rural areas and have been living in cities. For the first time in 2007-2008, over 50% of the world population lived in cities. This trend is expected to continue for the foreseeable future. Let's take the World Bank data for the two most populated countries in the world - China and India. In China, 56% of its population lived in urban areas in 2015 compared to just 16% in 1960. In India, 33% of the population lived in urban areas in 2015 compared to 18% in 1960. India's urban population is expected to grow further and even China might see more of its population migrate to urban areas. In California, over 90% of the population is classified as living in urban areas.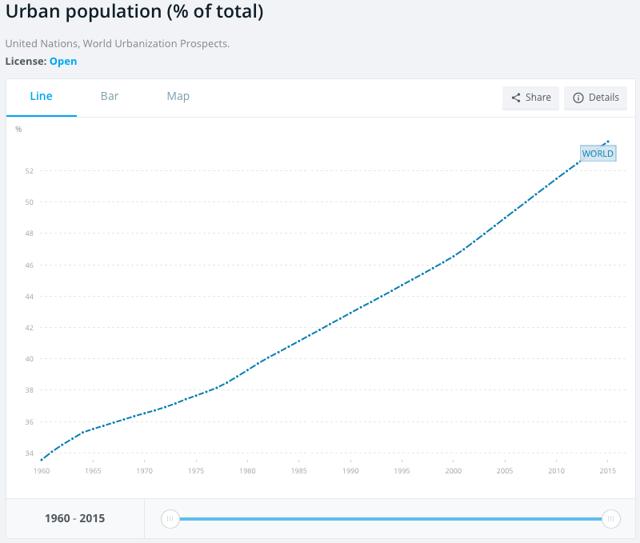 Exhibit: Urban Population as a % of Total World Population (Source: World Bank)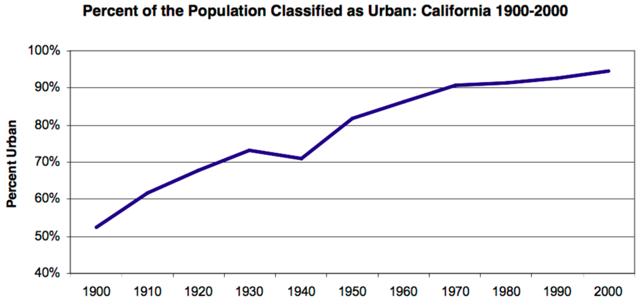 Exhibit: Urban Population in California (Source: California Department of Finance)
This growth in urban population puts a lot of pressure on water resources. Capturing, transporting, storing and managing of water resources in densely populated urban areas becomes a very critical task. The urbanization trend makes water management a central issue for cities around the globe.
Take San Francisco, its regional water system is responsible for supplying water to 2.6 million residents and businesses in the San Francisco Bay Area. This water system gets 85% of its water from Hetch Hetchy reservoir at the edge of the Yosemite National Park, which is about 176 miles away from San Francisco.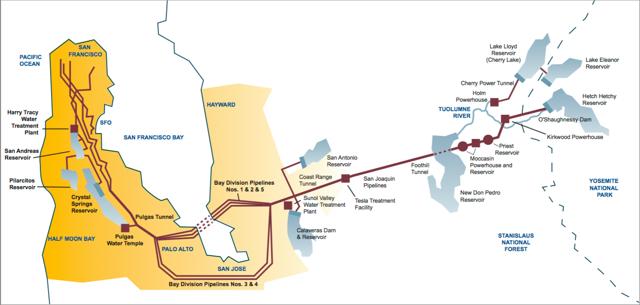 Exhibit: San Francisco Water Supply System (Source: SFWater.Org)
Similar to San Francisco, many urban areas in the world are situated at vast distances away from their primary water sources. Since 2010, the city of San Francisco has seen its population increase by 7.4%. As of July 2016, San Francisco had 864,816 residents compared to 805,195 in April of 2010 (Source: U.S. Census). In an effort to make its water supply more reliable and less dependent on far-away water sources, San Francisco is tapping into ground water and blending it with the water it receives from other sources. San Francisco is also investing in water conservation efforts to counter the growth in population and the increase in water consumption that comes with that. Initiatives like this mean more potential business for companies like Xylem.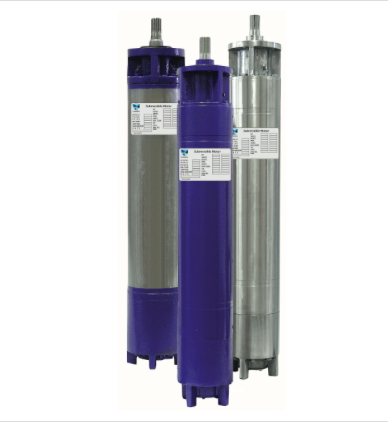 Exhibit: CentriPro 6″ and Larger Deep Well Submersible Motors - Goulds Water Technology (Source: Goulds.Com - A Xylem Company)
Beijing - the capital city of China - in North China is the world's third most populous city with a population of over 21 million people. Northern China, which is home to half a billion people, faces severe water scarcity. To alleviate the water problem, China is completing the world's largest water transfer project that will span 2,700 miles and bring water from Southern China. Although China is an extreme case for such very large water projects, many cities across the globe are undertaking ambitious and extensive water projects to deliver water to densely populated urban areas.
Delhi, the capital city of India and the fourth most populated city in the world, faces water challenges very similar to other urban areas like San Francisco and Beijing. Its groundwater is running dangerously low and it has challenges with ensuring the quality of its water.
Xylem Business Segments
Xylem is organized into the following business segments:
Water Infrastructure
Applied Water
Sensus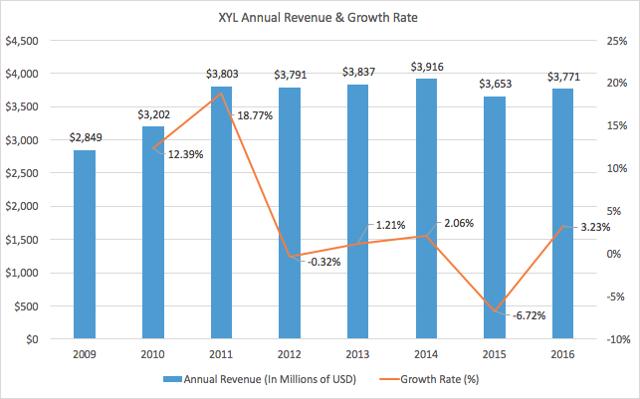 Exhibit: Xylem Annual Revenue and Growth Rate (Source: Company Filings)
Water Infrastructure
Water Infrastructure segment sells products in water transportation, treatment and testing applications. All three applications in the water infrastructure market will experience good growth for the next 5 to 10 years. The transport application was by far the biggest revenue generator for Xylem with $1,599 million in 2016. The treatment and test applications are still very small application areas with just $333 million and $314 million in revenue in 2016. Each of these two applications can be multi-billion dollars in revenue in the coming years. Xylem estimates that the market size for water infrastructure is approximately $23 billion.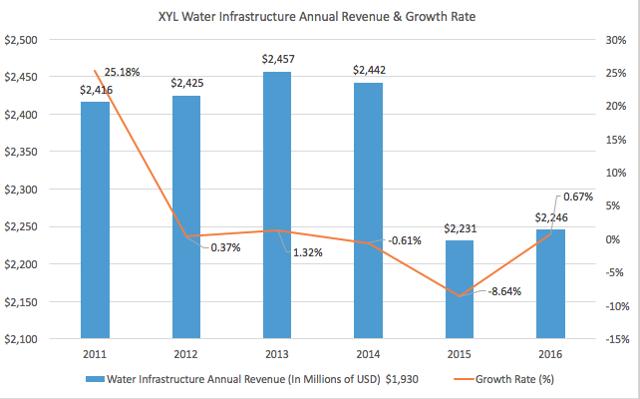 Exhibit: Water Infrastructure Annual Revenue (Source: Company Filings)
Applied Water
The Applied Water segment serves end markets in residential, commercial, industrial and agricultural industries. The building services applications that serves residential and commercial buildings (Hospitals, schools, retail stores, etc.,) had $764 million in revenue in 2016. Industrial Applications such as chemical manufacturers, clothing manufacturers, food and beverage companies had about $540 million in revenue in 2016. Irrigation applications include crop and livestock farms, aquaculture, golf courses and other turf applications had $89 million in revenue in 2016. Xylem estimates the market size of applied water segment at $19 billion. The building services applications and irrigation applications could see a good increase in revenue in the coming years. The building services could see revenue increases in Asia due to rapid urbanization and need for services such as schools, hospitals and retail centers within the cities.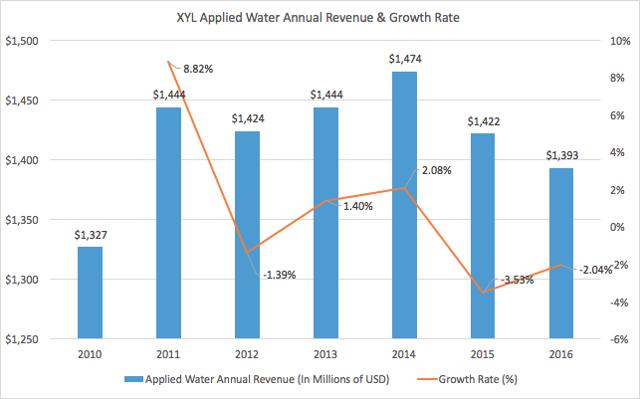 Exhibit: Xylem Applied Water Annual Revenue (Source: Company Filings)
According to the United States Department of Agriculture, approximately 80% of the nation's consumptive water is used for agriculture. In California - the largest agricultural state in the U.S. - 74% of all fresh water withdrawals is for irrigation. In India, 91% of the water withdrawal is for livestock and irrigation. Given that demand for water is outstripping supply in urban areas, there is growing movement to reduce water use in agriculture. That presents a great opportunity for Xylem in the agricultural sector.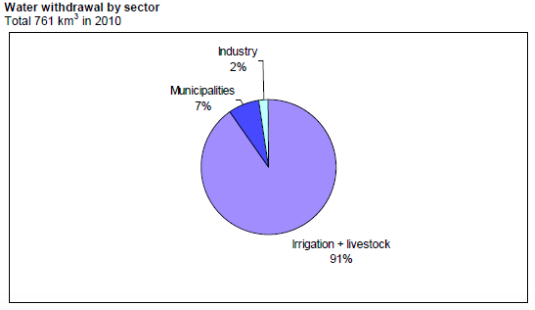 Exhibit: India's Water Use by Application (Source: Food and Agriculture Organization of the United Nations)
Overall, the growth prospects for Xylem in the water infrastructure business is bright in the long run. Xylem could see higher organic growth in the coming years. But, water and politics are intricately linked everywhere in the world, so crossing the environmental, regulatory and political hurdles take time. There are a couple of things to watch for in Xylem's filings:
Order Backlog
Increase in business from Asia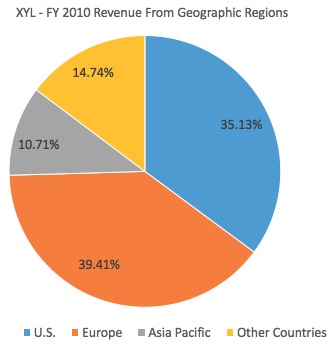 Exhibit: 2010 Xylem Revenue from Geographic Areas (Source: Company Filings)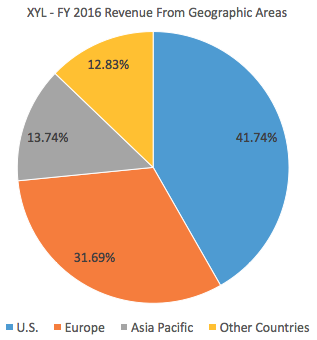 Exhibit: 2016 Xylem Revenue from Geographic Areas (Source: Company Filings)
Once projects are approved, their chance of being cancelled decreases substantially. So, order backlog in the water infrastructure business is a very good indicator of future growth. Revenue from Asia-Pacific has increased by 3% since 2010. Further growth from Asia may be a good indicator for Xylem.
I had recently done an article on Pentair (NYSE:PNR). Xylem is a more focused company than Pentair.
Water is essential to life. Given the challenges across the globe in transporting, purifying and managing groundwater, waste water treatment and water reclamation present large opportunities for Xylem in the coming decade.
If you like my articles, please consider following me.
Disclosure: I/we have no positions in any stocks mentioned, and no plans to initiate any positions within the next 72 hours.
I wrote this article myself, and it expresses my own opinions. I am not receiving compensation for it (other than from Seeking Alpha). I have no business relationship with any company whose stock is mentioned in this article.