Exchange traded fund sponsor Global X recently introduced an interesting ETF portfolio with a back-test outperformance between 1990 and 2014 of 310% over the S&P 500 minus these firms. This type of investment excellence is worthy of most investor's attention. The Founder-Run Companies ETF (BATS:BOSS) represents an interesting investment niche for those looking for a bit more potential oomph in their broader-based stock ETF selections. The overall attributes of founder-led companies can often offer exposure to investors from potentially different payoffs compared to non-founder CEO companies. I would put this ETF in a more speculative risk category, but with the huge advantage of selection diversification.
Mr Chris Zook, Bain and Company, published in the Harvard Business Review in 2016 a review of the performance of companies led by their original founders. Zook's review is a follow-up of a Purdue Krannert School of Management study titled, Founder CEOs and Innovation: Evidence from S&P 500 Firms that looked at performance of companies managed by founders between 1993 and 2003 and a similar 1999 study published in the Journal of Financial and Quantitative Analysis.
All three studies support the same thesis: companies led by their original entrepreneurs outperformed management teams that eventually replace them. Below is an eye-opening chart showing total returns for founder-led companies versus the balance of the S&P 500, from 1990 to 2014. Let the chart soak in for a minute.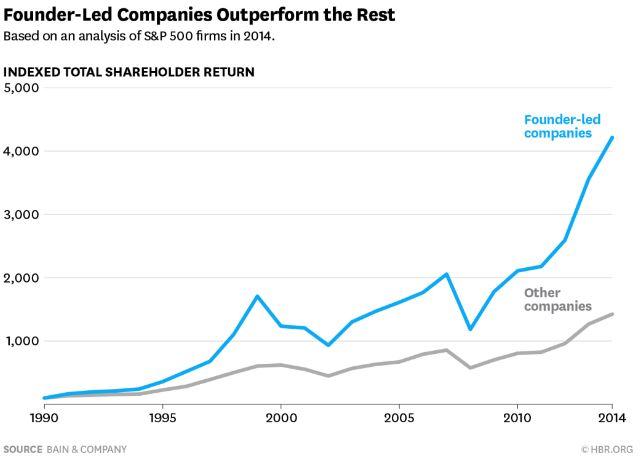 As Zook states in his review, "It begs the question Why?"
Generally speaking, Zook and the others believe company founders have a different mindset and management style that significantly impacts company performance, and these attributes are lost to subsequent managers. Zook terms these differences as the "founder mentality". Rather than trying to recap these critical attributes, below are small snippets from Zook's review:
Founder's mentality: They are not vague cultural notions that are hard to pin down and take forever to change. Rather, they are grounded in concrete actions and an approach to business that can be studied and emulated with rapid results. And that is good news for all companies: most of the practices that produce this successful performance are observable, learnable, and useable by all leaders immediately.

The first is the unique, spiky feature, or capability that gives a business special purpose. We call it business insurgency. My co-author James Allen refers to this as waging war on industry norms on behalf of underserved customers, as Netflix (NASDAQ:NFLX) did for video rentals, or to create a new market entirely, as Google (NASDAQ:GOOGL) has done, following its mission to organize all of the world's information. Lose this clear purpose and your company becomes directionless and uninspiring - especially to the millennial generation.

The second element of the founder's mentality is a front-line obsession - as the founder had. It shows up in a love of the details and a culture that makes heroes of those at the front line of the business and gives them power. Lose this deep curiosity for what is going on at the front line, and your company loses its instincts. At the extreme, your company becomes an out-of-touch bureaucracy where power shifts to corporate offices and to people who may never have served a customer or made a product.

The third element is an owner's mindset, the fuel that propelled the rise of private equity, whose essence is dialing up speed to act and taking personal responsibility for risk and for cost. Lose the owner's mindset and your company becomes complacent, slow to act and decide, and risk averse. Leaders can easily turn into custodians and then into bureaucrats, and bureaucrats are especially vulnerable today.
In addition, these studies show that new patent issuance is higher for founder-led firms and founders are more likely to take firms in different technological directions. Interestingly, these studies postulated founder-led companies tend to create higher financial value by taking on lower amounts of debt and paying themselves less. According to Zook's review:
Founder-run companies exhibit 52% lower debt-to-equity ratios than the S&P 500 as a whole. The average annual compensation for founder/CEOs is 32% less than that of the average S&P 500 CEO.
Ben Hortwitz sums it up pretty well in a blog on why his venture capital firm prefers founder CEOs:
Founders have the moral authority to make the hard choices, they know the detail of the business and have better instincts, and they have a long-term perspective on investments and building a company that lasts. Founding CEOs naturally take a long view of their companies. The company is their life's work. Their emotional commitment exceeds their equity stake. Their goal from the start is to build something significant…Professional CEOs, on the other hand, tend to be driven by relatively shorter-term goals. They are paid in terms of stock options that vest over 4 years and cash bonuses for quarterly and yearly performance.
Of interest is many strong company performers are managed by equally strong CEOs that are not founders, including Apple (NASDAQ:AAPL) founded by Steve Jobs and Berkshire Hathaway (NYSE:BRK.B) which Warren Buffet bought in 1965 and turned into the powerhouse it is today.
Enter Global X with the first ever ETF focused on founder managed firms. The Founder-Led Companies ETF was introduced in mid-February and is still under most investors radar. The ETF holds an equal-weight portfolio of 100 mid- and large-cap companies as identified by the Solactive U.S. Founder-Run Companies Index. The current top 10 holdings, as of March 16, are listed below, and the portfolio is rebalanced annually.
NVIDIA CORP (NASDAQ:NVDA) 2.22%
SEATTLE GENETICS INC (NASDAQ:SGEN) 1.76%
KITE PHARMA INC (NASDAQ:KITE) 1.72%
MASIMO CORP (NASDAQ:MASI) 1.71%
VEEVA SYSTEMS INC-CLASS A (NYSE:VEEV) 1.56%
NETFLIX INC 1.43%
CAVIUM INC (NASDAQ:CAVM) 1.36%
WESTLAKE CHEMICAL CORP (NYSE:WLK) 1.35%
MEDICINES COMPANY (NASDAQ:MDCO) 1.34%
MONOLITHIC POWER SYSTEMS (NASDAQ:MPWR) 1.31%
Sectors represented leans toward tech and health care, with these two sectors comprising 45% of the initial portfolio.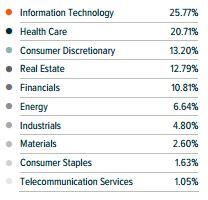 More information, along with a prospectus and fact sheet, can be found at Global X website, and annual management fees are pegged at 0.65%.
I like this ETF as it fits several of my investing thesis' and hot buttons. First, I use ETFs as a means of gaining exposure to sectors or strategies which are difficult to replicate with just a few individual selections. Founder-led companies would qualify as one such strategy. Second, the ETF portfolio holds companies that may be considered as higher risk, but mitigates the individual stock selection risk by blending in similar companies. Lastly, BOSS seems to offer the capital gains potential of smaller cap firms with the advantages of a larger capitalization. I strongly suggest investors read the reports, abstracts, and information linked above and determine if BOSS is a candidate for addition to your speculative portion of your portfolio.
I did and immediately took a starter position, and will be looking to add over time.
Author's Note: As a new ETF, trading volumes are quite light and limit orders should be utilized. Please review disclosure in Author's profile.
Disclosure: I am/we are long BOSS.
I wrote this article myself, and it expresses my own opinions. I am not receiving compensation for it (other than from Seeking Alpha). I have no business relationship with any company whose stock is mentioned in this article.