There is no question that the iShares Select Dividend (NYSEARCA:DVY) has been a stellar performer. The ETF returned 14.2% during the last five years, besting the 13.6% return of the S&P 500 which is no small accomplishment. Its performance earns a five-star rating from Morningstar. However, its odd weighting methodology and concentration in utilities leave it vulnerable to a market decline and rising rates.
DVY screens for stocks that have positive dividend per share growth during the past five years, an average dividend coverage ratio of at least 167% during that timeframe, paid dividends the past five consecutive years, and had positive earnings per share during the past year. Current index constituents are included in the universe regardless of their dividend growth rate, coverage ratio, and current year earnings-per-share. Stocks are then ranked in descending order by dividend yield and the top 100 are included. To help control turnover, current constituents are included if their dividend yield ranks in the top 200. Still, turnover is high for an index fund, averaging 23% during the past nine years compared to 18% for the Vanguard Dividend Appreciation ETF (NYSEARCA:VIG). High turnover and the large size of the fund have caused the fund to lag its index by 60 basis points during the past ten years, which is more than the fund's 0.39% expense ratio.
Constituents are weighted by dividend per share whereas most dividend ETFs weight by market capitalization, total dividends paid, or by dividend yield. Foregoing market cap weighting results a skew toward mid-cap companies, which tend to be more volatile and sensitive to the economy. It also results in a skew toward stocks with a higher share prices. For example, the ETF's largest position is in Lockheed Martin (NYSE:LMT) which has a share price of $267.56 and a dividend per share of $6.77. One of the smallest holdings is Staples (NASDAQ:SPLS) which has a share price of $8.76 and a dividend per share of $0.48. The average market cap for stocks in the fund is $19 billion compared to $50 billion for VIG.
DVY's odd weighting scheme and the large size of the fund make it a large owner of several of its stocks. For example, the fund owns more than 5% of the outstanding shares of 9 of its holdings, including Tupperware Brands (NYSE:TUP), Meredith (NYSE:MDP), Mercury General (NYSE:MCY), Bank of Hawaii (NYSE:BOH), Nu Skin Enterprises (NYSE:NUS) and Waddell & Reed Financial (NYSE:WDR). This results in DVY being one of the largest owners of some of these stocks. It is worrisome when a smart beta strategy ETF becomes the largest owner of a stock because it is forced to buy based purely on a mechanical rule, without any forward looking insight and one wonders what active managers might know that lead them to avoid the stock.
Valuation
Morningstar classifies DVY as a mid-cap value fund. Compared to other funds in that category, stocks in DVY look expensive, trading at a Price/Earnings ratio of 19.4x compared to 17.1x for the category. Compared to the S&P 500, DVY has about the same Price/Earnings ratio, but it has slower expected growth. Typically, investors pay a premium for faster growing companies, so relative to growth, DVY looks more expensive than the S&P 500.
Sector Concentration
DVY has a 29% weight in utilities compared to 6% for the mid cap value category, as can be seen in the below chart from Morningstar. While utilities offer high dividend yields, they also tend to be rate sensitive and slower growing. DVY's outsized exposure to utilities likely dragged on performance in the fourth quarter of 2016, when interest rates spiked. To compensate for its large overweight in utilities, the fund has an underweight in technology, health care and real estate (which are excluded in the methodology). Prior to the financial crisis, half of the ETF was invested in financials. From 2007 to 2009, the fund fell 30% compared to a 16% total decline for the S&P 500 and only a 7% decline for VIG. See this article for a nice overview of the utilities sector and how it might be impacted by higher rates.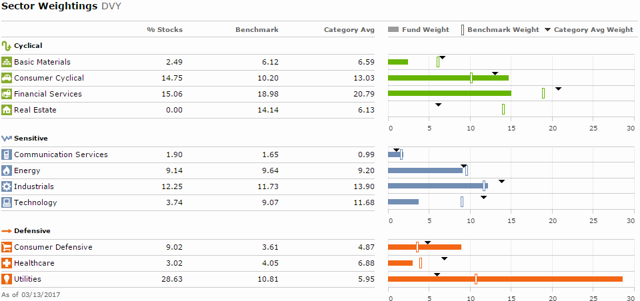 Conclusion
Investors have a wide variety of dividend ETFs to choose from, many with expense ratios less than 0.20%. Why then pay 0.39% for a highly concentrated dividend ETF with an odd weighting scheme. Investors would be better served in a quality, dividend growth orientated ETF particularly if there is a pullback.
Disclosure: I/we have no positions in any stocks mentioned, and no plans to initiate any positions within the next 72 hours.
I wrote this article myself, and it expresses my own opinions. I am not receiving compensation for it (other than from Seeking Alpha). I have no business relationship with any company whose stock is mentioned in this article.