Macro, Politics, and News
S&P 500
The S&P 500 opened the week at 2371.56, below last week's close of 2372.60. RSI continues to suggest that the S&P 500 is overbought at the weekly level. This has been the case since the beginning of February. Week over week, the S&P 500 has not really moved all that much, ending at 2378.21 or 0.2% over last week's close. This is consistent with last week's prediction that the market would move sideways for a while, as investors look for direction.
Volume for the SPDR S&P 500 Trust ETF (SPY) was slightly higher this week. That was mainly due to a boost in trading volume on Wednesday, caused by the reaction to the Federal Reserve's decision and outlook on rates.
Russell 2000
The R2K is really going nowhere slow. While there has been some fluctuation, the median value of the index has changed little in the last three weeks. That being said, RSI is still in overbought territory.
News
The Fed raised its interest rate by another quarter of a percent, and gave mixed signals about future rate hikes, suggesting that two more rate hikes may be in order. Markets reacted positively, with the S&P 500 reaching a high of 2390.01 before closing at 2385.26 for that day.
Initial jobless filing for the prior week came in at 241,000, slightly below the expected 243,000. Looking at just the jobless filings, the labor market seems healthy, but February CPI numbers, as well as real wage growth numbers, came in on Wednesday. Growth in average hourly earnings, adjusted for inflation, came in at just 0.1%. So basically incomes are going nowhere slow.
The Atlanta Fed downgraded its already dismal prediction for Q1 GDP. It now sits at just 0.9%. There are a number of different predictors for GDP, but a lot of people watch the Atlanta Fed.
Total industrial production was unchanged in February. Manufacturing increased by 0.5%, utilities decreased by 5.7%, mining increased by 2.7%, and capacity utilization was 75.4%.
Consumer sentiment creeped up, but not as much as was expected. Furthermore, as I mentioned in this week's Launchpad, sentiment in my market movers group, regarding the direction of the country, declined.
Geert Wilders was beaten by Mark Rutte, in the Dutch elections. This was not surprising. His poll numbers had fallen and it did not look like he had the support needed to win.
On Saturday, we learned that the G20 conference did not go so well in terms of fostering support for free trade. One of the goals of the summit was to assert a blanket reject protectionism. I have repeatedly mentioned why protectionism will likely be bad for the economy, and specifically why it would be bad for mining stocks, and the VanEck Vectors Gold Miners ETF (GDX), so this has me quite concerned.
Gold
The Fed rate hike seems to have helped gold recover a bit. This caused GDX to move significantly higher, reaching $23.04 at one point: well above it's $22 resistance level. However, Thursday and Friday saw a bit more bearish trading activity. I do not expect it to go too much higher, as it is hitting resistance around $23. For the week, the body of the candlestick is not all that large, even though it is an open candlestick. I do not see this as an overly bullish sign.
Volatility
Perceived volatility fell during the week. The VIX pushing below its 50 day moving average. Overall, the VIX moved from 11.66 at last week's close to 11.28, so even though there were significant intra-week movements, with VIX hitting 12.54 prior to the Fed decision, and dropping as low as 10.60 afterwards, week on week, little has changed. So I do not see this week's activity as a trend downward, and expect it to move higher again in the coming weeks.
Also, one of the reasons for the decrease in the VIX is likely due to Wilders' defeat. There was concern that if Wilders had won, it would fuel more populism in Europe.
USD/JPY
USD/JPY started the week at 114.73, just a hair below last week's close of 114.78. It then dropped considerably moving back to the lower end of the channel in which it has been been trading, closing at 112.65. That constitutes a 1.79% drop. Part of this movement was due to the weakening of the dollar, but that does not account for the totality of the movement. But week over week, the dollar index only dropped by about 1%.
Below is a chart of weekly price history for USD/JPY, created using ThinkorSwim.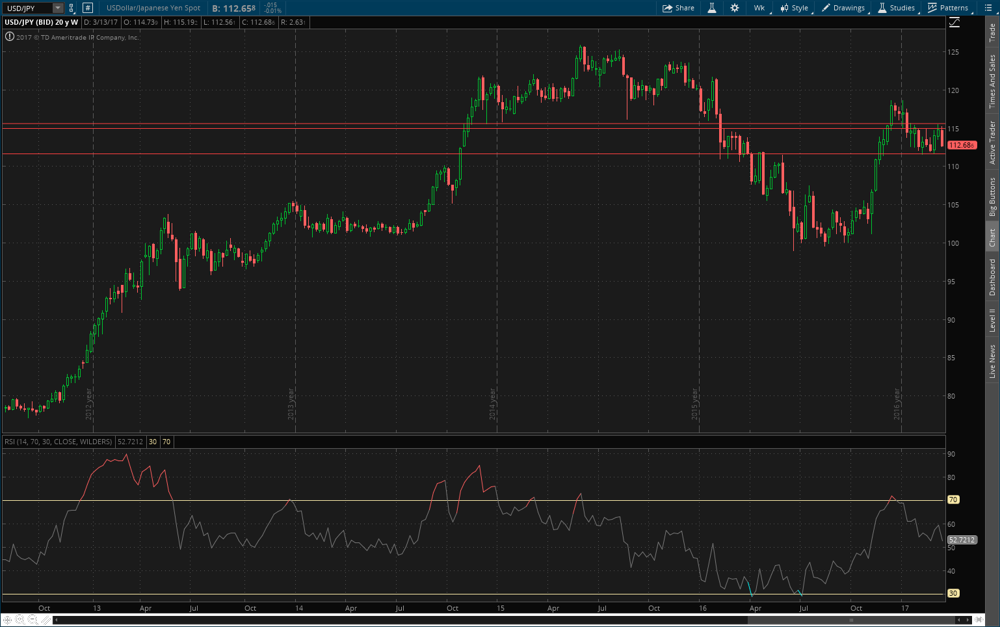 As I mentioned in "The Yen Vs. The VIX: 2 Aspects Of Attitude Towards Risk," the Yen can be seen as a measure of risk appetite. So the drop could be an indication of a slight decrease in willingness to take on risk. Still, USD/JPY has failed to break below the 111.60.
Looking Forward
Some might see Wilders' defeat as a blow to populism in Europe, and indeed it may be. However, it could also fuel populism in France. The defeat may signal a need for Le Pen supporters to step up their game a bit. Therefore, while the risk from the Dutch elections is gone, there is still a great amount of risk coming from Europe, and that is apparently showing up in hedges. According to Bloomberg, risk premiums for French bonds over bunds, while dropping slightly after the Dutch elections, rose back up by the end of the week.
If the Yen breaks the 111.60 support level, and starts a downward trend, I would become very concerned about the future of stocks. But for right now, I just see a continuation of a sideways movement.
This article took longer to release than normal, so I might not do a Launchpad this week. If I do not write one, I will try to write a midweek summary instead.
Summary of Articles
The week started with the Launchpad. I wrote one article on trading volumes and what they tell about current market conditions. When CPI and wage growth news broke, I wrote "Inflation And Declining Income And Sales Are The Real Story On Wednesday." I also write an article on the Japanese socioeconomic condition, "Japan: Immigration And Markets," as well as "The Yen Vs. The VIX: 2 Aspects Of Attitude Towards Risk." And I ended the week with "A 47 Year Comparison Between The S&P 500 And Gold."
On Politicoid, I wrote two articles for the week. One on marijuana, "Marijuana: The Push for Legalization," and one on fractional reserve banking, "Fractional Reserve Banking: The Myth of Creation of Money - Politicoid."
Disclosure: I am/we are long RWM,SH,VIXY.
I wrote this article myself, and it expresses my own opinions. I am not receiving compensation for it. I have no business relationship with any company whose stock is mentioned in this article.