For the benefit of readers, I spent a few hours digging through Alaska's publicly available reports to illustrate its severe budget deficit issues in a low oil price environment. I would argue that these massive deficits greatly enhance the probability that Northern Dynasty (NYSEMKT:NAK) gets an opportunity to file for permits and make its case for its Pebble mine under the rigorous permitting process.
At the outset, I was reminded why I strongly dislike doing municipal bond research, as this project was a bit of a flash back to my days working as a Senior Investment Associate in Liberty Mutual's Investment Grade Bond department. Anyway, for the benefit of readers, I grinded through this tedious task to illustrate the importance of high oil prices for Alaska's budget.
Without getting super technical and too deep in the weeds, Alaska essentially has two type of taxes on oil production: 1) A severance tax and 2) oil and gas royalties. The severance tax is much more important.
Before we start getting into formulas and ratios, let's take a look at Alaska's recent severance tax revenues since FY2012 (so for example - FY2012 is for the time period July 1, 2011 - June 30, 2012).

Source: Alaska FY2013 CAFR (page iii)

Source: Alaska FY2015 CAFR (page iv)
So as readers can clearly see, total petroleum revenue from FY12 to FY15 have fallen from $8.762 billion to $1.033 billion (or a $7.73 billion dollar decline).
Per the U.S. Energy Information Administration, they say the following about Alaska's severance tax:

On page 277 of Alaska's FY2015 CAFR, for the benefit of the more inquisitive minds looking for some mental gymnastics, see below. For all other readers, essentially we learn that when the major oil producers make money they pay more taxes as percentage of those profit. The biggest drivers of current profitability are volume and price. Given the crash in oil prices, the profitability of Alaskan oil has crashed too. Hence why Alaska has experienced a sharp fall off, particularly, in severance tax revenue.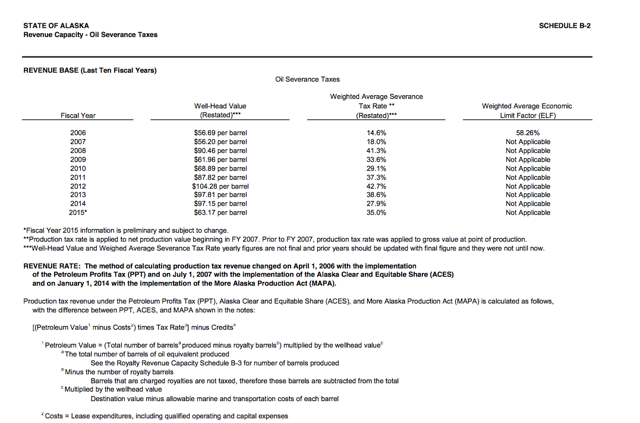 Source: Alaska FY2015 CAFR (page 277)
In terms of oil and gas royalty taxes, see below.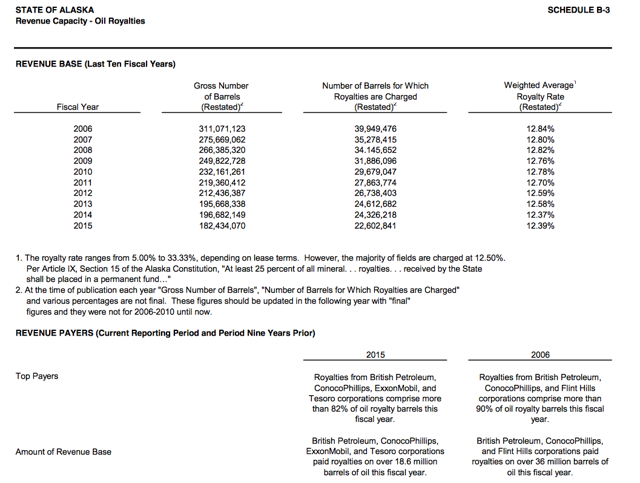 Source: Alaska FY2015 CAFR (page 278)
Alaska's Budget Deficits
As you can see below, in FY15, Alaska had a $5.4 billion deficit. The deficit would have been larger if interest and investment income from Alaska's large permanent fund didn't contribute $2.5 billion.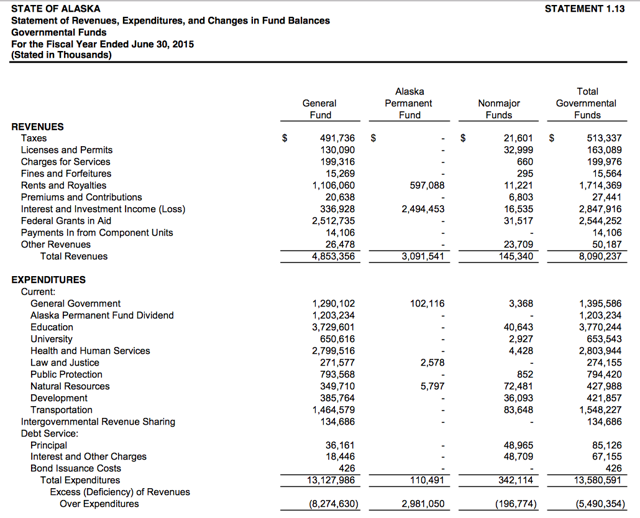 For some reason, even though Alaska's FY2016 officially closed on June 30, 2016, the state has yet to file its CAFR.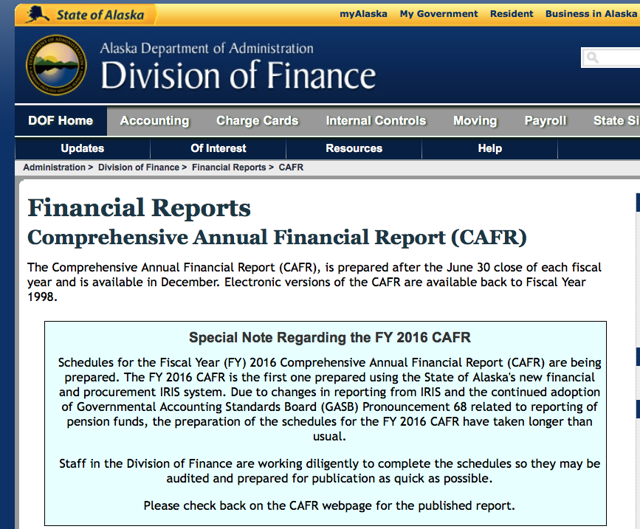 However, if you are persistent and know how to use Google then we can work out the approximate FY16 deficit.
Per Alaska Dispatch News, we learned that Governor Walker estimated the FY16 deficit will be $4.1 billion. Yikes!!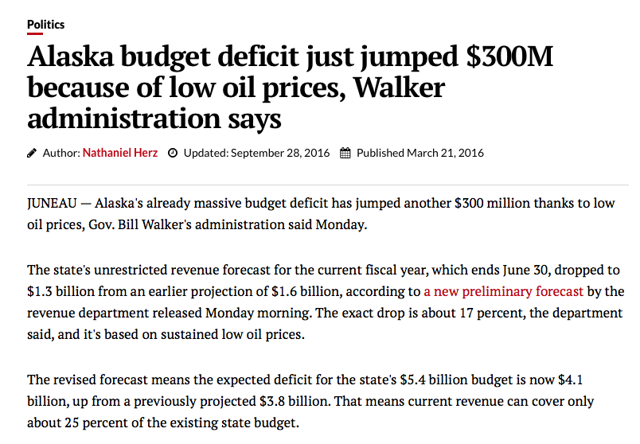 Source: ADN.com
As Alaskan residents have enjoy the benefit of no state income taxes or sales taxes, Governor Walker has now proposed a 6% state income tax (see NYT pieces). If enacted and adopted, this would mark the first time in 35 years that Alaska had a state income tax.
As recently as this week, the Alaskan permanent fund dividend looks like it will be capped at $1,000 for the next three years.
Source: ADN.com
For perspective, Alaskan's received a $2,072 dividend in 2015, a drop to $1,000 is sharp. This coupled with a 6% income tax would have a negative income on the multiplier effect and Alaska's economy.
Source: ADN.com
In January 2017, in Governor Walker's State of The Union address, he stated that despite cutting spending by 44%, Alaska was looking at a $3 billion deficit for FY17.

Source: State of Alaska website
In January 2017, Governor Walker released his blue print for his FY18 budget and again, spending has been cut to the bone and there will be a big deficit.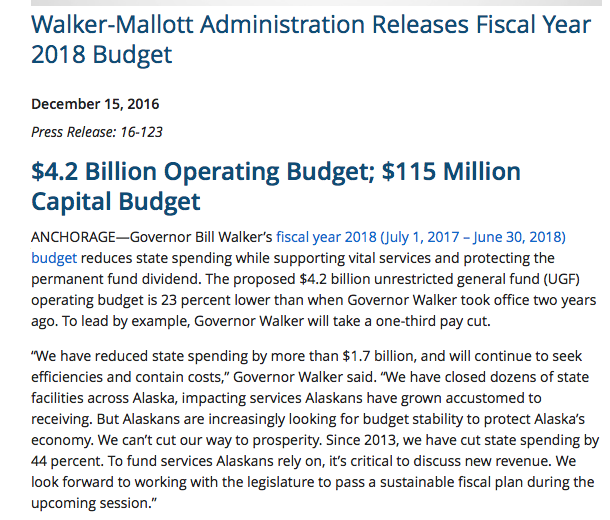 Source: State of Alaska Website
Also, let's take a quick look at Alaska's oil production.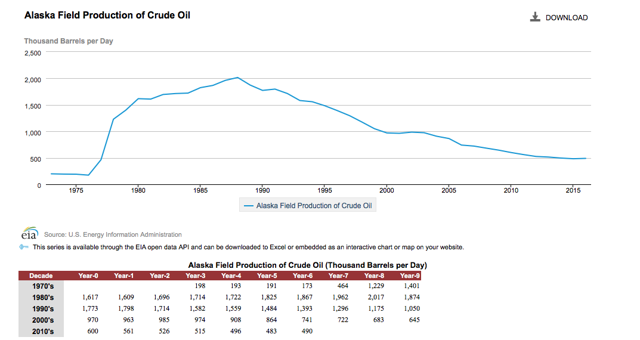 Takeaway
Despite Alaska's large permanent fund and its once large rainy day fund ($13 billion only a few years ago), in this Brave New World of lower for longer oil prices, Alaska will continue to run massive budget deficits. Moreover, they have cut expenditures by 44% and due to its reliance on high oil prices, it is impossible to run a budget surplus with oil under $60. As I have argued due to the advances in horizontal drilling and the tens of billion of in place infrastructure in prolific oil basins like Permian, Eagle Ford, and Bakken, big oil and the wild catters are investing their CAPEX dollars in those places. It has been well document that oil in the Permian can easily compete in a $40 oil world. And given the excellent takeaway capacity and proximity to refining capacity, the Permian, not Alaska is the place to be when it comes to oil.
Just take a look at the jump in oil rig count, despite the still relatively low price of oil.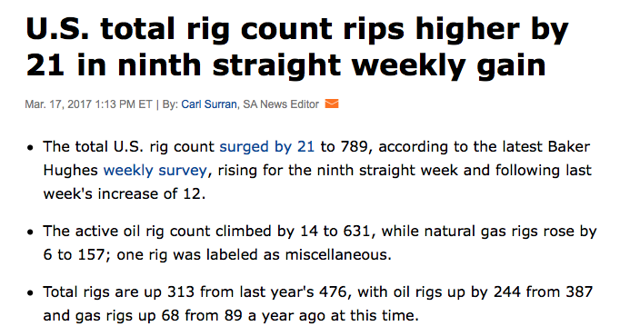 Source: Seeking Alpha
I don't recall reading of any this type of analyses within the 30 plus page Kerrisdale Report. I would argue given the dire straights the state of Alaska is in a low oil price world, it is be moronic not to have the preemptive veto for Northern Dynasty's Pebble Mine thrown out. Alaska is already eating into its seed corn and Alaskan citizens are set to face the economic headwinds with the decline in the permanent fund dividend and the real prospect of a 6% state income tax.
Disclosure: I am/we are long NAK.
I wrote this article myself, and it expresses my own opinions. I am not receiving compensation for it (other than from Seeking Alpha). I have no business relationship with any company whose stock is mentioned in this article.