As you're undoubtedly aware, Wall Street and investors in general have an uncanny knack for not learning anything from previous mistakes.
As you're also undoubtedly aware, I am no fan of the "a sustained rebound in oil prices is just around the corner therefore I should be buying and/or hanging onto high yield assets" investment thesis.
This is going to be a (relatively) short post. And that's by design. Sometimes the most effective way to make a point is to be as concise as possible.
This is one of those times.
So the 13-month rally in high yield (NYSEARCA:HYG) is in no small part attributable to rebounding oil prices (NYSEARCA:USO). That is, the following chart is not a coincidence.

Now obviously, you should have taken some off the table in HY late last month even if you thought oil prices were headed higher. To see why, simply look at cash and synthetic spreads versus WTI:

See, spreads had compressed to levels last seen when oil was at roughly $90, so there was nowhere else for this rally to go even if oil moved higher unless you thought HY spreads were going to simply converge on IG spreads which is obviously absurd.
But oil didn't move higher. It collapsed ~10% last week. And unsurprisingly, the correlation between oil and HY spiked, and everything to do with HY sold off.


Everybody panicked. First in ETFs: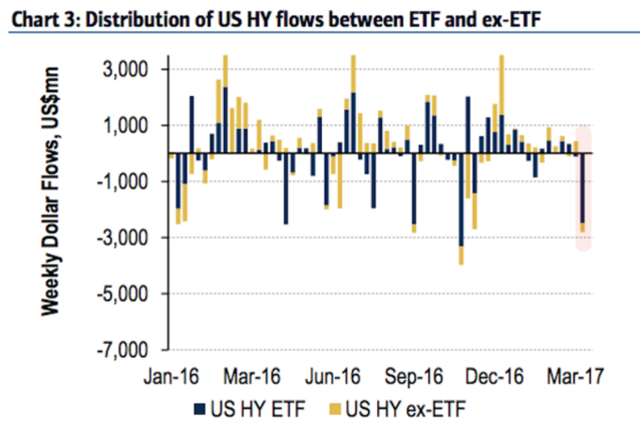 (BofAML)
And then in their less liquid mutual fund cousins: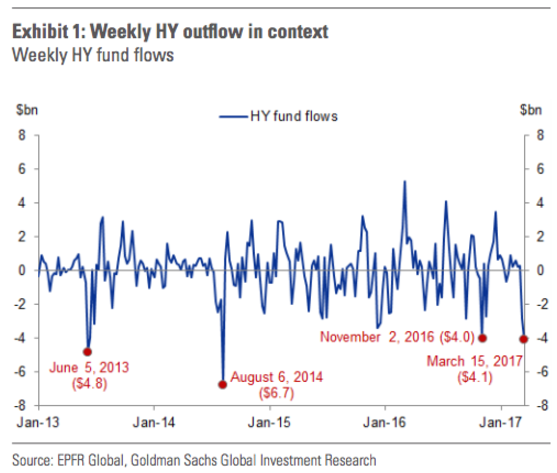 (Goldman)
Here's Goldman from a note out late Friday (my highlights):
US HY funds weathered a $4.1 billion outflow over the past week for the 3rd largest weekly redemption on record, according to EPFR (Exhibit 1). Over three-quarters of this week's outflow came from mutual funds-a departure from the prior week when HY ETF outflows dominated, with $2.5 billion exiting in more of a momentum-driven retreat ahead of the FOMC. Not only does this two-week trend wipe out the $2.3 billion of cumulative HY inflows in the prior weeks of the year, but the weak HY retail sentiment compares to inflows into IG over the past two weeks, totaling $1.7 billion and $2.3 billion.
There you go. That's what happens when retail completely freaks out.
Now coming full circle to how no one every learns anything, it only took a couple of days for sentiment to turn around. Tuesday's API print showing a surprise draw in US crude inventories and the subsequent confirmation we got on Wednesday morning from the EIA was enough to help crude stabilize a bit.
Apparently that's all BofAML needed to not only recommend going long the very same CDX HY shown above ("default risk" in the charts) but to suggest that HY OAS could compress by 48bps. To wit (my highlights):
We analyzed the exposure of various sovereigns and sensitivity of the overall EM and HY markets to a change in oil prices and found that the US HY bond spreads are actually the most sensitive to changes in oil prices. EM sovereign and EM Corporate bond spreads follow, but with a lower beta. We estimate that a 10% increase in oil prices (around $5) would make the OAS spread of the BofA Merrill Lynch US HY Index drop by about 24bp (6%) and the BofA EM Sovereign index, EMGB, by 11bp (4%). Should oil rally $10, less than our commodity analyst forecast, from the current $52 to $62 by the end of 2Q (up 19%), the HY spread could decrease 48bp.

US HY investors have reduced their HY exposures to underweight, but they report that they also continue to reduce their EM corporate bond exposure, according to our investor survey. Our HY research team thinks that the underweight could cause spread compression, because investors may find it difficult to find alternative high yielding assets.
So not only are they recommending staying long HY, BofAML is actually asserting that generally poor sentiment is a reason to believe that further spread compression is just around the corner.
But believe it or not, that's not the punchline. Rather, the punchline is that on Friday we got another fracker IPO in "ProPetro".
Why is that funny? Well because this is what happened to the last fracker IPO:

So that's how things turned out for investors in ticker FRAC.
But apparently neither that experience nor the oil plunge and subsequent mass exodus from HY that accompanied it were enough to deter folks from buying shares of PetroPro, which closed up nearly 4% after debuting on Friday.
The ticker for PetroPro: "PUMP."
Draw your own conclusions.
Disclosure: I/we have no positions in any stocks mentioned, and no plans to initiate any positions within the next 72 hours.
I wrote this article myself, and it expresses my own opinions. I am not receiving compensation for it (other than from Seeking Alpha). I have no business relationship with any company whose stock is mentioned in this article.