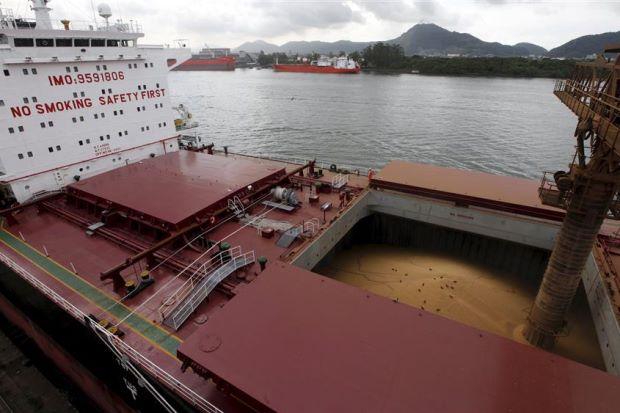 Something interesting is happening on the international dry shipping routes. Daily rates for the largest dry bulk transport vessels, the Capesize, are soaring to all-time highs while the medium-sized Panamax ships are seeing daily rates decline. March 17, 2017, marks the 7th day of consecutive decline in daily Panamax rates while both Capesize rates and the overall Baltic Dry Index soars.
Both the Capemax and Panamax indices will depend on one thing going forward: Chinese imports. Specifically, investors will need to watch Chinese demand for iron ore and soybeans. Chinese soybean demand may drive the Panamax index up by late April and onwards, and this may be bullish catalysts for a Panamax-driven stocks like DryShips (NASDAQ:DRYS).
Capesize Index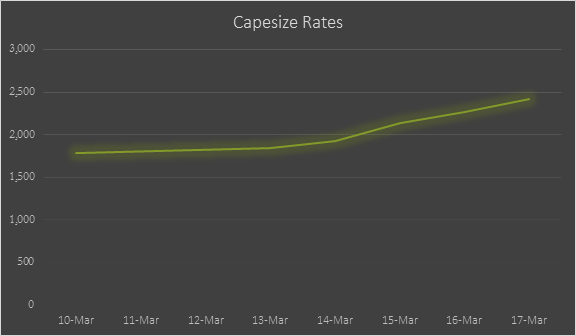 Panamax Index.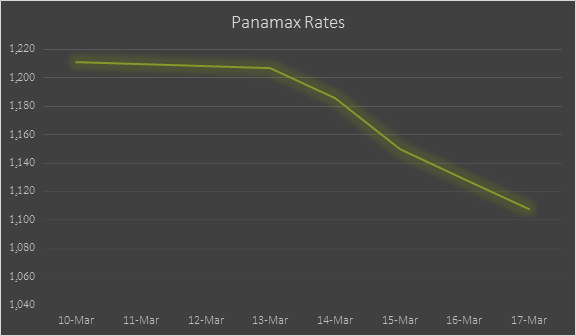 DryShips' dry bulk portfolio is made up entirely of Panamax vessels, and that is why the stock is getting no benefit from the increasing rates for Capesize. However, there may be some good news for the Panamax index in the coming months: The Brazilian soybean season. March and April are harvest season for soybeans, and dry bulk soybean exports from Brazil to China may drive up rates for Panamax vessels by late April and onwards.
China has an insatiable appetite for soybeans, and the country consumes around 60 percent of the world's harvest for livestock feed and other uses. The three leading producers of soybeans are the United States, Argentina, and Brazil. However, for near-term Panamax rates, the primary focus in Brazil. And Brazil is poised for blowout soybean exports because the high dollar will probably make U.S-growth soybeans less competitive vs. their South American counterparts.
Conclusion
The main factor driving the Baltic Dry Index, now and in the coming month is trade between Brazil and China. Chinese iron ore demand is driving up Capesize rates while Panamax rates are falling. However, the Panamax-dominated soybean transport from Brazil to China may boost the Panamax index by late April onwards.
Brazil is poised to have a good soybean season because the high dollar may make U.S exports to China less competitive vs. South American counterparts. DryShips remains a risky stock, but there may be an opportunity for a profitable swing trade in the next few months. This is not a recommendation to buy or sell any security.
Disclosure: I/we have no positions in any stocks mentioned, and no plans to initiate any positions within the next 72 hours.
I wrote this article myself, and it expresses my own opinions. I am not receiving compensation for it (other than from Seeking Alpha). I have no business relationship with any company whose stock is mentioned in this article.
Editor's Note: This article covers one or more stocks trading at less than $1 per share and/or with less than a $100 million market cap. Please be aware of the risks associated with these stocks.