On March 13th Intel (NASDAQ:INTC) announced it was purchasing automated driving technology company Mobileye (NYSE:MBLY) for $15.3B or $63.54 per share. We have been owners of Intel stock for some time and this deal has us seriously thinking about selling. In our opinion, Intel has massively overpaid for a company that has few competitive advantages outside of being a first mover.
For those unfamiliar with Mobileye below is a summary of the company's business from their latest 20-F
We are the global leader in the development of computer vision and machine learning-based sensing, mapping and driving policy technology for Advanced Driver Assistance Systems ("ADAS") and autonomous driving technologies. Our sensing products are able to detect vehicles, pedestrians, general objects and roadway markings, such as lanes, road boundaries and barriers. The products can also identify and read traffic signs, directional signs and traffic lights. These sensing products are used to build an environmental model of the vehicle's surroundings, which is the core information used by ADAS-equipped vehicles to avoid and/or mitigate dangerous situations and by autonomous vehicles to safely navigate the world's roads. These core capabilities and technologies also enable us to create a RoadBook™ of localized drivable paths and visual landmarks using our proprietary REM technology. This is accomplished by crowdsourcing and processing data from vehicles equipped with camera-based ADAS systems, which data we intend to pursue through cooperation with our partners.
In 2016 Mobileye generated $358M in revenue and $108M in net income. Intel is paying almost 43 times revenue and 141 times earnings to acquire a Tier 2 auto parts supplier (albeit a technologically advanced one). Yes, the company grew revenues almost 50% from last year and is at the forefront a technological revolution for cars but in our mind there is very little to justify the amount Intel spent.
We'll go through our analysis and valuation of Mobileye below to show why we think Intel substantially overpaid.
Valuation
Revenues
It's probably a safe bet that eventually all new vehicles on the road will have some type of autonomous driving technology or very advanced driver assistance devices. Features that used to be standard on expensive luxury cars begin to filter down through to economy cars as the years go by. Just look at the Honda Accord for example. It now can be had with adaptive cruise control, automatic braking, road and lane departure warning systems, multi-angle rear view camera, and blind spot sensor - things that would have only been available on a top of the line S-Class Mercedes a decade or so ago. Therefore, the eventual total addressable market for Mobileye should be pretty much every new vehicle produced. For our estimates for Mobileye let's say that in 10 years time every single vehicle will have some type of driver assistance device.
In 2016 there were about 90M light vehicles (under 6 tonnes) and 2.68M heavy duty vehicles (over six tones) manufactured (source). Recent projections for auto sales show estimates of about 100M new light vehicles being produced around 2027. Projections for 2027 from sources that are a few years old show higher numbers, around 126M vehicles for 2027. It seems as though forecasters are simply extrapolating current growth rates out into the future. Right now we are seeing a bit of a slowdown in auto sales so for our assumptions let's be generous and use an older projection when new sales growth rates were higher. We'll justify this by saying that the current sales slowdown is just a temporary blip in a strong longer term growth rate.
So, we'll use 125.85M light vehicles sold (a 3.41% annualized growth rate from today). We'll also assume that 2027 sales of heavy duty vehicles will be 3.75M (using the same ratio of light duty to heavy duty sales as in 2016).
Market Share
Mobileye has been one of the first movers in the assisted and automated driving field. In 2015 the CEO claimed the company had 90% market share. This seems a bit high to us given the intense competition in the field. Jeffries recently estimated that the company has a more realistic 65% market share.
While Mobileye is the dominant firm now, competition is increasing. Mobileye currently sells its products to Tier 1 auto suppliers who then in turn sell them to the major auto manufacturers. However, Mobileye is now in the strange situation of competing with its own customers. It sells its products to Autoliv (NYSE:ALV) and Delphi Automotive (NYSE:DLPH) but both of those companies are developing their own automated driving products. Other competitors include Continental, Bosch, Nvidia (NASDAQ:NVDA), and even Google (NASDAQ:GOOG)(NASDAQ:GOOGL) and perhaps Apple (NASDAQ:AAPL).
In 2015 Citron Research released a short piece on Mobileye with low R&D expenditures compared to peers along with increasing competition were two key points they cited. Being bought by Intel certainly takes the lack of R&D point off the table as Mobileye will now have access to Intel's vast R&D resources. However, it still doesn't change the fundamental nature of a marketplace that is packed with competitors. For our valuation we will stay optimistic and assume that Mobileye, now with the help of Intel's vast financial and technical resources, is able to keep its 65% market share.
Margins
The auto parts business is generally a low margin one. There are many different suppliers all producing very similar components and auto manufacturers can put tremendous pressure on suppliers to lower costs.
In its OEM segment Mobileye reported that its average selling price was $43.7 in FY2014 and $45.00 in FY2016. That's an annualized increase of .98%! Mobileye's ASP is barely keeping up with inflation. Management has stated that they believe that ASPs will rise as products become more complex and as manufacturers start incorporating more features into their vehicles. For example, a car that might be currently sold with just a adaptive cruise control and a lane departure warning system may several years down the road be offered with a more fully fledged autonomous driving suite.
We are little bit skeptical about the claim that ASPs will rise significantly. The long-term trend for almost all technology products is one of falling prices. Additionally, we are already seeing more sophisticated driver assistance suites being fitted to new vehicles so we should already being seeing good growth in ASPs. For our valuation we projected ASPs to grow at their historical rate and for both the OEM and aftermarket segment to maintain their current operating margins of 30.26% and 47% respectively.
Aftermarket Division
Mobileye also has an Aftermarket division that sells driver assistance products that can be retrofitted onto older vehicles. This segment is much smaller then Mobileye's OEM segment with FY2016 sales of $82.2M compared to $275.9M for the OEM segment. For our valuation we'll be generous and assume the same ratio of OEM to aftermarket sales for our projection.
Final Valuation
Using the previous assumptions, we can build a valuation model of what Mobileye is worth. We'll be using a 10% discount rate (approximately the long-term average annual return for the stock market) and we'll keep Mobileye's tax rate at its current 13.5%.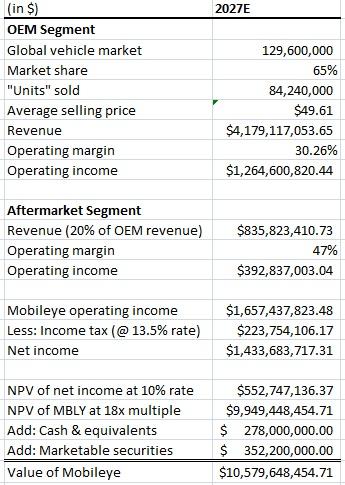 Using what in our opinion are quite generous assumptions about the degree of competition in the market and the timeline for ubiquitous adoption of driver assistance technology we find that Mobileye is only worth around $10.5B.
So, that begs the question what assumptions would we need to make to get to the $15.3B Intel paid for the company? Well we don't think there will be a big change in the total number of vehicles sold worldwide. The growth rate is pretty steady and a few million here or there isn't going to make a big difference. We also think it's unlikely that Mobileye will grow its market share as new competitors enter the field.
That leaves average selling prices and the related profit margins as the only variable we can see a meaningful case for changing. It is also the variable where we disagree the most with management's projections. If we raise average selling prices to $73 we can construct a scenario where Mobileye is worth $15.3B.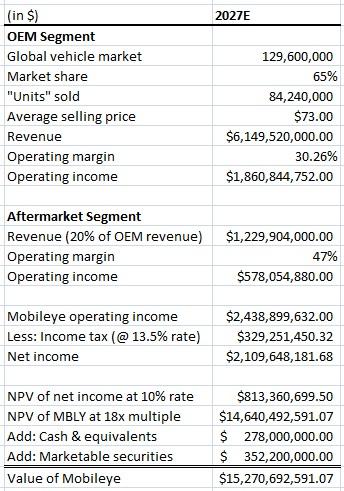 Is this scenario likely?
Well, it's important to remember that around 70% of all mergers and acquisitions fail to meet their financial targets. So we should be skeptical of any purchase any company makes because the base case is one of likely failure. When looking at Mobileye we see that a lot has to go right for the deal to make sense to Intel and it's shareholders. Driver assistance technology needs to be adopted and offered on almost every vehicle sold over the next decade. Mobileye has to successfully fend off the competition and maintain its current market share. Mobileye has to be able to raise prices significantly faster than it has been as well. That's asking a lot and we are skeptical that the deal will work out in Intel's favor.
Disclosure: I am/we are long INTC.
I wrote this article myself, and it expresses my own opinions. I am not receiving compensation for it (other than from Seeking Alpha). I have no business relationship with any company whose stock is mentioned in this article.