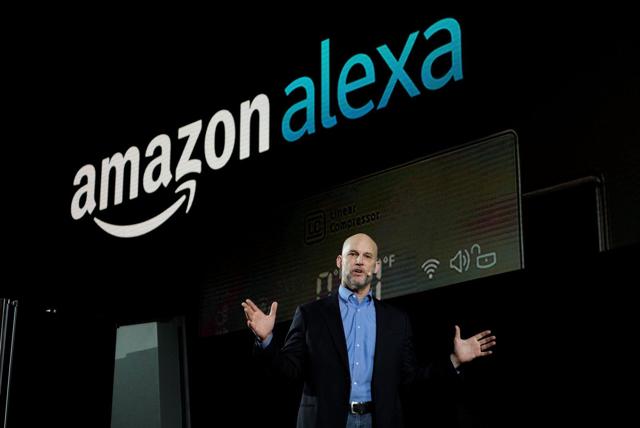 source: indilens
Recently I talked about how aggressively Amazon (NASDAQ:AMZN) was pursuing the voice personal assistant market, focusing primarily on the short-term outlook of market penetration of Amazon Echo and Alexa. Here we'll look at the latest steps the e-commerce giant is taking to go beyond its own device and have Alexa embedded in its competitors' devices.
This is important because the number of users of Apple's (NASDAQ:AAPL) iPhone and smartphones using Google's (NASDAQ:GOOG) (NASDAQ:GOOGL) Android is very high. To go after that market while seeking to have itself part of the home experience puts its competitors on the defensive as they have to not only try to grow their own market share but defend themselves from being overtaken in their own back yards.
In a way, with voice virtual assistants becoming a major growth market segment of the future in tech, it's probably good for Amazon that its attempt to introduce a smartphone failed. Like it does in retail, now it can compete without a physical presence, focusing primarily on invading existing hardware ecosystems. In other words, it doesn't have to defend against its own smartphone devices as any success with its competitors' devices will make it harder to root the company out of them as it expands its presence into further devices and smart home appliances.
Amazon's strategy to enter iPhone and Android territory
On the iPhone side, Amazon has upped its potential by offering Alexa as a main shopping app on iOS. This is a step up and should generate more interest from users. Amazon did have an iOS presence before, but was only available as a standalone app. This move will allow a lot more users to have access to Alexa than before on iPhones.
As for Android phones, Amazon recently partnered with Huawei to embed Alexa into its Mate 9 smartphone. It is also in negotiations to integrate Alexa in some of Motorola's Moto smartphones in the future.
Not only is this a smart move to expand Alexa's presence across giant existing platforms, but it puts its competitors on the defensive.
For some who think there would be resistance from iPhone users, I don't think that's the case. There is already dissatisfaction with the quality of Siri, and the majority of iPhone users choose it as a status symbol. If users are talking into them in a social situation, for the most part there probably won't be any way of knowing which voice service is being used, and even if it's Alexa, it could become such a dominant force it may be considered the cool way to use the device, making it almost impossible to dislodge.
If that scenario plays out, Alexa and iPhones would be joined at the hip, with Amazon being the big winner. The same thing would go for Android, although the branding isn't as strong with that as iPhone, so Alexa, if it retains and grows its market lead, could become a status symbol of its own, in regard to Android.
What the voice virtual assistant battle is all about
To make it easy to understand, think of the battle for voice dominance in a similar way to when Microsoft was battling for share of desktop operations with Windows as the market transitioned from a command line to a visual preference.
It's control of the computer that was being battled over and the revenue streams that came from it, that was at stake. The same is the case in this battle, with the stakes even higher, as the Internet of Things invades almost every areas of life, including our homes and transportation.
Those who dominate voice will dominate the market. The market leaders will be able to develop a variety of products or services to offer to customers, generating a huge revenue stream. Of course Amazon Echo is already a part of that, but there is even bigger potential with Alexa.
Conclusion
Whoever wins the voice assistant battle will essentially determine the basic smartphone experience of users, and ultimately, various devices in businesses, vehicles, homes and whatever social situation people are in using their smartphones or other small devices. Voice commands will literally be spread across the world, and the benefit of that to Amazon and others can't be overemphasized.
Once this plays out and the winner emerges, the entrenchment in users' various appliances and devices will make it difficult to extract. It's one thing to make a decision about a smartphone, it's another to remove it from all the various products being used in the home and away from the home. This is why the battle is to place Alexa and competing products in every available device. Once it's integrated across the entirety of a consumer's products, it will probably be there for life.
Some time in the future there may be third-party voice assistants emerging as competitors offer the equivalent of Linux as an option. But that would be a long time in coming, as there has to be a market before an alternative to it is offered. That won't happen for many years.
For now, I'm betting on Amazon to win this battle, and I see it as being a terrific addition to its business line, one that could rival e-commerce and surpass AWS. Not only will it increase revenue, but it will increase earnings because of wider margins.
I like Amazon's aggressive strategy in the smartphone market, as it can grow share on the back of its competitors as the market catches up with the growth of the Internet of Things.
Amazon Echo will do very well, but Alexa will eventually be the big story as it permeates the market and spreads beyond Amazon's own hardware.
Disclosure: I/we have no positions in any stocks mentioned, and no plans to initiate any positions within the next 72 hours.
I wrote this article myself, and it expresses my own opinions. I am not receiving compensation for it (other than from Seeking Alpha). I have no business relationship with any company whose stock is mentioned in this article.