Welcome to the weekly natural gas recap edition of Natural Gas Daily!
Natural gas prices fell 2% this week, back below $3/MMBtu.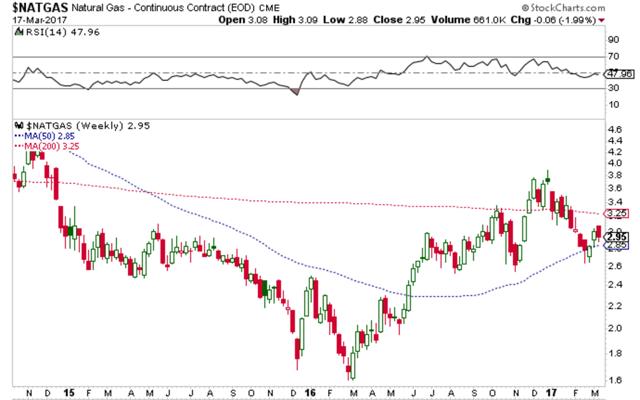 In our last week's "Weekly Natural Gas Recap," our new section in our premium write-up, "What are the traders saying," pointed to negative selling pressure as natural gas attempted a rally above $3/MMBtu on the back of the late winter storm.
The start of this week was no different. In our Monday premium update to subscribers, our WATS (What are the traders saying) section said:
Our discussion with two physical gas traders point to the disappointing natural gas rally today being caused primarily by longs liquidating positions and the bearish 11-15 day backdrop.

They think some of the traders that were stuck with long positions during the sell-off were waiting for this rally to sell into. The price rally above $3 came on very bullish weather revisions for the near-term, but once the cold dissipates, it will be a focus on the fundamentals again. US gas production has made a rebound and touching the 71 Bcf/d level, which they point to as negative pressure on the market. They have been selling into this rally as well, and look to capture volatility along the curve.
Natural gas prices, as a result, dipped below $3/MMBtu on Thursday and sold off to $2.90/MMBtu, before rebounding higher.
From a fundamental point of view, current supply and demand support gas prices above $2.90/MMBtu. The range remains unchanged at $2.60-3.10/MMBtu. With prices where they are today, traders and the fundamental range suggests very little upside to go long in the near term.
As winter approaches its finale, more of our attention will be shifted to forecasting supply and demand dynamics over the next several months. Current fundamental forecasts continue to support the bullish natural gas thesis and argument for why natural gas supply must rebound swiftly if the summer months are expected to see adequate injections. Here's a chart recently published by Geckoi Capital that clearly explains what we are seeing as well: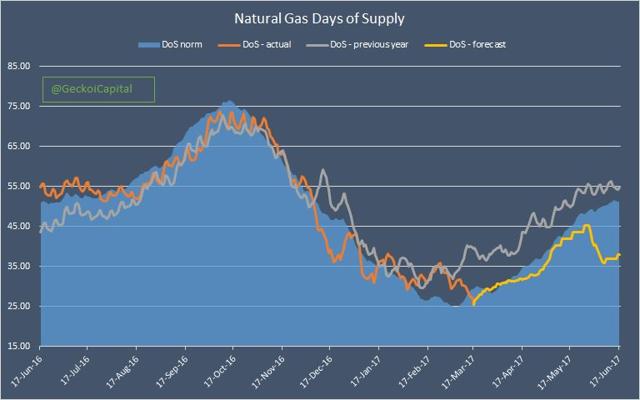 (Source: Geckoi Capital)
PointLogic currently projects a total of 4.5 Bcf/d of supply coming on-line throughout 2017. The expected exit production is around 75 Bcf/d or 1 Bcf/d higher than our current projection. Some might ask: If you are expecting natural gas supply to rebound, how can you still be bullish?
The overwhelming supporting answer to our bullish thesis is that even with an increase in natural gas production of 4.5 Bcf/d this year, the structural deficit that persisted from the second half of 2016 and the growth in demand in 2017 won't be fully satisfied. The issue with the bulk of the supply increases will also be mostly back-weighted towards Q4 this year as suppliers target higher seasonal gas prices for when they plan to bring on additional production.
From the supply lens, current weekly average for US gas production sits around 70.8 Bcf/d. We currently project US gas production to rebound to 72 Bcf/d by May, but because of the back-weighted nature of the production, 2017 production average will likely be lower than 74 Bcf/d, as the first half of 2017 saw disappointing production growth.
As we update our projections on a daily basis, the current EOS November range is between 3.3 Tcf and 3.7 Tcf. The 400 Bcf difference is the difference in forecasted structural deficit and weather. If summer 2017 turns out to be just as warm as 2016, we could see storage of only 3.3 Tcf by November EOS. If summer 2017 is less warm than normal, then we could see storage of 3.7 Tcf. Projections will likely change as we move forward.
Overall, our long-term bullish thesis remains intact, as we recently added to some US natural gas producers. Short term, however, price upside will likely be capped, and traders we discuss with daily aren't feeling very bullish with the fundamental backdrop.
HFIR Energy is the energy arm of HFI Research. All natural gas articles will be published through this account going forward.
Please be sure to hit the follow button above for our latest public articles. In addition, HFIR Energy is launching a cheaper natural gas only premium subscription service. This service only includes the natural gas content we currently publish through our main premium service, HFI Research. If you are interested, you can sign up here.
Disclosure: I/we have no positions in any stocks mentioned, and no plans to initiate any positions within the next 72 hours.
I wrote this article myself, and it expresses my own opinions. I am not receiving compensation for it (other than from Seeking Alpha). I have no business relationship with any company whose stock is mentioned in this article.