Healthcare REIT LTC Properties Inc. (NYSE:LTC) makes a good value proposition for income investors: The company has invested a lot of money into the growth and development of its real estate portfolio, and growing long-term demand for senior-related healthcare facilities will likely translate into growing FFO and dividends in the years ahead, too. LTC Properties has good dividend coverage, and retains potential to grow its dividend. Though the REIT's shares are fairly valued, the 5 percent starter yield is still worth buying.
Healthcare real estate investment trusts profit from an aging population. The older people get, the more demand there will be for skilled nursing facilities, senior living communities and other specialized senior-focused healthcare providers. As a result, investing in senior-related healthcare facilities is a good way to produce recurring (dividend) income for years, if not decades to come. Therefore, healthcare REITs as income vehicles should be in everybody's income portfolio due to the sector's compelling growth prospects.
No Worries About LTC Properties' Dividend...
When it comes to buying dividend stocks for our income portfolio, we better make sure that we buy companies that have no problems in terms of covering their dividend. In fact, the higher the degree of dividend coverage, the safer the dividend will be.
LTC Properties' dividend coverage is robust, so there is very little risk of a dividend adjustment. The company's funds from operations are sufficient to cover the REIT's dividend payout, and they have been for a while. LTC Properties pulled in an average of $0.76/share in funds from operations in the last six quarters which compares favorably to an average dividend rate of $0.54/share. LTC Properties' high degree of dividend coverage makes the REIT's dividend very safe indeed.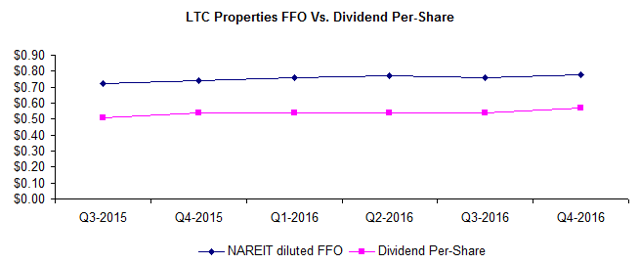 Source: Achilles Research
LTC Properties' FFO payout ratio has fluctuated in a narrow band of 70-73 percent in the last six quarters, attesting to the REIT's high quality cash flow. The average FFO payout ratio was 72 percent.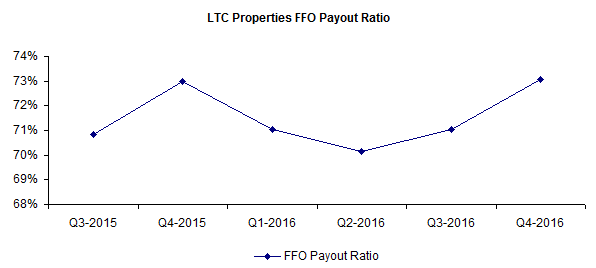 Source: Achilles Research
Not Too Cheap, Not Too Expensive
LTC Properties is no bargain, that's for sure. The healthcare REIT has reliably grown its dividend payout over time, and raised the monthly distribution rate from $0.18/share to $0.19/share in the fourth quarter 2016, reflecting a 5.6 percent increase.
Based on LTC Properties' fourth quarter funds from operations, income investors today pay ~15x Q4-16 run-rate NAREIT FFO for the healthcare REIT's shares. As far as I am concerned, that's fairly valued. However, LTC Properties' high 4.90 percent yield, covered dividend, and monthly distribution frequency make this a price worth paying.
Your Takeaway
LTC Properties is not on sale, but it doesn't have to be in order to be a compelling buy for income investors. The healthcare REIT rides one of the biggest trends in the economy - growing demand for senior healthcare - and the company has made a long-term commitment to this trend by investing in an expanding portfolio of senior-related healthcare facilities. LTC Properties' has robust dividend coverage, and the dividend is about as safe as it gets. Since the company pays a monthly dividend and the yield sits just below 5 percent, LTC Properties is a buy in spite of a fair FFO valuation.
If you like to read more of my articles, and like to be kept up to date with the companies I cover, I kindly ask you that you scroll to the top of this page and click 'follow'. I am largely investing in dividend paying stocks, but also venture out occasionally and cover special situations that offer appealing reward-to-risk ratios and have potential for significant capital appreciation. Above all, my immediate investment goal is to achieve financial independence.
Disclosure: I/we have no positions in any stocks mentioned, and no plans to initiate any positions within the next 72 hours.
I wrote this article myself, and it expresses my own opinions. I am not receiving compensation for it (other than from Seeking Alpha). I have no business relationship with any company whose stock is mentioned in this article.