Anadarko (NYSE:APC) looks to be one of the few E&Ps that is aggressive on growth right now. That might sound like an interesting statement given that U.S. crude oil and natural gas production is on an uptick, but Anadarko is one of the few E&Ps to raise their capital expenditure budget - and by no small amount. After releasing their capital guidance plan and showing that their focus is U.S. onshore and offshore, we should expect to see a strong increase in production from both of these operations, as well as a material boost in cash flow. The projected returns are high, so a material uptick in commodity prices is still needed.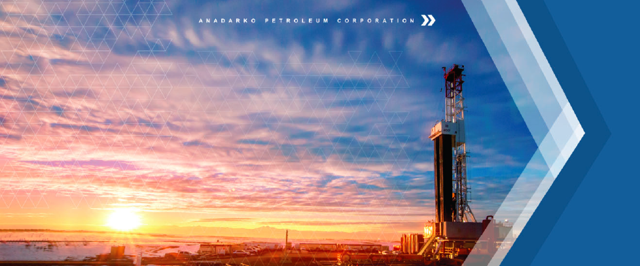 Source: Anadarko
Let's Talk Capital Guidance
Anadarko is one of the few E&Ps to have a global footprint. With operations stretching from the U.S. onshore to Mozambique to West Africa to Colombia, there's a lot to manage, especially when the fundamental environment adds a new layer of uncertainty. We've seen crude break out of its trading range to the downside, below $50/barrel, and that's concerning when you have a company like Anadarko, whose core focus is aggressive growth to capitalize on a projected near-term recovery.
Something investors should be aware of with this company is that they're trending to make liquids a larger portion of overall U.S. onshore production. The key figure to focus on here is 650k boe/d by the 2021. That's a strong increase from previous years and can be rooted in a now larger reserve base. I applaud the larger liquids push and the increased boe/d figure can really help to push the top line back up, which has continued to see weakness since the downturn.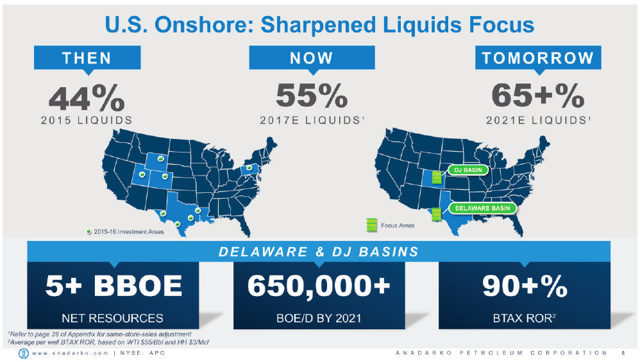 Source: Investor Presentation
First, I'll say I'm rather intrigued that this company wants to target U.S. offshore so heavily. Right now, they're placing 2017-2019 production guidance at 160 kboe/d, with $6 billion in free cash flow projected and a 75%-plus pre-tax return. How did they get these figures? Based upon their own projected efficiencies, Anadarko is using $55/barrel WTI and $3/MMBtu Henry Hub. Now, these aren't unrealistic expectations, but right now, crude oil is suppressed below $50/barrel thanks to gluttonous U.S. inventories, so it may be a few weeks before we even seen approach to $50.
The reason I'm surprised by this production move is not because of the financial projections, but rather because the offshore industry is incredibly challenged still. However, from the perspective of Anadarko, as someone who pays the dayrates, they're actually getting quite the deal considering dayrates have only recovered slightly from their lows. This means Anadarko has a lower breakeven on its projects and can bring home a large amount of free cash flow.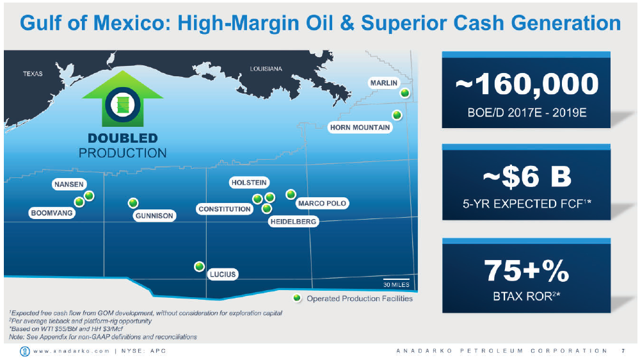 Source: Investor Presentation
On top of an improved EBITDA margin per boe, this company is slated to be incredibly profitable once oil prices see some strength. However, we still haven't received a glimpse of this yet because in the trailing twelve months, Anadarko has posted a net loss, with Q4's net loss being -$516 million. More capital efficiency is needed to improve that bottom line, but I'm much more concerned with cash flow at this time.
Unfortunately, with their new capital guidance projections, I have some concerns. They're increasing capital expenditures heavily this year, to the tune of $4.5-4.7 billion. This is an increase from $2.8 billion from 2016. I'm not really sure how they're affording this in light of free cash flow last year of -$652.84 million. Maybe they're annualizing out Q4 free cash flow and placing a higher expectation for commodity prices and that's how they arrive at being able to afford a near $2 billion increase in capital expenditures. I'd say it's a large, unnecessary stretch. It must be that way considering they're placing discretionary cash flow out at $4.3-4.5 billion and projecting high rates of return from their core U.S. onshore and Gulf of Mexico operations.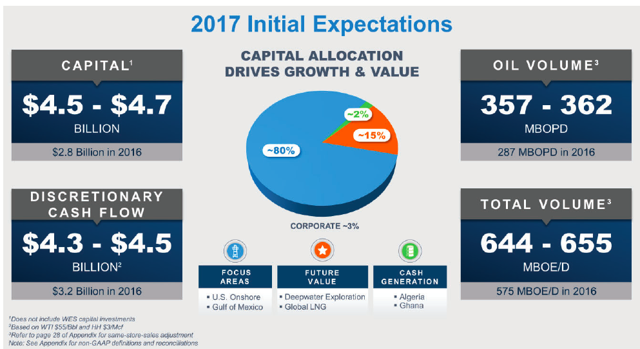 Source: Investor Presentation
Take Advantage Of This Decline
A large, sweeping decline is what I currently see in Anadarko's stock. The stock sat in a trading range in December and January, in accord with crude oil, but started to give way to the downside at the start of February. However, the downtrend wasn't rapid, rather it was spread out. Now, taking a look at the primary moving averages, we've got the 200 DMA starting to trend up, with the 50 being down. My advice is that you want to get in front of that 200 DMA and take a long position here. The longer the holding period the better, in my opinion. Momentum is just now trending back to flat after flirting with the oversold level and if crude can have a few positive reads for inventories in the upcoming weeks, then we could see Anadarko take out $70.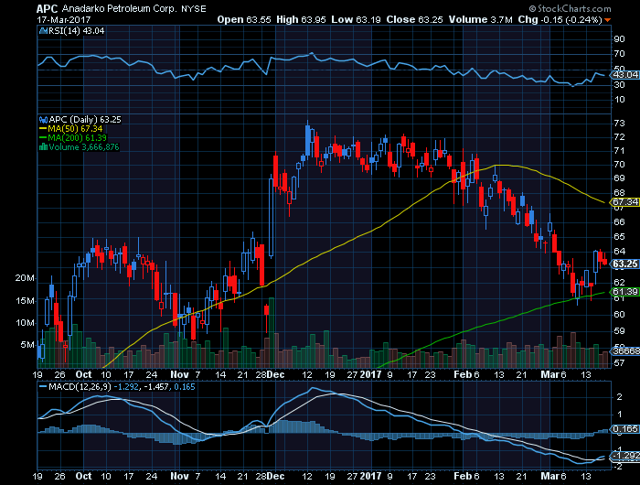 Source: StockCharts
From a longer term perspective, I still like this company's capital gains potential. The stock historically traded above $100/share and if options are used to help enhance this investment, the long-term potential return is quite high. While the stock comes with an ample amount of volatility, the best thing prospective investors can do is get in on this stock on a retracement or downtrend for the long term rather than worry about the short-term runs. Despite the dip that has occurred to start of 2017, the long-term picture looks relatively unaffected and I think it behooves shareholders to consider this name as it is near synonymous with a recovery in crude oil.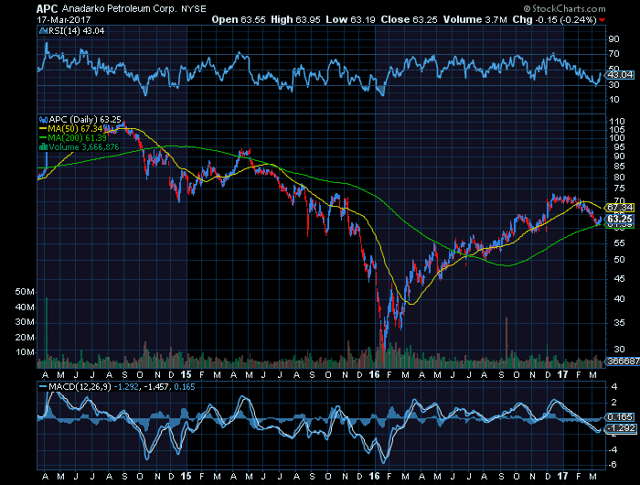 Source: StockCharts
Conclusion
Anadarko is projecting a long-term CAGR of 15%+, which while steep at face value, is rooted in a strong recovery in commodity prices. While I don't doubt that commodity prices could see strong performance over the long term, the short-term looks heavily challenged and investors aren't exactly being paid to wait on a 0.32% dividend. I think some of their capital expectations are relatively high, but that may work to their advantage if they come under budget or if commodity prices end 2017 at least 10% higher than where they started.
Disclosure: I/we have no positions in any stocks mentioned, but may initiate a long position in APC over the next 72 hours.
I wrote this article myself, and it expresses my own opinions. I am not receiving compensation for it (other than from Seeking Alpha). I have no business relationship with any company whose stock is mentioned in this article.