The new year has been great for a lot of stocks thus far. Valuations continue to run higher, and people are beginning to wonder, how high can they go? As price valuations become more and more extended, it is important to invest in stocks that can deliver growth and are not yet overvalued. A favorite of ours, Visa (NYSE:V), fits this mold completely. Visa has run up 15% thus far in 2017, from $78 to $90, but it still undervalued and has room to run.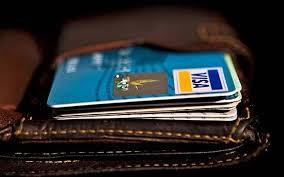 Open Up Your Wallet
Go ahead, reach into you pocket or purse right now. Pull out your wallet, and open it up. I'd be willing to bet about half of you have at least one Visa payment card in your wallet. Visa dominates the global market for electronic payment. It accounts for half of all credit transactions and an even higher percentage of debit card transactions. Considering that electronic spending is still growing rapidly year over year, Visa dominating this market should mean it continues to benefit from the global switch from cash to card.
Visa's business model allows it to generate revenue from fees it charges the card issuers and merchants who use its network. The fees are primarily based on transaction volumes. This business model is great because Visa has no responsibility for evaluating the customers credit scores and collecting payments. Visa is virtually just the middleman and it is up to the financial institutions, which issue Visa cards, to do the majority of the work.
Defensive Growth
If you are thinking that another company could simply come in and penetrate Visa's market, it's not that easy. As of Q1 2017, Visa's network consists of 44 million merchants, 16,800 financial institutions, and 3.1 billion cards issued. Visa's network is so massive that it doubles even the next competitor MasterCard (NYSE:MA), and is significantly larger than either American Express (NYSE:AXP) or Discover (NYSE:DFS). (See the chart below from The Nilson Report)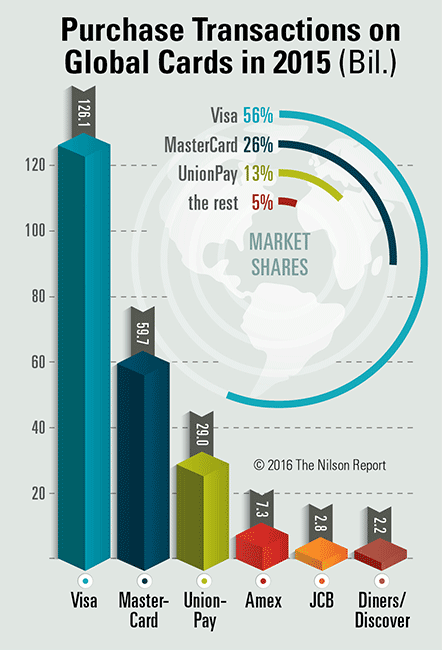 Financials
Analyzing Visa's financials helps confirm this growth story. We like to focus on gross margins, return on invested capital (ROIC), free cash flow/sales % to determine where the company is in a strong financial position.
First when analyzing the gross margins, it appears that over the past decade Visa has nearly improved its margins almost every year. This past year, gross margins were almost 82%. Improving margins are exactly what we want when looking for growth so Visa passes this test.

Data provided by Morningstar
Next, looking at Visa's return on invested capital we see that this figure was over 14% in 2016. ROIC is a fundamental method of determining a company's financial performance. It is used to measure how efficiently a company is investing its capital. We prefer an ROIC of at least 12%, so Visa passes this test.

Data provided by Morningstar
Finally, looking at FCF/sales percent of sales is a great way to see what percentage of cash the company has left over after paying for business related expenses. A free cash flow/sales percent of about 34% for 2016 shows that Visa is a cash machine and has a good amount of cash to either return value back to shareholders, or invest in future growth.


Data provided by Morningstar
Valuation
If you look at the valuation of Visa, it's currently trading at 36x fiscal 2017 projected earnings per share. Although this figure seems high, it is only trading at 27x fiscal 2018 projected earnings per share. The continued transition from cash to electronic payment internationally over the next decade should continue to drive revenue and earnings growth. Earnings are expected to grow at a 16-17% rate at least for the next few years, so thinking that Visa is overvalued at its current price is foolish. I could see Visa hitting $100 by year end while this growth story is still much intact.
Disclosure: I am/we are long V.
I wrote this article myself, and it expresses my own opinions. I am not receiving compensation for it (other than from Seeking Alpha). I have no business relationship with any company whose stock is mentioned in this article.