We probably didn't have to tell you this, but for the past month, the S&P 500 (NYSEARCA:SPY) has been trading in a pretty boring range. What you might not have known is the reason: Gamma Exposure ("GEX").
[Uh, wait, What's Gamma Exposure?]
When GEX is as high as it's been for the past 20 days, the distribution of returns on the SPY is, historically, pretty darn limited. See how the rightmost dots below are really tightly packed along the y-axis? Not a lot of variance.

Well, that's what we've been dealing with for the past 20 days. Mean 20-day returns during these periods are something like .005% and the standard deviation is 2.3%. So the realized return of 1.3% over the last 20 days was pretty much par for the course, if a bit on the high end.
Where are we now?
Here's a six-month chart of the S&P 500 (green) and GEX (orangey-purple).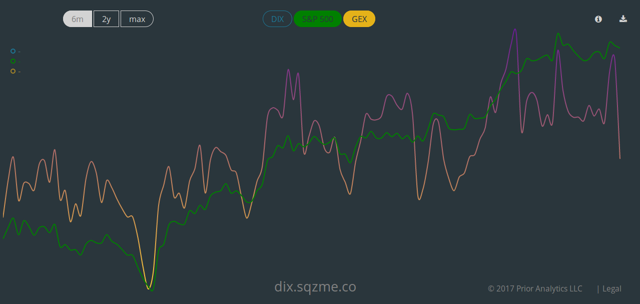 You should be able to see pretty clearly the really high GEX value from 20 days ago that we were talking about, but you should also notice that on this past Friday (3/17), GEX dropped quite a bit.
GEX drops either (1) when prices drop, (2) when investors buy puts or (3) when call contracts expire. In this case - since Friday was an expiration date - we're seeing the effect of the expiration of a whole lot of S&P 500 stocks' call contracts (3).
With those contracts gone, the market is open to some new possibilities. To put that in context, here's where we're at now.

As of last Friday, the historical profile of the next 20 days now has an average gain of 0.79% and a standard deviation of 2.6% (wider than before).
While this still isn't that crazy low-GEX territory, there will be a bit more wiggle room in the coming week. Here's another (more familiar?) way to look at it.

The return distribution looks to be left-skewed (FWIW), but with a higher mean and median. That is, while big gains and losses were pretty unlikely during this past week, there's a possibility for a bit more volatility (good and bad) going forward, as well as a slightly higher likelihood of superior gains.
Strangely, despite greater volatility potential, the VIX is still at a ridiculously low 11.28.
Up or down?
You'd heckle us if we didn't address this one.
Well, believe it or not, there are still plenty of investors quietly buying shares at these prices. How can we tell? Because there are a lot of dark pool buyers across the S&P 500, as demonstrated by the Dark Index (DIX).
[Tell me what the "Dark Index" is again?]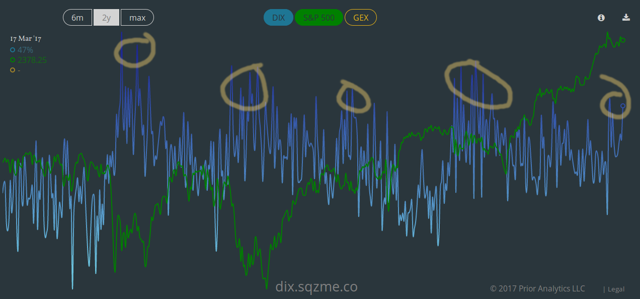 Those high levels of buying activity are generally supportive of prices, and we're guessing this week will be no exception. Sorry if that disappoints you, permabears. Maybe next week.
What about stock XYZ?
Here's what's really cool - the S&P 500 DIX and GEX metrics are nothing more than the sum of stocks' individual dark pool and option market position data. So the S&P 500 GEX is just a dollar-weighted measure of those 505 stocks' open option positions. Get it?
This means that we can just as easily zoom in on a particular stock's GEX position and determine its particular history of returns and future probabilities.
For example, last week at this time, we might have been telling you about how Realty Income (NYSE:O) - an S&P 500 component - was hitting a real sweet spot on the GEX. That would have been pretty cool...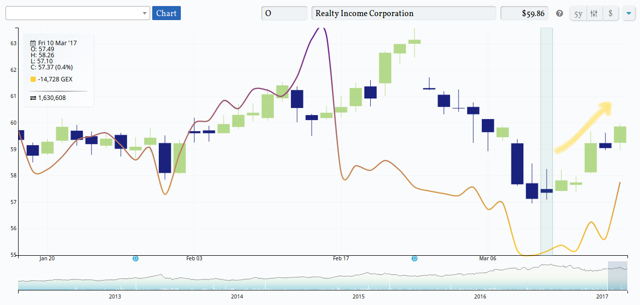 ...but here's the problem:
We have a ton of these trade opportunities crop up every week with this model, and to be honest, we could use some help digging through it all and picking the best ones to pursue (and how to go about it). At the moment, we have two favorites (long and short) for the upcoming week and we'd like some additional opinions.
So if you're interested, head over to our Marketplace booth. For a week or two, we'll be keeping the free trial running so everyone can come and go as they please. We're hoping we can gather a group of clever people (we've seen you in the comments section) to keep this conversation going in the right direction.
---
SqueezeMetrics is all about using unconventional data to get unconventional returns. Do you find Dividend Growth Portfolios boring? Then follow us for more of the good stuff.
Disclosure: I/we have no positions in any stocks mentioned, but may initiate a long position in SPY over the next 72 hours.
I wrote this article myself, and it expresses my own opinions. I am not receiving compensation for it. I have no business relationship with any company whose stock is mentioned in this article.