By Parke Shall
President Trump released the preliminary details of his budget over the last week. Regardless of what you think about the allocation of capital from the government, one thing is for sure: $54 billion of additional defense spending is going to be issued and you need to be able to get your part of it.
Today we wanted to lay out a couple of our favorite defense picks, Boeing (NYSE:BA), Lockheed Martin (NYSE:LMT) and Northrop Grumann (NYSE:NOC), which are staple names in the sector that we think will be fantastic long-term holds for investors who have timelines of more than just a couple of years.
CNN reported,
President Donald Trump's first budget proposal will look to increase defense and security spending by $54 billion and cut roughly the same amount from non-defense programs, the White House said Monday.

The budget blueprint, which was sent to government agencies Monday, would increase defense spending to $603 billion and decrease non-defense discretionary spending to $462 billion, Office of Management and Budget Director Mick Mulvaney said.
There is no doubt that President Trump has had a profound effect on the stock market thus far, as his economic policy has encouraged equities to move almost 15% higher since the election, as you can see in the chart below.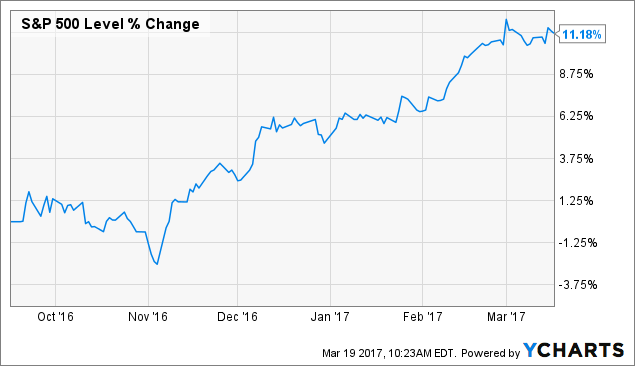 We have no reason to believe that Trump's continued plans for the country will have any less of a profound effect going forward. This is why we think investors should "buy into" Trump's proposed budget the same way that the government is going to.
Without sounding too much like the guy with the question mark suit who constantly pumps "getting your fair share of free government money," there is actually a traceable route that goes directly from the additional money being spent on defense to shareholders' pockets.
The details of Trump's new budget, in summary, are that he is slashing a ton of environmental and income assistance programs in order to allocate significantly more capital to the country's defense. Without getting political and regardless of whether or not you think this is a good idea, it is certainly going to have a profound effect on some corporations going forward.
Three of our favorites are Lockheed Martin, Boeing, and Northrop Grumann.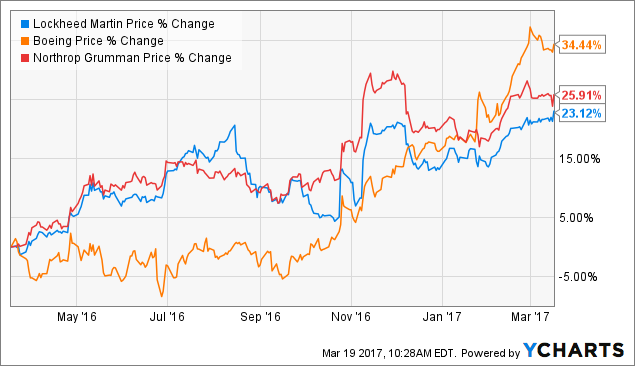 All three stocks, as you can see from the chart above, are pushing 52 week highs. However, we don't want to let that deter us from what could be eight additional years of putting companies like these front and center when it comes to getting contracts with the government.
The nice thing about these companies is that they are basically wholly owned subsidiaries of the government already. Companies like Lockheed Martin are entrusted with government secrets and enough government information already to basically make them extensions of the United States government. While you can argue whatever you want about the negatives of this relationship, the obvious positives are that they are basically always going to have financial backing and that, especially under a Trump presidency, they are pretty much going to be untouchable. It's arguably the closest thing you can buy to government paper, but with significantly more upside.
BA is a powerhouse. A $110B company trading at a forward PE of just 17.6x, which for an aerospace company seems like a lot. But for a company with a decades long history that will be around for decades to come, and for a company this comfy with the U.S. government, we think 17x is a steal. It has also about 1x EBITDA in debt and generates about $10.5b annually in cash. It's a powerhouse and a safe haven for capital.
LMT is a very similar set up, albeit with slightly more debt. It's a $91B company trading at a forward PE of about 19x. It has about 2.5x EBITDA in debt and generates $5.19 billion in CFFO annually.
NOC pays the smallest yield out of all three companies but arguably has the best track for growth at just a $47B EV. They trade at about 18x earnings and are also about 2x EBITDA levered. With $2.81b in annual cash flow from operations, it joins BA and LMT as consistent cash generators that are extremely risk adverse havens for capital. We believe NOC has the best growth profile of all three companies, but we believe LMT and BA with NOC make for a nice basket of companies to play the new budget.
All three companies are robust cash generators: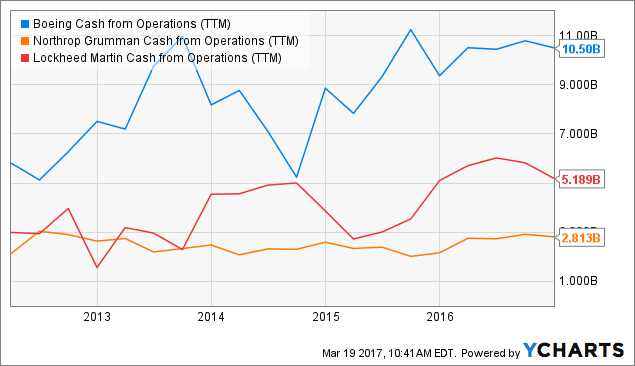 BA Cash from Operations (NYSE:TTM) data by YCharts
And all three of these companies make a fantastic addition to any dividend portfolio, which is where we intend on stashing our stakes in these companies going forward. They each pay modest dividends: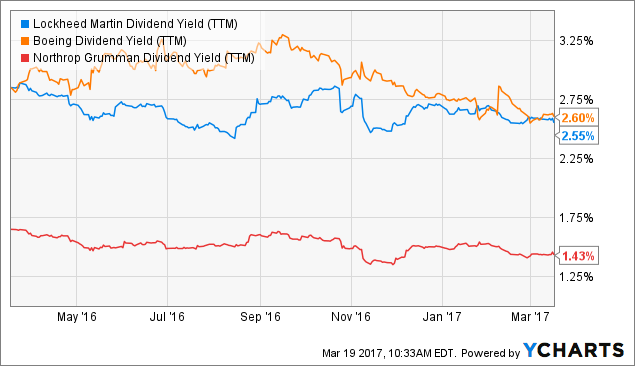 LMT Dividend Yield (TTM) data by YCharts
While we don't have positions in any of them right now, we are preparing to add them judiciously on sector wide or market wide pullbacks.
This year an additional $54 billion is going to be allocated to defense companies. That $54 billion will be spread out across a number of companies and will hit the top line. Costs will be accounted for and each company's overhead will be paid. Then, that company's share of profit will drop to their bottom line, where it will be divided into many millions of pieces and result in earnings for you and whatever other stockholders happen to own the shares at the time. This is literally how you can take Trump's budget money and put it in your pocket.
Long term, it seems like a pretty easy way to get your share of this $54 billion that is being allocated. We plan on acquiring all three stocks mentioned in this article over the next week or two and we plan on holding with a multiple year time horizon.
Disclosure: I/we have no positions in any stocks mentioned, but may initiate a long position in LMT, BA, NOC over the next 72 hours.
I wrote this article myself, and it expresses my own opinions. I am not receiving compensation for it (other than from Seeking Alpha). I have no business relationship with any company whose stock is mentioned in this article.