By Parke Shall
Activist investor Starboard Value exited their position in Macy's (NYSE:M) late last week. It was reported that the activist investor did not see plans for developing Macy's real estate coming to fruition in the matter which they had previously thought possible. Having ridden the stock all the way down from the near $70 levels, we have to ask ourselves whether or not it is possible that Starboard has simply bottom ticked Macy's.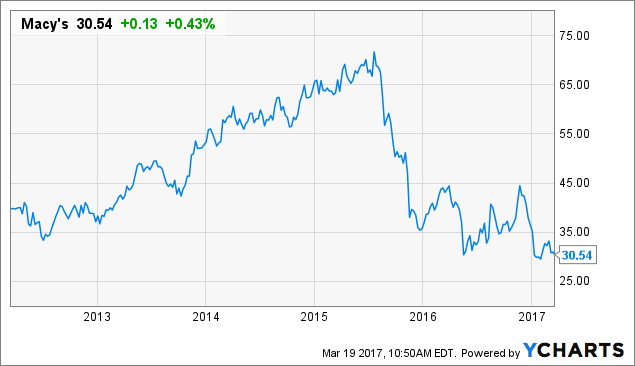 We have been advocates for a long position at Macy's for the better part of a year and a half. We still continue to believe that Macy's is a good investment, despite lowered estimates over the last year. The company still spouts off a fair amount of free cash, it still plays a dividend and it is still sitting on the asset base that was perceived to have much of the company's value to begin with. The company's real estate has been estimated to be worth anywhere between $10 billion and $20 billion.
It wasn't as though Starboard's plan wasn't working at all. The company had agreed to several joint ventures to try and monetize some of its real estate, but it obviously was not moving fast enough or being decisive enough to meet Starboard's expectations. To put it frankly, the company really isn't moving fast enough to meet our expectations, either. However, we have been in the investment for far less time than Starboard has and our patience has yet to run thin.
With a transition about to happen in the CEOs suite, with CEO Terry Lundgren stepping down in favor of president Jeff Gennette, we think a similar change in outlook for the business going forward could also be on the agenda. We are hoping that Mr. Gennette has been selected to usher in a new era of thinking about the way Macy's does its business. If Macy's is unable to snap out of its current downward trend, it is going to suffer an ugly defeat. We have pointed this out in a recent article talking about why there are some retailers we would buy and why there are others we would not buy.
Macy's is in a spot where they actually have a chance to revise and edit the business plan strategically in order to minimize the impact on the company from online retailing and slowing consumer spending.
If the real estate was found to not have the same value that Starboard once thought, that would be a different story. However, nothing really has changed aside from the fact that the company is not moving fast enough for Starboard's liking. Probably under pressure from limited partners, they had to bail out of their investment similar to the way that David Einhorn recently bailed out of the same investment. Our patience has not run this thin just yet. Macy's is still a cash generating company and is still sitting on these assets. We continue to believe that there is potential for the company and we think that the sale by Starboard may actually put the boardroom at ease and hopefully allow Macy's executives to breathe and finally get a couple of serious deals done.
Remember the saying, "If you haven't seen it, it's new to you"?
This old saying used by one of the television networks fits perfectly here. Yes, if you watched Starboard's entire involvement in Macy's you would have thought it was a fiery train wreck. If you had watched the company closely in the same fashion, and saw it lower estimates consistently and post ugly comps, you would have thought the last couple of years were a full-scale disaster. If you were invested in the stock, the last two years likely were a full-scale disaster for you. However, if you are coming into the stock today for the very first time, here is what you are getting:
A company that generated $1.8B in CFFO over the last 12 months
A company with an iconic brand-name that has been around for decades
A company that is about to undergo a executive shift and presumably a strategy shift
A company that has been argued to have real estate assets totaling the entire EV of the company, possibly more
A company that pays a dividend near 5% and has decent dividend coverage
Is it possible that Starboard simply just bottom ticked the company? After all, if you are unfamiliar with the thesis prior that may actually work to your advantage. While it is important to pay attention to the trends that have taken place over the last 12 to 24 months, both with the company and with the sector, it is also a great time to take a fresh objective look at exactly how Macy's presents right now.
After all, take a look at what the price to earnings ratio of the company has done YTD.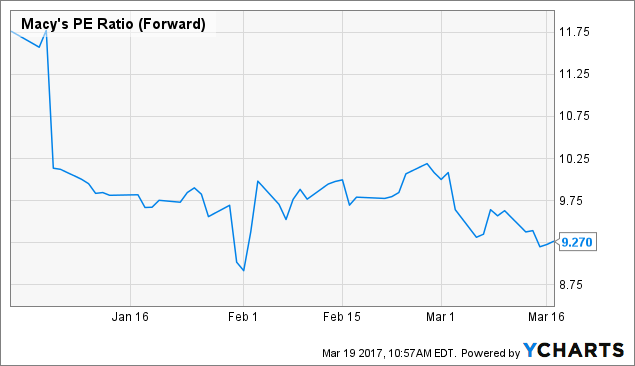 M PE Ratio (Forward) data by YCharts
Not only has the share price depreciated significantly but the valuation has also contracted. The question then obviously becomes how low can the price to earnings ratio go before some confidence comes back and Macy's can find a bottom.
We also believe that this opens up the door for another activist investor to step in. It is often that one activist, who can't get done what they want to get done, will step out and another will move in. We still think Macy's represents a brilliant opportunity for an investor that believes they can resonate with management and help the company unlock value in its real estate.
One piece of caution that we would like to extend is regarding consumer credit and interest rates. As interest rates move higher, the amount of consumer credit on issue is going to tighten up and will cause those already carrying debt to look to delever. Aside from the pressure they are feeling from online retailers, department stores, as well as all brick and mortar retailers, may feel an effect from rates inching higher.
Despite this pressure, we continue to like Macy's.
Disclosure: I/we have no positions in any stocks mentioned, but may initiate a long position in M over the next 72 hours.
I wrote this article myself, and it expresses my own opinions. I am not receiving compensation for it (other than from Seeking Alpha). I have no business relationship with any company whose stock is mentioned in this article.