Welcome to another edition of 'Elroy's Elliott Wave Weekly'. Now in its eighth week, I'd like to thank everyone for commenting and adding their views. Writing the update and seeing readers' opinions is a great way to prepare for the coming week. I hope it helps you as much as it helps me.
This week reviews the aftermath of the Fed rate hike. Elliott Wave and fractals can help prepare us for what comes next.
Equities
Despite the volatility created by the Fed, and certain bears warning us the Dutch election could be some sort of Black Swan event, the S&P500 (NYSEARCA:SPY) closed the week -0.5%, forming a second weekly Doji in a row. This signals indecision, but would be more significant if it came at new highs.
The move higher last week was in 3 waves - as expected - but there are still many formations possible and it is very difficult to say right now which one will materialize. This is why Elliotticians rely on inflection points. These are levels where one idea is invalidated and something else becomes more likely. Take the chart below, for instance: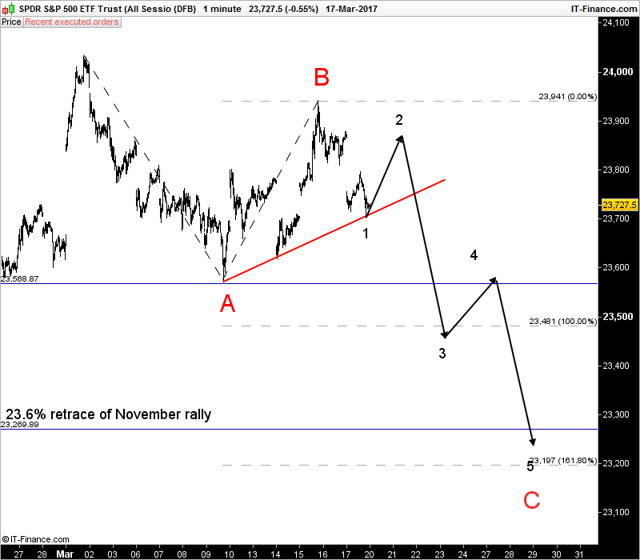 The inflection point is $239.5 as the scenario shown is negated beyond there. If SPY were to rally back to Thursday's closing gap - wave 2 on the chart above - we could short with a stop beyond the inflection point, effectively risking about $0.8 to make around $6.
The first target is the 23.6% retrace of the November rally, currently at $232, which is also where wave C is 161.8* wave A.
If the inflection point is taken out, a new pattern targeting at least $240.4 will be active.
There is no crystal ball trade here, just various scenarios with shifting probabilities and places where we can test them.
The longer term context is covered in previous articles.
Precious Metals
Last week's scenarios worked well, and yet again precious metals and related markets moved up when the Fed raised rates.
This was the proposed map for the gold miners ETF (NYSEARCA:GDX):

And an update:

The template in green suggests a continuation of the rally to around $23.8, before another sharp move down to a higher low.
However, this is the third time the same Fed induced pattern has unfolded and each time it is smaller, making higher lows, and lower highs. This perhaps shows the market is becoming more and more used to the new normal of higher rates. Regardless, it cannot keep repeating forever in smaller and smaller iterations as the market will end up going nowhere and contracting into a smaller area. A new move will eventually burst into life.
The decreasingly smaller moves could well create a triangle, which could then end up breaking higher. This is shown here in gold (NYSEARCA:GLD):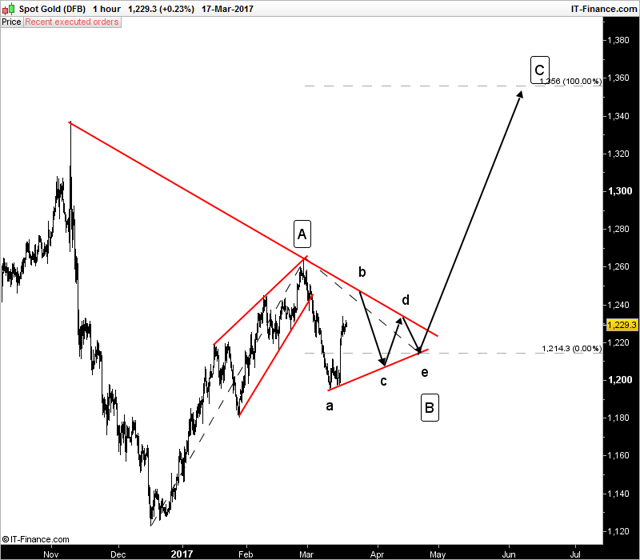 Again, this just one scenario, and would be invalid under last week's low. Triangles provide brilliant risk to reward trades and longs can be taken with stops under either 'a' or 'c' if the move develops as shown.
The Dollar (NYSEARCA:UUP)
This chart of USDJPY has now helped me catch the rally at the beginning of March, and the move down post-Fed.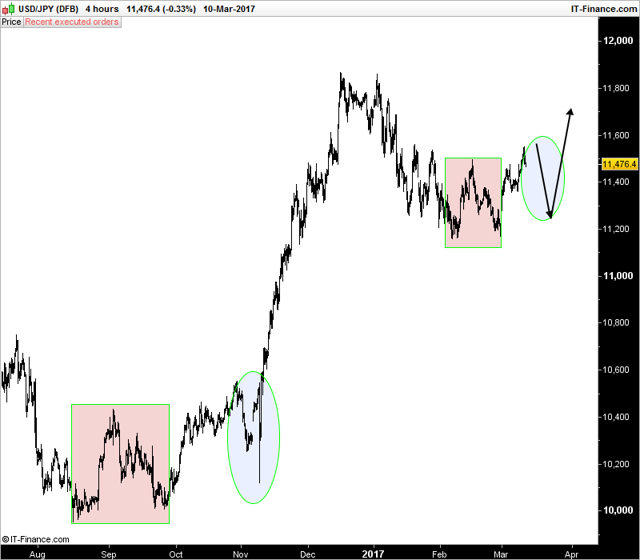 Here's an update showing some more detail and what the next moves could be: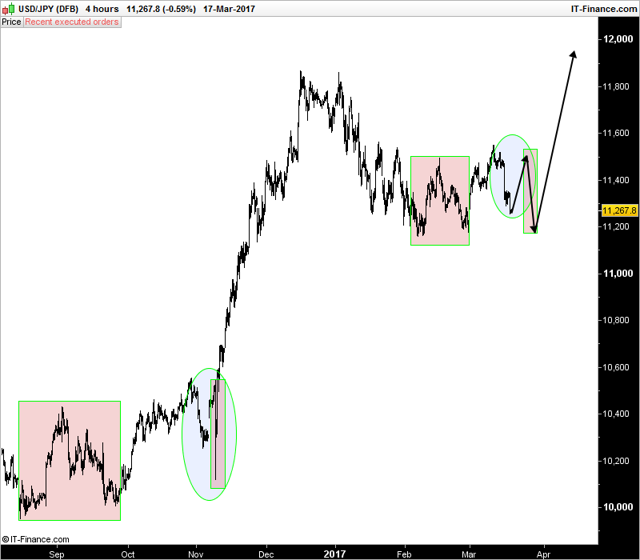 A bounce and one more sharp sell off seems likely. In fact, the dollar could be do the exact opposite of the gold scenario by consolidating and making another low a bit like this: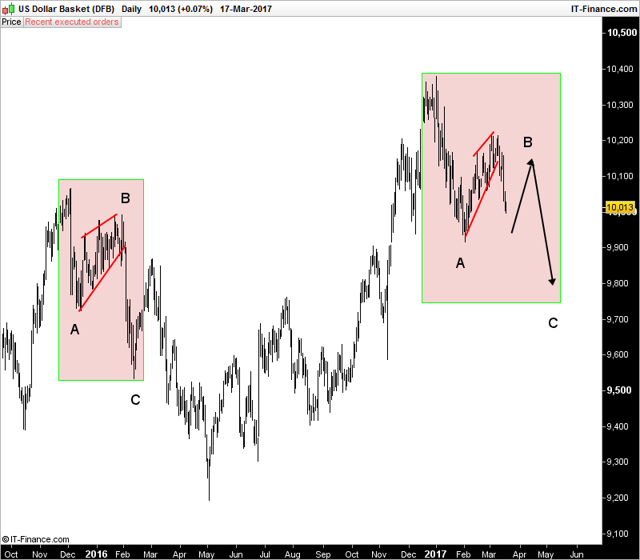 The recent similarities with December 2015 to February 2016, when the Fed first raised rates, is surely no coincidence.
Oil (NYSEARCA:USO)
Oil held the channel last week right where 5 small waves completed for wave C.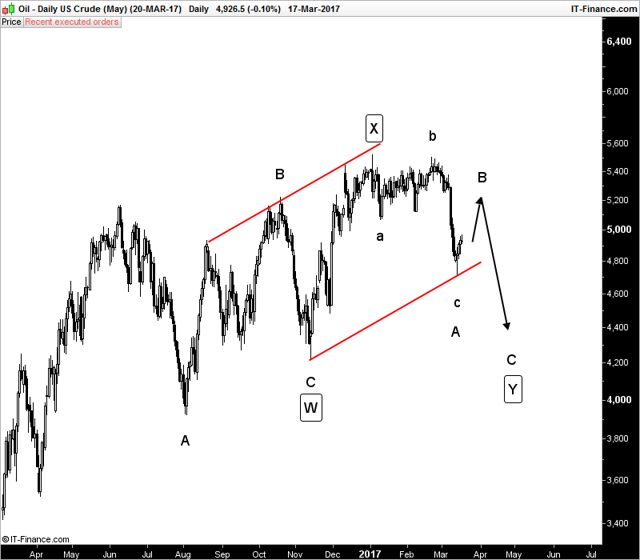 It was a brief moment of clarity in what has been a difficult, choppy sequence of patterns. There is a small possibility it has bottomed, but I'd be happier buying when things look really bearish in the low $40s as shown.
Requests
For Uranium I have used the ETF (NYSEARCA:URA):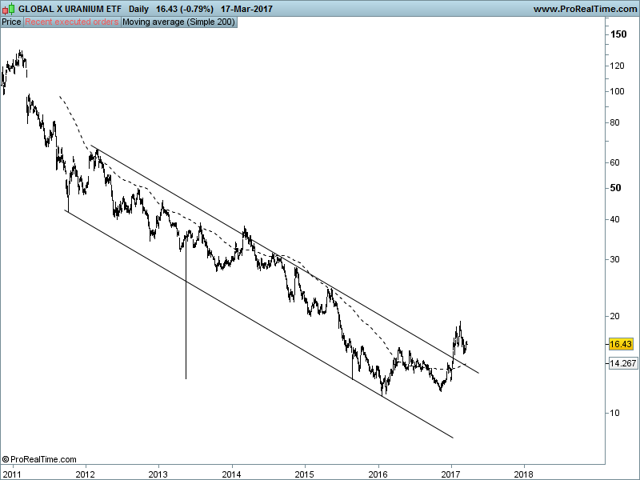 The rally from the November low is in 5 waves, and the long term channel and 200dma have been broken. The bulls certainly have a chance and I'd buy any re-test of the channel line.
Energy (NYSEARCA:XLE):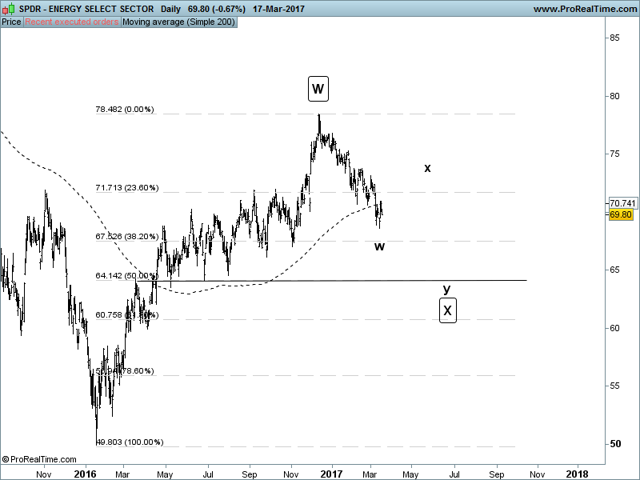 The target is $64 at the pivots and 50% retrace. This ties in with the view oil could bounce and make another low.
I'll be honest and say I have never heard of the iPath Dow Jones-UBS Cocoa Total Return Sub-Index ETN (NYSEARCA:NIB), but it's an interesting chart: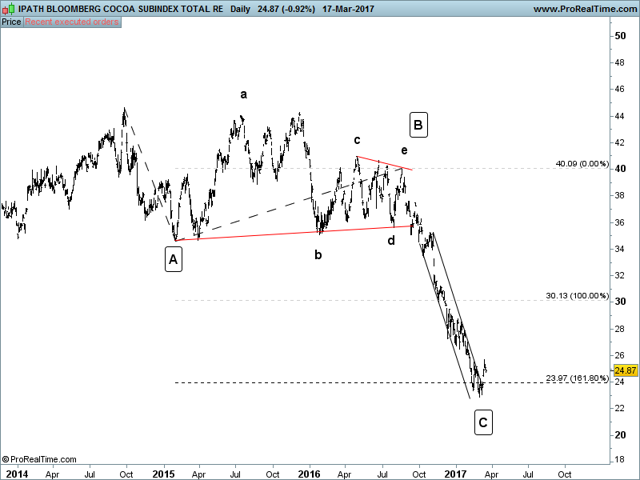 I'm not too happy with the triangle formation, but wave C bottoms around the 161.8* wave A measurement, and breaks the channel. There's a good chance this trades higher over the next few months.
Conclusions
The reaction to the rate hike was fairly predictable given recent history. Where the market goes from here is less easy to predict, but using Elliott Wave and fractals, we can identify important areas or inflection points, and prepare for likely scenarios.
Follow for updates.
Disclosure: I am/we are long GLD.
I wrote this article myself, and it expresses my own opinions. I am not receiving compensation for it (other than from Seeking Alpha). I have no business relationship with any company whose stock is mentioned in this article.
Additional disclosure: I am long GDX, gold and oil futures, UNG options, various stocks. I trade various timeframes.