The big news out of this week as it relates to contracts belongs to Boeing, which we will discuss below. Other than that, there wasn't much movement compared to last week.
Significant Contracts
Boeing snagged a $3.4 billion contract for 268 Apache attack helicopters. According to the press release, the US Army will get 244 remanufactured Apaches and an unnamed international customer will receive 24 brand new "E" variants. According to the DoD contract releases the international customer is Saudi Arabia, which is a huge customer of US made weapons. Even without a main-effort production fighter jet Boeing is finding ways to keep the lights on at their defense segment.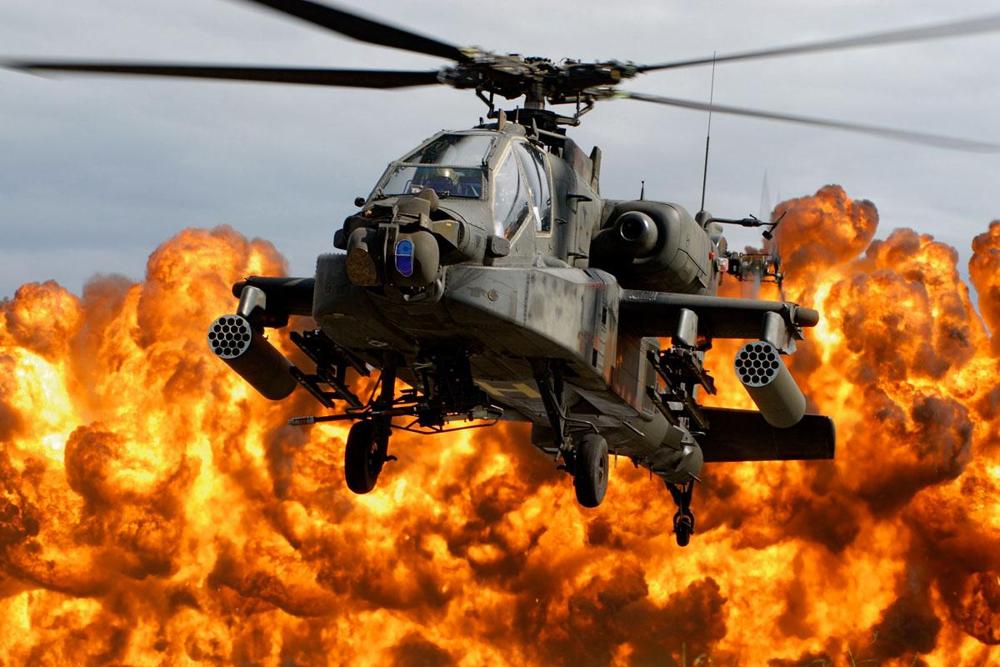 (Source: Military.com)
Lockheed got another $40 million to continue the F-22's sustainment. This supports my theory that investors need not worry about the F-35. Even if the F-35 is delayed or gets bad press, the DoD still has to shell money out to Lockheed to keep the F-22 in the air. The situation becomes even more dire since China has just set their J-20 loose, a jet that boasts the same capability as the F-22.
Weekly Performance
A great week for the sector, every company we track beat the S&P 500, Northrop just barely making it thanks to a strong Friday.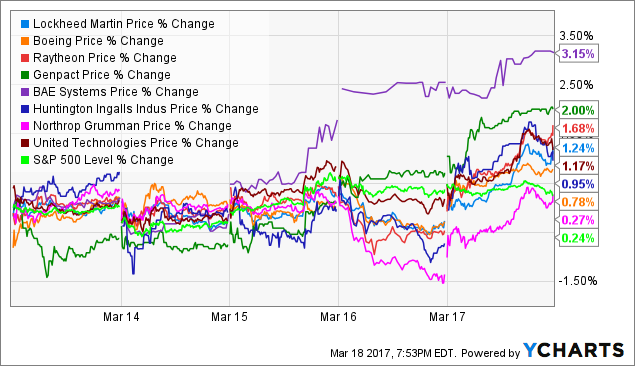 LMT Price data by YCharts
BAE Systems has been having a nice run lately. I still feel strongly that the multi-national posture the company enjoys will benefit them for the next several years. For those who are unaware, BAE Systems is a UK based defense contractor that enjoys domestic treatment here in the US. Basically this means they have access to everything that a truly domestic firm like Lockheed. Being based in the UK, they also stand to profit from the focus of spending in NATO nations, which continues to be in the news.
DoD Gets a Pay Raise
On March 16th the Trump administration released their budget, sort of. While nothing is hard and fast here, his team made it clear that many programs would be cut. One program that will not be cut is the Department of Defense, which he would like to see bolstered by an additional $54 billion, or 10%.
The defense budget was already increased through the 2017 National Defense Authorization Act and combined with that and Mr. Trump's election the defense sector has enjoyed incredible share price appreciation. Investors were making the bet that President Trump would increase spending and they were right. As the saying goes, this rising tide will lift all boats in the space. But some firms stand to benefit more than others.
A favorite of mine to ride the wave of increased spending is Huntington Ingalls, which I first wrote about on December 5th. Since then, Huntington is up 16% to the S&P's 7%. There is still meat on those bones with the Navy seeking out more ships and an increase in aircraft carriers from ten to twelve. The current rotation would mean that the shipyard at Newport News (the only shipyard able to build the carriers) would have to ramp up for several years to come.
With the military transitioning to a Multi-Domain Battle concept the integration of weapons platforms into one ecosystem will become even more vital. Right now the company that owns the best ecosystem is Lockheed via the Aegis. This command and control platform is capable of detecting and countering threats at sea and is being migrated to land as well. The F-35 serves as a forward fire-control platform extending the range of the system, and the Littoral Combat Ship, which Lockheed also builds, runs a system derived from Aegis. On top of all that, several foreign allies are integrating Aegis into their defensive ecosystems. Expect the DoD to build off the already proven Aegis system.
Oshkosh (OSK) is another benefactor of a growing yet streamlining military. The company has recently locked in a $6.7 billion contract to provide the first 17,000 Joint Light Tactical Vehicles to the US Army and Marine Corps; another 38,000 are still at stake. As I previously wrote, the JLTV is an effort by the DoD to simplify and update their tactical vehicle posture and no company makes a better tactical vehicle than Oshkosh. The fielding of the Humvee replacement is set to begin in earnest by fiscal year 2020.
Investors in this space could hardly pick a loser at this point. The major contractors all offer essential platform to the DoD and foreign customers, but as the military actively seeks to remove inefficiencies from their ranks several companies will enjoy outsized gains.
In Other News
North Korea is testing high-thrust rocket engines it claims is for its peaceful space program.
The battle for Mosul continues in Iraq as forces approach the Old City.
As Daesh loses ground in Iraq and Syria they refocus their efforts on Afghanistan.
China is building a permanent structure in the disputed South China Sea.
On Seeking Alpha
Michael Vellucci takes another look at United Technologies.
The Coming Week
Now that the budget announcement is out of the way it appears that public attention is now focused squarely at the DoD. I'd be wary of some negative press coming out about large projects, though I doubt the F-35 and the dead horse it has become gets singled out. I'm not quite sure what pundits will single out with "Do we really need that?" questions, but it is only a matter of time. I am slowly starting to witness public opinion shift against the military, at least the budget aspect of it. If this continues, it could have long-out consequences for the DoD budget and the companies that rely on it.
I appreciate you reading. Please leave your thoughts and questions in the comments. If you don't already follow me and would like to receive the weekly updates on this sector along with my other posts, please hit "follow."
Disclosure: I am/we are long RTN, BAESY,.
I wrote this article myself, and it expresses my own opinions. I am not receiving compensation for it. I have no business relationship with any company whose stock is mentioned in this article.
Editor's Note: This article discusses one or more securities that do not trade on a major U.S. exchange. Please be aware of the risks associated with these stocks.