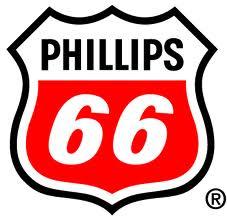 Phillips 66 (NYSE:PSX) is a fairly low-profile owner/operator of significant stakes in several high-profile pipelines. In addition, the company has a plethora of pipeline and terminaling assets connecting to and from its refineries. While Phillips is normally regarded as a "refiner", it is investing more in expanding its Midstream operations while the refinery business is pretty much in "maintenance" mode. Investments in the Refining Segment are mostly to increase efficiencies and optimize feedstocks. As a result, it is the Midstream Segment that will be the outperformer this year.
I have been writing about midstream companies for the last couple of year because I favor the midstream sector over the upstream sector. Investors get current income as well as above average growth potential due to increasing domestic shale production. That compares to the upstream shale oil producers who I believe are in for a "much lower for much longer" scenario (see Continental's Harold Hamm Puts His Finger On Shale Oil's (Unsolvable) Big Problem).
In my research on midstream companies and MLPs, I keep coming across excellent pipeline assets in which Phillips 66 owns a significant stake. These include:
REX (25%) - an excellent natural gas pipeline (see The REX Pipeline Is A Smashing Success)
DAPL (25%) - The Dakota Access Pipeline (25%) - Bakken crude transport to the Wood River MidWest refining center (see this SA piece).
ETCOP (25%) - the Energy Transfer Crude Oil Pipeline, transport from Wood River to the Gulf Coast.
These are big pipelines. REX is quickly becoming the nation's northernmost natural gas header system and has 1,700 miles of 36" and 42" pipe. REX's Zone 3 east-to-west capacity is 2.6 Bcf/d.
DAPL has a maximum capacity of 470,000 bpd and Reuters reports it is scheduled to start-up on April 1. Just to put some numbers on it for PSX, suppose DAPL charges $1/bbl transport fee. PSX's 25% cut would equate to $117,000/day in fees, or an estimated $10.5 million per quarter.
All these pipelines will likely be dropped down to the company's MLP: Phillips 66 Partners (NYSE:PSXP). And that is one reason I find PSXP attractive - the inventory of midstream assets at the GP level is just huge.
A Plethora Of Excellent Midstream Assets
Phillips 66 owns and operates, or has interest in, over 18,000 miles of pipelines: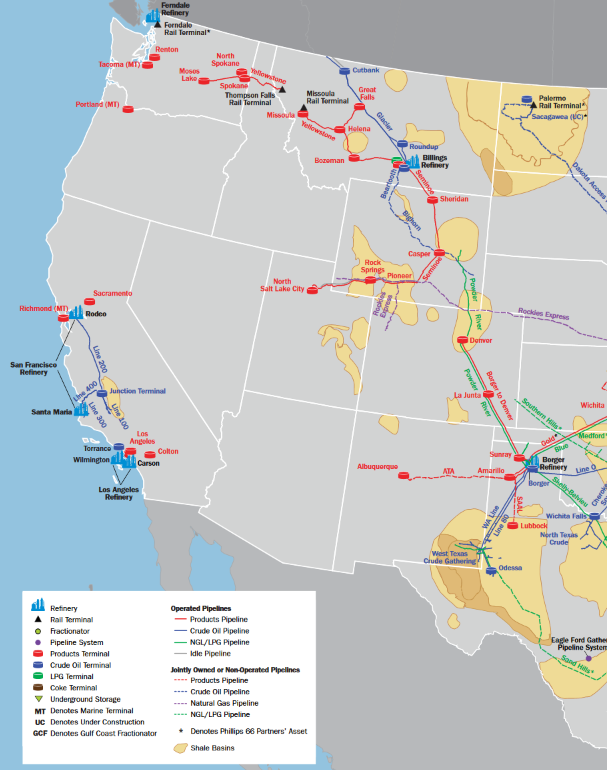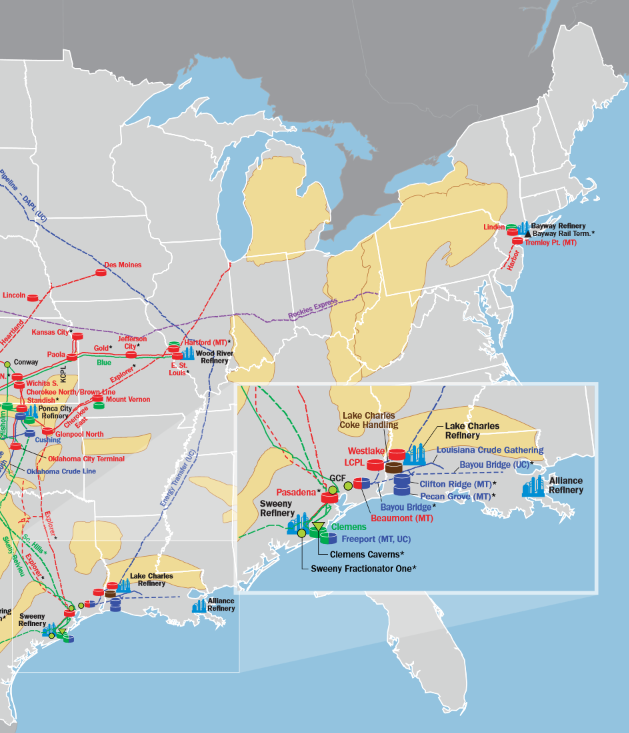 Source: Phillips 66 FactBook
It seems wherever you find an active shale oil play, you find Phillips 66 or PSXP has a major pipeline directly connecting supply to demand. The partnership also has interest and several major NGL pipelines - for example, the Sand Hills and Southern Hills pipelines: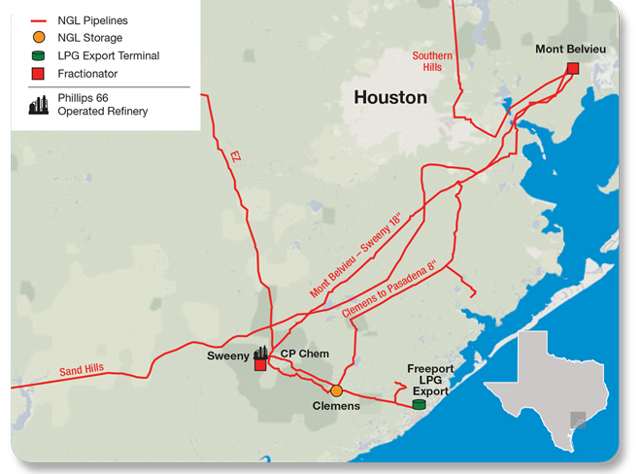 Source: Phillips 66
Meantime, Oil & Gas 360 reports a big drop in domestic propane stocks and cites PSX's 150,000 bpd LPG Export Terminal in Freeport, TX as one of the reasons why. As can be seen below, propane exports are rocketing higher (see graph below) - mostly as a result of growing demand from the Asian petrochemical sector. Note that PSX's Freeport capacity is partially reserved for long-term contracts from Sinopec (NYSE:SHI). At the time the contract was announced, Reuters estimated Sinopec contracted 34,000 bpd - or roughly 25% of Freeport's total capacity.
Summary & Conclusion
Crack margins are still under pressure. As a result, the refining sector's outlook isn't so bright at the moment. However, the prospects for PSX's Midstream Segment is excellent. Q1 FY17 will be the first full quarter of LPG export terminal revenue. Q2 will be the first full quarter of DAPL revenue. I continue to be bullish on both PSX and PSXP as two of the best long-term investments in the "Shale USA" energy renaissance.
PSX yields 3.2% and has shareholder friendly management. Its dividend growth history since going public is excellent. I expect continued dividend growth in 2017.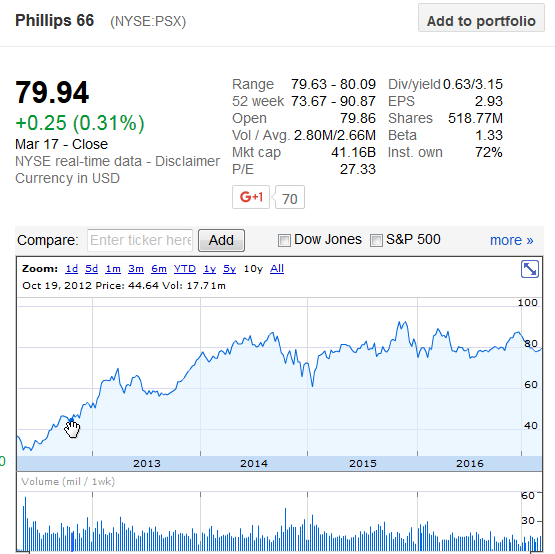 Disclosure: I am/we are long PSX, PSXP.
I wrote this article myself, and it expresses my own opinions. I am not receiving compensation for it (other than from Seeking Alpha). I have no business relationship with any company whose stock is mentioned in this article.
Additional disclosure: I am an engineer, not a CFA. The information and data presented in this article were obtained from company documents and/or sources believed to be reliable, but have not been independently verified. Therefore, the author cannot guarantee their accuracy. Please do your own research and contact a qualified investment advisor. I am not responsible for investment decisions you make. Thanks for reading and good luck!