Introduction
We are unapologetic gold and precious metal bulls for the long-term. We agree with J.P. Morgan, who said that "gold is money, and everything else is credit." We won't rehash all of the arguments for precious metals here. Most readers will know that there is a full spectrum of gold bugs and gold market enthusiasts from which to choose.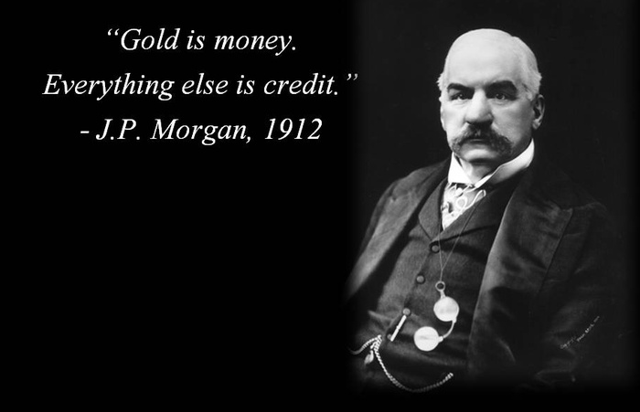 Thankfully, we are relatively new converts to a belief in "hard money." Otherwise, we may have suffered the last several years as gold price has fallen on hard times. The monthly chart of gold shows that gold remains in a downtrend since mid-2011. Interestingly, the price of gold almost tapped the downtrend line the night of Donald Trump's election (red arrow) before shooting lower. An investor in gold such as the SPDR Gold Trust (NYSEARCA:GLD) will want gold to breakthrough the downtrend line some time in 2017 (blue arrow).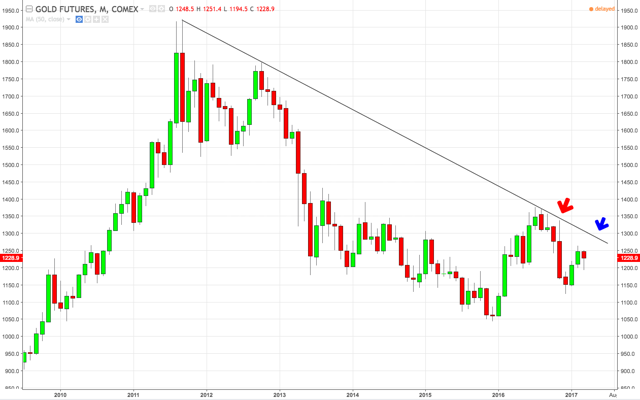 Source: TradingView
While we are long-term gold bulls, we don't blindly invest in gold securities and hope for the best. Rather, we adjust and position our investments by following some key market signals. Art Cashin has said on CNBC that, "it is hard to predict the end of the world." Any long-term gold investor or "stock market top" picker in the last three years understands this quote well.
Our Gold Market Indicators
We are currently following three variable indicators to provide guidance for our weekly gold investments and allocations:
Technical indicators from daily and weekly charts;
The Commitment of Traders ("COT") positioning of the commercial shorts; and
Relative demand for other safe haven investments, like the Japanese yen and Treasury Inflation Protected Securities (TIPS).
Currently, we believe conditions are favorable for increased gold exposure. We are cautious on silver, which we will outline in a different article.

Source: Viking Analytics
Gold Technical Indicators
After the FOMC meeting this week, gold shot above its 50 day and 100 day moving averages. Its next target is $1,250 per oz, which is both longer-term support and resistance and a Fibonacci retracement level, as well as a key psychological level. We would summarize the technical condition as favorable for gold, and possibly range-bound between $1210 and $1250. We would like it to hold the 50 day moving average heading up.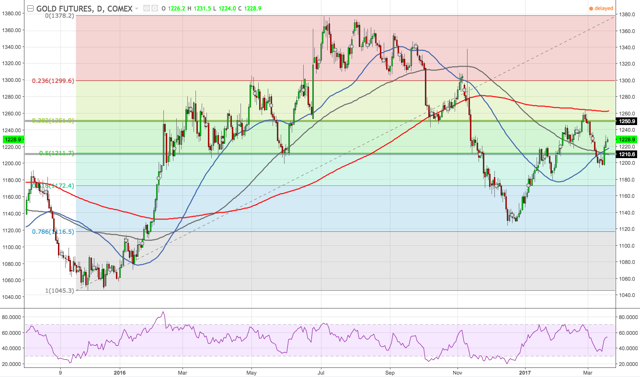 Gold COT Report
This week's COT report showed that bullion banks at the COMEX reduced their short position by a whopping 22.9%, and the managed money hedge funds reduced their long position by 25.7%. That's a lot. Total commercial short position is currently below its 5-year average.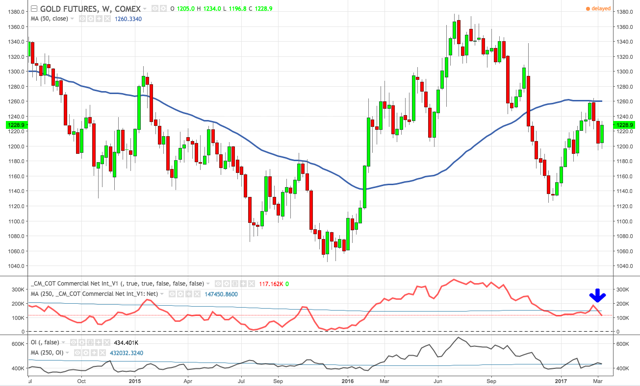 Source: TradingView

Source: Viking Analytics
There is more to say about the COT report, although there are a few other authors (including ones on Seeking Alpha) that cover this topic well. The COT report was very favorable for gold bulls. On the graph above you can see that commercial short open interest fell to an almost full year low, and well below the peaks in mid-2016.
Gold in Relation to other Safe Havens
Treasury Inflation Protected Securities ("TIPS") and the Japanese yen are considered safe haven investments. We will cover the Japanese yen in greater detail in another article. For these purposes, we merely present the graphical correlation of the three investments below. The GLD ETF is shown in orange, JPYUSD is shown in black, and the iShares TIP Bond Fund (NYSEARCA:TIP) - the largest TIP ETF - is shown in blue. Since late 2015, these three assets have obvious correlation.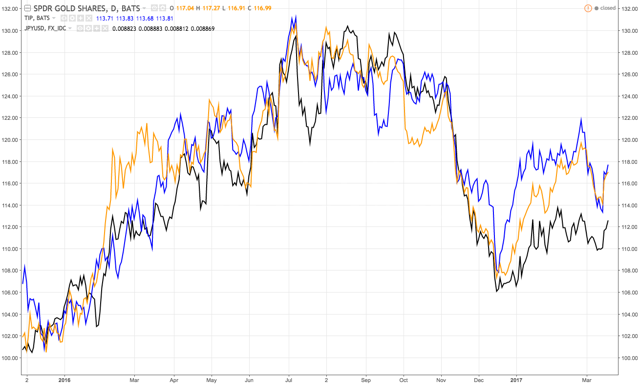 In our view, there is no current imbalance between gold and these safe haven investments. If the USDJPY breaks below 111 and/or the US dollar index (DXY) breaks below 100, then gold could get upside ignition. Overall, we view these indicators as neutral to favorable.
Thanks for any feedback below. Be sure to follow me on Twitter @vikingking6 for other updates.
Disclosure: I am/we are long GLD.
I wrote this article myself, and it expresses my own opinions. I am not receiving compensation for it (other than from Seeking Alpha). I have no business relationship with any company whose stock is mentioned in this article.